Max Scherzer pitched seven excellent innings Sunday afternoon. He struck out 12 batters, gave up five hits and allowed just one run … but did not get the win. And this lack of run support probably boosted Scherzer's standing with the stat zealots.
Scherzer has enjoyed some of the best run support in the majors this season -- an average of 5.53 runs per game ahead of his next scheduled start on Friday -- which, based on tweets and comments I've seen and heard, is somehow being viewed as a negative by some stat-heads. As if his 19-3 record is solely due to run support. That view ignores the fact that Scherzer has been a dominant pitcher regardless of run support. He leads the American League in WHIP, is second in strikeouts, fifth in innings and fifth in ERA.
"Even with fewer of those runs, he would be having a great season -- his stuff is that good," Tampa Bay manager Joe Maddon says. "That's my point. Regardless of run support, look at everything this guy does. He is outstanding. He might have one or two fewer wins with less run support, I don't know. But he's good regardless."
The Scherzer debate is an example of the growing attack on the win as a pitching statistic. Long regarded as one of baseball's top measurements of high performance (outside of an honorary bobblehead night), the Big W has come under the kind of criticism seldom seen outside of a Fox or MSNBC show. There is even a #killthewin hashtag campaign on Twitter. The only thing missing is Miley Cyrus calling attention to it.
Now, I readily acknowledge the W sometimes is more about timing than performance. And I'm not just talking about run support.
For instance, why is it that a starter must go five innings to qualify for a win, while a reliever can get one when he records a single out if it comes at the proper time? Last week, Cleveland's Danny Salazar struck out nine in 3 2/3 scoreless innings and left with the lead, but he couldn't get the win because he did not go the mandatory five innings. Instead, reliever Bryan Shaw was credited with the win despite pitching just two innings.
The same thing happened with Tampa Bay's Matt Moore, who threw three scoreless innings and had a 2-0 lead before a two-hour rain delay ended his night on Saturday. Then reliever Brandon Gomes got the win for pitching one inning of the eventual 7-0 victory. On the flip side, Twins starter Andrew Albers got the loss while going four innings. A starter can get a loss at any time but he has to go five innings to get a win. Standards are high for starters.
Starters also get screwed when they pitch long and well but the bullpen blows the lead. (That was the case Sunday with Scherzer.) Worse, the guilty reliever occasionally vultures the win (as Drew Smyly did in that game) when his offense quickly rallies.
So there are obvious flaws with the win. But that's the case with all stats. No single statistic tells the complete story about any performance. Which is why you should consider as many stats as possible and then put them all into proper context.
Seattle pitching coach Carl Willis says he sees the win more as a team statistic, but also thinks it's important as an individual stat.
"You have to go out and pitch the game and get the other club out, keep them off the base, keep them from crossing home plate," Willis says. "That's the key -- giving your team a chance to win."
That's the important thing about the win, especially for starters. While there are obvious exceptions, a win usually reflects that the starting pitcher did his job, that -- in the time-honored vernacular -- he "earned" the win.
"Whether we like it or not, it's no different than a .300 batting average," Maddon says. "Hitters are always going to determine their self-worth by that number. And the same with pitchers and wins. They are always going to want more wins, and the higher that number is, the higher their self-esteem and probably the better they'll pitch.
"I don't have a good or bad feeling about that; it's just the way it is. It might take 20 or 30 years to re-culture young players coming up to not live and die by .300 or 20 wins. In the meantime, I don't understand why there is so much concern and controversy over it. It is what it is."
Perhaps stat-heads would appreciate the win more if it was something else, though, something much more complicated and mathematically challenging. Maybe they would like it more if it included complex calculations that account for run support, adjusted ERA, advanced fielding analytics, WAR, stadium factors and humidity and was called tWIN.
Could the win be better? Sure. But one of the reasons I like the win is its simplicity. Despite its clear limitations, the win is a long-established and fun statistic that quickly tells us something about a pitcher -- how many bad pitchers win 18 games in a season or 200 games in a career? -- though by no means everything. Nobody is saying the win is the ultimate arbiter of anything for a pitcher. It's just one of many stats for your consideration.
So call off the hit men. There is no need to kill the win. We are aware enough not to overvalue the win. But we don't need to completely devalue it, either.
Now, if the stats folks want to declare war on the save, I'll be right there at their side, helping feed the ammunition belt.
CSI: Box Score
Each week, I provide a fragment from an old box score and challenge you to determine what game it is from and why it's significant. I give this one a difficulty rating of 4. Answer below:
Baseball Card of the Week
Returning to the time capsule that is the 1988 Topps baseball card set …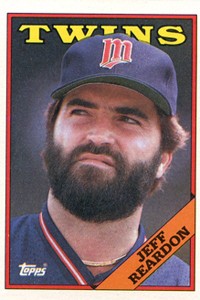 With the beard he's wearing in this card (1988 Topps, No. 425), Jeff Reardon looks like he could be a closer for the 2013 Giants. Many players had full beards in 1988, but there were nowhere near as many as there are today, when every dugout looks like a hipster coffee shop.
Box Score Line of the Week
Kansas City's Jeremy Guthrie threw a complete-game 13-hitter (8 IP, 13 H, 3 R, 3 ER, 1 BB, 4 K) on Sunday, the first such CG 13-hitter this season. Meanwhile, Cliff Lee struck out 14 on Monday (8 IP, 8 H, 2 R, 2 ER, 0 BB, 14 K) and also had three hits and four RBIs (4 AB, 2 R, 3 H, 4 RBIs). Elias says he is the second pitcher in history to strike out 14 and drive in at least four runs. (Dwight Gooden struck out 15 and knocked in four in 1990.)
But given the subject of this week's lead, the award goes to Mariano Rivera for this line Thursday night against Baltimore:
1 IP, 0 H, 0 R, 0 ER, 0 BB, 0 K
What makes that rather-typical line from Mariano remarkable and award-worthy is that it came in a save situation, but Rivera did NOT get the save. Why? Because the official scorer gave Rivera the win, and you can't get both. And he did that even though Rivera entered the game with New York leading. Why? Because the scorer determined that David Robertson did not deserve the win after allowing three runs and blowing a 5-2 lead in the bottom of the eighth.
I agree that Robertson didn't deserve a win for that dreadful outing. And if one scorer saw fit to award the win to a more deserving pitcher, perhaps more scorers can make similar decisions in the future and help keep the W as fairly awarded and relevant as possible.
Yeah, Well, That's Like, That's Just Your Opinion, Man
The Hunt For Red Mediocre-tober. Since Aug. 15, the Rangers are 12-17, the Rays are 14-17, the Orioles are 15-15, the Yankees are 15-14, the Royals are 18-14 and Cleveland is 16-14. Those are the six wild-card contenders in the American League, and they're a combined one game under .500 since the middle of August. And we're supposed to be excited about the wild-card race/crawl? Especially the fight/snooze for the second wild-card spot? Give me a break. The second wild card is creating a crawl of mediocrity rather than a pennant race in the AL.
Things are different in the National League, where the two teams that take the wild-card berths will almost certainly each finish with 92-plus wins. But even so, there will be angry/disappointed fans when their team gets eliminated after the one-game playoff. Not that I'm suggesting the wild-card playoff should be extended to more than one game. As it is, the division series will not start until four and five days after the regular season ends. That's already too long a break in the schedule. Extending the wild-card series could back up the division series to a week past the regular season, further disrupting teams' rhythm. Can we please go back to one wild card?
But Pay No Attention To The Concussed Man Behind The Curtain -- He'll Be Back On The Gridiron In No Time. NFL.com ran a galling story last week. Headlined "Concussion issue continues to grow in Major League Baseball," the story talks up the concussion issues in baseball today, with only the briefest mention of the NFL's far more extensive, damaging and brain-crippling scandal. And that brief mention even implies that the NFL's attempts to change its concussion culture is hampered by players wanting to play through them. Look, concussions are serious no matter where or how they occur, but they aren't nearly as prevalent in baseball, a sport that nonetheless treats them more seriously than the NFL does -- which is one reason baseball players tend to sit out longer after a concussion. Really, which sport would you feel safer with your child playing?
CSI: Box Score Answer
There were two main clues here. The first was the linescore, which showed the Cubs beating the Pirates with a run in the ninth. The second, and bigger, clue was the Hartnett home run. Yes, this box score fragment is from the famous Homer in the Gloamin' game on Sept. 28, 1938, when Chicago's Gabby Hartnett homered in the bottom of the ninth of a game that the umpires had previously announced would be suspended due to darkness at the end of the inning (and then replayed) if it was still tied. The home run lifted the Cubs into first place over the Pirates, and Chicago clinched the National League pennant days later.