Every acquisition has a cost, which is one of the bedrock principles of bartering. Unless you're purchasing Manhattan or annexing the Sudetenland, it's virtually impossible to get something for nothing. The NBA's trade market has three primary currencies in circulation: talent, cap relief and flexibility -- with the latter two linked to some extent. On Wednesday, Houston, New Orleans, Indiana and New Jersey cooperated on a blockbuster trade that saw each team forfeit assets in service of a larger goal.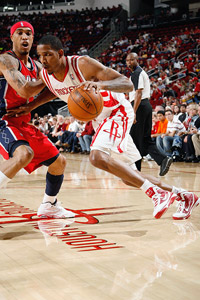 Bill Baptist/NBAE/Getty Images
Courtney Lee will pick up some of Trevor Ariza's minutes in Houston.
Houston Rockets
Coming: Courtney Lee
Going: Trevor Ariza
On the surface, the deal for the Rockets appears to be a cost-cutting measure. Houston re-upped Luis Scola and Kyle Lowry this summer, while signing Brad Miller to a free-agent contract. Deep into luxury tax territory, the Rockets unloaded the remaining four years and $28 million on Ariza's deal in exchange for Nets guard Courtney Lee.
The Rockets' front office deeply believes the best value contracts in basketball are max deals granted to transcendent superstars, and rookie scale contracts belonging to productive young players. In Lee, the Rockets get a young wing who will earn only $1.35 million in 2010-11. In addition, the Rockets hold a team option on Lee for $2.23 million in 2011-12. That's real value for a 24-year-old with the talent to start. A $6.3 million trade exception doesn't hurt either.
Lee and Rockets starting shooting guard Kevin Martin train together in the offseason -- the latter regarded as an older brother to the third-year guard. Although Lee might not be the stopper Ariza is, he is capable of covering either guard position and can certainly tread water against some of the league's less dynamic 3-and-D small forwards. Lee will find strong organizational dynamics in Houston, similar to what he encountered during his rookie season in Orlando, where he succeeded. With Ariza's departure, the Rockets will have to figure out who picks up his minutes beyond Lee and whether that means experimenting selectively with Martin at the 3 spot.
---
New Orleans Hornets
Coming: Trevor Ariza
Going: Darren Collison and James Posey
The wing has been an enduring problem for the Hornets dating back to Desmond Mason, Bostjan Nachbar and J.R. Smith. Ariza might not rank on Chris Paul's list of the top 25 guys he most wants to play with, but the second Ariza puts on the teal, he'll instantly become the most athletic and versatile wing New Orleans has seen in recent years -- but at an enormous cost.
Collison has one of the best value contracts in basketball. He'll earn $1.3 million this season and carries team options for $1.46 million and $2.31 respectively over the subsequent two seasons. As a rookie, Collison played more than 2,000 minutes and compiled an impressive player efficiency rating of 16.55.
There's no guarantee Chris Paul will be sticking around New Orleans after his contract expires in the summer of 2012, and Collison's presence was a healthy -- and cheap -- insurance policy against that departure and any injury. Removing the remaining $13.4 million of James Posey's contract and the addition of Ariza's gifted -- but limited -- game seem to be an expensive bounty for a player with the potential to be very special and who is already contributing on a nightly basis.
---
Indiana Pacers
Coming: Darren Collison and James Posey
Going: Troy Murphy
"Point guard, Indiana Pacers" has been the NBA equivalent of "Drummer, Spinal Tap." The Pacers haven't been able to buy a break at the top of the floor for several seasons. Jamaal Tinsley, Anthony Johnson, Sarunas Jasikevicius, Jarrett Jack and, most recently, T.J. Ford and Earl Watson have all walked through the revolving door in Indianapolis.
A.J. Price, picked in the second round of the 2009 draft, showed some promise in his rookie campaign. But the acquisition of Collison finally locks down the point for the Pacers for the foreseeable future.
Normally, a salary like Posey's would be an onerous burden, but the Pacers have one of the cleanest spreadsheets in the league going forward -- only $18.8 million committed in 2011-12 before you tack on Posey's deal. The addition of Collison gives the Pacers the freedom to buy out Ford and not overpay for the services of Watson.
---
New Jersey Nets
Coming: Troy Murphy
Going: Courtney Lee
There's a pleasing symmetry to this deal, and it ends in Newark where Murphy arrives in exchange for the departing Lee. Murphy offers a lot of appeal for the Nets. First, he's in the final year of his contract, which will pay him a hair under $12 million in 2010-11. Second, he gives the Nets a stretch 4 who can crash the defensive glass and deliver smart interior passes, assets the Nets want alongside Brook Lopez's more traditional skill set.
What about No. 3 overall pick Derrick Favors? The power forward out of Georgia Tech turned 19 the week following Orlando summer league. With Yi Jianlian moving down I-95 to Washington, there will be plenty of minutes for Favors in the Nets' frontcourt rotation.
The Nets will presumably fill the void left by Lee with a platoon of Terrence Williams, Anthony Morrow and Quinton Ross -- three players who share absolutely nothing in common. Williams' versatility and range of talents span the board. Meanwhile, Morrow could beat Ross in a shooting contest wearing a blindfold, but few players in the NBA can torment perimeter scorers the way Ross can.