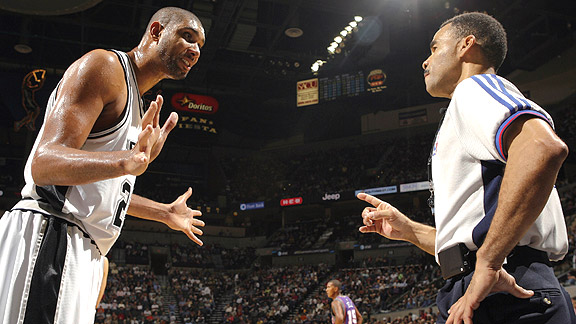 Bill Baptist/NBAE via Getty Images
This kind of complaining has been rubbing people the wrong way.
For the upcoming season, NBA referees have been instructed to call automatic technical fouls when players do some things that are very common to the NBA game:
Aggressive gestures, such as air punches, anywhere on the court.

Demonstrative disagreement, such as when a player incredulously raises his hands, or smacks his own arm to demonstrate how he was fouled.

Running directly at an official to complain about a call.

Excessive inquiries about a call, even in a civilized tone.
Here are seven thoughts on the matter:
Who is bothered by this?
I can't say that I love watching people complain on the basketball court or in any other setting. But nevertheless, complaining to referees is nowhere near the top of the list of things I'd change about the NBA. And it is part of basketball at every level.
So where does it come from?
Every NBA official who has addressed these changes to date -- executive vice president of basketball operations Stu Jackson, senior vice president of referee operations Ron Johnson and vice president and director of officials Bernie Fryer -- acknowledge that market research was one factor driving this change. The idea is that basketball fans simply hate to see this, and as Johnson points out, "it's a business."
Jackson, however, was most directly involved in pushing these changes, and downplays the role of market research. "The analytics of our game, in any area of our business, are always a factor," explains Jackson. "But the primary impetus behind updating the respect of the game guidelines are our observations in our data with respect to how these guidelines were carried out. ... As a basketball operations department we evaluate our game in every phase. ... This was one of the areas that we recommended needed to be addressed, and organizationally the recommendation was accepted."
Nevertheless, there do seem to be many people who are very upset at seeing players complain.
Some comments
Strong feelings on all sides from comments on the ESPN.com news story about these rules:
Twodaysfast: "I am glad the NBA is going to do something about this, as the NBA is becoming unwatchable; and they know this."

bigrb19: "If this rule sticks we will never see a NBA game finish cause all players will be ejected by halftime."

mchi20: "The Players Union must have some sort of say in this ... this is total BS!!"

cite24: "This is the NBA first steps backwards with their SHOW OF POWER. ... This latest one though will cause a team to lose a game or two in the playoffs that shouldn't be decided by such a GRAY rule. IT'S GOING TO MAKE PEOPLE STOP WATCHING BASKETBALL IF REFS DECIDE GAMES RATHER THAN PLAYERS!!"

kaipod1: "I agree with the concept ... I think there is too much whining. But to give the primary reason as "it looks bad on TV" is just stupid. NBA policies should be based on what's good for the game, not filtered through the marketing department."

NYLakerfan: "Most of my friends have stopped watching and following the NBA. No one wants to watch a sport that is dominated by officiating. Throw in the predicted lockout and the NBA is going to end up like the NHL ... a second rate sport with a small base of diehard idiots (like me) watching."

CINmillerOSU: "So they want these supreme athletes to play their #### off, with their adrenaline pumping to the max and meanwhile want them to have the manners of a princess at a tea party?"
We have been here before
Before the 2006-2007 season, ESPN's Marc Stein wrote: "Commissioner David Stern, long fed up with players' histrionics over questionable calls, is threatening to hit them with quick technical fouls -- and later fines -- for those who curse, throw their hands up, or make other gestures that show disgust."
The throwing up of hands was specifically banned then, and has, to my eyes, largely been allowed ever since, and now is being singled out for banning again.
The league says, and I'm sure it's true, that a lot of what happens is that when the league bans one action, players learn ways around it, so their job is to continually close loopholes.
For instance, Jackson says that players never used to punch the air away from referees. When punching the air at a referee was banned, however, players invented a new way to get their point across, and now the league finds itself needing to ban all air punches.
"Our players," says Jackson, "are very smart. "They'll adapt. In 2006, there were a lot of calls at first, but by January they had adapted."
However, that does not explain how some of the kinds of actions that were specifically banned four years ago -- for instance the throwing up of hands in reaction to a call -- have been re-banned. That would suggest the league could be having an issue convincing referees to call technicals according to their directives.
To that point, in presenting the changes to the media and referees, the referee operations staff made clear more than once that they do not make up the rules, they just enforce them. Of course that's true, but it usually goes without saying. In this case, perhaps the referees are distancing themselves a bit from this decision.
The funny part is that surely nobody is more assuredly hurt by complaining to referees than referees. They're not allowed to talk to the media on the record very often, but if the referees are fine with the way things were, it feels funny for other less-involved parties to insist it's all very upsetting.
Fines may change
Jackson says the the league is still deciding how much players will be charged for each technical. It will be decided and announced before the regular season.
Assistant coaches, take a seat
It was not a major focus of the NBA's presentation the media, but it was mentioned that this season, referees will not be expected to tolerate much of anything from assistant coaches. Assistants are expected to stay seated and let their head coaches do the talking when it's time to make a team's case to the officials.
A hockey fan in the peanut gallery
Not really relevant, but funny ... from Hockeyfan2965 in the ESPN.com comments: "Hahahaha. The NBA, where you can witness grown men cry over getting slapped on the wrist. Let's talk about real sports please, this one is about as physical as two turtles having sex. Have fun with that lockout."
I really just included this for the random turtle sex reference, but it does raise a real question. Hockey dude, do you really think you're tougher than Dwight Howard? Tell him that to his face, you know? To me this point misses something obvious. NBA players are not complaining because they don't like contact. On the contrary, most all of them argue for "letting them play."
They're complaining to the referees because they're trying to execute fine motor skills -- the release of a floater, say, or the landing after jumping a dozen feet -- and it's hard to win games when people bump you during those things.
It's more like if you're playing chess and someone knocks the board off the table. That'll get you hollering no matter how tough you may be.
Is there value in complaining?
Jackson is clear: Complaining is pointless. If it departs entirely from the game, no one loses a thing.
"The proper mindset, in every player's mind," he says, "is abstinence. That is: to not complain. The focus here is to just play the game. We have a great game. We have great players. We have a great product. Let's focus on executing offense and defense and being highly competitive. Complaining doesn't have a part in our game, and complaining has never changed a non-call to a call, or a call to a non-call."
Almost certainly it's true that complaining hasn't reversed an individual call. But have you noticed the incredible amount of effort some of the game's smartest practitioners -- from Kobe Bryant and Tim Duncan to Mike D'Antoni and George Karl -- put into overtly working the referees?
I'm the last guy on the planet to say anyone should take Tim Donaghy's unsubstantiated word, but it's worth noting that in his tell-all book he described in detail how strong-minded and vocal coaches and players were more than capable of intimidating referees into better treatment over the course of a night. Maybe a big show after one call makes the referee pause before making the next one. Unfortunately, vocal intimidation works in many parts of life. I wouldn't assume it never has any influence in NBA referees.
In other words, maybe those whiners know what they're doing.