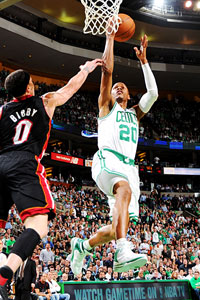 Brian Babineau/NBAE/Getty
Ray Allen is saying the right things, but there's no reason to move him out of the starting lineup.Celtics guard Ray Allen said Thursday he'd be fine with accepting a bench role if it helped Boston win more regular-season games, thereby improving its postseason seeding and giving the team a better chance at an elusive 18th world title. That's exactly what you want to hear from an aging superstar, one that understands that, at this stage of his career, it's more about what the team accomplishes than individual stats.
But let's also be explicitly clear, the issue surrounding the Celtics' production last season had little to do with who started, but how the team as a whole finished, and Boston needs to do a better job driving down minutes for its Big Three to ensure they are fresher when it matters most.
Allen averaged 36.1 minutes per game last season, up nearly a full minute from the year before and nearly matching the total of what he was playing in Milwaukee at age 26 (36.6 minutes during the 2001-02 season). A quick glance at Allen's quarterly breakdown this past season shows the effects those minutes had:
RAY ALLEN BY QUARTER
A look at Ray Allen's averages per quarter for the 2010-11 season:
Maybe not surprisingly, Allen thrived in the first and third quarters, when players are the freshest. His numbers dipped slightly in the second quarter coming back off the bench, but not nearly as bad as in the fourth quarter when his field goal (45.2), 3-point (41.5), and free throw (82.8) percentages show just how gassed he appeared. Remember, Allen set career highs while shooting 49.1 percent from the field and 44.4 percent from beyond the arc. Shots are certainly tougher in the fourth quarter, but those numbers are way off his season pace.
The best thing for Allen is to limit his minutes over the first three quarters, particularly trimming down the time he logged running with the second unit, and hope that allows him to better thrive in the fourth frame. We all know how good Allen is in the closing moments, but it's clear he struggled to maintain consistency before stepping up in the clutch.
To further drive home the fact that Allen needs to start, check out his stats based on on-court lineups, courtesy of Basketball-Value.com. Of the 13 lineups Allen spent the most time with on the court last season, only two came back with a negative overall rating -- and they were the only two lineups that didn't include another starter.
While a combination of the Big Four (Allen, Pierce, Rajon Rondo, Kevin Garnett) and any center (Glen Davis, Nenad Krstic, Shaquille O'Neal, Kendrick Perkins, Jermaine O'Neal and Semih Erden) returned some of Allen's top units, including a plus-10 or better overall rating (points per 100 possessions) on five of those six lineups, the combination of Allen with Nate Robinson, Marquis Daniels, Davis, and Erden -- Allen's most familiar second-unit grouping -- boasted a cringe-worthy overall rating of minus-18.72.
The Celtics virtually never utilized a lineup of Rondo-Pierce-Green-Garnett and a center, so there's little evidence that such a pairing would make Boston better as a starting unit. If the team is adamant about getting more minutes for Green, the data instead suggests that his best lineups came at the power forward spot with Allen on the court and Garnett at center.
One of the more popular arguments for potentially benching a starter like Allen or Pierce is to get Green more minutes, the suggestion being that Green underperformed in Boston because of a lack of court time. The numbers suggest that's false as well. Check out Green's production per 36 minutes, which helps level the field between Oklahoma City, where he played 37 minutes per night, and Boston, where he averaged only 23.5 minutes per game:
JEFF GREEN PER 36 MINUTES LAST SEASON
A glimpse at Jeff Green's stat lines per 36 minutes during the 2010-11 season:
Allen said it best Thursday when he noted that the lineup situation will "figure itself out." Maybe the Celtics get back on the court for training camp later this year and coach Doc Rivers finds some magical combinations that allow a typical starter to thrive as a bench player. But the numbers from last season seem to suggest there's absolutely no reason to suggest it's Allen that should be the one that moves to the reserve role. Even as he prepares to turn 36 next month, Allen is producing at a high level as evidenced by his shooting percentages and the Celtics must find another way to get the most out of Green and their second unit as a hole while leaving Allen in a starting role.