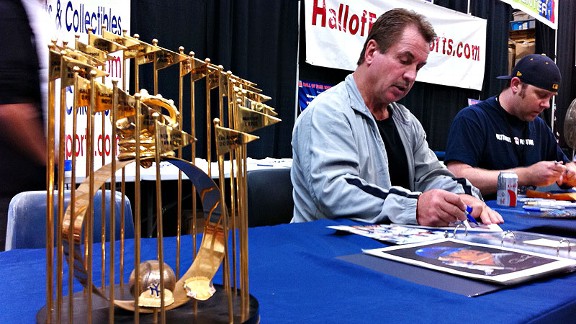 Jon Weisman/ESPNLosAngeles.com
Ron Cey signs an autograph near a replica of the 1981 World Series trophy Saturday.The 1980s might be considered the last glory days for the Los Angeles Dodgers. But for Dodger fans at the start of that decade, those were desperate times.
It had been 15 seasons since the Dodgers had won World Series title, their longest drought since Next Year first came in 1955. They had suffered through three near-misses, each arguably more agonizing than the last, in their 1974, 1977 and 1978 Fall Classic falls.
The 1980 Dodgers had arguably the most dramatic season yet of that era, winning three games on the final three days of the regular season before falling in a 163rd game against Houston still painful for those who remember it.
Even their hot start in '81, when the Dodgers won 29 of their first 40 games, was clouded by — yes, this resonates today — off-field issues. A labor crisis was brewing, the sport's biggest yet. Would the Dodgers, potentially the best team in baseball, even be able to finish their season?
Some Dodger fans today – especially the younger ones – don't think of the 1981 World Series title much, or at least they take it for granted. The 1988 title is the one on everyone's frontal lobe: Kirk Gibson, Orel Hershiser and friends giving the franchise its last taste of October glory. It's the team that the desperate fans of today call back to.
The 1981 team, though, is the team that for which the desperate fans of the last generation give thanks.
Saturday in City of Industry, more than 20 members of the 1981 World Series team, along with manager Tommy Lasorda gathered, for a memorabilia signing event that certainly was a money-making function at its core, but also a time for appreciation. Hundreds of fans had lined up, some just as dawn was breaking, for the chance to spend a few minutes here, a few minutes there with a team that will never be forgotten but too often gets overshadowed.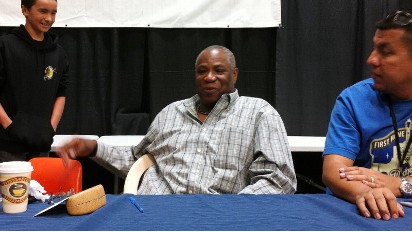 Jon Weisman/ESPNLosAngeles.com
Dusty Baker smiles for the cameras at the '81 team reunion.
As much fun as it was to have a personal encounter with the heroes of '81, I would say I found the most pleasure in seeing them reunite with each other. During my longest interview, a warm, 15-minute chat with Dusty Baker, the highlight was nothing between me and him as much as when Bill Russell arrived and Baker got up to hug him, the pair having not seen each other in years. Baker was still smiling when he sat back down.
"You look at some of the guys that are in the Hall of Fame that never got to the World Series," said catcher Steve Yeager, co-1981 World Series MVP with Ron Cey and Pedro Guerrero. "Ernie Banks comes to mind – that was such a great player who never had the experience of getting to the World Series let alone win one, so it means a lot to each and every one of us."
Baker said in his interview that he didn't feel extra pressure to win a World Series in 1981, but others indicated otherwise.
"That was always in the back of our minds," said outfielder Ken Landreaux, "that it's been a while since we won a World Series."
Added then-outfielder and now-broadcaster Rick Monday: "We had a chance to get rid of the great bitter taste that lingered for a number of years. When we went to Spring Training in 1981, you could look around the locker room and see this was a club that was probably not going to be together as a whole next year or the following year, because we had a lot of younger players that were coming up.
"One of the things a lot of people forget about, and I tried to find a copy of it. ... (In) the winter of '81, Tommy Lasorda sent us all a letter, all the players. And basically in that letter, he challenged us and encouraged us, and he said, 'Look, you've gotta be ready to go.' "
That resonated even more for the older players. A new generation of Dodgers was transitioning in – Guerrero, Fernando Valenzuela, Steve Sax, Mike Scioscia, Greg Brock, Mike Marshall – some having arrived, others on the cusp. The window for the 1970s crew was shutting.
"I know we were desperate because a lot of us, (we) were not necessarily at the end of our careers, but we were approaching that area, and there was an influx of younger talent," Monday said. "There was an immediacy of wanting to get things done and get things done in a hurry.
"We got off to a terrific start obviously, and then the strike came into being, and that changed everyone's viewpoint of what was happening."
Though the aftermath of the strike, which shut down baseball between June 12 and August 9, turned out to have the effect of guaranteeing the Dodgers a playoff berth, thanks to the one-time institution of the split-season format, it also created a disheartening possibility that the magic would be lost.
It's obviously quite different from the ownership crisis that has dogged the Dodgers the past two seasons, but the effect was similar in one respect – unpleasant off-field issues taking a bite out of the Dodgers' World Series hopes.
"(The strike) was always on your mind," Baker said. "You never thought it was gonna happen, and then once it happened we were all in shock. I remember we were all in St. Louis – we had to get our own way home.
"After that I kept working out, the team kept working out, then guys started dropping out (because) it didn't look like were going to go back to work. But I couldn't imagine baseball not finishing the season, similar to basketball right now … because there's a lot being lost by both sides."
After baseball resumed, the Dodgers meandered through their second half, going 27-26. Though the games didn't count for them, they raised doubts about whether they were postseason-ready.
And then, of course, each postseason series involved the slaying of those doubts. Down 2-0 in the first National League Division Series against the Astros, with one run in their first 20 innings, the Dodgers came back and won. Down 2-0 in the NL Championship Series against Montreal, the same thing, capped by Monday's ninth-inning Game 5 blast.
When they lost the first two games against the Yankees, Dodger fans should have been used to it by now. But speaking for myself, then not quite 14 years old, you could run from despair but you couldn't hide.
Monday, however, said the Dodgers themselves weren't phased.
"It was a club that was just goofy enough or shortsighted enough," he said, "we didn't think, 'Oh geez, now we don't have a chance.' We were just crazy enough because we had to do the same thing in Montreal and Houston."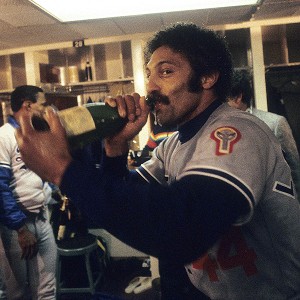 Focus on Sport/Getty Images
Ken Landreaux celebrates after catching the last ball of the 1981 World Series.
Four games later, the final out of the 1981 World Series landed in the center-field glove of Landreaux.
"I still have it," he said. "I almost threw it in the stands when I was running in to jump in the dogpile, but I held onto it."
Were it not for the extraordinary moments in 1988, that would have been the last World Series-clinching out in Dodger history.
Those who gathered Saturday are eager to see those 1980s teams become more forgotten, in a manner of speaking – to see them replaced by a new set of champions. With new ownership poised to arrive in Los Angeles, there's new hope.
"I think we did as a group a really doing good job of carrying the flag and living up to the tradition and history of the Dodgers, and I look forward to the day our organization can return to that spotlight," Cey said. "It's a treasured franchise in Major League Baseball, and we need to get back on top."
Cey said the new owners need to be prepared to do "whatever it takes" to restore the Dodgers. Baker added that it was that kind of mentality at the top of the organization that reduced the pressure he felt going into 1981.
"Every year that we left for Spring Training, we knew that we'd be close to the top some place," Baker said. "That's a great feeling of a good organization and a team. When the season starts, you may not win or win it all, but you know you're in the hunt and have a chance to do it. That's all you can ask for."
Thirty years later, you might even have a little kid who never saw you play live, line up to pay homage.
"I really wanted to come here," said 11-year-old Erik Mawk of Atascadero, "because there was so much history being champions and how they defeated the Yankees while being the underdog.
"It was a great, inspiring story."