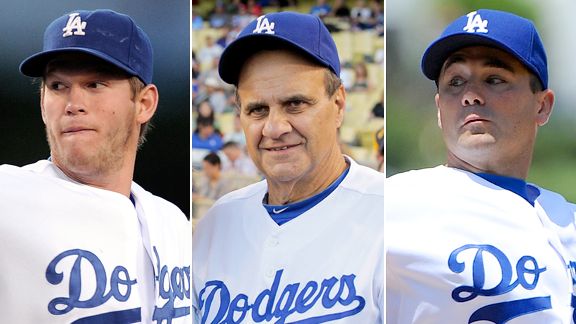 Getty Images
Dodgers such as Clayton Kershaw, Joe Torre and Ted Lilly have targets to shoot for – or avoid.Need something to keep your interest in the Dodgers over the season's final six games? Here are 10 postcards from the edge of your seat ...
1) Clayton Kershaw's sub-3.00 ERA
Kershaw figures to make one more start this season, Wednesday at Colorado – a tough locale for keeping his current 2.91 ERA below 3.00 for the second year in a row. This is complicated by the fact that a few scenarios put Kershaw's final ERA at 2.995 or 2.996, which technically keeps him below 3.00 but won't do the trick for those who don't take the decimal places out that far. Here's how many runs Kershaw can allow, based on how many innings he throws:
Those of you interested in fractions of innings, you'll have to remain in suspense.
2) Kershaw's pursuit of the Dodger pitcher sacrifice bunt record
Is anything really more important than this? Kershaw has 18 this season, with only Orel Hershiser (19) ahead of him.
3) Team home run leader
Media guide cover boys Matt Kemp and Andre Ethier are tied at 23. Who will win bragging rights, which will come in necessary next year when Kershaw figures to be the media guy cover boy?
4) Team RBI leader
Despite having only 21 RBI since the All-Star break, James Loney (84) is still trying to hold off Ethier (79) and Kemp (77) for the title. Loney's cause might have been aided by John Lindsey's injury.
5) Joe Torre's 2,000th loss
The Dodgers' loss Sunday was Torre's 1,996th as a manager. The team needs to go 3-3 to keep him below two grand.
6) .300 club
The Dodgers will not have a qualified hitter (minimum 502 plate appearances) bat above .300 this season. So let's turn to the unqualified! Kenley Jansen (1.000) and Manny Ramirez (.311) are locks, but Trent Oeltjen (.333), Rafael Furcal (.298), Jamey Carroll (.292) and Jay Gibbons (.288) are in the running. And why stop there? A.J. Ellis, Rod Barajas and pitchers from hither to yon could also end up at .300 with a hot final week.
7) Ted Lilly's HR/BB ratio
Lilly enters the final week with 12 homers and 11 walks allowed as a Dodger. Don Newcombe (1958) and Terry Mulholland (2002) are the only Dodgers to allow more homers than walks in a season, minimum 10 homers allowed.
8) Hustleful but homerless
Jamey Carroll enters the final week of the season without a home run to his credit in 408 plate appearances. Carroll has homered in each of his past four seasons, but can he make it five? Carroll is currently tied for 2,725th place on baseball's all-time home run list with 12.
9) September Mourn
The worst September (and October) in Los Angeles Dodger history was the 10-20 performance by the woeful 1992 team. The 2010 Dodgers are 7-16 in September, so if they lose at least four of their final six games, they'll take the crown.
10) Lowest of the low
The worst teams in baseball since the All-Star break:
24-43, .358 Kansas City
24-43, .358 Seattle
25-42, .373 Pittsburgh
26-42, .382 Los Angeles
28-39, .418 New York Mets
28-39, .418 Washington
Yes, the Dodgers can be that team.