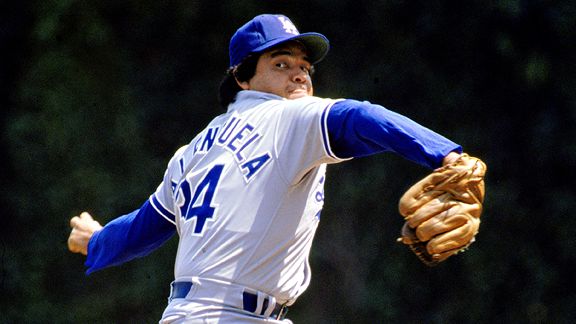 Ron Vesely/Getty Images
Fernando ValenzuelaFernando Valenzuela's April and May in 1981 were something you felt inside you, like a superpower. And that's just if you were a 13-year-old white kid in the Valley.
If you shared a common heritage with Valenzuela, as Cruz Angeles emphasizes in "Fernando Nation," which premieres Tuesday on ESPN, Valenzuela's arrival was like the birth of the Justice League.
Angeles' documentary on Valenzuela has a lot of ground to cover – it won't surprise Dodger fans how inadequate 50 minutes is to do the job – but he gets across the depths Valenzuela rose from, the heights he soared and the impact he had on people he didn't know personally but who had a powerful connection to him.
The personal story of Valenzuela isn't lost amid the bigger picture. "When I was a child, we didn't have any dreams," Valenzuela recalls in the documentary's opening minutes. After Valenzuela became a sensation in 1981, KABC Channel 7 raced to provide the dusty reality of the remote Mexican village he was raised in, a world away from the United States. But rather than aimlessness, that absence of expectation sowed in Valenzuela a discipline. "I just wanted to get better, step by step," Valenzuela remembers thinking, even in his pre-teen years.
But as Angeles takes pains to illustrate, Valenzuela wasn't a mere mascot for the Mexican, Latino or Chicano communities. He was something cathartic, something euphoric, to heel wounds that had been felt by some for decades.
Angeles mostly does well articulating the controversial displacement of the residents of Chavez Ravine in the 1950s, including the key issue of how the new public housing, playgrounds and schools that had been promised for that area as early as 1949 was eventually scuttled after one of its principal advocates, assistant housing director Frank Wilkinson, was swept up in the Red Scare. (Details of this are in Chapter 11 of "100 Things Dodgers Fans Should Know & Do Before They Die.") It can't be emphasized enough that most of the damage to people in this area occurred before Walter O'Malley had even heard of it.
The narrative in "Fernando Nation" plays things a little looser after O'Malley gets involved, directly connecting him and the construction of Dodger Stadium with the forced evictions of the area's remaining denizens, even though those evictions were in the cards regardless of whether the Dodgers ever left Brooklyn. It is documented that Los Angeles would act in broad strokes with the area (which it bought back from the United States, on the condition that it be used for a public purpose, after the public housing contracts were canceled). A baseball stadium was but one of multiple possible outcomes, all of which meant taking full control of the land.
Nevertheless, even if the fine print absolves the Dodgers of responsibility for what happened at Chavez Ravine, there's no mistaking what the lingering perception was for many: Dodger Stadium was on their land. And the ill will, Angeles notes, only deepened with the rise of the Chicano (Mexican-American, to oversimplify) movement in the late 1960s. To make this clear, Angeles uses archived footage of police brutality at a Chicano rally, including a cop clubbing a female bystander in the back, that makes the Rodney King incident almost look like childs' play.
Even after Fernandomania began, issues of ethnicity and nationality remained alive; Angeles includes a clip from "The Tonight Show with Johnny Carson" in which the host cracks with regard to the 1981 players' strike, "Reggie Jackson offered Fernando Valenzuela a job as a gardener." Valenzuela is later called in a news report "Mexico's most documented migrant." And when Valenzuela held out for a bigger raise during Spring Training 1982 (like Sandy Koufax and Don Drysdale in 1966, or for that matter Zack Wheat in the Prohibition Era), a government official pointedly comments that Valenzuela is in the country on a restricted visa dependent on his employment.
At the Q&A that followed Thursday's premiere screening, one audience member asked Angeles why he had to bring such negativity into the Valenzuela documentary, considering how positive an experience Valenzuela was. Angeles responded that he didn't see his inclusion of the history as a negative, believing that by understanding it, you see even more clearly the wonder of Valenzuela's impact. The history is something to embrace, Angeles believes. It's why nothing will ever be like Fernandomania.
And certainly, there is no shortage of joy in the program, especially as Valenzuela runs off to his 8-0, 0.50 start in '81. "It is incredible, it is fantastic," Vin Scully gasps in wonder. "Fernando Valenzuela – he has done something I can't believe he has done or anyone will do." Dodger fan Paul Haddad, whose childhood cassette tapes provide much of the primary-source audio for "Fernando Nation," comments that "I was getting to experience my own Babe Ruth." Viewers of "Fernando Nation" will truly revel in Valenzuela taking the nation by storm.
If there is a negative that is glossed over in the documentary, it is how quickly Valenzuela came back from the stratosphere to become mortal. Everyone knows what Valenzuela did in his first eight starts, but in his second eight (the final two of those coming after the strike was settled), he had one victory and a 6.46 ERA, averaging under six innings per start. (John Ely, anyone?)
Of course, Valenzuela recovered to have more great moments (such as the 1981 World Series complete game, of which Scully said, "This was not the best Fernando game, it was his finest.") and great seasons. Valenzuela was also a wonder with the bat and the glove as a pitcher. What you're left with is the impression that has always been an indispensable part of the Valenzuela story: He had the goods – the tools, the preternatural ability to learn the screwball from Bobby Castillo, the determination – but worked to be great.
Because of the time constraints and all the time spent discussing the birth of Fernandomania, "Fernando Nation" races to cover the later years of Valenzuela's career - and in its depiction of Valenzuela's 1990 no-hitter, there's an omission in the documentary that's nothing short of startling. But the documentary is nonetheless a success, because it leaves you, once more, with that unbridled feeling of superpower coursing through you. Fernando Valenzuela, sweetness.