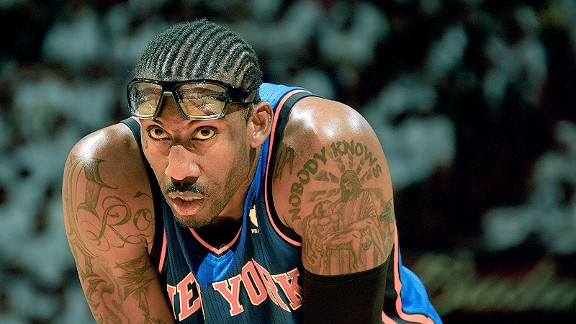 Issac Baldizon/NBAE/Getty Images
Amare Stoudemire is hardly the first athlete to suffer self-inflicted wounds.
Amare Stoudemire may be the first athlete to have a confrontation with a fire extinguisher, but he is certainly not the first player to injure himself in an act of frustration. Here's a list of players who have hurt themselves by taking out their frustrations on inanimate objects.
Amare Stoudemire: After the Knicks lost to the Heat in Game 2 of the Eastern Conference opening round playoffs, a frustrated Amare Stoudemire punched the glass casing surrounding a fire extinguisher, causing lacerations on his left hand which required stitches.
Ryan Madson: In 2010, Phillies closer Ryan Madson broke his big toe following an incident where he kicked a metal folding chair in frustration after blowing a save against the Giants. The broken toe sent Madson to the DL for more than a month.
Kevin Brown: Frustrated by an injury-filled season in 2004, Yankees pitcher Kevin Brown made it worse when he broke his non-pitching hand by punching a clubhouse wall during the sixth inning of New York's 3-1 loss to the Orioles.
Jason Isringhausen: The pitcher bruised his hand punching a trash can in 1996, a few weeks after he stabbed himself opening a package.
John Tudor: Game 7 of the 1985 World Series, Cardinals pitcher John Tudor punched an electrical fan with his pitching hand after being pulled from the game. TV viewers were initially confused when the announcers reported that Tudor had "punched a fan in the clubhouse."
Kareem Abdul-Jabbar: During the 1974 preseason, Abdul-Jabbar broke his hand after punching the basket support stanchion following a hard foul. On the play, Abdul-Jabbar scratched his eye and he would wear protective goggles for the rest of his playing career. The broken hand sidelined Abdul-Jabbar for the first 16 games of the 1974-75 season. With Oscar Robertson retired, the Bucks went 38-44 and missed the playoffs for the first time since Abdul-Jabbar was drafted.