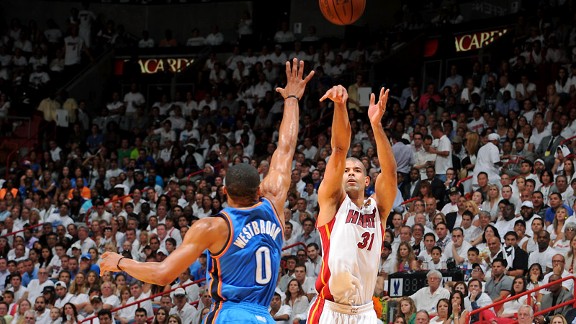 Garrett Ellwood/NBAE/Getty Images
Battier is defining a new position in the NBA.
The Finals were all about how LeBron James transformed into an unstoppable offensive force from the post, the way most people tell it. But to hear Erik Spoelstra tell it on TrueHoop TV, the real reason the Heat became champions was that they had Shane Battier.
The difference from this year to last year was Shane Battier. That's why we went after him so hard in the offseason. People looked at that as a little unconventional. They thought we had so many wing players, why would we go after another one? But he was the key to really unlock all our versatility and to put our best players out there and really be positionless and make other teams have to adjust to us.
"Positionless basketball" is an idea first articulated by then Bucks coach Don Nelson, who used Marques Johnson as a "point forward" out of necessity (Tiny Archibald got hurt) in the 1984 playoffs. Later, Nelson would play 6-7 shooter Chris Mullin as a power forward and Rod Higgins, also 6-7 at center.
Nelson's vision was more or less to have five players who could do everything on the court, playing as interchangeable parts. The idea was that such extreme versatility would make defending or scoring against that team more difficult than a conventional lineup with conventional (and therefore obvious) strengths and weaknesses.
It's a nice idea, but one that's far harder to achieve in practice than it is in conceptualize.
In the Heat, the NBA has a working model for this type of play, which Chris Bosh succinctly describes to Couper Moorhead on Heat.com as "putting traditional guys in the next position over." This allowed the Heat to play with more speed on the court than even the Oklahoma City Thunder, who, though extremely athletic at multiple positions, often played with at least one plodder on the court.
But, as Spoelstra points out, the Heat already had three super-versatile players in Dwyane Wade, Chris Bosh and LeBron James on the roster when they lost in the Finals.
That wasn't enough.
Enter Battier, who may not be as unique a player as James, but he is nearly as "positionless." Battier has a mix of skills and size that, while not unheard of, matter as more teams seek to follow the Heat's model.
He's 6-8, strong and uses his length well, so he's big enough to provide resistance inside. He's nowhere near as quick laterally as he once was, but he can still fight through screens and acquit himself decently on the perimeter.
On offense Battier is a 3-point shooter; he fired more long balls than any other player in the 2012 playoffs.
A power forward who can shoot from distance has long been termed a "stretch four," but that calls to mind more the Ryan Anderson type: A very big man who can play traditional power forward defense and space the floor on offense. Basically, a power forward on defense and a guard/forward on offense.
What Battier brings is different, because he's also a "stretch four" on the defensive end.
It's sort of like how for decades, all golfers played with basically the same set of clubs: 11 irons, three woods and a putter, just like basketball teams played with two guards, two forwards and a center. Then, all the sudden, players started to realize that this new, hybrid club (aptly dubbed "a hybrid"), which struck the ball like a wood but offered the control of an iron, could be really useful.
It caught on slowly at first, in fact recreational duffers picked up on the trend before the pros. But now the majority of big time players carry this club, which can be used to hit out of fairway bunkers or to run the ball onto the green from only yards away, in his bag. The club allows players to swing like hell from the tee, because they know they'll have a better chance of getting out of trouble if they don't drive the ball perfectly.
By allowing for the Heat's other position-less players to reach their full potential, Battier achieves a similar goal.
The Heat are perhaps the first NBA team to fully realize the potential of a player like Battier who, while hardly an outstanding talent, can do so many things.
And unlike superlative talents like James and Wade, Battier is a prototype that can be relatively cheaply had by other NBA teams. In the next few years, keep an eye out for front offices and coaches who add this hybrid club to their team's bag.