UK's Grome: Balanced offense earned second-round win
Emma Grome thanks fans for their unwavering support and explains 2-seed Kentucky's offensive approach in its sweep of Baylor in order to advance in the NCAA tourney.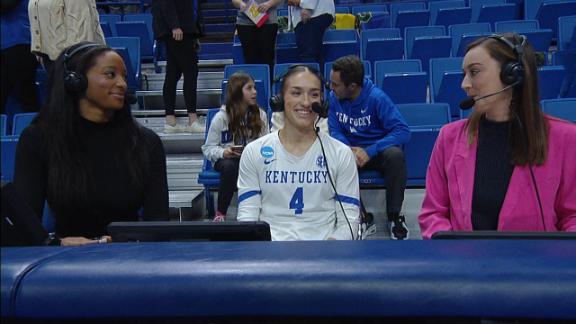 Mizzou forces OT but falls to Virginia in ACC/SEC clash
The Tigers' hot start fizzles out as Hayley Frank nets a few late free throws to extend the matchup, but the Cavaliers come out on top by the final whistle, 87-81.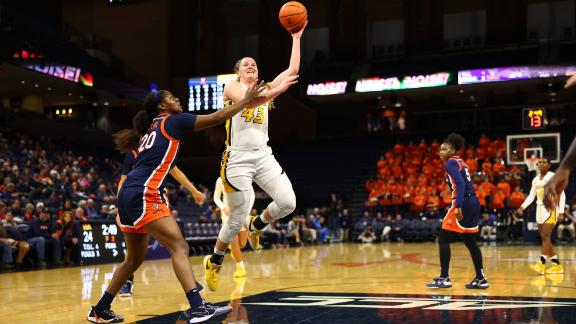 No. 20 UT falls to No. 18 Notre Dame in fourth quarter
Despite holding on to the lead for nearly the entire game, the Lady Vols suffer a 74-69 loss due to a flurry of Fighting Irish free throws in the final moments.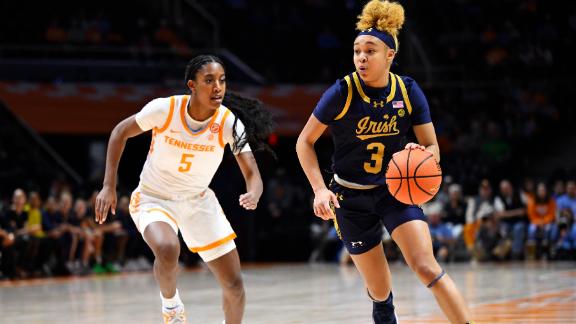 Angel Reese to return for LSU after 4-game absence
Angel Reese, who has missed four games for undisclosed reasons, is rejoining No. 7 LSU in advance of its matchup with No. 9 Virginia Tech on Thursday night.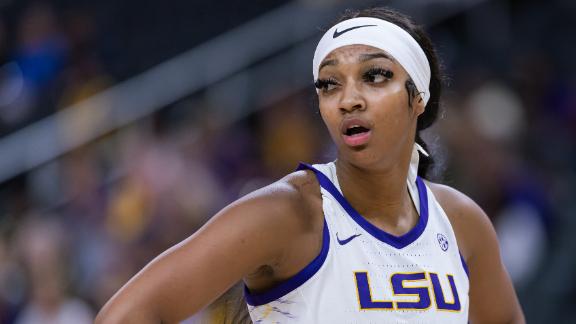 JuJu Watkins notches second straight 30-point game in USC's win
Freshman phenom JuJu Watkins drops her fourth 30-point game of the season as USC blows out Cal Poly.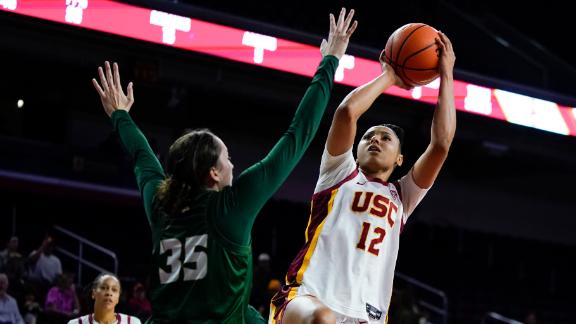 UConn bounces back with win over Kansas
Paige Bueckers scores 22 points as UConn rebounds from its defeat to UCLA with a 71-63 win over the Jayhawks.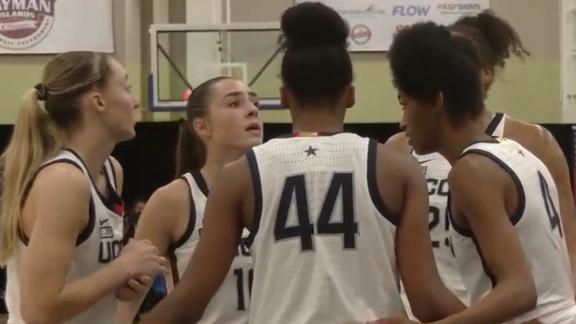 LSU prevails vs. gutsy Virginia
Aneesah Morrow scores 37 points helping steer the LSU Tigers to a 76-73 victory over the Virginia Cavaliers.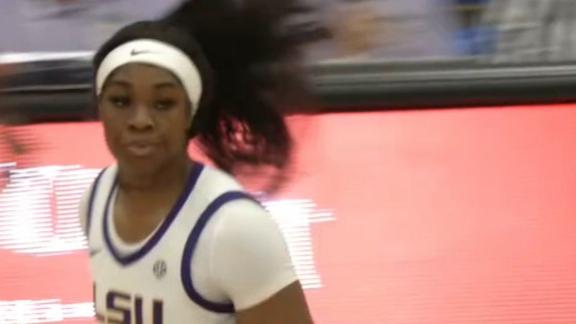 Rutherford says early schedule prepared UK for SEC play
After leading a sweep of No. 20 Florida with 15 kills and four blocks, Reagan Rutherford credits a tough non-conference schedule for No. 10 Kentucky's SEC success.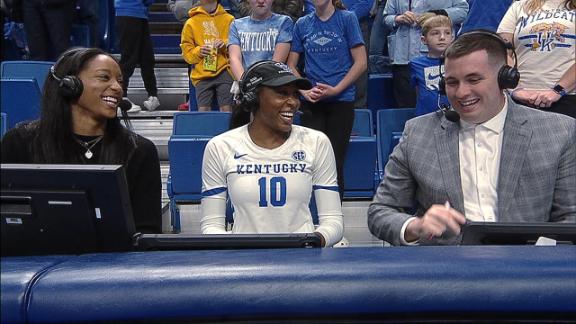 Green Bay's backdoor execution leads to dagger bucket vs. Washington State
Green Bay's Bailey Butler finds Natalie McNeal for the easy layup, giving them an 11-point lead late in the fourth.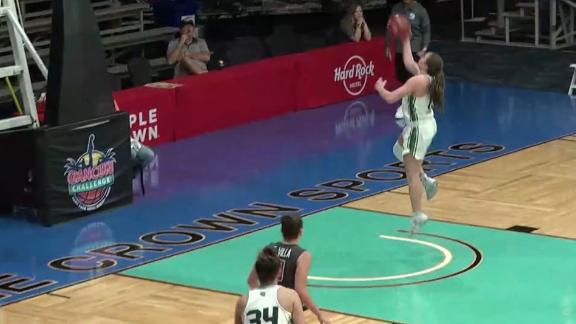 MMA
Harrison calls for potential Cyborg fight after win
Kayla Harrison calls for a potential superfight against Bellator champion Cris Cyborg after her win.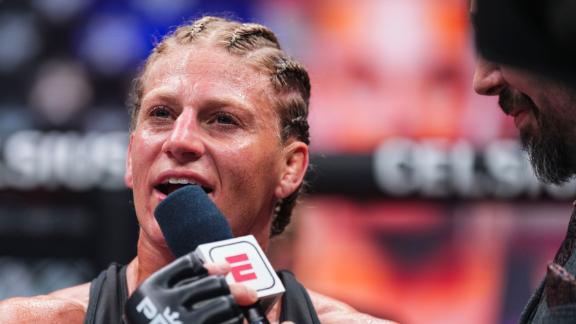 UCLA catches fire with a dozen 3-pointers to top UConn
Charisma Osborne hits six 3-pointers in No. 2 UCLA's 78-67 win over No. 6 UConn.
Hogs' strong second half fuels gutsy win over Wisconsin
In the fourth quarter, Arkansas goes on a 15-3 run and uses key defensive stops to best the Badgers, 65-62, and advance to the Fort Myers Tip-Off Shell Championship.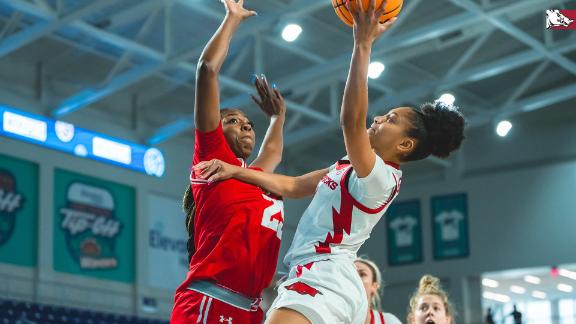 Aggies' Lednicky on importance to get win over Ole Miss
Following her 10 kills in the sweep over the Rebels, Logan Lednicky speaks on getting back in the win column and how Texas A&M is in a "must-win" situation.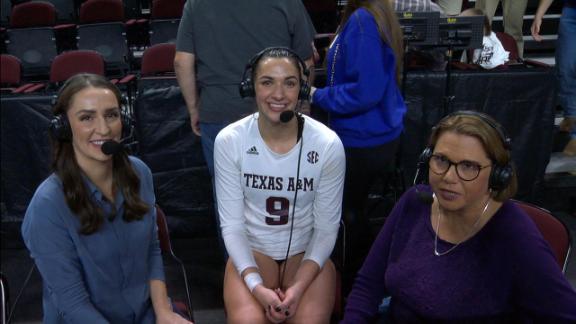 Kamilla Cardoso puts up huge stat line as South Carolina remains undefeated
Kamilla Cardoso gets her third double-double of the season to power South Carolina past South Dakota State.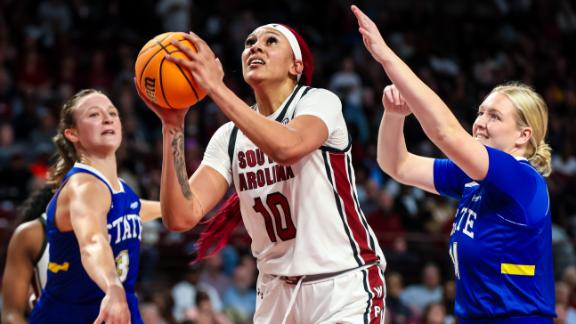 Aggies' Barker: Transfers are a 'blessing' and 'relief'
After her double-double (15 points, 10 rebounds) in a 80-35 rout of HCU, Janiah Barker describes how the Texas A&M roster additions have amped up its game.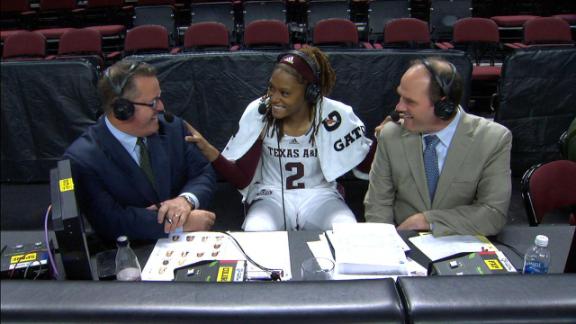 Judd says Mizzou's summer work is paying off big
After scoring 26 points to tie Missouri's Hayley Frank for game-high honors in a 96-62 win over Southern Indiana, Ashton Judd looks forward to some more sunshine.