What are Neil Patrick Harris and Tina Fey doing this week? It's awards season in Major League Baseball. So it's about time these awards shows threw in an opening monologue and possibly a special duet performance by Adele and John Legend. Don't you think?
But in baseball, they don't do it that way. In baseball, the only glitz is in the shine of the trophies. So who's about to win -- and who should win -- the major awards for 2016? Let's take a look:
---
National League MVP (Thursday)
Finalists: Kris Bryant, Cubs; Daniel Murphy, Nationals; Corey Seager, Dodgers
Who should win: Bryant
Did you know there has never been an MVP who started games at four different positions? So obviously, in a related development, there also has never been an MVP who started at four positions and led the league in wins above replacement. But Bryant started at third, first, left and right, even played center and short in an emergency. And he nearly led the league in homers. And he led the NL in runs scored. So as good as Murphy and Seager were, this one was easy. Kris Bryant is about to become the Cubs' first MVP since Slammin' Sammy Sosa in 1998.
Who will win: Bryant
The only active players who have won a Rookie of the Year award and MVP trophy in back-to-back seasons are Ryan Howard and Dustin Pedroia. By Thursday night, there's an excellent chance we'll have a third name on that list.
---
American League MVP (Thursday)
Finalists: Jose Altuve, Astros; Mookie Betts, Red Sox; Mike Trout, Angels
Who should win: Trout
News bulletin: Mike Trout is as tremendous as ever. The best player in baseball just had, very possibly, the best offensive season of his career. And he still might not win this award. Which wouldn't reflect really well on the thinking powers of the electorate, right? This season, Trout led the whole sport in runs (123), walks (116), times on base (300), on-base percentage (.441), OPS+ (174) and wins above replacement (10.6). He also scored an incredible 17 percent of his team's runs -- the highest percentage by any AL player since Rickey Henderson in 1985. But Trout made a bigggg mistake. He did all that for an Angels team that wasted his multifaceted brilliance by losing 88 games. If he finishes second, that'll teach him. At any rate, he now has led the AL in WAR five years in a row. The only other position player to do that: Babe Ruth.
Who will win: Betts
Just two MVPs in history -- Cal Ripken Jr. in 1991 and Alex Rodriguez in 2003 -- have come from teams that lost as many games as the 2016 Angels. Are voters ready to make Trout the third? If not, I can see voters turning to the Mookie of the Year, a guy who led everyone in baseball not named Mike Trout in wins above replacement. Betts finished in the top four in the AL in runs, hits, total bases, batting average, extra-base hits and runs created -- all while playing Gold Glove right field. If Betts does win, I'm predicting that someday we'll look back on these past five years and ask: How the heck did the best player alive take home only one MVP trophy while doing his best Babe Ruth impression?
---
NL Cy Young (Wednesday)
Finalists: Kyle Hendricks, Cubs; Jon Lester, Cubs; Max Scherzer, Nationals
Who should win: Scherzer
How do you measure dominance? If you're an ERA fan, you wouldn't pick the guy who finished eighth in the league. But if you can look past ERA, who was more dominating than Scherzer? He dialed up a 20-strikeout game. He struck out more hitters (284) than any active right-hander has in any season in this millennium. He led all NL pitchers in WHIP, innings, strikeouts, strikeout-to-walk ratio, double-figure strikeout games and wins above replacement. And he became just the third pitcher in history to average at least 11 whiffs per nine innings, strike out five times as many hitters as he walked and hold opposing hitters to a batting average below .200. The others to do it: Pedro Martinez and Clayton Kershaw. So how would I measure dominance? Like that!
Who will win: Hendricks
But I've noticed something: Not everyone measures dominance the way I do. So Kyle Hendricks is in a great spot. For one thing, he's a Cub, so it was hard not to notice what a great year he had. For another, he had the best ERA in baseball (2.13) by a third of a run -- and held a sizable lead in park-adjusted ERA+, too. He also won the sabermetric mano a mano with Scherzer in virtually every popular new-age category. So here's what I think this comes down to: Do Cy Young voters think strikeout rate (31.5 percent for Scherzer to just 22.8 for Hendricks) means more than a clear talent for inducing soft contact (league-best 25.1 percent soft-contact rate for Hendricks to 22.2 for Scherzer)? I'd take the whiffs. But I'm betting the electorate goes the other way. Just a hunch.
---
AL Cy Young (Wednesday)
Finalists: Corey Kluber, Indians; Rick Porcello, Red Sox; Justin Verlander, Tigers
Who should win: Verlander
If you're on board with my case for Scherzer as the NL Cy Young, you'll love this pick, because these two guys have almost the same case. Verlander led all AL pitchers in WHIP, strikeouts, quality starts, double-figure strikeout games and wins above replacement. He finished second (by minuscule margins) in ERA, opponent average and opponent OPS. And what a finish he had, leading the league in second-half ERA (1.98), strikeouts (134 in 110 1/3 IP) and opponent average (.180). He also was the only pitcher to finish in the top three in the AL in ERA, WHIP and strikeout ratio. So if you thought you'd seen the last of Justin Verlander in the Cy Young conversation ... um, never mind!
Who will win: Porcello
Just when you thought Cy Young voters had ascended to a higher place, a place where they no longer were hypnotized by win totals, along came Porcello to go 22-4 in a breakout year for one of the best teams in baseball. Of course, there were other reasons to vote for him: best strikeout-to-walk ratio in baseball; second-best WHIP in the AL (just .008 behind Verlander); he beat Verlander in both Fielding Independent Pitching and ERA+; and Porcello was the most consistent starter in the league, a fellow who pitched into the sixth inning 25 starts in a row. That wouldn't be enough every year. But in a season in which seven different starters (plus Orioles closer Zach Britton) had reputable Cy Young cases, it just might be.
---
NL Rookie of the Year (Monday)
Finalists: Kenta Maeda, Dodgers; Corey Seager, Dodgers; Trea Turner, Nationals
Who should win: Seager
When a rookie is the best player on a first-place team, not to mention the team with the highest payroll in baseball, he doesn't leave us much to argue about, no matter how much we all love to fight about these awards. Holy cow, did Corey Seager fill up the old stat sheet or what? Know how many other rookies in history have ever hit 26 homers or more, fired off at least 193 hits, whacked 40 doubles and matched or equaled Seager's slash line (.308/.365/.512)? Exactly two: Albert Pujols in 2001 and Hal Trosky in 1934. Sounds like we've got a winner to me.
Who will win: Seager
Maybe if Turner had spent more than half a season in the big leagues, somebody could have mustered up some sort of case for him. But that ain't happening. Which means Seager is about to join Mike Piazza and Raul Mondesi as the only unanimous Rookie of the Year winners in the history of the Dodgers.
---
AL Rookie of the Year (Monday)
Finalists: Michael Fulmer, Tigers; Tyler Naquin, Indians; Gary Sanchez, Yankees
Who should win: Fulmer
You think someday we'll be asking, "Who was that guy the Tigers traded at the 2015 trade deadline to get Michael Fulmer?" -- and then remember it was Yoenis Cespedes? Could be, because Fulmer was that good this year. He had a 33 1/3-inning scoreless streak, the longest by any rookie since Fernando Valenzuela 35 years ago. And he ripped off eight straight starts in which he allowed one run or none. No rookie pitcher had ever done that. And if he'd pitched three more innings, he'd have qualified to finish third in the whole American League in ERA. Did you know the only two Tigers pitchers in history to win a Rookie of the Year award are Verlander and Mark Fidrych? Better make that three.
Who will win: Sanchez
OK, I don't really think Sanchez is going to win. And I don't think he should win. But you never know. He did get a little pub. And he is a Yankee. And it is seriously cool that this guy hit zero big league home runs before Aug. 10 and then hit 20 -- a feat nobody else in history has ever pulled off. So if someone invents a Rookie of the Year Starting Aug. 10 award, he's your winner. But since the season started in April, I'd feel more comfortable giving the actual award to a guy who was at least in the big leagues in April (by which I mean Fulmer).
---
NL Manager of the Year (Tuesday)
Finalists: Dusty Baker, Nationals; Joe Maddon, Cubs; Dave Roberts, Dodgers
Who should win: Roberts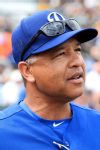 I'm still blown away by the managerial magic of Dave Roberts. What's about the worst thing that could happen to a man who had never, ever managed before? Let's say you hand him a team that has to use 55 players and 15 starting pitchers just to make it through the season -- so he has no such thing as a regular lineup or even what's known elsewhere as "a starting rotation." Let's say he loses his best pitcher (or actually any team's best pitcher), Clayton Kershaw, in midseason. Let's say his front office is constantly flipping his roster and filling his head with all sorts of newfangled ideas. And now he has to keep his clubhouse pointed in the right direction and try to make up an eight-game hole in the standings? It should have been a nightmare. But the manager of the Dodgers sold it in his clubhouse and nailed it on the field. Amazing.
Who will win: Roberts
Did you know that no Dodger has won a Manager of the Year award in almost 30 years, since Tommy Lasorda in 1988? With all due respect to Maddon and Dusty, that's about to change.
---
AL Manager of the Year (Tuesday)
Finalists: Jeff Banister, Rangers; Terry Francona, Indians; Buck Showalter, Orioles
Who should win: Francona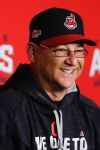 We didn't need to watch baseball in October to be reminded that Terry Francona is the best manager in this sport right now. But we do need to remind you that all Manager of the Year ballots had to be cast before October. And you know what? It doesn't change anything. Because who outmanaged this guy from April through September? His best hitter (Michael Brantley) played in 11 games all year. His No. 2 and No. 3 starters (Carlos Carrasco and Danny Salazar) missed 16 starts combined. He lost two players (Marlon Byrd and Abraham Almonte) to PED suspensions. He never started the same eight position players in the same eight positions for more than two games in a row all season. And he still found a way to beat out a team with a $195 million payroll (the Tigers) and the defending World Series champs (the Royals) in the AL Central. Terry Francona. He's. The. Best.
Who will win: Francona
Banister won this award last year. Showalter won it the year before. Francona won it the year before that. That's what you call a stupendous field. But it still wouldn't shock me if Francona won this award unanimously. No Indians manager has ever won this award twice, by the way. Until this week.