DALLAS COWBOYS (Consensus division finish: 1st)
Rob Tringali/Sportschrome/Getty Images
EXPERTS' PICKS
The Cowboys finished first in the NFC East last season with a 13-3 record. For NFC East coverage, visit Matt Mosley's NFC East blog | Discuss Cowboys | MAG Preview
ANALYST
PREDICTION
Jeffri
Chadiha
ESPN.com

DIVISION FINISH: 1 They've got 13 Pro Bowl players back from a team that won 13 games in 2007. Anything short of the Super Bowl will be devastating.
John
Clayton
ESPN.com
DIVISION FINISH: 1 On paper, it's impossible not to rank the Cowboys as the No. 1 seed in the NFC. They have 13 Pro Bowl starters and a QB, Tony Romo, who dates Jessica Simpson. But the Cowboys need to win a playoff game to gain some legitimacy.

Tim
Graham
ESPN.com

DIVISION FINISH: 1 If Wade Phillips can't win at least one playoff game, he'll lose his job to offensive coordinator Jason Garrett. In fact, it might be Super Bowl or bust. But the Cowboys have all the tools to do it.
Jeremy
Green
Scouts Inc.

DIVISION FINISH: 1 The Cowboys, on paper, are the best team in the NFC, but they have issues on and off the field. On the field, they still need to find a No. 2 WR. Off the field, the pressure is mounting on coach Wade Phillips, who will likely lose his job to offensive coordinator Jason Garrett should the Cowboys falter.
Paul
Kuharsky
ESPN.com

DIVISION FINISH: 1 A very good team that will come up short of its hype. Wade Phillips' status and Pacman Jones' inevitable trouble will be enough to sidetrack the Cowboys at some crucial point.
Matt
Mosley
ESPN.com

DIVISION FINISH: 1 Many have suggested that the Cowboys should head to Tampa now and just wait on everyone to arrive. But you have to win a playoff game before you can talk Super Bowl.
Mike
Sando
ESPN.com

DIVISION FINISH: 1 High expectations and recent playoff failures turn up the pressure on Tony Romo and the Cowboys. The regular-season record doesn't matter as much this season. It's all about the postseason for Dallas.
Kevin
Seifert
ESPN.com

DIVISION FINISH: 1 The Cowboys are still the cream of this division, but it would be nice if quarterback Tony Romo starts winning some playoff games. He won't have Terrell Owens forever. Owens turns 35 in December.
James
Walker
ESPN.com

DIVISION FINISH: 1 It's Super Bowl or bust for the Dallas Cowboys. Coming off a 13-win season and with a roster that includes 13 Pro Bowlers, simply making the playoffs is no longer good enough.
Seth
Wickersham
ESPN The Magazine

DIVISION FINISH: 2 Dallas is loaded. Almost too loaded. So loaded that Wade Phillips has to deliver a Super Bowl -- or else.
Bill
Williamson
ESPN.com

DIVISION FINISH: 1 The Cowboys are by far the most talented team in the NFC. As we learned last year, that doesn't necessarily mean anything. But this team goes into the season with legitimate Super Bowl aspirations.
Matt
Williamson
Scouts Inc.

DIVISION FINISH: 1 This team is loaded. The secondary now has more good players than it knows what to do with and the defense as a whole will be among the league's best. As long as Terrell Owens stays healthy, Dallas will be among the best teams in the NFL. A brutal division could hinder the Cowboys' chances at a first-round bye, but they are still my pick to win it all.
Pat
Yasinskas
ESPN.com

DIVISION FINISH: 3 Yeah, Dallas has a ton of talent and, on paper, should be the division champion. But there are too many egos for one roster and this whole thing could blow up in a hurry if the Cowboys don't start off well.


CONSENSUS DIVISION FINISH: 1 | NFL standings
BEST OF THE COWBOYS
Best special teams player: Safety Patrick Watkins took over this title once Keith Davis left for the Miami Dolphins. Watkins replaces Davis at the all-important gunner position and he's rangy enough to slip off blockers and make plays. Watch how he's always in perfect position on kickoffs.
Most unheralded:
Nose tackle Jay Ratliff has quietly become one of the most valuable players on the defense. He has the versatility to move outside and play defensive end. Of all the late-round picks that Bill Parcells hit on in Dallas, he's probably proudest of Ratliff.
Best backup offensive lineman:
You might not think this is an important category until Andre Gurode or Leonard Davis goes down. Cory Procter receives the honor because he can play either guard spot and center. No one notices him, but he's actually a steady player and a great guy in the locker room.
Best breakout potential:
After observing Felix Jones for a week of camp and watching him in the preseason, it's evident that he has great quickness and speed. What separates him from other backs, though, is his excellent vision.
-- Matt Mosley, ESPN.com
SCOUTS INC.'S FAB FIVE
Scouts Inc. has evaluated and graded more than 2,400 NFL players heading into the 2008 season, giving Insiders a leg up on the competition with exclusive grades, alerts and scouting reports.
Top five players
on the roster
ANALYSIS
1. Terrell Owens
Wide receiver
6-3 | 224
(Grade 93) Owens is a very good athlete with a great combination of size, strength and speed. He has good awareness for the down markers to move the chains. Plus, he has good speed to finish if he catches the ball in space.
2. DeMarcus Ware
Linebacker
6-4 | 257
(92) Ware is very productive as a pass-rusher and run player with the ability to drop into coverage. He can convert speed to power quickly with good arm extension and low pad level to create a push off the edge.
3. Jason Witten
Tight end
6-5 | 265
(87) Witten is a good overall athlete who has very good hands and runs good routes. He also has functional strength as a blocker. He does a good job getting into routes quickly and is an alert player who is quick to adjust.
5. Terence Newman
Cornerback
5-11 | 195
(84) Newman is a very good athlete with excellent speed and body control. He is a versatile player who can also cover slot receivers or return punts. He shows a good burst in transition with the ability to close hard.
5. Leonard Davis
Guard
6-6 | 366
(84) In the run game, Davis has good strength and power to create movement on his own. He is initially quick for his size with the ability to sustain and finish. He is a powerful player who can anchor quickly.
Player grading scale: Elite (90-100), outstanding (80-89), solid starter (75-79), good starter (70-74)
SCOUTS INC.'S ANALYSIS
Strengths

Offensive line: The O-line could rank among the league's best. It's a big, physical group that features three very good starters in LT Flozell Adams, C Andre Gurode and RG Leonard Davis. They have the size and nasty disposition to create movement in the run game and enough athleticism to hold up in pass protection. LG Kyle Kosier and RT Marc Colombo are adequate starters.
Secondary:
The depth of the defensive backfield was a hot topic in the offseason, and rightfully so. It will be interesting to see how coordinator Brian Stewart uses the group's strengths and versatility to match up with opponents. Dallas has the talent to use more man-to-man coverage in 2008, and Stewart should feel free to send extra men on the blitz and rely on his defensive backs' recovery skills to disguise coverages.
Front seven versatility:
The addition of LB Zach Thomas further bolsters an already talented group. Thomas' instincts and quick reactions should nicely complement the skills of ILB Bradie James. With their pass-rushing skills and lateral quickness, OLBs DeMarcus Ware, Anthony Spencer and Greg Ellis can create a lot of havoc off the edge. DEs Marcus Spears and Chris Canty and NTs Jay Ratliff and Tank Johnson use their hands well to stack blocks and play stout inside.
Weaknesses

WR depth: Someone must fill the void opposite WR Terrell Owens. WR Patrick Crayton made plays when called upon last season, but an injury could create a major strain at the position. When your best receiver (T.O.) is 34 and keyed on by opponents every week, trouble is never far away.
Special teams coverage units:
The Cowboys have placed a renewed emphasis on covering punts and kicks, an area that could use some improvement (Dallas ranked 20th in kickoff coverage and 29th in punt coverage in 2007). The team's depth at several positions could make that goal achievable. Speed and youth at cornerback, linebacker and wide receiver can translate into better downfield coverage for K Nick Folk and P Mat McBriar, but the coaching staff must stay committed to stressing the importance of special teams.
Offensive tackle depth:
Dallas has few glaring weaknesses, so it's time to nitpick. The team is set at offensive tackle, but things could get ugly if anything should happen to Flozell Adams or Marc Colombo. The backups lack starting experience, and none of them seems to possess the combination of size and athleticism it would take to protect QB Tony Romo's blind side.
-- Scouts Inc. watches games, breaks down film and studies football from all angles.
JEREMY GREEN'S X FACTORS
FOOTBALL TODAY PODCAST: DIVISION PREVIEW
MY TOUGHEST OPPONENT

Witten
Cowboys tight end Jason Witten on former Giants defensive end Michael Strahan:
I know he's retired, but he's by far the best I've ever faced. He's smart in how he sets you up. When you finally think you have him, he'll do something completely different. If he gets into you, it's over. Even last season, he could beat you with the speed rush. But then he would crash down the line and surprise the guard. [Former offensive line coach Tony] Sparano spent hours trying to come up with ways to stop Strahan.
He had so many moves that it made it impossible to predict which way he might go. And his arms were long enough that he could keep you at bay and then make a tackle. He's the most relentless player I've ever faced. Some guys might take a play off here and there. He never did that. I'm not broken up about seeing him retire.
-- As told to Matt Mosley, ESPN.com
FRANCHISE BEST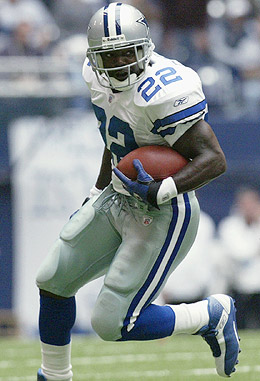 Ronald Martinez/Getty Images
In a vote by SportsNation, RB Emmitt Smith was voted best Cowboy ever. He is the NFL's all-time rushing leader with 17,418 yards. Complete results
BLOGS: PRO AND FAN

Looking for more Cowboys coverage? You've come to the right place. Matt Mosley writes about all things NFC East in his division blog.


Featured Fan Preview

by grimm10672
This could be our year, and I really think our strong safety and wide receiver play (other then TO) should dictate how far we can take it. I'm ready to break the decade-long playoff drought. So "Get Your Popcorn Ready!" Blog

Submit your blog preview
FANTASY FOCUS
Can Marion Barber carry the load?

Barber
Another year, another question about the Cowboys' running game. But this time, there's a little more certainty as to who's getting the bulk of the carries. Despite not starting a game in the regular season in 2007, Marion Barber scored 12 total touchdowns and led the Cowboys in rushing. With Julius Jones out of the picture, there shouldn't be any questions about Barber's playing time, so the major question now becomes whether Barber is capable of carrying the load on a full-time basis and live up to the top-10 billing he now gets in fantasy drafts because of his featured role in the Cowboys offense. Barber's greatest asset is his versatility. He established himself as a third-down back who can catch passes out of the backfield, but he's also a hard-nosed runner between the tackles, which made him the go-to guy at the goal line. But he can also rip off the big play -- he has gained 4.8 yards per carry in each of the past two seasons. In 2007, Barber carried the ball 160 of 204 times
outside
the opponent's 20-yard line. In those carries, he averaged a whopping 5.3 yards per carry. That includes a crazy 8.5 yards-per-carry on 44 attempts between the 40s. So obviously, he can be trusted upon to carry the ball anywhere on the field. While the numbers say he can carry the load when given the opportunity, Barber's approach to the game might be his biggest hurdle. He's been nicknamed "The Barbarian," given his very tough style on the field. As a inside runner, he draws plenty of contact and takes a lot of hits. That punishment could add up over time, but the way the Cowboys have kept his touches in check during his career, this might delay a physical breakdown.
-- James Quintong, ESPN.com
More Cowboys
|
Fantasy index