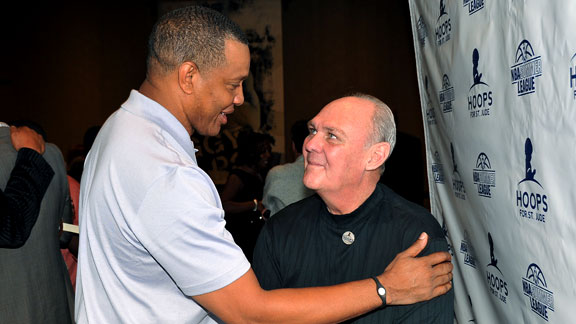 Garrett Ellwood/NBAE/Getty Images
Alvin Gentry and George Karl had a lot more to talk about than just hoops.
The date for the St. Jude/NBA Summer League Tip-Off Dinner was set months ago.
The charity banquet and auction to support the unique cancer research and treatment facility in Memphis was scheduled, as it always is, for the Thursday night before Summer League. Cocktails at 6 p.m., with dinner to follow at 7 p.m. Attendees for the event include several NBA coaches, execs, agents and a handful of players. And like everyone else in the world with a vested interest in the NBA, they had one thing on their mind when things got started at 6 p.m. Pacific Daylight Time on Thursday night:
Finding the closest television.
On opposite sides of an anteroom outside the main hall, two large screens were set up to for some of the most plugged-in people in basketball to watch LeBron James announce his intentions on national television. The likes of Phoenix head coach Alvin Gentry, Golden State head coach Don Nelson, Denver general manager Mark Warkentien, Denver assistant Adrian Dantley and former Suns assistant general manager David Griffin gathered around the tube. For an hour, the spectacle of James' proclamation, conversation about what this means for the league, whether James should run the offense as a point forward and the likelihood that the Heat can breeze to a championship dominated the room.
A little after 7 p.m., attendees filtered into the hall and sat down at their assigned 10-top tables. The room was still buzzing about James and the coup pulled off by the Heat. After some brief introductory welcome, the program shifted to a video chronicling the lives of children who had been spared thanks to treatment received at St. Jude.
Then, something profound happened:
Minutes after one of the more monumental moments in NBA history, a group of people whose lives are consumed by basketball and the machinations of the league shifted their focus.
After the video presentation, David Aldridge took the podium. Aldridge's mother died of cervical cancer almost 25 years ago, something that inspired the reporter to serve as emcee of the event, a task he's performed for the last three years. Though it's been nearly a quarter of a century, the impact of Aldridge's loss has stayed with him. He was deeply emotional, pausing repeatedly to gather himself, as he passionately spoke about the goals and achievement of St. Jude.
The breadth of St. Jude's work as one of the top pediatric cancer care hospital in the world is immense. But the easiest way to capture St. Jude's mission is this:
If your kid has cancer, he will receive the best treatment in the world at St. Jude, whether you can afford to pay for that care or not. No questions asked.
St. Jude has around 5,700 active patients and raised $682 million last year -- and 81 percent of that money goes directly to research and treatment. There are a lot of worthy causes and institutions in the world, but few of them manage themselves more efficiently than St. Jude.
Aldridge's poignant testimonials about how his mother's cancer has stayed with him set the tone for the program. Former Portland Trail Blazer assistant general manager Tom Penn was an executive with the Grizzlies for years just a few miles away from St. Jude. He's been out front in the effort to make St. Jude a centerpiece of the NBA community's charitable work. When he took the podium, the juxtaposition between the 6 o'clock and 7 o'clock hours wasn't lost on him.
"There's been no mention of free agency, the salary cap, or the guy who signed in Miami," Penn said.
After dinner was served, a couple of families whose children were saved by the treatment they received at St. Jude were introduced on stage. Over at Table 10, Dallas Mavericks assistants Dwane Casey and Terry Stotts were finishing up their plates. Casey hasn't had the best of weeks. On Tuesday, he lost out on the Los Angeles Clippers' head coaching gig after being the odds-on favorite throughout most of the process. But as the families' affliction and recovery were described by Penn, Casey leaned over.
"Our problems?" Casey said. "They're nothing."
St. Jude always attracts strong support from the NBA, but George Karl's battle against neck and throat cancer this past year lent Thursday night's event a particularly strong sentiment. In addition, Karl's son Coby was has been treated for thyroid cancer. Karl was presented with the inaugural George Karl Award for Courage in Sports, then addressed the crowd.
"We as successful people -- players, coaches, general managers -- it's our responsibility to give. We say, 'back to the game,' but it's really 'back to life' because we get treated very, very special," Karl said. "We have a lot of people in this room who like to compete. I'm one of them ... I've found that with cancer, in these last three and a half month, there are hundred of thousands of competitors that fight this disease with an attitude, passion and commitment as great as we do in our profession."
Those present last night to hear Karl's story and the appeals of Aldridge and Penn will inevitably return to the business of basketball as Summer League kicks off on Friday. But for a few hours on Thursday night, while the rest of the world was hung up on James' big choice, those without the luxury to choose had a few big voices broadcasting their plight.