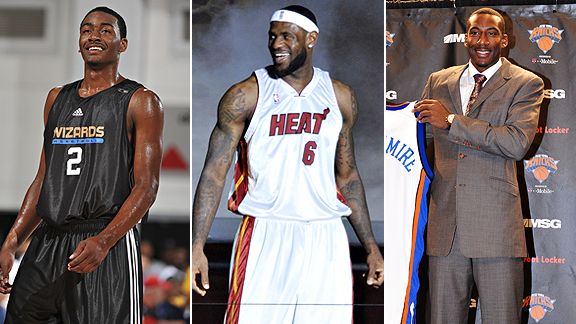 NBAE/Getty Images
These guys figure prominently in the 2010-11 NBA schedule, which was released in full Aug. 10.
The NBA's 2010-2011 schedule has been released and with it comes a bevy of action to circle on your actual or proverbial calendar.
Before you dive in I think it's imperative we get something out in the open first. I realize a lot of people are sick of talking about LeBron James and the Miami Heat. But it's something you're going to have to accept this season and probably for the next decade. Heck, the entire opening section of this preview is about LeBron and the Heat. When two of the best players in the world pair up and bring along their tall friend, it's going to make headlines -- and great television.
So let's just accept that the Heat matter, and that their games matter even more, particularly in key matchups. Let's hope for a lot of fun basketball between now and the next time the schedule gets released.
Let's check out LeBron's key games and the rest of the NBA (opening night games were already covered by Kevin Arnovitz here):
LeBron James Consolation Prize Tour
Oct. 31: Miami Heat at New Jersey Nets
Jay-Z and Mikhail Prokhorov couldn't convince James that Newark and Brooklyn were the places to be during his next contract. When James visits the could-have-been new digs, the Nets' brass will get to see just what they missed. It's OK though. Travis Outlaw and Johan Petro will show him.
Dec. 2: Miami Heat at Cleveland Cavaliers
This one is going to be a doozy. James returns to his home that was never really his home but now is looked at as his abandoned home. I don't get the sense the Cavs will feature a special video tribute for LeBron. I also have a feeling Cavs owner Dan Gilbert will be sitting courtside with eye lasers, attempting to burn a hole through James' head. And if there is tossable chalk anywhere close to the scorer's table, I'm going to be disappointed in the state of Cleveland's gamesmanship.
Dec. 17: Miami Heat at New York Knicks
The Knicks cleared the deck for James and all they got was this stupid T-shirt and Amare Stoudemire. For years it seemed like the Garden faithful was cheering extra hard during Cavs' visits because they wanted James to realize the hallowed arena was his destined home. Now we'll see if the love is still there. My guess is he'll be showered with boos.
Jan. 12: Miami Heat at Los Angeles Clippers
LeBron was nice enough to have a meeting with the Clippers. Now he'll be nice enough to obliterate them.
Jan. 15: Miami Heat at Chicago Bulls
Dwyane Wade could have bolted back home. James could have tried to transcend Jordan's shadow. Chris Bosh could have been the scoring big man next to Joakim Noah. Instead, the Bulls settled for depth, Booze and rock 'n' roll. And by rock 'n' roll I mean Derrick Rose and his newfound jumper as the team leader.
Rookie Debuts/Showdowns
Oct. 27: Portland Trail Blazers at Los Angeles Clippers
Two of the last three No. 1 picks have started their careers in street clothes with bad knee injuries. Blake Griffin will get to share exam room war stories with Greg Oden before they lace 'em up and try to dunk on each other. Griffin's rookie debut is a year later than we all wanted but he'll get to prove it was worth the wait.
Oct. 27: Miami Heat at Philadelphia 76ers
Welcome to the league, Evan Turner. Tough way to start out a career by having to guard either James or Wade. After a disappointing summer league run, Turner will have a chance to prove against the best in the NBA he's a worthy No. 2 pick. Good luck with that.
Oct. 27: Sacramento Kings at Minnesota Timberwolves
When DeMarcus Cousins hit a game-winner in the Las Vegas Summer League against the Wolves, everyone seemed pretty convinced he was trying to make a statement about Minnesota's passing on him with the fourth pick. So when the games actually matter, we should expect DMC to be even more ornery and productive. Wesley Johnson, on the other hand, will be allowed to fly up and down the court in hopes of proving passing on Cousins wasn't a colossal mistake.
Oct. 27: Detroit Pistons at New Jersey Nets
Greg Monroe and Derrick Favors also make their respective NBA debuts on the same court. Both will implement completely different styles in doing so. Monroe will look to pick apart the Nets away from the basket while Derrick Favors will try to outmuscle everybody down low. Nets fans will get to see how well Lopez and Favors click immediately while Pistons fans will rejoice in their center being a guarantee to at least hit rim at the free throw line.
Oct. 28: Washington Wizards at Orlando Magic
John Wall debuts and gets the Magic as the first opponent of his NBA career. Yes, he'll start off with a loss but as long as he dazzles us with one highlight, we'll all continue to be giddy about his future. No, Dwight Howard blocking him into the third row doesn't count as the highlight.
Oct. 29: Sacramento Kings at New Jersey Nets
The two best big men (sorry, Greg Monroe) in the 2010 draft will wage interior battle for the first time in their careers. Derrick Favors will try to prove against Cousins that he was deserving of being the higher pick. Cousins will get an early chance to show a couple of teams they will regret passing on him.
Nov. 2: Philadelphia 76ers at Washington Wizards
For a split-second there was a debate of whether or not the Wizards would be better off adding Evan Turner with the first pick of the draft. John Wall will square off against him to prove his rookie supremacy. My guess is the 76ers will experience draft lottery remorse.
Mar. 12: Los Angeles Clippers at Washington Wizards
The two most likely Rookie of the Year candidates face off. You already forgot that Blake Griffin was a rookie, didn't you? Having Griffin and Wall play each other this late in the season will definitely help people solidify their opinions of who is deserving of the hardware. Winner gets a bushel of ROY articles written about him.
Point Guard Comparison Tour
Nov. 5: Chicago Bulls at Boston Celtics
Let the Rondo-Rose debate resume! Rose is a franchise building block. Rondo is a guy with a ring and a T-shirt. With the improvements to the Bulls, this game should be more about two Eastern Conference powerhouses squaring off. But the two point guards are certain to steal the show.
Nov. 19: Oklahoma City Thunder at Boston Celtics
Don't forget about Russell Westbrook. He and Rondo are two of the best defensive and rebounding point guards in the NBA -- both with a flair for the athletic. Plus we get to see if Kevin Durant is treated like Michael "Bleeping" Jordan once again in Boston.
Nov. 24: New Orleans Hornets at Utah Jazz
Chris Paul and Deron Williams are still the two best point guards in the league. After Williams was universally lauded as the top dog during his impressive playoff run, we should see quite the show from Paul during this game as he tries to convince people how silly that sentiment was.
Dec. 8: Washington Wizards at Sacramento Kings
Last season, the Kings only nationally-televised game was against the Washington Wizards. Tyreke Evans stole the ball from Gilbert Arenas to help secure the win. Now it's John Wall's turn to test Evans and see if he can pull off a little late-game magic. The nice little side story will be the first game Kentucky teammates Wall and Cousins get to play against each other. The trash talking will be flowing.
Mar. 15: Washington Wizards at Chicago Bulls
All John Calipari point guards must be compared with one another so here's another one: John Wall vs. Derrick Rose. Who's the better No. 1 overall pick? This will be the final game in their four-game series this season, and should provide everybody with plenty of evidence why their guy is clearly much better.
Mar. 21: Sacramento Kings at Chicago Bulls
Last time the Kings were in Chicago they rallied for a historic 35-point comeback and stole a road game in December. Tyreke Evans will try to prove this game wasn't a fluke. Derrick Rose will try to prove it was. And the two disciples of Calipari will certainly go at each other all night while the rest of us watch in crossover wonder.
I Came To Pick Up The Rest Of My Stuff Tour
Nov. 10: Golden State Warriors at New York Knicks
David Lee comes back to New York to prove himself against Amare Stoudemire. On top of that, we're bound to see about 270 combined points from these two squads as fantasy basketball teams around the world benefit from the defensive dissonance of the Lee-Stoudemire battle.
Dec. 22: Utah Jazz at Minnesota Timberwolves
Al Jefferson is back in Minneapolis for the first time, with instructions for Kevin Love on how to escape to a title contender. Step 1: get your knee to explode.
Jan. 7: New York Knicks at Phoenix Suns
Amare Stoudemire returns to Phoenix and attempts to prove he's just as good with Raymond Felton by his side as he was with Steve Nash. Meanwhile, Nash will be throwing alley-oops to Hakim Warrick and show he can squeeze a career year out of anyone in this system.
Feb. 9: Chicago Bulls at Utah Jazz
Carlos Boozer is back in Utah to take on his old apprentice Paul Millsap and the new guy, Al Jefferson. Odds on Boozer being healthy enough to play in this game are probably not as good as Bulls fans are hoping.
Feb. 16: Miami Heat at Toronto Raptors
Look! Another Heat game! But this one is about Chris Bosh's returning to Toronto to take on his old team. Thankfully for him, he won't be nearly as hated as Vince Carter was in his return. It will probably fall somewhere right in the middle of Vince Carter and Matt Bonner on the erstwhile Raptors hatred scale.
Feb. 25: Phoenix Suns at Toronto Raptors
Actually, I don't know that Hedo Turkoglu ever unpacked his stuff in Toronto. But he's back in Toronto where he'll have a really awkward handshake with Bryan Colangelo at some point.
Let's See Where We Stand Tour
Oct. 29: Los Angeles Lakers at Phoenix Suns
Rematch of the Western Conference Finals finds two franchises heading in two opposite directions. Lucky for us, they'll still put on one heck of a show against each other.
Oct. 29: Orlando Magic at Miami Heat
This is the Heat's first home game of the LeBron James-Miami Heat era and they'll kick it off with one of the toughest opponents in the league. We'll see very early on just good this team can be defensively when they confront the pick-and-roll and try to stay home on the Magic shooters.
Nov. 4: Oklahoma City Thunder at Portland Trail Blazers
Aahhhhhh, what could have been. Durant returns to PDX to remind the Trail Blazers they didn't get the best player in the 2007 draft. Let's just hope Greg Oden is healthy enough to provide some resistance.
Nov. 10: Milwaukee Bucks at Atlanta Hawks
Bucks pushed the Hawks to seven games without Andrew Bogut. Now with a much deeper team and a more seasoned Brandon Jennings returns to see if their reloaded roster is better than what the Hawks are overpaying for.
Dec. 6: Atlanta Hawks at Orlando Magic
Can the Hawks finally compete with the Magic and show they belong in the East's elite? No? Well at least they plenty of cap flexi… never mind.
Dec. 28: Milwaukee Bucks at Chicago Bulls
Both teams have spectacular young point guards. Both teams proved they could hang with better teams in the playoffs last year. Both teams loaded up to improve their depth in the offseason. Which one will prove it's the favorite in the Central Division? Which team has the more hilarious center? This game will help answer these questions.
Jan. 30: Boston Celtics at Los Angeles Lakers
Game 7 of the 2010 NBA finals was the last game these two teams played. Considering they're still both very good teams, I think we'll see an above average contest in this one.
Feb. 12: Dallas Mavericks at Houston Rockets
It's a good ol' Texas showdown between two of the best teams in the Western Conference. Yes, it's hard to definitively say these are two of the best out West but if they can stay relatively healthy, we may be lucky enough to see a playoff series preview.
Feb. 13: Los Angeles Lakers at Orlando Magic (ABC)
It's always good to see potential NBA Finals matchups. We've seen these two teams get pretty testy since the 2009 NBA Finals, and it's doubtful we'll see much different in this game.
Mar. 12: San Antonio Spurs at Houston Rockets
Playoff positioning will be in full effect at this point in the season. Yao Ming going against Tim Duncan is always a good time but we'll also get to see Tiago Splitter (with quite a few games under his belt) squaring off against Luis Scola for the third time this season. I'll bring the feijoada and you bring the alfajores.
Apr. 3: Denver Nuggets at Los Angeles Lakers
Before getting outplayed by the Jazz in the first round of the playoffs last season, the Nuggets seemed to be one of the teams who could challenge the Lakers. After a season's worth of questions about Carmelo Anthony's impending free agency, the Nuggets will get a shot at proving late in the season they can still dethrone the Lake Show. Unfortunately, they probably can't.
Happy Holidays
Thanksgiving Day:
Washington Wizards at Atlanta Hawks (TNT)
Sacramento Kings at Los Angeles Clippers (TNT)
John Wall. Josh Smith. Tyreke Evans. Blake Griffin. Going to be hard to not enjoy that food coma from Turkey Day with these guys flying all over the basketball court. So give yourself an extra helping of mashed potatoes and pumpkin pie as you settle in for the newest NBA on Thanksgiving tradition.
Christmas Day:
Chicago Bulls at New York Knicks (ESPN)
Boston Celtics at Orlando Magic (ABC)
Miami Heat at Los Angeles Lakers (ABC)
Denver Nuggets at Oklahoma City Thunder (ESPN)
Portland Trail Blazers at Golden State Warriors (ESPN)
Thibodeau's defense against D'Antoni's offense. The Celtics and Magic renew the Eastern Conference Finals rivalry as they both prove they're still the best in the East. The Miami Heat test themselves against the back-to-back NBA champs. Carmelo Anthony and Kevin Durant go head-to-head. And we finish the day off with Brandon Roy and Stephen Curry as we sip egg nog and worry if we ate too many Christmas cookies. Those are five presents from the NBA to you.
Second Night of Hanukkah, Dec. 22:
Oklahoma City Thunder at New York Knicks
After sort of discovering some possible Jewish heritage, Amare Stoudemire plays during the Festival of Lights. He'll welcome the Oklahoma City Thunder to the Garden and try to take down Kevin Durant, who scored 36 points in a victory at MSG last season.
New Year's Eve:
New Orleans Hornets at Boston Celtics
Take this game in early so you can watch Rajon Rondo and Chris Paul go at each other before kicking this calendar year to the curb.
New Year's Day:
Memphis Grizzlies at Utah Jazz
There's plenty of time to recover before this night game between the Grizz and Jazz. Zach Randolph going against Al Jefferson will show you how to demonstrate some serious post skills on offense while not really wasting a lot of energy on defense.
Martin Luther King Day, Jan. 17:
Chicago Bulls at Memphis Grizzlies (ESPN)
Sacramento Kings at Atlanta Hawks
Orlando Magic at Boston Celtics (TNT)
Oklahoma City Thunder at Los Angeles Lakers (TNT)
As many of us observe this national holiday, we get treated to four good matchups throughout the entire day, highlighted with the Thunder and Lakers game. The Thunder will use this as another measuring stick. The Lakers will gauge just how close the future powerhouse of the NBA is to them. If we're lucky, we'll get to see a shootout from Kobe and Durant.
Valentine's Day:
Los Angeles Lakers at Charlotte Bobcats
Plenty of time to take in this early game before you celebrate this love-filled holiday. Woo your date with the Ron Artest-Stephen Jackson reunion first. Then take your significant other out for a lovely dinner as you read trade deadline rumors on your phone whenever he or she falls for the "look over there" trick.
St. Patrick's Day:
Indiana Pacers at Boston Celtics
We're cheating a bit here because this game actually happens the day before St. Patty's day. But Shaquille O'Neal and Jermaine O'Neal get to finally celebrate their nomenclatural Irish heritage in the most Irish basketball environment in the most Irish American city on the most Irish day we celebrate during the regular season. Green Icy Hot packs for everybody!
April Fool's Day:
Miami Heat at Minnesota Timberwolves
Watch the Wolves fans pray someone is playing an April Fools joke when the Heat come out of the visitor's locker room.
Other Notable Games
Oct. 31: Utah Jazz at Oklahoma City Thunder
On April 6, 2010 these two teams had an epic overtime battle that ended in controversy. The result of the game may have cost the Thunder a deep playoff run. Let's hope we get the same fireworks to help kick off the early part of the season.
Nov. 13: Golden State Warriors at Milwaukee Bucks
Brandon Jennings vs Stephen Curry. I don't think anything else needs to be said here but don't forget Brandon Jennings scored 55 points in this matchup last year. There will be plenty of scoring from these two phenoms.
Nov. 30: New Jersey Nets at New York Knicks
Battle for New York City: the Prequel.
Dec. 8: Los Angeles Lakers at Los Angeles Clippers
Tell me the Vinny Del Negro-Phil Jackson chess match doesn't make you giddy every year.
Dec. 27: Washington Wizards at Houston Rockets
Any time millions of viewers in China tune into a game, it's a notable contest. This was also your reminder that Yi Jianlian was traded to the Wizards this offseason.
Jan. 14: Dallas Mavericks at San Antonio Spurs
Dirk Nowitzki and Tim Duncan don't have a ton of great battles left. At least, it won't be the same as it was when these guys were in their respective primes.
Jan. 21: Sacramento Kings at Golden State Warriors
The top two vote-getters in the 2010 Rookie of the Year race renew the I-80 rivalry once again. Both fan bases want blood in this one.
Jan. 30: Utah Jazz at Golden State (ESPN)
The Jazz are usually one of the faster paced teams in the NBA, but Deron Williams in an environment like this game demands your attention. If Andre Kirilenko and his expiring contract are still around, it will be nice to see him face shooting guards playing power forward.
Feb. 4: Toronto Raptors at Minnesota Timberwolves
This very well could go a long way in determining who has the most lottery combinations in May. Neither team should really want to win this one. We'll call it the Harrison Barnes Bowl.
Feb. 10: Golden State Warriors at Phoenix Suns
Points, possessions and more points in this game. Defense gets a DNP on this night.
Feb. 25: Detroit Pistons at Philadelphia 76ers
Winner gets to sign a horrible, cap-debilitating contract!
Mar. 4: Toronto Raptors vs New Jersey Nets
Mar. 5: New Jersey Nets vs Toronto Raptors
The NBA is going to have regular-season games in London. So enjoy some fish and chips while watching these two teams show England what NBA basketball is all about – lowered expectations.
Mar. 22: Chicago Bulls at Atlanta Hawks (TNT)
The Bulls have enough depth and talent to hope for home court advantage in the first round of the playoffs. Going against the Hawks this late in the season could very well determine whether they get it or not. Will we get another duel like Dec. 19 last year when Derrick Rose's 32 points got the Bulls past Joe Johnson's 40-point effort?
Mar. 23: Sacramento Kings at Milwaukee Bucks
Tyreke Evans made a game-winning layup in Milwaukee last season to beat Brandon Jennings. Then Jennings came into Arco Arena and put on a 3-point shooting display to give his team a road victory. I can't wait to see what these two have in store for each other this year.
Apr. 8: Los Angeles Lakers at Portland Trail Blazers
If all goes well this will be a titanic battle between two of the best teams in the West. The Blazers will be loaded and hungry for playoff respect while the Lakers will brandish their alpha dog status. We'll get Andrew Bynum trying to be more imposing inside than Greg Oden, while two very long teams with great depth do hardwood battle.
Apr. 13: Last Day of the Regular Season
Every team plays on the last night of the regular season. Bucks-Thunder, Nuggets-Jazz, Hawks-Bobcats, Suns-Spurs and Lakers-Kings highlight the night. Grizzlies taking on the Clippers will be your last nationally televised game of the regular season. And we'll all get to start debating playoff matchups before the night is over.