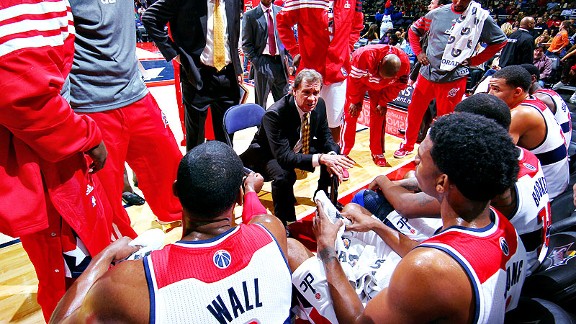 Ned Dishman/NBAE/Getty Images
Which ran out first: The Wizards' patience with Flip Saunders, or vice versa?
Flip Saunders isn't exactly known for his ranting. For all those years in Minnesota and Detroit, he was generally seen as a players' coach, with whispers he was on the permissive side.
But if you just watched the last year or so, as he captained the Titanic of the Wizards into the iceberg of disappointment, you'd think he was an all-time rager.
One tiny example came on Sunday, late in a loss to the Celtics, he watched his Wizards fight for a key late-game rebound. Or rather, especially in the case of big man Andray Blatche, not fight. As you can see in video on Truth About It, the Celtics' Brandon Bass stole the lead-footed Blatche's lunch money, effectively ending Washington's hopes of a win.
Bass passed the ball to Kevin Garnett, who stood directly in front of Saunders.
Garnett is no random opponent for Saunders. He's everything the uber-talented and similarly sized, but horrendously disappointing, Blatche failed to be -- something Saunders had pointed out more than once. Here Garnett was, bursting with passion, wrapping up another win. And there was Saunders, Garnett's partner-in-crime for a Minnesota decade, wedded to Blatche.
Saunders doesn't coach with standard-issue coach's clipboard. Instead he has a heavy, deluxe model. In terms of heft, Saunders' has more in common with the tablets Moses brought down from the mountain than anything you can buy at Staples. In drawing up an inbounds play, Saunders could, should he so choose, include the first five rows of seats (the vast majority of which, at this particular game, were empty).
The referees whistled the play dead, and the coach of the Washington Wizards followed one intentional foul with another: He hurled his mighty tablet straight down, hard at the WashingtonWizards.com logo courtside.
"I've never seen anything like it," Saunders had explained nearly a year earlier. The year was different, but the disappointment in the Wizards' selfish young roster was identical. "I'm the most disappointed I've ever been in 15 years ... supposedly you're quote unquote the key player."
In that case, Saunders was at a podium, venting about Blatche's refusal to play after hearing it from his coach a bit in a double overtime loss to the Clippers.
"He could be pissed at me, or whatever, but you never leave your teammates hanging out to dry like that."
Kevin Garnett never would, anyway. Blatche, on the other hand ... that was the guy Saunders was left coaching.
"Where we're at right now," he said a year ago, "you can't look at where we're at. You've got to look at where we're going."
The Wizards are a very young team, and out of all those promising young players like John Wall, JaVale McGee, Trever Booker, Chris Singleton and Jan Vesely there may be some keepers. But the early part of this season had made clear that where they were going, under Saunders, was nowhere near where Saunders wanted to be. He vacillated between angry and despondent on the sidelines as the Wizards freelanced at both ends, wasting the talent they have in an almost assistless scrum. Throw in a lack of defense, and you get a league-worst 2-15 record.
There's a strong case Saunders deserved the axe.
But there's also a case that letting him go was the only decent thing to do. He was hired in 2009 because he had experience taking teams to the conference finals, and that's where the Wizards thought they were headed. Gilbert Arenas, Antawn Jamison, Caron Butler, Randy Foye, Mike Miller and Brendan Haywood led a team that was picked to finish fourth in the East in some preseason publications. They had had a winning record a couple of seasons before, and needed to find their feet again under a veteran coach like Saunders. A team that might improve his career coaching record (before his firing, Saunders had the third most wins among active coaches), not destroy it.
Thanks to the famous locker room gun incident, injuries, an owner determined to tear the team down to the studs, and a hundred other factors, that team is long gone.
And so, now, appropriately, is Saunders.