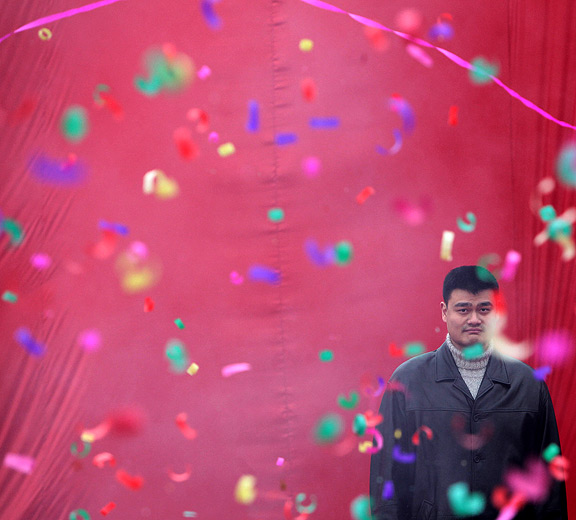 China Photos/Getty Images
Yao Ming's retirement caused the demise of the NBA in China. Or not.
Jeremy Lin's agent says he hasn't slept in days, fielding calls with business opportunities. Knicks games are being added to broadcasts all across Asia.
In the strangest of ways, the NBA has found, in a young Taiwanese-American, a near-perfect poster child for the league in the NBA's biggest market. It's a shot in a critical arm of the league's global brand.
What's interesting is that the league says that despite Yao Ming's retirement and recent reports of blown opportunities, the league is doing very well in China, thank you very much, despite one prominent apparent misstep.
A few years ago, all kinds of heavy hitters lined up all kinds of money to create a new business entity called NBA China. What precisely it would do was never all that clear, publicly. But when NBA China was created, there was a lot of excitement about more reforms and openness in the Chinese sporting world, especially surrounding the 2008 Olympics.
"The model that we're working on now is the placement of all of our assets in China in an enterprise with all NBA rights," David Stern said at a Reuters Summit in 2006. Those would include rights to sponsorship and merchandise revenue and TV deals and, he said, "the ability to operate a league such as NBA of China. It's something that will be articulated by the close of the Beijing Olympics."
If the NBA has a scheme for global sports domination, this was a major pillar.
It never happened, of course. There is no NBA league in China.
Why not?
That's a big question for at least two reasons. The first is that it's a mystery, and everybody likes mysteries.
The second is that off the record, various insiders have suggested that the NBA's recent financial woes -- the very woes that fueled the lockout and inspired a wholly different collective bargaining agreement -- had more than a little to do with missed bets in China, which Stern's comments have at times appeared to support.
February 2010 was one of the first times Stern explained why NBA players would need to accept a smaller share of revenues. After talking about flat ticket prices, he volunteered another reason: the league's spending overseas. At that time, the only bold new play was China. "Internationally, those initial dollars are very costly to come by," he explained. "We are out there; when you open an office and you ship people there and you do the investment spending; we have always investment spent and we are continuing to do that. But it's beginning to … this economic environment, we are feeling it a little bit more. We have had cutbacks at the league, we have had cutbacks at the teams and reductions of expenses and the like."
As Jim Yardley explained recently in The New York Times magazine, the NBA's very talk of a league in China helped to doom a league in China:
Stern's comments at the Reuters Summit, delivered almost as an aside, were quickly picked up in the Chinese media and caught the attention of the man who then ran the C.B.A., Li Yuanwei. A former college professor, Li was known as a reformer who admired the N.B.A.'s business model. I spoke with Li during my season following the Shanxi Brave Dragons, and he recalled being stunned when he learned about Stern's plans for an N.B.A. league.

"He had never said this before to us," Li said. "If he had said he wanted to cooperate with the C.B.A., then that would have been understandable. But he didn't say a word, which meant he knew nothing about China." ...

In an unpublicized meeting, Tim Chen, then chief executive of N.B.A. China, presented a proposal to Li Yuanwei, in which both sides would equally control a new eight-team league under the N.B.A. brand. C.B.A. owners would have the first right to buy a team for $50 million. Li Yuanwei, already distracted by preparations for the Olympics, flatly rejected the plan and postponed any further discussions until after the Games. Instead, when Stern returned to Beijing for an exhibition game, a month and a half after the Olympics, he discussed the N.B.A.'s plans to help develop and manage a network of new arenas across China. "If we do get to the point where we have that cooperative league," he said, "we'll have the buildings already."

The N.B.A., however, has largely suspended those grand plans for the foreseeable future, while also stalling plans to build N.B.A. retail stores throughout the country. David Shoemaker, who became N.B.A. China's chief executive in June, said the N.B.A.'s agenda now involves several collaborations with the Chinese league, including exchanges in which Chinese coaches and referees receive training in the United States, as well as a basketball academy in southern China to develop elite players. As for a league? Shoemaker called it a distant possibility.
Sounds like failure, doesn't it?
"They haven't failed at all."
Before he founded The Raine Group, while working for Goldman Sachs, Joseph Ravitch advised the NBA on setting up its China business. He has been watching closely ever since and says the NBA executives "haven't failed at all. They've done exactly what they said they were going to do."
Goldman Sachs valued the deal at $2.4 billion at the time, a number that Ravitch says can be justified even without a league.
"The key to that deal is that NBA China owns all of the rights, past, present and future, to all NBA trademarks, all NBA content, all the video past, present and future, for greater China," he explained. In other words, the counting starts with every dollar the league will ever earn from broadcasting to one of the biggest NBA TV markets in the world. (It is said that more people in China play basketball than live in the entire United States.)
"What people bought when they invested in it was effectively the intellectual property around the NBA past, present and future. Which is, one can argue, incalculable in value," Ravitch said. "David Stern will tell you he sold it way too cheap because you can't possibly calculate the value of that. The NBA jumping man logo is on a billion milk cartons in China. It's on tissue boxes. It's on a mobile phone. People license it for consumer products because it seems such a cool, healthy brand. People know what the NBA is from the jumping man logo."
"In basketball, you miss some shots," David Shoemaker, the current head of NBA China, said in response to Yardley's article, which had a headline online about the league missing shots in China. "[Michael] Jordan famously talked about how many shots he missed on his way to all those championships. I feel like we're making a lot of shots. We're hitting some 3s, there are some dunks along the way."
Shoemaker came to NBA China after running the World Tennis Association from Beijing.
"I was sitting on the sidelines at the WTA, looking up at the NBA, and NBA China in particular, as the gold standard, the model we aspired to." he recalled. "It was a thriving and growing business -- as far as we were concerned -- set the standard of sport in China and was clearly the No. 1 sports marketing property in all of China measured by every metric. The valuation then and now comes as no surprise to me. It's based on a fully diversified business that starts at its core as a sponsorship business, which has an A-list who's who of sponsors, both multinational and Chinese companies. You've got the likes of Coke and adidas, Nike, Visa as multinationals and then the likes of Lenovo, Dungfeng and Peak.
"Then you turn to the digital business, where the NBA is routinely breaking records with two portals, Sina.com and QQ.com. It makes a lot of money. Very valuable business. It has potential to make many multiples more. Our partner on League Pass is the Shanghai Media Group. It's only a couple of years old. But it's something we believe has an extraordinarily bright future, given the projections of the Chinese middle class and disposable income tied to the popularity of NBA basketball in China. We've got a merchandise business, where NBA merchandise is available at over 25,000 points of sale. Our on-court apparel is in over 2,200 adidas stores in China. We also have our own NBAstore.com here in China. We believe that's an integral part of our strategy here in China."
Underscoring all of that is that reality that the NBA is more popular than ever. The retirement of Yao Ming was said to predict the league's demise, but even before the explosion of the Knicks' Jeremy Lin -- a huge story in China -- TV ratings have been up 39 percent compared to last season. The two or three preseason games NBA teams play in China every year are, Shoemaker says, "probably the most popular recurring live sporting event in China ... always playing to sold-out houses, always to very well-sponsored events, with extremely good television ratings, digital coverage and the like."
To anyone who doubts the NBA's popularity in China, Ravitch suggests attending: "Go for the China games in October. It's a phenomenon."
Ravitch says the NBA's prominence in China underscores a key global branding success: Elite basketball, all over the globe, is synonymous with the NBA. That's a feat no other global league has accomplished. "It's the only league," he pointed out, "where it's made its league brand and its players synonymous with the sport globally. In Italy, where basketball is a successful sport, the NBA games outrate the Italian basketball games on television. The best thing they've done is create a global brand of basketball synonymous with the NBA. There's no global brand associated with soccer. You have national teams, you have leagues, you have FIFA ... there are very few sports that are truly global … the NBA is truly unique.
"When the Chinese 20-year-olds are looking for heroes or are wanting to watch games or wanting to watch the best basketball players, they watch NBA games, they buy NBA merchandise and they idolize the NBA players. There's lots of statistics about the number of uniques on NBA.com.cn far exceeding the number of uniques on NBA.com. All the videos, social media. The notion the NBA hasn't succeeded because we don't have a league is crazy."
Where's that league?
There seems to be little argument that the NBA runs a strong business in China. The NBA is essentially the most popular sport in the biggest and richest basketball market in the world.
But a local NBA league in China has not gotten anywhere, with estimates it is a decade or two away at best.
So what was all that talk about? Stern's talk at the Reuters Summit, for example, or Tim Chen's meeting with Li Yuanwei?
The party line is that a league was never a big deal. "A league," said Ravitch, who was in the room when NBA China's strategy was born, "was a bonus. But it was never in the plan."
Shoemaker, who took over NBA China last year, echoed that sentiment: "I don't think there's ever really been a change in the plan. Everyone has understood that the most important thing to do is to collaborate in growing the game of basketball. That's a strategy that I've been fully focused on, but it's not like I invented it. That was here well before me and all the foundation for that sort of stuff was laid by my predecessors. Could there come a day where we collaborate with the Chinese Basketball Association on a league here in China? Surely yes. But that's not our focus. And it'll take a long time to get to that point. We're going to do it right. And we're going to build the game of basketball at the most fundamental level, and if those pieces fall into place, then so be it. That's how it'll work."
Yet Stern, Chen and others directly involved certainly once anticipated real progress around the time of the Beijing Olympics. Whether it was a "bonus" or a "strategy," those involved once spoke of it optimistically but have shifted to using the vaguest possible terms and schedule. Why?
A theory: The NBA's desire for a Chinese league was very real -- and was thwarted by the machinations of Chinese politics. When NBA China was founded, known reformer Li was in the key decision-making position. After the Beijing Olympics, Li was replaced by the more conservative Xin Lancheng. That was part of a bigger trend: Before the Olympics there had been confident talk about opening the Chinese sports system to reforms and outsiders, but in reality very little of that has happened.
Whatever the barriers are to a league, they certainly seem to be sensitive. I asked Shoemaker what the challenges were, and he was silent for nearly 10 full seconds before saying, "You've got me there, in a sense," and then talking in the vaguest terms about settling on the right plan.
My interpretation: The obstacles are politicians. And calling them out makes them bigger obstacles. So somebody in Shoemaker's position must say nothing even approaching inflammatory, keeping expectations quiet and learning from Stern's evident error with Li before the Olympics.
Ravitch said the idea that Stern's comments derailed the process has been "overstated," but nevertheless the calculus seems to be that even admitting NBA China still really wants a league would be an error of rhetoric that could make political problems. So those at the NBA and NBA China speak in "maybe one day" terms and wait for political stars to align.
In the meantime, the wins are in selling NBA-branded TV broadcasts, milk cartons, cell phones, online experiences and the like -- and in incrementally raising the level of the game so that if and when there is an NBA league in China, it will pass muster with fans. To that end, NBA China now touts more modest, politically careful accomplishments such as referee and coaching exchanges, rehabbing arenas in China's major cities and collaborating in creating the CBA Donnguan Basketball School for elite players.
"The Chinese are extremely sensitive right now about protecting their own cultural institutions, as they should be," Ravitch said. "The NBA's strategy is to work with the CBA and make it a stronger league, train coaches, make the CBA better because the more successful basketball is in China the better for the NBA in the long term."
And in the long term, perhaps the NBA will find a way to present live, in-the-flesh basketball to a massive, basketball-loving, brand-conscious and increasingly wealthy domestic Chinese market. Until then, the other parts of the business are doing well enough to declare victory.