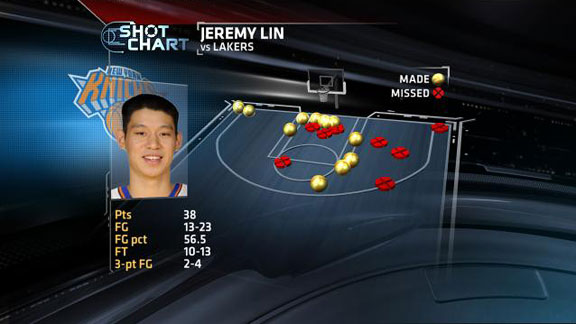 Jeremy Lin was the dominant player on the floor in Friday's Knicks win.Kobe Bryant is used to being the best player on the floor when he comes to Madison Square Garden. But on Friday, he ceded that honor to New York Knicks guard Jeremy Lin.
Lin scored 38 points in Friday's win over the Los Angeles Lakers, giving him 89 points in three starts. The Elias Sports Bureau confirms that is the most by anyone in his first three career starts as a pro since the NBA-ABA merger in 1976-77. The previous mark was held by former Knicks center Bill Cartwright, 80, in 1979.
Lin's 38 points were the most by anyone against the Lakers since Monta Ellis scored 38 against them on January 12, 2011.
The last Knicks player to score 38 or more against the Lakers was Stephon Marbury, March 29, 2005 (he had 45)
Ivy League Players
Match or Outscore Kobe Bryant
Lin's 18 first-half points were his most in the first half of a game. His 20 second-half points were the most in any half he's played.
Lin scored his points in a different manner than he did in his previous two starts. He made was 4-for-8 on shots from inside of five feet and 9-for-15 from beyond five feet.
Lin was 6-for-10 when stretched to 15 feet and beyond, including a pair of 3-pointers. He'd only made two career 3-pointers entering the day.
In the three games prior to this, Lin had only seven makes (and 17 misses) on shots from beyond five feet.
If there is one flaw in Lin's game it's that he's a bit turnover prone. In two of his three starts, he's turned the ball over at least six times, including the half-dozen he had on Friday night.
Lin has 17 turnovers in the Knicks' last four games, with 13 of those turnovers have been on pick-and-roll plays.
Lin has had four straight games of at least 20 points and seven assists. The only other player to have a streak of that length this season- LeBron James.
Bryant was 11-for-29 from the field and finished with 34 points. Lin wasn't the only one who gave the Lakers angst. Knicks rookie Iman Shumpert held Bryant to 3-for-11 shooting when he drew the Bryant assignment.
The Knicks snapped a nine-game losing streak to the Lakers and won their fourth straight game. Had they lost, it would have matched their longest losing streak ever against the Lakers.