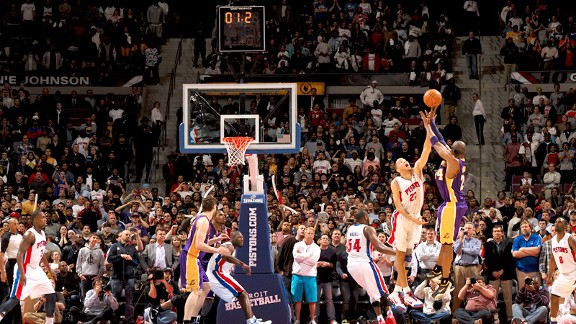 Dan Lippitt/NBAE/Getty Images
With this tough make, Kobe Bryant tied the game late against the Pistons on Tuesday.
Now on ESPN.com is an article I wrote for ESPN The Magazine about how silly it is to put the game in the hands of your superstar. Synergy Sports Technology shared numbers with me showing that isolations are simply not very effective. At press time, Kobe Bryant was among the worst crunch time scorers in the NBA this season, averaging a pitiful half a point per possession in late-game isolation plays -- the very setting in which he is said to be the best.
Almost nobody was surprised to learn that isolations aren't so effective:
Hero ball is to the NBA what polyester is to clothes. Few claim to like it, yet curiously, it never seems to go away.

TNT analyst and former Suns GM Steve Kerr can hardly contain his glee when he hears Synergy's stats. "Well ... hello!" says Kerr, whose title-clinching 17-footer for the Bulls in 1997 is perhaps the signature anti-hero-ball moment. "I've never been a big fan of isolation."

Robert Horry, aka Big-Shot Rob, had the chance to win games in crunch time only because ball movement brought the shot to the open shooter: him. Horry, not surprisingly, calls isolation "bad basketball," before adding that it's something the best coaches simply don't use: "People always want the lead dog to take the shot. People forget you've got to be pretty good to be in the NBA. Even though they don't take a lot of shots, those other players are very capable of making those shots."

Although Thunder coach Scott Brooks coaches one of the league's top hero-ball scorers in Kevin Durant -- with a 1.07 ppp in clutch-time isolations -- Brooks still disavows it all, telling his players, "If the right play is for you to shoot it, shoot it. If the right play is for you to pass it out of a double-team, I don't care who you pass it to, you just have to pass it."

Who else hates hero ball? Apparently, Bryant's teammates. This season, when shooting out of crunch-time isos, Bryant has averaged roughly 0.5 ppp. If the Lakers offense worked that miserably for 48 minutes, the team would score fewer than 50 points a game. Still, Bryant easily leads the league in crunch-time iso attempts. Why?

"I don't know, man," says Bryant's teammate Andrew Bynum, with a dejected shrug, after this year's All-Star Game. He calls it stating the obvious to say the team's late-game offense is a problem. Bynum, a 54% shooter, is one of the Lakers' most efficient offensive weapons. Gasol, at 50 percent, is another. But the two bigs almost never have late plays run for them. Bynum's guess? "Because some guys get paid big bucks to hit shots, so that's what they've got to do."
Meanwhile, George Karl says that he doesn't need a closer to contend in Denver.
Does he really believe that? If he had Kobe Bryant, Dwyane Wade, Kevin Durant or Derrick Rose on his team, would he really say anything like that?
I don't know, but he certainly seems to be correct in assuming teams can score without big-time scorers taking the shots. In short, late in games this season, the Nuggets have scored more easily than teams with noted closers.
The NBA's stats team is testing out a powerful new tool on what is still a private part of NBA.com. (There is also a new tool on Basketball-Reference, which results in interesting stuff like this.) But for the record, so far this season, it looks like Karl is more than right, whether he believes what he said or not. All one-season crunch stats are tiny samples with randomness ruling the day -- it may be that the lesson here is that who does well in crunch time is almost random. But what has happened so far this season is in keeping with previous seasons, in that it's simply not the case that teams with go-to scorers have a monopoly on late-game buckets.
2011-2012 effective field goal percentage in the final three minutes, trailing by 3 or less or tied
Hawks 67.2

Grizzlies 62.5

Nets 56.7

Knicks 56.4

Warriors 51.2

Pistons 50

Mavericks 50

Spurs 47.5

Heat 45.2

Timberwolves 43.3

Nuggets 43

Kings 42.7

Celtics 42.6

Jazz 42.3

Magic 42.2

Wizards 41.2

Lakers 41

76ers 40

Thunder 40

Hornets 39.7

Clippers 36.6

Suns 36.1

Bobcats 34.8

Raptors 33.8

Blazers 33.3

Pacers 33.3

Rockets 33

Bulls 31.8

Bucks 28.3

Cavaliers 28.2