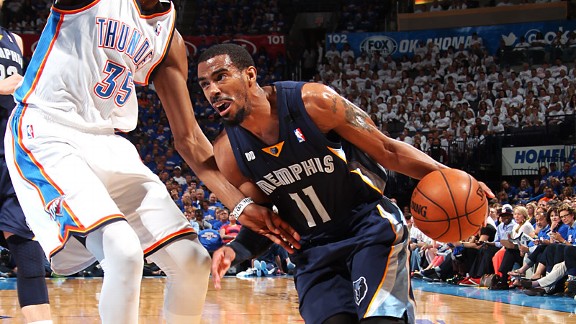 Joe Murphy/NBAE/Getty Images
Mike Conley Jr. has come through when needed for the Grizzlies.
When the Memphis Grizzlies traded Rudy Gay to the Toronto Raptors on Jan. 30, they traded away their No. 1 option in late-game situations.
Enter Mike Conley Jr.
Conley, who had arguably the best game of his career in Memphis' Game 2 win against the Oklahoma City Thunder in which he finished with 26 points, 10 rebounds and 9 assists, has capably filled Memphis' clutch-time void.
Most Points Per Isolation
2012-13 Regular Season
It was Conley with a team-high six points (and five rebounds) when the game was within five points in the final five minutes of the Grizzlies' win Tuesday.
Because it's been gradual, Conley's emergence as a go-to guy doesn't immediately jump out. But his splits over the course of the season demonstrate his progress.
Conley has led the Grizzlies in scoring (16.4), assists (6.4), 3-pointers (52), and free throw makes (128) and attempts (154) since the Rudy Gay trade. He averaged 13 points and 5.8 assists before the deal.
And in situations within five points in the final five minutes, Conley has led the team in scoring (49) since Gay was dealt.
Those 49 points ranked 11th in the league since Jan. 31, just behind Dirk Nowitzki and ahead of Russell Westbrook –- probably not company one might have expected Conley to be among just a season or two ago.
Conley's development as a one-on-one player might have helped facilitate his role as a late-game scorer.
Conley led the league in points per isolation (among those with at least 100 isolation plays). That's not a misprint –- Conley finished ahead of LeBron James, Kyrie Irving and Tony Parker this season.
He scored at least a point on 51 percent of such plays this season, a major jump from the 26 percent scoring rate he posted a season ago.
But Conley's offensive prowess still takes a backseat to the strongest part of his game: his defense.
In the regular season, the ball-hawking guard ranked first among guards in defensive win shares, a metric devised by basketball-reference.com to estimate the wins contributed by a player based on his defensive merits.
And a look at Memphis' splits based on Conley on and off the court, in the chart on the right, helps illustrate just how important he has been to the Grizzlies this postseason, particularly on the defensive side of the ball.
Mike Conley In Postseason
Per 48 Minutes
From an offensive standpoint, the team has seen dips in assists and in the percentage of points scored in the paint with Conley off the floor.
But on the defensive side, Conley's presence has been the difference between a solid defensive team (98.1 defensive efficiency with Conley on court) and a sieve (120.8 defensive efficiency with Conley off court).
Conley's rise has certainly helped carry Memphis this far, but it's his sustained success Memphis needs if it wants to advance.