PITTSBURGH STEELERS (Consensus division finish: 1st)
Jason Bridge/US Presswire
EXPERTS' PICKS
The Steelers finished first in the AFC North last season with a 10-6 record. For AFC North coverage, visit James Walker's AFC North blog. | Discuss Steelers | MAG Preview
ANALYST
PREDICTION
Jeffri
Chadiha
ESPN.com

DIVISION FINISH: 1 The Steelers are oozing with talent at the offensive skill positions. Now they need their underachieving offensive line -- which allowed 93 sacks over the past two years and lost Pro Bowl guard Alan Faneca to free agency -- to improve.
John
Clayton
ESPN.com

DIVISION FINISH: 1 The Steelers face an impossible .598 schedule, facing only four teams that had losing records last season. Still, Ben Roethlisberger looks better than ever, and the defense is still one of the toughest in the league.

Tim
Graham
ESPN.com

DIVISION FINISH: 2 The loss of perennial Pro Bowl guard Alan Faneca hurts their offensive line considerably. More pressure will be on Mike Tomlin's top-shelf defense to keep opponents off the scoreboard.
Jeremy
Green
Scouts Inc.

DIVISION FINISH: 2 The Steelers added playmakers in rookies Limas Sweed (WR) and Rashard Mendenhall (RB). The Steelers' season, however, will come down to getting improved play from both lines. The loss of G Alan Faneca (Jets) and NT Casey Hampton's poor conditioning are legitimate concerns.
Paul
Kuharsky
ESPN.com

DIVISION FINISH: 1 Big Ben doesn't get enough credit and has a nice three-pack of receivers to work with. Willie Parker-Rashard Mendenhall will be a superb one-two backfield punch. Their defensive line is a concern.
Matt
Mosley
ESPN.com

DIVISION FINISH: 2 Quarterback Ben Roethlisberger has become an excellent leader, and he looked more comfortable than ever during training camp. It will be interesting to see the Steelers in an underdog role. It might be a good fit.
Mike
Sando
ESPN.com

DIVISION FINISH: 1 Youngsters LaMarr Woodley and Rashard Mendenhall help both sides of the ball. Quarterback Ben Roethlisberger must play off his line's limitations better, getting rid of the football more quickly in some situations.
Kevin
Seifert
ESPN.com

DIVISION FINISH: 1 The Steelers are more equipped than ever to follow coach Mike Tomlin's philosophy of running the ball and stopping the run on defense. Tomlin is building the right way.
James
Walker
ESPN.com

DIVISION FINISH: 1 With their strong defense and elite skill players on offense led by quarterback Ben Roethlisberger, the Steelers have a chance to be a serious threat in a deep AFC. But will a shaky offensive line prevent the Steelers from reaching their full potential?
Seth
Wickersham
ESPN The Magazine

DIVISION FINISH: 2 Ben Roethlisberger has a lot of toys to play with, but he's been sacked 96 times the past two years, and things don't look too good up front. A tough schedule won't help.
Bill
Williamson
ESPN.com

DIVISION FINISH: 1 With a little luck, the Steelers could be a Super Bowl team. Mike Tomlin's squad is loaded on both sides of the ball and clearly is the team to beat in the AFC North.
Matt
Williamson
Scouts Inc.

DIVISION FINISH: 1 The Steelers will edge the Browns to win the AFC North, but with the schedule this division faces, nine wins might be enough. Big Ben breaks Pittsburgh's tie with Cleveland. The Browns and the Steelers will be in the hunt to the very end.
Pat
Yasinskas
ESPN.com

DIVISION FINISH: 1 Yeah, there's been a lot of talk about Cleveland, and that probably is deserved. But Pittsburgh has a quarterback (Ben Roethlisberger) who has won a Super Bowl.


CONSENSUS DIVISION FINISH: 1 | NFL standings
BEST OF THE STEELERS
Best offensive player: QB Ben Roethlisberger. Roethlisberger had 3,154 yards passing and 32 touchdowns in '07. He is close to joining the NFL's elite quarterbacks and could solidify his spot next to Tom Brady, Peyton Manning and Carson Palmer with an even bigger year in 2008.
Best defensive player:
Safety Troy Polamalu. He is the heart and soul of the Steelers' defense, and his speed and smarts allow Pittsburgh a flexibility on defense that few teams have.
Best playmaker:
Roethlisberger. Roethlisberger is dangerous with his arms and legs. Poor pass protection often has forced him to scramble and make plays on the run.
Best unheralded player:
DT Casey Hampton. Playing the nose tackle in a 3-4 defense is one of the most difficult things to do in the NFL. Hampton's stats (33 tackles in 2007) rarely stand out, but he's one of the best at holding his ground at the point of attack and allowing other players like Polamalu and linebackers James Harrison, James Farrior and Larry Foote to run free and make plays.
-- James Walker, ESPN.com
SCOUTS INC.'S FAB FIVE
Scouts Inc. has evaluated and graded more than 2,400 NFL players heading into the 2008 season, giving Insiders a leg up on the competition with exclusive grades, alerts and scouting reports.
Top five players
on the roster
ANALYSIS
1. Ben Roethlisberger
Quarterback
6-5 | 241
(Grade: 90) He is strong and very athletic. His arm strength is exceptional. There are few passers in the league in his class as a deep-ball thrower. His accuracy to all levels is impressive. Roethlisberger is a playmaker.
2. Troy Polamalu
Safety
5-10 | 207
(88) He is an exceptional player who must be planned for. He is aggressive and sudden in all his movements, and he possesses rare change-of-direction skills. He is a tireless worker who ranks among the elite.
3. Aaron Smith
Defensive end
6-5 | 298
(86) He is extremely consistent and technically sound, and he does exactly what is asked of him. Smith has enough quickness and athletic ability to penetrate and get into the backfield against the run or the pass.
4. James Harrison
Linebacker
6-0 | 242
(84) He uses his lack of height to his advantage and excels at getting under the pads of much bigger offensive tackles in both the run and pass games. The more experience he gets, the more he should improve.
5. Heath Miller
Tight end
6-5 | 256
(83) He has very good size and long arms, presenting his quarterback with an excellent target. He has strong, reliable hands and usually doesn't let the football get into his pads. He is quick and light on his feet.
Player grading scale: Elite (90-100), outstanding (80-89), solid starter (75-79), good starter (70-74)
SCOUTS INC.'S ANALYSIS
Strengths

Quarterback: Ben Roethlisberger is a difference-maker. He quickly has asserted himself as one of the best quarterbacks in the league and very well could be the top player at his position outside of Tom Brady and Peyton Manning. He makes everyone around him better and makes a lot of the Steelers' problems go away with his uncanny ability to make things happen when plays do not go according to script.
Offensive weapons:
Pittsburgh potentially has three quality running backs, two tight ends and four wide receivers. With that kind of firepower, offensive coordinator Bruce Arians should be able to attack each defense any way he sees fit. Players like second-year TE Matt Spaeth, newly signed RB Mewelde Moore and second-round selection WR Limas Sweed could make big plays against lesser cover men. Roethlisberger should find many matchups to his liking week after week.
Dick LeBeau:
He is an innovative, aggressive defensive coordinator whose defenses consistently rank among the best in the league. While the Steelers did not make enough big plays on this side of the ball in 2007, they should be improved with the return of Troy Palamalu and the insertions of Laurence Timmons and LaMarr Woodley into the lineup.
Weaknesses

Offensive line: This line was a liability in 2007, and that was before All-Pro G Alan Faneca left for New York. With the wealth of offensive players at its disposal, Pittsburgh doesn't need its big men to be superb. Average play up front will make for an exceptional offense, but for that to happen, continuity among the starting five and better recognition across the board are required.
Defensive line depth:
DE Aaron Smith tore his biceps in 2007, and Pittsburgh's run defense simply fell apart. Brett Keisel is a good young player, but he isn't ready to take on the physically demanding 3-4 defensive end position full time. Plus, there isn't a suitable replacement for Smith or Keisel if either gets hurt. The Steelers did nothing to solve this problem in the offseason, and it could come back to haunt them as the season progresses.
Brutal schedule:
Predicting a team's success based on its upcoming schedule is risky business. However, not only does Pittsburgh face six difficult AFC North divisional games against Cincinnati, Cleveland and Baltimore, but it also plays teams in the AFC South and the NFC East -- the two most difficult divisions in the league.
-- Scouts Inc. watches games, breaks down film and studies football from all angles.
JEREMY GREEN'S X FACTORS
FOOTBALL TODAY PODCAST: DIVISION PREVIEW
MY TOUGHEST OPPONENTS

Holmes
Steelers wide receiver Santonio Holmes on his toughest opponents:
That's a tough question, because it can be two guys or more so a secondary of a defense. I know the Ravens have a pretty good secondary. Overall, those guys are flying all over the place. They're allowed to move guys around, and they're never settled into one coverage. They're always moving around at the snap, but they're in their right place after the snap. So that's probably the biggest problem that most teams will have with the Baltimore Ravens. When I first got in the league and stepped up against Chris [McAlister], he was very physical, tough, and he beat me up a little. But I told myself before that second game when they came [to Pittsburgh] that I wouldn't allow it. I beat him for about four or five catches and almost had 100 yards that game. And after, I told myself I wouldn't allow it to happen again. It hasn't since then.
-- As told to James Walker, ESPN.com
FRANCHISE BEST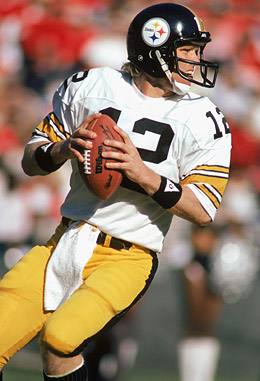 Scott Cunningham/Getty Images
In a vote by SportsNation, quarterback Terry Bradshaw was selected the best Steeler ever. He is the Steelers' leading passer with 27,989 yards and was the Super Bowl MVP twice. Complete results
BLOGS: PRO AND FAN

Looking for more Steelers coverage? You've come to the right place. James Walker writes about all things AFC North in his division blog.




Featured Fan Preview

by vy_titans_10
Ben Roethlisberger was paid over $100 million in the offseason and we expect him to produce. The addition of Rashard Mendenhall and Limas Sweed should help boost the offense. The defense is a very tough and solid corp. Blog

Submit your blog preview
FANTASY FOCUS
How many touchdowns will Willie Parker score this season?

Parker
He might be dubbed "Fast" Willie Parker, but understand the reason for the moniker. He's quick, no doubt, but mostly between the 20s. In other words, Parker is your prototypical "track-star"-type runner, a dominating force. I don't see any reason he can't break off another 12 20-plus-yard runs, and at least one of those should be good for a score. Let's give him one and a half. I also expect a handful more red-zone carries for Parker this season, and it boils down to the possibility that rookie Rashard Mendenhall will need a few games to get fully acclimated to NFL competition. Let's say Parker gets 50 red-zone carries, 18 within the 10, and simply by virtue of getting those touches, he should be good for two touchdowns. Let's say two and a half. Then there's the matter of receiving touchdowns. Parker had 14 red-zone targets over the past two seasons, two of those going for scores. No reason he can't manage one. Total 'em up, and that's five, an appropriate number, actually. It's identical to his output in 2005 -- the last time the Steelers had him in such an ideal role for his skill set.
-- Tristan H. Cockcroft, ESPN.com
More Steelers
|
Fantasy index