ARIZONA CARDINALS (Consensus division finish: 1st)
G. Newman Lowrance/Getty Images
EXPERTS' PICKS
The Cardinals finished first in the NFC West last season with a 9-7 record. For more Cardinals coverage, visit: Mike Sando's NFC West blog | Cardinals clubhouse
ANALYST
PREDICTION
Jeffri
Chadiha
ESPN.com

DIVISION FINISH: 1 The Cards are still a nine-win team at best. Fortunately for them, that will be enough to win this division again.
John
Clayton
ESPN.com

DIVISION FINISH: 1 The curse of the Super Bowl loser -- which has affected every runner-up in the 2000s except the Seahawks -- makes it hard to think the Cardinals will win 10 or more games. Ken Whisenhunt needs Kurt Warner and the team to stay as healthy as they did last season. Whiz also has to make sure the Cardinals are more sound on defense.

Tim
Graham
ESPN.com

DIVISION FINISH: 1 Yes, they won the NFC last season and darn near took the whole thing, but let's not forget they went 9-7 in a feeble division. Kurt Warner, Larry Fitzgerald and Anquan Boldin can light it up, but the defense must perk up to ensure a playoff return.
Jeremy
Green
Scouts Inc.

DIVISION FINISH: 1 I am giving the nod to Arizona despite a dismal performance in the Cardinals' all-important third preseason game. This division will come down to offense, and the Cardinals can score with anyone in the NFL with QB Kurt Warner tossing to receivers Larry Fitzgerald and Anquan Boldin.
Paul
Kuharsky
ESPN.com

DIVISION FINISH: 3 A lot of people will have them repeating, because the pass offense is so good and fun to watch. But the shift in expectations is too much for them to handle well. I expect a big 2010.
Matt
Mosley
ESPN.com

DIVISION FINISH: 1 For so many years, we could pencil in the Seahawks as the division winners. But the Cardinals' trip to the Super Bowl last season changed all that. Will Bill Davis be able to improve this defense? That's the question folks should be asking.
Len
Pasquarelli
ESPN.com

DIVISION FINISH: 3 Not that last season was a mirage, because the club got hot at the right time. Even with all-world WR Larry Fitzgerald, it's simply not in the Cards this season. Still, they should make most games interesting.
Mike
Sando
ESPN.com

DIVISION FINISH: 1 The Cardinals need more consistency on defense and a stronger commitment to the running game. They also need Kurt Warner to defy age once again.
Kevin
Seifert
ESPN.com

DIVISION FINISH: 2 The Cardinals made more changes than you normally see after a Super Bowl run and are breaking in new coordinators on both sides of the ball. It remains to be seen whether the new faces will improve this group.
James
Walker
ESPN.com

DIVISION FINISH: 1 Super Bowl runners-up usually struggle to get back to the postseason. But a weak division helps the Cardinals buck the trend this season.
Seth
Wickersham
ESPN The Magazine

DIVISION FINISH: 4 Too many breaks went Arizona's way last season. Remember, this team is coming off a 9-7 performance, lost talent on the coaching staff and is depending on a 38-year-old future Hall of Fame QB to work magic.
Bill
Williamson
ESPN.com

DIVISION FINISH: 3 The Cardinals won nine games in the 2008 regular season, and I see them winning seven to nine games again this season. But I don't see lightning striking twice.
Matt
Williamson
Scouts Inc.

DIVISION FINISH: 2 The Cards very well could win this division, especially if Seattle faces a string of injuries again. But there are concerns with the running game and pass rush, along with counting on Kurt Warner to play 16 games. Expect the Cards to play like they did last regular season instead of what we saw in the playoffs.
Pat
Yasinskas
ESPN.com

DIVISION FINISH: 1 The run to the Super Bowl was no fluke. The Cardinals have tons of offensive talent. They also still play in a division in which they don't face any real threat.


CONSENSUS DIVISION FINISH: 1st | NFL standings
BEST OF THE CARDINALS
Best development during camp: Second-year defensive end Calais Campbell appeared up to the challenge of replacing productive starter Antonio Smith, who signed with the Texans. The 6-foot-8, 290-pounder has shown an ability to play the run and the pass.
Best addition in free agency:
Cornerback Bryant McFadden. His physical style should complement Dominique Rodgers-Cromartie's pure cover skills. McFadden also brings more of the Pittsburgh mentality Cardinals coach Ken Whisenhunt has sought to instill.
Best veteran without a Pro Bowl:
Linebacker Karlos Dansby, 6-foot-4 and 250 pounds, is close to the complete package and arguably should have gone to a Pro Bowl already. Perhaps his chances will improve if former Seahawk and frequent NFC Pro Bowl choice Julian Peterson slips under the radar in Detroit.
Best-kept secret:
Quarterback Kurt Warner, although considered an injury risk, owns the seventh-longest starting streak among active quarterbacks, counting playoffs. He hasn't missed a game to injury since 2005.
Best Cardinal on Twitter:
Defensive tackle Darnell Dockett (@ddockett) is most prolific and outspoken, but receiver Larry Fitzgerald (@Lfitzgerald11) is the safer choice. About 50,000 followers apparently agree.
-- Mike Sando, ESPN.com
SCOUTS INC.'S FABULOUS FIVE
Scouts Inc. has evaluated and graded more than 2,500 NFL players heading into the 2009 season, giving Insiders a leg up on the competition with exclusive grades, alerts and scouting reports.
Top five players

ANALYSIS
1. Larry Fitzgerald
Wide receiver
6-3 | 217
(Grade: 92) Fitzgerald has established himself as one of the game's most consistent and productive playmakers at wide receiver. He is an excellent athlete with very good size and adjustment skills.
2. Adrian Wilson
Safety
6-3 | 226
(90) Wilson has outstanding size and instincts. He doesn't get enough credit for his overall athletic ability, but he really excels at playing the run. He is very quick to read and react. He understands leverage and has enough quickness to penetrate and disrupt blocking schemes.
3. Karlos Dansby
Linebacker
6-4 | 250
(86) Dansby is a top-line player who has been a starter and a producer since his rookie season in 2004 in Arizona. He came in as a second-round pick and made an immediate impact. He has the kind of size, speed and athleticism you are looking for in a linebacker.
4. Anquan Boldin
Wide receiver
6-1 | 217
(81) Boldin has an excellent combination of size, hands and toughness. He does an outstanding job of making plays in the short-to-intermediate passing game due to his good acceleration into routes, toughness in traffic and ability to excel after the catch.
5. Kurt Warner
Quarterback
6-2 | 214
(80) Warner had an outstanding 2008 season, and he continues to show the type of accuracy, decision-making and leadership necessary to succeed. He is a pocket passer who has good setup and throwing mechanics.
Player grading scale: Elite (90-100), outstanding (80-89), solid starter (75-79), good starter (70-74)
SCOUTS INC.'S ANALYSIS
Strengths

WRs Larry Fitzgerald and Anquan Boldin: This is the most dynamic receiving duo in the NFL. Fitzgerald has established himself as the best pure receiver in the game. Boldin, despite not being happy with his contract, will show up and play at a high level. They do an outstanding job of complementing each other.
QB Kurt Warner:
He just seems to get better with age. He has such a great understanding of the Cardinals' spread offense. He works well from the shotgun formation, which allows him to get rid of the ball quickly.
Secondary:
CB Dominique Rodgers-Cromartie is one of the best up-and-coming corners in the game. The addition of Bryant McFadden on the other side is a huge upgrade over Roderick Hood. SS Adrian Wilson has great versatility and is the best blitzing safety in the game.
Weaknesses

Offensive line: Even though this unit has made strides, it still is the Achilles' heel of the offense, especially when it matches up versus the better defensive front sevens in the NFL.
Running game:
First-round pick Beanie Wells has been nicked up and obviously is untested at the NFL level. Tim Hightower is solid but might not be able to carry the load. The Cardinals will miss Edgerrin James' production catching the ball out of the backfield.
Inconsistent defensive line:
There have been a lot of wasted picks by the Cardinals along the D-line over the past four or five years. DE Darnell Dockett, who has a lot of versatility in Arizona's 3-4 defense, is not one of them. DE Calais Campbell and NT Bryan Robinson must come up big if this unit is going to have consistent success this season.
Scouts Inc. watches games, breaks down film and studies football from all angles.
JEREMY GREEN'S BURNING QUESTIONS
FOOTBALL TODAY PODCAST: DIVISION PREVIEW
DRAFT CLASS WATCH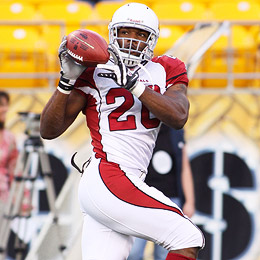 Beanie Wells: The answer at running back?
Summary:
The Cardinals were happy to find Ohio State's Beanie Wells available at No. 31, even though Connecticut's Donald Brown would have been the choice, if available. Drafting a running back early seemed essential because the Cardinals weren't interested in bringing back Edgerrin James at $5 million per year. The Cardinals addressed another need in the second round with Connecticut pass-rusher Cody Brown. The team didn't address a need at tight end, but the Cardinals do have several veteran options at the position. The Cardinals addressed another need in the second round with Connecticut pass- rusher Cody Brown, but a wrist injury during the preseason landed him on injured reserve, a significant blow
What to expect:
Brown's season-ending wrist injury during the preseason was a downer because the Cardinals needed young depth behind Bertrand Berry, Chike Okeafor and Clark Haggans. If the Cardinals were going to lose a rookie to injury, they might have figured Wells would be the one. They did lose the running back to an ankle injury early in camp, but Wells atoned with two touchdown runs in his first exhibition game. Fifth-round offensive lineman Herman Johnson looks like a potential future starter at right tackle. The Cardinals found a roster spot for seventh-round running back LaRod Stephens-Howling, a potentially dynamic kick returner.
Wild card:
Wells has the physical ability to give the Cardinals a needed boost in the ground game. His talent-durability ratio makes him a high-risk, high-reward investment.
-- Mike Sando, ESPN.com
FANTASY STARS
Larry Fitzgerald, WR

While Fitzgerald didn't win the receiving yardage title or top 100 regular-season catches in 2008, he's our choice to be 2009's most valuable fantasy receiver. After all, in '08, he tied for the most receiving touchdowns (12), led the NFL in red zone targets (31) and went on one of the more memorable playoff runs in recent memory (30 catches, 546 yards and a playoff-record seven scores, all with a broken left thumb and torn cartilage between two fingers). Anquan Boldin apparently is staying in Arizona, but there will be plenty of passes to go around; the Cardinals averaged a league-high 39.4 pass attempts per game and featured the highest percentage of passes versus runs in 2008. The only doubts we have about Fitz involve Kurt Warner's ability to stay healthy for a second straight season. If Warner goes down, all bets are off.
2009 Projection: 96 rec, 1,430 rec yds, 13 TD
---
Anquan Boldin, WR

Boldin had quite an eventful year. He was the NFL's best receiver for the first month of 2008, catching 27 passes for 366 yards and five scores in his first four games. Then he suffered a hit from Jets safety Eric Smith that was so savage Kurt Warner briefly considered retiring. He returned after missing only two games, was dominant again, then hurt a shoulder and missed Arizona's final two regular-season games. He pulled a hamstring in the Cardinals' wild-card win, missed the divisional round, argued with coordinator Todd Haley on the sidelines of the NFC title game and, oh by the way, wanted to be traded this winter so he could get a new contract. But Boldin will stay in the desert and still be part of the offense that earned him his fantasy stripes.
2009 Projection: 84 rec, 1,154 rec yds, 8 TD
ESPN THE MAGAZINE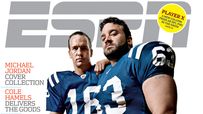 The Chargers win the Super Bowl? What in the name of Norv Turner is going on here?