DENVER BRONCOS (Consensus division finish: 2nd)
Dilip Vishwanat/Getty Images
EXPERTS' PICKS
The Broncos finished second in the AFC West last season with an 8-8 record. For more Broncos coverage, visit Bill Williamson's AFC West blog | Broncos clubhouse
ANALYST
PREDICTION
Jeffri
Chadiha
ESPN.com

DIVISION FINISH: 3 New coach Josh McDaniels will regret his decision to trade Jay Cutler this offseason. The Broncos now don't have enough firepower to compensate for their defensive deficiencies.
John
Clayton
ESPN.com

DIVISION FINISH: 4 Face it, the Broncos are a mess. They could be a three- or a four-win team if Kyle Orton struggles, the running game gets off to a slow start and Brandon Marshall continues to pout and be immature. To add to things, the defense that gave up 28 points a game is trying a completely new scheme. Ouch.

Tim
Graham
ESPN.com

DIVISION FINISH: 2 If Josh McDaniels can mold Matt Cassel into an 11-game winner in the NFL, then the rookie head coach should be competitive with Kyle Orton. But the team will stall unless the young McDaniels builds credibility in the locker room early in the regular season.
Jeremy
Green
Scouts Inc.

DIVISION FINISH: 2 This is not a very good team, but in the AFC West that is enough for second place. The Broncos have concerns at quarterback, along the D-line and in the secondary.
Paul
Kuharsky
ESPN.com

DIVISION FINISH: 4 Offseason debacle leaves team in position to struggle. The Broncos undid a high-flying offense while not doing near enough to fix a bad defense.
Matt
Mosley
ESPN.com

DIVISION FINISH: 3 This has been a nightmarish offseason. I don't think Kyle Orton's a legitimate starter at quarterback and obviously the Brandon Marshall thing has spun out of control.
Len
Pasquarelli
ESPN.com

DIVISION FINISH: 2 With the end of the Mike Shanahan era and having a different staff and new quarterback, things could get rough in '09. It would take a lot of pieces to fall in place for this to be much better than an 8-8 team.
Mike
Sando
ESPN.com

DIVISION FINISH: 2 The last thing the Broncos needed was for Kyle Orton to suffer a finger injury. If healthy, he gives the Broncos a chance to compete.
Kevin
Seifert
ESPN.com

DIVISION FINISH: 2 As long as quarterback Kyle Orton stays healthy, the Broncos can be competitive. Their 3-4 defense should keep some teams off balance. But an offseason and summer of internal strife suggests a long season.
James
Walker
ESPN.com

DIVISION FINISH: 4 Any hope of the Broncos having a successful season was shipped to the Windy City.
Seth
Wickersham
ESPN The Magazine

DIVISION FINISH: 3 Josh McDaniels is a talented coach, but is not talented enough to fix Denver's atrocious D, which is transitioning to the 3-4, and the loss of Jay Cutler in one year.
Bill
Williamson
ESPN.com

DIVISION FINISH: 3 The Broncos have to prove they can get decent quarterback play and improved defensive play to think this team can win more than six games. Add a brutal schedule and it could be a tough start to the Josh McDaniels era.
Matt
Williamson
Scouts Inc.

DIVISION FINISH: 3 Talk about a complete overhaul. If Brandon Marshall is healthy and in good graces (highly unlikely), the offense should remain formidable in both the run and passing games behind an excellent offensive line. Still, a drop-off at quarterback is going to occur. The secondary is older, but certainly better. Meanwhile, the front seven looks to be a long way away.
Pat
Yasinskas
ESPN.com

DIVISION FINISH: 3 Are the Broncos better off without Jay Cutler? No way. When Mike Shanahan was the coach, the Broncos were always in the playoff hunt. Without him, they won't be.


CONSENSUS DIVISION FINISH: 2nd | NFL standings
BEST OF THE BRONCOS
Best drama: We get the feeling the issues at quarterback will linger for some time. Jay Cutler doesn't live here anymore. Kyle Orton and Chris Simms are the residents and the natives are restless. This could be a give-and-take battle all season between these two less-than-superior quarterbacks.
Best unhappy player:
Pro Bowl receiver Brandon Marshall doesn't want to be in Denver. The Broncos don't want to trade him. They can't just let every unhappy player hit the bricks. But ultimately, Marshall needs Denver and Denver needs Marshall. The Broncos' offense can be much better with Marshall and Marshall's chances of getting paid are much better if he is productive.
Best depth:
The Broncos have some nice running backs. They have rookie Knowshon Moreno, veterans Correll Buckhalter and LaMont Jordan, and second-year pile driver Peyton Hillis. If all of these players stay healthy (Denver lost seven tailbacks, including Hillis, last year) the Denver running game should be strong once again.
Best newcomer:
Champ Bailey, Denver's left cornerback, probably will end up being a Hall of Famer. So his praise is worth listening to. Bailey has been raving about new Denver right cornerback Andre' Goodman. The free agent from Miami is the goods, says Bailey. And you have to believe Bailey when he's talking corners.
Best chance to win:
The first three games of the season. Denver opens at Cincinnati, then plays host to Cleveland and visits Oakland. After that, the team enters a brutal 10-game stretch in which it plays nine games against legitimate playoff contenders, including Pittsburgh, New England, Indianapolis, San Diego (twice), the Giants and Cowboys.
-- Bill Williamson, ESPN.com
SCOUTS INC.'S FABULOUS FIVE
Scouts Inc. has evaluated and graded more than 2,500 NFL players heading into the 2009 season, giving Insiders a leg up on the competition with exclusive grades, alerts and scouting reports.
Top five players

ANALYSIS
1. Champ Bailey
Cornerback
6-0 | 192
(Grade: 92) He is one of the elite corners in the NFL, possessing size, speed, agility and cover skills that allow him to basically shut down one side of the field. While he has a tendency to bite on double moves, he has enough speed to recover and get back into coverage.
2. Brandon Marshall
Wide receiver
6-4 | 230
(88) In his three years in the league, Marshall has become an elite NFL receiver with back-to-back 100-plus reception seasons in 2007 and 2008. He has become Denver's go-to receiver and has led the team in touchdown receptions over the past two years as well.
3. Ryan Clady
Offensive tackle
6-6 | 325
(79) Clady met expectations as Denver's first-round draft pick in 2008 as he started all 16 games as a rookie. He has unusual initial quickness and agility for his size and did an excellent job of protecting the quarterback's blind side as the starting left tackle.
4. Eddie Royal
Wide receiver
5-10 | 182
(78) He is a slightly undersized receiver, but he can be explosive off the line and has the speed to take it all the way once he gets behind the secondary.
5. Brian Dawkins
Safety
6-0 | 210
(76) Dawkins is very instinctive and his toughness and reactions near the line of scrimmage make him very productive. He is a proven leader who continues to make a lot of plays when healthy. He has good communication skills and does an excellent job of recognizing quickly and helping others get lined up.
Player grading scale: Elite (90-100), outstanding (80-89), solid starter (75-79), good starter (70-74)
SCOUTS INC.'S ANALYSIS
Strengths

Offensive line: While few realize it, Denver has an elite offensive line. It excels in both protection and opening holes in the run game. In fact, there might not be a better unit overall in the league today. Depth here is suspect, however.
Weapons:
Jay Cutler is gone, but the Broncos still have solid offensive players. They added a first-round running back in Knowshon Moreno, who is also a very solid player in the passing game. Getting everyone on the same page (Brandon Marshall) and happy for opening day will be the test.
Cornerback:
A healthy Champ Bailey will go a long way and Denver did add talent to this area. All four of the projected starters on the back end are more than 30 years old, so that is a reason for concern. And if the Broncos can't improve their pass rush, it won't matter who is doing the covering.
Weaknesses

Front seven: This will be a transition year as Denver moves to a 3-4 scheme, but this group was terrible a year ago and really hasn't made enough changes to feel much better about this season -- no matter what scheme is being run.
Special teams:
Because the defense was so horrendous last season, how poorly the Broncos played on special teams went somewhat unnoticed. Poor special-teams play had become a trademark of Mike Shanahan, so there is hope that the new staff is able to get more out of this important phase of the game. That new staff has a lot of work to do.
Quarterback:
As a Chicago Bear, Kyle Orton was quite good last season before his ankle injury. He might thrive in Denver's potentially high-powered offense. Still, this position has to be considered a weakness until proven otherwise.
Scouts Inc. watches games, breaks down film and studies football from all angles.
JEREMY GREEN'S BURNING QUESTIONS
FOOTBALL TODAY PODCAST: DIVISION PREVIEW
DRAFT CLASS WATCH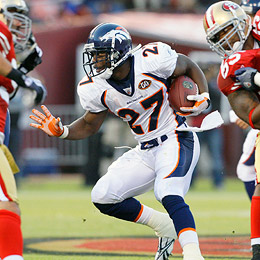 Knowshon Moreno: Immediate workhorse?
Summary: The Broncos began the Josh McDaniels era with extra choices as part of the Jay Cutler trade. The offense-minded coach used six of his 10 picks on offense, despite Denver's glaring needs on defense. Because of some maneuvering (including the controversial decision to trade next year's first-round pick to take cornerback Alphonso Smith with the No. 37 pick), the Broncos had five picks in the first two rounds.
What to expect:
The Broncos are a young team and there is room for plenty of rookies to play. The Broncos expect running back Knowshon Moreno, who was taken with the No. 12 overall pick and was the first of Denver's two first-round picks, to have a major impact. The Broncos see him as a three-down back. With Denver's issues at quarterback, the offense may revolve around Moreno. Defensive end/linebacker Robert Ayers, taken at No. 18, will get a chance to play and help a weak pass rush. Smith is likely going to be the nickel cornerback and the team's punt returner. He seems to have innate playmaking ability.
Wild card:
Watch out for fifth-round pick Kenny McKinley. The wide receiver from South Carolina had an excellent training camp. Denver's coaching staff has raved about McKinley's makeup. He is very polished. He is a confident player who could be an excellent deep threat as a rookie. In McDaniels' spread offense, there is plenty of room for several receivers, and if McKinley continues to shine, he'll be part of the rotation as a rookie.
-- Bill Williamson, ESPN.com
FANTASY STARS
Brandon Marshall, WR

We know Marshall's nickname is Baby T.O., but does he have to behave so much like the real Owens? Marshall missed a week in 2008 due to a suspension but still led the NFL in targets (181), caught 100 balls for the second straight year and caught a ridiculous 18 balls against the Chargers. But he has more question marks on him this year than the Riddler. He loses Jay Cutler under center, and has to deal with the dubious accuracy of Kyle Orton. Mike Shanahan's system is out and Josh McDaniels' system is in, and while that should bode well for Marshall, you never know. He had hip surgery this winter, asked to be traded this spring because of unhappiness over his contract, then was suspended in the preseason for insubordination. Marshall is a top-five talent, but it would take serious stones to take him among the top five.
2009 Projection: 76 rec, 1,004 rec yds, 9 TD
---
Knowshon Moreno, RB

Moreno has the early edge on being fantasy's rookie of the year for 2009. He's not blazing fast, but he has incredible shiftiness and cutback ability for a 220-pound player, and he already is an expert pass-blocker. The concern, of course, is that he landed in Denver to play for new coach Josh McDaniels, who was infamous for a committee-back approach in New England, and the Broncos also have Correll Buckhalter, LaMont Jordan and Peyton Hillis under contract. Our money says Moreno gets first crack at being a feature back. But there's definitely a chance someone will emerge from this crowd as the short-yardage back, and that would hurt Moreno's value.
2009 Projection: 721 rush yds, 7 TD
ESPN THE MAGAZINE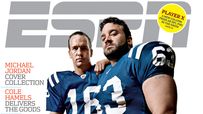 The Chargers win the Super Bowl? What in the name of Norv Turner is going on here?