TAMPA BAY BUCCANEERS (Consensus division finish: 4th)
AP Photo/Steve Cannon
EXPERTS' PICKS
The Bucs finished third in the NFC South last season with a 9-7 record. For more Bucs coverage, visit: Pat Yasinskas' NFC South blog | Bucs clubhouse
ANALYST
PREDICTION
Jeffri
Chadiha
ESPN.com

DIVISION FINISH: 4 There's a lot of turnover with the Bucs -- from the front office to the coaching staff to the quarterback. Their fans had better get ready for a long year.
John
Clayton
ESPN.com

DIVISION FINISH: 4 The Bucs are rebuilding their defense, which had been the backbone of the franchise for countless years. The quarterback position is also in transition. Put those things together with a young, first-year coach and a tough schedule, and it might be hard for the Bucs to win more than six games.

Tim
Graham
ESPN.com

DIVISION FINISH: 4 So much is unsettled about the Bucs. Their coach is a neophyte. They could spin a quarterback carousel. The defense is rife with question marks. Sure smells like a team destined for the cellar.
Jeremy
Green
Scouts Inc.

DIVISION FINISH: 4 They still have a lot of veterans, so it is hard to call it a rebuilding season, but in some ways it is with a new head coach in Raheem Morris and newly arrived QB Byron Leftwich. The Bucs are going to struggle at times on offense, and on defense they will miss longtime defensive coordinator Monte Kiffin.
Paul
Kuharsky
ESPN.com

DIVISION FINISH: 4 Will wrestle with Cleveland and Denver for the No. 1 pick in the 2010 draft. Why are they punished with games against the entire NFC East in the first five weeks?
Matt
Mosley
ESPN.com

DIVISION FINISH: 4 You need a legitimate starting quarterback to accomplish things in this league, and the Bucs don't have one. But I do think Derrick Ward could have a tremendous impact on the offense.
Len
Pasquarelli
ESPN.com

DIVISION FINISH: 4 It's never good for three contenders to be vying for the starting quarterback job, but, beyond that, the Bucs have a potentially potent offense. The defense will blitz a lot more, but also will have five or six new starters.
Mike
Sando
ESPN.com

DIVISION FINISH: 4 The Bucs are rebuilding with a rookie coach. Question marks at quarterback make it tough to envision Tampa Bay's keeping pace with Matt Ryan, Drew Brees and Jake Delhomme.
Kevin
Seifert
ESPN.com

DIVISION FINISH: 4 The Buccaneers are taking a long-term approach, and this will be a transition year. Rookie Josh Freeman might end the year as the starting quarterback, a scenario that usually involves short-term pain.
James
Walker
ESPN.com

DIVISION FINISH: 4 I like coach Raheem Morris' approach to the game. But this rebuilding phase will take time.
Seth
Wickersham
ESPN The Magazine

DIVISION FINISH: 4 Revamped offense -- Derrick Ward, Kellen Winslow -- won't be enough to compensate for an overmatched defense. When was the last time that was the case in Tampa?
Bill
Williamson
ESPN.com

DIVISION FINISH: 4 It might be a difficult start to the new regime in Tampa. The Buccaneers have some talent, but they have more holes than the other three teams in the division.
Matt
Williamson
Scouts Inc.

DIVISION FINISH: 4 This situation begs for a revolving-door situation at quarterback, which is never a good thing. The rest of the offense does seem to be in place, although the wide receiver position is dangerously thin. Also, expect a drop in production on defense overall. The Bucs are clearly No. 4 in the NFC South.
Pat
Yasinskas
ESPN.com

DIVISION FINISH: 4 The Bucs have some good things going for them, such as a good offensive line and a stable of good running backs. They might end up being better than you think. But there are too many question marks to rank them any higher than this.


CONSENSUS DIVISION FINISH: 4th | NFL standings
BEST OF THE BUCS
Best offseason move: Using the franchise tag on receiver Antonio Bryant. Although he's getting paid $10 million, Bryant's not happy about this arrangement, but it was a prudent business move by the Bucs. Bryant had a great season last year, but he had a history of trouble before that. Let Bryant prove one more time that he really has grown up before giving him a long-term deal.

Best face of the franchise: Barrett Ruud. After releasing Derrick Brooks, Warrick Dunn and Joey Galloway and not re-signing Jeff Garcia, the Bucs truly are a team without big names. But Ruud's the perfect guy to build around. He already is recognized as one of the league's top linebackers and is just entering his prime. The surprising thing here is that the Bucs haven't locked him up with a long-term contract. Best preseason story: Rookie receiver Sammie Stroughter. He was a seventh-round draft pick, but he already has locked up the No. 3 receiver spot and is going to be a fixture on special teams. Best reclamation project: Receiver Michael Clayton. He had a big rookie year (2004), but then disappeared deep into Jon Gruden's doghouse. He seemed destined to go elsewhere, but the new regime re-signed Clayton to a big contract, and the Bucs are counting on him to be a starter. -- Pat Yasinskas, ESPN.com
SCOUTS INC.'S FABULOUS FIVE
Scouts Inc. has evaluated and graded more than 2,500 NFL players heading into the 2009 season, giving Insiders a leg up on the competition with exclusive grades, alerts and scouting reports.
Top five players

ANALYSIS
1. Davin Joseph
Guard
6-3 | 313
(Grade: 83) Joseph missed the first four games of last season while recovering from a broken foot. He is a physical and aggressive player who is a good overall athlete. He has good size and strength and is an above-average athlete.
2. Kellen Winslow
Tight end
6-4| 240
(82) Winslow is a six-year veteran who was traded from Cleveland to Tampa Bay in the offseason. He is a very good athlete who has had his share of injuries so far, but, when healthy, he is an extremely effective receiver.
3. Clifton Smith
Running back
5-9 | 190
(79) Smith exploded onto the scene last year as a quality return man for the Bucs in his first season. He is a dual threat in the kicking game who has proved he can handle kick returns and punt returns with game-changing results.
4. Antonio Bryant
Wide receiver
6-1 | 205
(78) Bryant has spent time with four teams in his previous six seasons in the NFL since being drafted in the second round of the 2002 draft. He has always been inconsistent, but has shown flashes of elite skills as a receiver.
5. Tanard Jackson
Safety
6-0 | 220
(78) Jackson has started every game in his first two seasons. He is a former cornerback who was moved to free safety and has developed into a reliable playmaker because of his improving reactions and instincts in coverage. He has adequate size and good speed and quickness.
Player grading scale: Elite (90-100), outstanding (80-89), solid starter (75-79), good starter (70-74)
SCOUTS INC.'S ANALYSIS
Strengths

MLB Barrett Ruud: He has been an underrated player and is a great fit as a Cover 2 linebacker because of his ability to run the middle of the field in coverage. He plays faster than you think he will play and has become one of the better playmakers at his position.

Secondary: CB Ronde Barber continues to play at a high level. The Bucs are very good on the other side with second-year CB Aqib Talib. The biggest concern is the four-game suspension of S Tanard Jackson, who is one of the better up-and-coming players at the position. Depth is good, though, and the Bucs should be able to withstand Jackson's absence. Depth at RB: The Bucs have built themselves a pretty good RB stable with the addition of former Giant Derrick Ward. If they can get something out of Cadillac Williams and underrated Earnest Graham, they can muster enough to keep defenses honest.
Weaknesses

Depth at WR: Antonio Bryant is coming off a very good season, but he is unhappy about the fact that he does not have a long-term contract extension. When Bryant is happy, he is effective; when he's not, there is cause for concern. Even if Bryant has another big season, the Bucs lack a playmaker on the other side.

Defensive line: Two of the four projected starters are former Chiefs castoffs Ryan Sims and Jimmy Wilkerson. Gaines Adams made solid strides in 2008 but is still somewhat of a liability versus the run. The depth is marginal at best. Starting QB job: Byron Leftwich has been given the nod over Luke McCown, who was traded to the Jaguars. Even though Leftwich has been a No. 1 and had a nice showing as a backup last year in Pittsburgh, his health has always been a concern when he's called upon to be the guy.

Scouts Inc. watches games, breaks down film and studies football from all angles.



JEREMY GREEN'S BURNING QUESTIONS
FOOTBALL TODAY PODCAST: DIVISION PREVIEW
DRAFT CLASS WATCH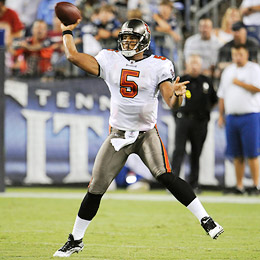 Josh Freeman: Will have time to develop.
Summary:
New coach Raheem Morris and general manager Mark Dominik shocked a lot of their fans when they used their first-round pick on quarterback Josh Freeman. The choice wasn't popular because Freeman is unpolished and the Bucs want to bring him along slowly. But the Bucs will get some immediate production from the rest of their draft class.
What to expect:
Don't count on seeing Freeman until the second half of the season at the earliest. The Bucs will open with veteran Byron Leftwich and work on getting Freeman ready. Third-round pick Roy Miller should be the most prominent rookie early in the season. He'll open as the No. 3 defensive tackle and will rotate in frequently. Miller has a chance to play his way ahead of veteran starters Chris Hovan and Ryan Sims.
Wild card:
Receiver Sammie Stroughter slid to the seventh round because he had some personal issues in college. But those appear to be in the past. Stroughter has had an outstanding preseason and seems to be destined for duty as the No. 3 receiver and as a return man.
-- Pat Yasinskas, ESPN.com
FANTASY STARS
Derrick Ward, RB

Ward leaps from a pure backup role with the Giants to a committee in Tampa Bay. He was excellent in Gotham last season, averaging 5.6 yards per carry, eclipsing the 1,000-yard mark and starting three games in place of injured Brandon Jacobs. With Warrick Dunn gone from Tampa Bay, Ward's primary competition will be Earnest Graham, who is coming off ankle surgery. That injury, plus the fact that Ward got starter money to sign with the Bucs, makes us think he'll have the first crack at assuming a leadership role in this backfield. He's a bit bigger than Graham, although each guy has good hands and neither has breakaway speed. The way the NFL works, one of these guys is likely to get hurt, and the other could well become a fantasy star behind an emerging offensive line. Given a choice between the two, we'd take Ward. The three-headed back system coach Raheem Morris is hinting at in the preseason could devalue Ward a bit, but he's been brought to Tampa to get yards and score some touchdowns, which he will do.
2009 Projection: 900 rush yds, 5 TD
---
Antonio Bryant, WR

His 2008 numbers suggest Bryant should be higher in our receiver rankings, but his history of inconsistency and unpredictable behavior suggests otherwise. After talking his way out of three cities, he stormed the fantasy scene last year, supplanting Joey Galloway as Tampa Bay's deep threat and posting a top-10 season in receptions, targets, yards and touchdowns. But the Bucs slapped him with their franchise tag this winter, and Bryant piped up, claiming insult because he wants a long-term deal. However, the team knows Bryant has never put together good back-to-back seasons, and it wants him to prove he can. Adding to his challenge is the fact that Jeff Garcia is out and some combination of Luke McCown, Byron Leftwich and Josh Freeman is in. Bryant will be the Bucs' top receiver, but there's some question about how valuable that makes him. He should be ready for the start of the season despite having his knee scoped in mid-August, but the surgery has to count as another strike against his draft-day value.
2009 Projection: 91 rec, 1,164 rec yds, 6 TD
ESPN THE MAGAZINE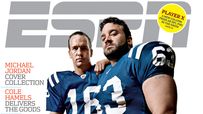 The Chargers win the Super Bowl? What in the name of Norv Turner is going on here?