September, 23, 2014
09/23/14
3:00
PM ET
Dale Jarrett was sitting at a table inside the cave-black bass-thumping confines of the New York City club Marquee. It was 2004, and then-NASCAR sponsor NEXTEL had thrown a party for the sport's top stars during banquet week in Manhattan.
Many of NASCAR's Cup Series drivers had booths and tables that evening. And most were full of people. Jarrett, too, had his own table. But the 1999 Cup champion's table wasn't especially full when someone involved with the event approached with a request: Derek Jeter was in town just then to shoot a commercial, and Marquee was one of his favorite haunts.
He had arrived to realize there was a private party going on, and wondered if he might be able to hang out anyway. Because Jarrett had plenty of room, it was requested that Jeter sit at Jarrett's table. Jarrett, an avid New York Yankees fan from the time he was 5 years old, didn't hesitate.
"I just laughed out loud and told them, 'Absolutely!'" Jarrett said Tuesday afternoon. "I'd have booted half my friends if I had to!"
The two champions hung out for the night, and ultimately exchanged numbers.
[+] Enlarge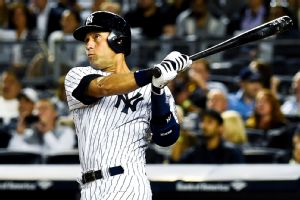 Alex Goodlett/Getty ImagesDerek Jeter has been an example for all athletes, according to his friend Dale Jarrett.
"He wrote his number down on a piece of paper," Jarrett said. "And as we got ready to leave that night I started laughing. He said, 'What's so funny?' I said, 'Do you realize there's 800 females in here who'd die to have this piece of paper with your number on it?'"
They've stayed in touch over the years, and Jarrett participates in Jeter's annual golf tournament in Tampa, Florida. They don't chat every day or even every month, but in the final moments of Jeter's Hall of Fame career, Jarrett had to get up to New York to see his friend play one last time.
"I'll put it like this: I think Derek Jeter is the very top standard by which athletes are measured," Jarrett said. "Not only baseball players, either. All athletes and competitors, regardless of what they do -- he's the top of that rung by which everybody else is measured.
"There's a lot great people involved in sports, but no one has handled themselves with more class, who had more ability and professionalism than Derek Jeter has had his entire career. Here's a guy that, for over 20 years, in the biggest city in the world on the biggest stage, with arguably the greatest team in history, and living in a city where so many people find so many wrong things to do, and he's done everything the right way. Every single thing.
"He's the ultimate professional athlete."
Like many Yankee lifers, Jarrett's favorite moment from Jeter's playing career was the relay to home in Game 3 of the 2001 American League Division Series against the Oakland Athletics, when Jeter, out of nowhere, appeared between home plate and first base and shovel-relayed a throw from right fielder Shane Spencer 20 feet, backhanded, to catcher Jorge Posada to tag out Jeremy Giambi. It was one of the most amazing plays in Major League Baseball history. He made it look routine.
"It's unbelievable, that play," Jarrett said. "He has such a sense for the game of baseball, it's just incredible. If there's anybody who's ever had more base hits to center and right-center as a right-handed batter, I'd be surprised. He is so disciplined. And there's too many backhands in the outfield to count.
"As much as he makes those plays, though, he's the type of teammate that has always brought out the best in his teammates, too. I looked at Michael Jordan like that. Michael Jordan didn't always have the best team around him, but you'd be sure he'd bring out the very best of whatever qualities those people had. Derek is the same way."
No one he's ever witnessed, Jarrett said, is more respected. Jeter's golf tournament is a who's who of professional sports. Every type. Even basketball players, Jarrett said, show up during their season, in January, just to support Jeter. It's about the person, not the athlete.
"The biggest thing for me would be to watch him handle it all," Jarrett said. "What strikes me is the respect he gets from everyone, and to watch him interact with people, whether it's those athletes or sponsors. It's incredible, the person he is.
"Obviously, he had a really good upbringing. But he took that to another level in being a good person. Just to watch him interact, the professionalism doesn't stop when he walks off the field. It carries on everywhere he goes and whatever he does.
"My daughters live up here in New York, so they were with me at the game. It's always nice to introduce Derek as a friend, and know he's someone they can look up to to do it the right way."
August, 12, 2014
08/12/14
5:27
PM ET
Many folks who don't consume motorsports have asked me in recent days why Tony Stewart would compete at nowhere tracks, for no money, with so much risk. The best analogy I could muster was Kevin Durant at Rucker Park.
When Durant showed up at Rucker last summer and dropped 66 on the boys at the playground, everyone gushed about how cool and genuine it was that he went back to the roots and paid homage to the purest form of the game. No money. Just ballin'.
Sure, there was considerable risk involved. One wrong movement could result in a career-ending injury. That's part of the respect that comes with his appearance there. Risk it for the game, baby. Use your celebrity to pay the game back for all it has done. And since nothing happened to Durant outside a jaw-dropping display of his MVP skill, we found it fascinating and wonderful that he did it.
That's what Stewart does every weekend. Same premise. It's passion. It's a reset button, a reminder why he does what he does and is who he is. It's a body-cleanse from the corporate toxins that affect the NASCAR owner.
And now that passion is under fire again. It was under fire last year at this time, after Stewart shattered his right leg in a crash at Southern Iowa Speedway. When he wrecked in that sprint car race last August, he swerved left to avoid hitting Josh Higday in the driver's door. I visited Higday three weeks ago in Des Moines, and he told me that Stewart's split-second decision saved Higday's life. He told me there are only a handful of drivers on Earth who had the ability to make that move.
Fast-forward to Saturday night: Stewart struck Kevin Ward Jr. during a sprint car race at Canandaigua Motorsports Park. Ward died as a result, an unspeakable tragedy that left the entire motorsports community in shock. It prompted news outlets to study racing safety and question Stewart's actions, comment on his temper and ponder why he runs these races anyway.
He runs them because he needs them. Certain things define certain men. The dirt defines Stewart. On dirt, in his mind, he's just a guy. It's pure. It's real. It's honest. That's why Stewart needs the dirt. Right there.
July, 25, 2014
07/25/14
3:21
PM ET
Best story you'll see today. pic.twitter.com/Eygjfjb7DI

- Marty Smith (@MartySmithESPN) July 25, 2014
INDIANAPOLIS -- I saw freedom in a boy's smile today.
Samuel Sawyer is 11 years old and confined to a wheelchair. He is sweet. His smile is shy. (But whose isn't, I guess, when surrounded by a bunch of random people?) Samuel was born with spina bifida, a condition that occurs in the womb when a baby's spinal column doesn't fully close. He rolled into the Indianapolis Motor Speedway on Friday as a guest of Richard Petty Motorsports, Aric Almirola and sponsor Eckrich. He was oblivious as to why. He should be. He's 11.
Eckrich sponsors a program called Operation Inspiration, which supports and honors military families. Samuel's father, Mike, is a Navy veteran of more than 25 years. The Sawyer family would be honored on this day with a free trip to Victory Junction Gang Camp and free groceries at Kroger for a year. But that's not all.
Samuel loves soccer. He loves the angles man must take to meet ball. He loves that the game teaches unforeseen nuances each time he plays. He loves that it offers him an equal playing field. Or at least it once did.
He might just have scored a distinct advantage.
During the news conference to honor Mike Sawyer for his military service to America, Eckrich, Almirola and Richard Petty gave Samuel a gift: a brand-new wheelchair, specially equipped so he could live the dream of playing power soccer.
It is the fastest chair on the market, and includes a steel roll cage around the feet area. It is painted hunter green and Petty Blue, and has the iconic Petty 43 on the back. Petty and Almirola autographed it.
All Samuel could do was smile and shyly mutter, "Wow."
I wanted to chat with him. Neat kid. I asked him what this meant for his soccer game. His right hand danced in a back-and-forth sort of fashion, on and around the joystick power lever. I wondered if that was his way of revving the engine at the stoplight, primed to hammer the throttle and let the horses run. I asked. It was.
New horses -- thoroughbreds -- unexpected and therefore totally shocking.
Samuel's jaw twitched with glee as he described how this new chair would improve his game -- and above that let him live his love for it.
And he smiled.
And I saw promise in his eyes. And his dad's eyes and his brothers' eyes, too.
It was the promise of freedom -- the freedom to run wide open and the freedom to play.
That is wonderful.
#theKing & @aric_almirola help @EckrichMeats surprise Samuel w a #43 wheelchair to play soccer! #operationinspiration pic.twitter.com/xO4cSok7np

- RPMotorsports (@RPMotorsports) July 25, 2014
October, 6, 2013
10/06/13
5:57
PM ET
The Heartland …
Sunup to sundown …
The melody of the plow is the pulse that pulls the second hand 'round …
Daybreak to dusk.
Every tick of the sunlight dial wrings dry the bountiful prospects of the land …
In the Heartland
Carl Edwards: I like where I grew up. I like the fact that you can have not enough money to pay for gas at the gas station and they say, 'Hey, don't worry about it. Get it tomorrow.' There's a big sense of community where I'm from.
Folks here don't expect handouts …
But are quick to lend a hand …
Their conscience is the memory of their father's calloused hands.
Generations of meticulous effort …
They will not accept shortcuts …
It's do it right …
Or don't do it at all …
In the Heartland.
Edwards: I'm blessed to have grown up around a lot of people who are good, hardworking, honest folks who held me to a really high standard -- which was painful sometimes. I'll be at the hardware store and they'll say, 'Man! I knew you. I used to see you go pick up cigarette butts at your dad's shop!' It's like they just can't believe it. It's neat to be around people who really know who you are.
Sweat that drips from a man's brow is as understood as the air that fills his lungs …
'Round here a handshake is a contract …
Word is deed … and faith is creed.
Aim as true and straight as the corn rows that define this place …
Edwards: You tell people what your hopes and your dreams are, and they laugh at you. Or they don't believe you can do it, and it's tough. Whenever people ask me for advice, I just tell them the simplest thing is three words: Never give up. I realized a couple years into this project that I'd beat about 95 percent of the people I was competing with just by not quitting. I think that's the key.
Look a man in the eye …
Square …
Roots run deeper than limbs extend …
In the Heartland.
Edwards: When [International Speedway Corp. president] Lisa Kennedy and the folks at ISC built this place [Kansas Speedway], it was when I was working as hard as I could, to do anything I could, to make it as a race car driver. This place was bigger than a challenge. It was almost an insult to have all of this racing right here happening, and, all of a sudden, people in the area I was living in were talking about auto racing. And I was like, 'I'm part of that, guys!' That's what I want to do!
Passion.
Edwards: I was a student at Missouri, and I was racing at my local dirt track and had a good deal going at school. And I was talking to someone about this race I ran on Saturday, and one of the students in the class says, 'What are you talking about? You're a race car driver?' And I said, 'Yeah. That's what I want to do.' He's like, 'You think you're going to race in the Daytona 500 or something?' To me, those were fighting words.
I hear people say, 'Oh, Carl just wants to be on TV.' To me, deep down, I still have this fear that whatever I do is not going to be good enough. So when I'm on TV with you guys, or talking to sponsors, I'm very aware that that's what makes this thing go around, and I don't look lightly on any of it. That's why I give it 100 percent all the time.
Pride.
Edwards: I remember driving past this place on the highway going to Colorado to a race, and I didn't even want to look at it because it was everything I wanted to be doing, right there. And so to me, it's a challenge. And for me, the last part of that challenge would be to win here.
You may leave it … but it never leaves you …
Edwards: I've lived two separate lives, man. I've lived the life of sneaking into these places and handing out business cards and having people laugh at me and living the life of people driving by yelling my name and honking. They're both fun. If this all ended tomorrow, I guess I'd high-five everybody and go find something that made me feel good.
Wherever you go … it is with you …
The Heartland.
June, 4, 2013
06/04/13
2:33
PM ET
Kyle Busch is wearing a white hardhat, baggy jeans and a blaze-orange M&M's polo shirt bright enough for a prize buck hunt. He's in a neighborhood in Charlotte, N.C., swinging hammers during a Habitat for Humanity home-build shift. This is a couple weeks back.
It's muddy and he's dirty. Rain has pelted greater Charlotte all morning, and the red clay runoff from the mounds of dirt along the periphery has turned to pudding on the home's concrete foundation.
As I watch Busch slam framing nails into two-by-fours, the scene intrigues me, this contrast between his muddy shoes and the clear-blue-sky clarity of the statement he's saying to me.
It started when I asked what he considered to be the greatest accomplishment of his career to date. This is a guy who has 115 wins across the three major nationals series. He's won inaugural races (Kentucky) and won at home in Vegas. He's won Darlington and both road courses. That's just in Cup.
[+] Enlarge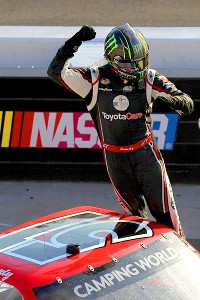 Todd Warshaw/Getty ImagesKyle Busch has 32 wins in the Camping World Truck Series, including Friday's victory at Dover.
He's done a few things with a wheel in his hand.
He didn't hesitate: The Bristol sweep.
"Not a lot of people really try for those things because they don't run Truck races -- the Jimmie Johnsons and Jeff Gordons don't run Truck races or very many Nationwide races," he said.
"That was pretty cool for what I'm all about and what I do, and for how many laps you run during a season and for what all can happen throughout a race -- as well as how we've seen how much bad luck I carry around behind me -- it's pretty special when you can win three races in a weekend like that."
As we chatted, he was fresh off another dominant performance in the Camping World Truck Series, this time at Charlotte Motor Speedway. As he bowed to the assembled in a cloud of tire smoke, they booed. They love him or they hate him. No in-between.
Here's the thing: Polarizing is a fine position, really, so long as it's properly channeled.
I wondered aloud how he felt about the criticism he takes for competing in -- and winning -- Nationwide Series and Truck series races so readily. What are his thoughts about the commentary that the beatdowns he lays are akin to Justin Verlander throwing filthy heat to Class A talent?
And what of the chatter that those wins don't count for much, anyway? They're not big-time wins, they say. If it ain't Cup it don't matter, so why bother, they say.
"For me, it's just an opportunity to go out there and get as much track time as I can, to get out there and feel the tire, feel the track, try different lines to see if they help you or hurt you, to not try that on Sundays," Busch said analytically.
"And I think all that helps me a little bit. Instead of going out on Sundays and trying all of that, and being behind the 8 ball a little bit, I already know what does or does not work. So that's my benefit.
"To people that discredit the wins and stuff like that, I mean, I'm not fighting with anybody, but everybody keeps saying my wins in Truck and Nationwide don't mean anything. That's not true. They mean a lot to me."
Fair. Expound, please.
What, exactly, do they mean?
"Everybody thinks I'm shooting for Richard Petty's 200-win record. That's not true," Busch explained. "Richard Petty won his 200 races in his era. That's cool, man. I mean, granted, he did it. Right? He's the all-time winner in the Cup series. For me, if I win 200 races over all three series, my record has nothing to do with Richard Petty's record, ya know?
"To me, it's just something I want to accomplish and I want to do, and I think everybody's making too much of it."
That answer is telling. Kasey Kahne has entered five Truck races in his life. He's won four of them.
Busch is wholly unconcerned what any of us think or say about his desire to race. It's not about exposure -- if it were about exposure he wouldn't fly to Slinger and Lanier to race obscure Late Model shows.
It's not about beating lesser talent -- truth told, most drivers in the Cup series have lesser talent.
It's not even about history. History is old hat.
It's simply about the opportunity to compete, to get out there and gas it up -- anytime, anywhere, in anything. Fire it up and let it eat.
I don't care if you detest the guy. In an era when drivers get rich and ride with no particular resume to speak of, that's oddly refreshing.
November, 3, 2012
11/03/12
4:50
PM ET
For drivers marching relentlessly toward the hope of a life-changing first NASCAR championship, the mental toll of the challenge is every bit as taxing as the mechanical or the strategic.
While in the garage Friday at Texas Motor Speedway, I sought out Carl Edwards to discuss that dynamic.
[+] Enlarge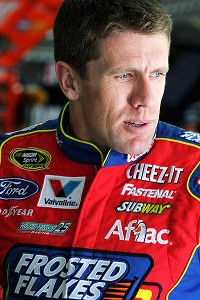 Jerry Markland/Getty Images/NASCARCarl Edwards, who lost the 2011 Sprint Cup championship on a tiebreaker, has zero wins and failed to make the Chase.
He's lived it. Three times during his eight-year-plus career, Edwards has been in contention for a championship in the season's late stages, in 2005, 2008 and 2011. Meanwhile this season, despite high expectations, has been wholly disappointing: zero wins and a failure to qualify for the Chase.
So how would he assess his team? How did his back-and-forth with Tony Stewart in 2011 affect his opportunity to win a championship? And what are Jimmie Johnson and Brad Keselowski experiencing right now?
Smith: What assessment would you give the No. 99 team right now?
Edwards: "The 99 team, right now, I think we're 15th in points or 14th in points, or something, so we're in a position that, No. 1, we didn't expect to be in, and, No. 2, is not acceptable to us. So what we're doing is, we're doing everything we can to make sure this Fastenal team gets running the way we know it can, the way it did last year -- the way our teammates are, for that matter.
"We're looking at every aspect of the team: the crew chief, the driver, the pit crew, everything that we can try to make better so that we can go out in 2013 and win a championship."
Smith: In what areas, specifically, do you need the most improvement?
Edwards: "There are a couple things that definitely we can do better. But that's the thing, there's no one big problem we have. Now, we have had a lot of bad luck. We have had a crew chief change. But there's not one specific thing.
"I think if we're honest with one another, we all have to be better in a small way. I know that's what we're working on, and hopefully we can accomplish it. We know how well we can run. We come to the races expecting to win, expecting to be on the pole, expecting to fight for the championship. And trust me, it is not fun running the way we've been running."
Smith: You've lived Brad Keselowski's current situation, a guy vying for his first Cup championship and negotiating all those emotions and pressure. What is that like?
Edwards: "My personal opinion is that Brad and Jimmie are experiencing a lot different type of pressure. I can only speak from my own experiences. In 2005, we had a real shot at the championship. We tied for second behind Tony Stewart. That type of pressure was kind of fun. There was no expectation. Anything we did was a good thing, and any mistake I made was acceptable.
"Then in 2008, we won nine races. We were battling Jimmie. Jimmie was on top of his game. Jimmie and Chad, as they always are, were very tough. Jimmie didn't play really any mind games. He didn't make any statements like he's making in this Chase, but I did feel a different type of pressure, started to feel like, 'Wow, I should win this championship.' And that was a little bit different than 2005.
"Then we go to 2011, and it was totally different for me. I had made all my mistakes. I knew that was my championship to win. And so, I felt like there was a lot more pressure on me. Fortunately, I can look back on that and say we went to Homestead with all the pressure in the world, qualified on the pole, led the most laps and just got beat.
"But that is a very, very difficult thing to do. And I think Jimmie, right now, realizes Brad's somewhere in that area where he needs to win this championship. I saw Jimmie kind of poking at him in the media. And if you remember, Jimmie spun out, he made a mistake at Kansas. And for him to come in to the media center at Martinsville to act like he's the man and all the pressure's on Brad, that's very, very telling of where Jimmie's mind is. He knows what he's doing."
Smith: What advantage does championship experience give a driver?
Edwards: "Tell you this, the difference between five championships and six. ... I mean, [Johnson's] just having fun. He's going to go home, no matter what happens, look at those trophies and, hey, he gave it his best shot. The difference between zero and one [championship]? That's a big difference.
"And if Brad Keselowski can do what he's done all year, I think that he's going to show everybody that he is very, very mentally tough. 'Cause it's tough. When you're dealing with a champion that's done it a number of times, it tests not only the driver but the team.
"Those guys, if they're in the hunt when they come down to that last pit stop, his pit crew, they're going to have to have nerves of steel because they know it's all on the line. And they don't want to be the guys that bump up against that heavyweight champ, Jimmie, and get pushed aside. They want to win."
Smith: We all thoroughly enjoyed the back and forth in the media between you and Tony Stewart in 2011. What affect do those mind games have on you?
Edwards: "I'm very fortunate. I've had a lot of life experience that's taught me that, usually, when people are talking a lot, they're trying to hide something, they're trying to cover something up. And I've dealt with Tony enough that I knew he was having a good time. It was a good show. But I knew deep down, I've read his book, I know what he's about. He wanted to win that championship.
"And in my opinion, I think that was something that he was doing to try to shake us. So that made it easier. But if that would have been my first year up there competing for the championship, it probably would have been a little bit tougher. It is fun. It's a neat experience to be a part of. It's definitely educational.
"Pressure can do a lot of things, but it can make diamonds too. I think it made me tougher, and I think that no matter what happens, I think Brad, just going through this, is going to be a really, really great competitor because of it. And he's going be driving a Ford next year, so for us, I think it's really good."
October, 19, 2012
10/19/12
11:00
AM ET
Dale Earnhardt Jr. is a revolutionary. His decision to seek expert help regarding the recurring headaches that plagued him was in fact a step so dramatic -- so ballsy -- it'll take years to quantify.
Granted, he'll tell you different. Earnhardt isn't inclined to pay mind to others' analysis of his personal decisions. He looks at it in literal terms: his desire to ensure his long-term health. He doesn't invest in the prospect of legacies or the broader scope beyond the racetrack. He just wants to be smart about his noggin so he can race for a long time.
But here's the truth: That step will forever be a part of his legacy. Because when he sat down with Dr. Jerry Petty to discuss the ramifications of successive concussions -- and was ultimately told that he couldn't do the only thing he has wanted to do since he was old enough to form an opinion -- he told an entire generation of fans, drawn to the speed and fury of his passion, that it's OK to be vulnerable.
Tear-open-your-soul-and-bleed vulnerable.
Because for a racer there is nothing more vulnerable than idling while another man is holding your wheel.
Emotionally, Junior is sick about it. He is hurt. He is sad. He is heartbroken.
Idling is torturous.
But he is a stronger man for it. He is a smarter man for it.
The easy decision would have been to saddle up and ride.
The impossible decision was to cuddle up and watch.
But he did. And everyone watched.
There were athletes in locker rooms all over this country watching him live on "SportsCenter." In that moment, many of them looked at themselves and wondered if they'd make the same decision.
Every driver in NASCAR wondered if he or she would do the same.
Few human qualities are as dynamic as vulnerability. Those self-confident enough to acknowledge the deepest part of their personal weaknesses are in fact the strongest among us. Just are. They're on another level spiritually. It takes indescribable guts to peer into your soul that deeply, because you may not like what you learn.
We're now a week removed from Earnhardt's announcement. We're still digesting it and will be for quite some time.
It was a landmark moment.
He wasn't fired. He's not sitting at home because he has no wheels. He's sitting out because he's smart enough to listen to his body. That he chose to do it in a resurgent season, which erased four years of mediocrity, is even gutsier. He chose to do it in a season that, for the first time in a long time, he was relevant in the season's championship conversation. He did it during a year in which the wit and the grin and the confidence that defined him in the early portion of his career had returned.
It was a revolutionary decision.
But we won't realize how revolutionary until a young racer, or a young football or soccer or baseball player makes the same decision -- because Dale Earnhardt Jr. did.
June, 30, 2012
06/30/12
6:59
PM ET
Comfortable is easy.
Comfortable provides our unwavering truth, cultivated by the plow of check marks on our calendar of experience. It's what we know, the daily routine dispersed through the borders of our emotional personal planners. It is walking through the same door at the same office every day at 8:58 a.m. for two decades; and greeting the same faces en route to the same coffee maker at exactly the same time each morning.
There is strange comfort in that knowledge.
Comfortable feels like security.
Until it feels like monotony.
Just then, suddenly and strikingly, comfortable becomes quite uncomfortable.
And in that revelatory moment of emotional tug-of-war it hits you like an anvil: To maximize potential, I must make myself uncomfortable. I must walk through the door of an unfamiliar office full of unfamiliar faces to rewrite my definition of comfortable.
Taking that chance is very difficult.
I imagine that has been Matt Kenseth's struggle in 2012.
For 14 years at the highest level of his trade, Kenseth has known but one way of doing business. The Roush way. It is a highly successful method, one that produced two Daytona 500 victories and a Sprint Cup championship season so consistently competitive it rewrote the way every champion after it was crowned.
This is not a LeBron James "Decision."
I do not believe that Matt Kenseth is leaving Roush Fenway Racing in search of faster racecars. He has the fastest racecars in the sport. I do not believe he is leaving with the hope of joining forces with more-competitive people in the quest for victory. He and crew chief Jimmy Fennig are already plenty formidable.
I believe Matt Kenseth is leaving Roush Fenway Racing for the liberation of a new start, under the direction of a new philosophy. He knows what he can do in Roush Fords. He knows the company methodology. It didn't especially apply any longer.
He wants to see what he can do under another man's roof in another man's cars with another man's methodology.
To do that he chose to make himself uncomfortable.
Uncomfortable is hard.
February, 26, 2012
02/26/12
8:05
AM ET
Note: My bosses on the television side charged me with capturing the essence of the annual pilgrimage to Daytona for a new season. The piece will air throughout Daytona 500 weekend. I wanted to share the script with you:
Only the rarest of pillars stand firmly on a foundation of sand …
For, sand is fickle …
Individual grains are loose and free in the ocean breeze … or are swept away with the tide …
But packed hard by pressure … sand molds as solid as stone … confirming Big Bill France's vision that Daytona's Beach would provide the foundation on which he would create NASCAR …
Daytona's legend evokes visions of Spring Break bikini beauties … and Harley-clad bikers. … And its racetrack wields a checkered flag so powerful … it propels he who captures it directly into immortality …
Or in an instant, history becomes heartbreak …
And therefore, Daytona's Beach is the ultimate destination point for NASCAR fans …
Here the cadence of 43 handcrafted steel chariots marching is your pulse … the roar of 200,000 breathless brethren your heartbeat. … And so every February fans from the farthest reaches of this great NASCAR Nation load up their dreams and make the pilgrimage …
Daytona marks a new beginning … an empty canvas with infinite possibility …
None has dipped his brush … no one is ahead … no one behind. … All are equal in status and in opportunity …
The same goes for us … the fans. … With the dawn of every season … the longest … coldest … most excruciatingly dormant months of our year are over … and we burst like spring's first bud with the boundless hope of excellence …
So to that hope I raise my glass to you, Daytona …
Cheers.
February, 11, 2012
02/11/12
5:44
PM ET
The picture on the front page of neilbonnett.com tells the tale: The jacket is blue and pink and purple, as colorful as the man wearing it; the smile all pearls. On that jacket's left breast, in embroidered red, yellow and black thread, it reads: Winston Legends.
Neil Bonnett is most certainly a NASCAR legend, as much for a laser-quick wit as for the 18 victories he accrued at the sport's highest level. Bonnett was among the most colorful characters the NASCAR garage has ever seen, a charter member of The Alabama Gang whose on-track success typically gets lost in the shadow of the person and the pranks -- not to mention the Allison family legacy.
Bonnett won at Richmond and Rockingham and Darlington and Wilkesboro, the toughest tracks the South ever produced. He won for Junior Johnson and Wood Brothers, some of the greatest owners the sport ever produced.
[+] Enlarge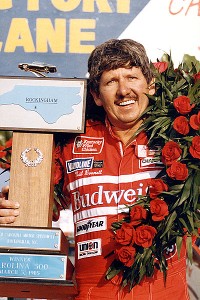 ISC Archives via Getty ImagesNeil Bonnett won some of the biggest races for some of NASCAR's biggest owners and sponsors in his career.
"In the sport he gets lost in the shuffle sometimes, because he was so lighthearted and so fun to hang out with that you almost forget to give him credit for being a pretty doggone good race car driver," NASCAR president Mike Helton said.
In 1994 Bonnett was staging a comeback from three years spent recovering from cracked ribs, a broken sternum and amnesia sustained in a 1990 wreck at Darlington. He'd been integral in testing the new Monte Carlo race car Chevrolet would unveil in 1995. Entering Speedweeks, he was confident he would contend to win the Daytona 500 in James Finch's No. 51 Chevy.
It was not to be.
On Feb. 11, 18 years ago, Bonnett died in a crash during the opening practice for the Daytona 500. He was 47 years old.
"That was my first year with NASCAR. We'd lost Rodney Orr a few days before that, so when Neil was the second incident of the weekend it was certainly much more difficult," Helton said. "It was really tough. Coming on the heels of losing Rodney, and it being Neil, magnified the impact of it all. It was very tough to be braced for that."
Helton is one of the folks in today's garage who knew Bonnett best. They were fishing buddies out on the lakes of Alabama, near Talladega and Birmingham. When I asked him to recall his favorite story about Bonnett's exploits, he literally laughed out loud.
Bonnett, see, was as proud of the motors in his boats as he was of those in his race cars. And one day out on a lake near Birmingham (where most everyone knew his name), he'd gone and wet a line in a no-fishing zone. When the game warden approached and asked if he knew he was fishing illegally, Bonnett looked at him and asked, "Do you know who I am?" When the Warden said, "Nossir, I don't know who are," Bonnett slammed that boat down in gear, hollered, "Good!" and took off like a bat outta hell across the water.
That warden didn't have a chance.
"Neil loved that story. He always told it," Helton said through the chuckle. "He was a big outdoorsman, and he and Dale Earnhardt had got to become good friends because they shared a lot of common loves and laughs and things they did, so they migrated to each other.
"You should have seen Neil try to play golf. He wasn't a good golfer. But then again, most of the folks that played with him, we weren't either. It was so fun. He was such a quick thinker and fun personality; such a practical joker."
And a fine broadcaster. Bonnett hosted "Winners," a weekly program on The Nashville Network that highlighted NASCAR's greatest drivers and personalities. It was wildly popular.
"Neil was a really easy person to warm up to because he kind of pulled you in," Helton said. "His personality was just so strong. As soon as he walked up to you for the first time, you felt like you'd known him for 20 years.
"Neil's legacy will be reflected on paper statistically, but I'm not sure that anybody can do him justice any other way. You had to know him. He had a show where he interviewed characters in the sport, like Bill [France] Sr. and Richard Petty and Buddy Baker. That show had a huge following to it because of his personality. Hopefully somebody resurrects those someday."
That was a different era. These days drivers must toe a thin line between showing too much and not enough personality. The driver that most reminds Helton of Bonnett?
"It's funny you ask this, because I said to somebody the other day who did not know Neil that Clint Bowyer is a very down-home personality that has a great sense of humor, is quick on his feet and, oh by the way, can drive a race car," Helton said.
"In today's world I look at Clint and see a little bit of former drivers in him. I see a little bit of Neil in Clint Bowyer. He's entertaining. That was Neil Bonnett -- as quick and witty as Clint is, he's the modern-day Neil."