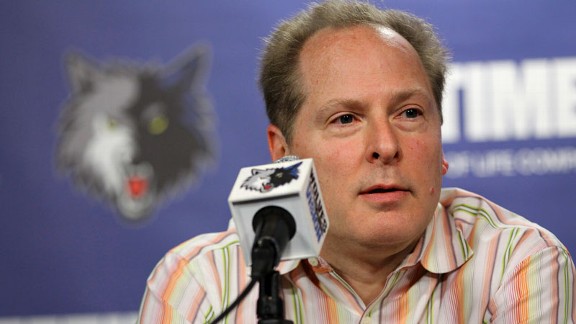 David Sherman/Getty Images
The NBA won't have David Kahn to kick around anymore.
David Kahn's contract has not been renewed.
The most common reaction is, what took owner Glen Taylor so long? (Be warned: that link's to Twitter, and this is Kahn. The language can get salty.) There's nothing everyone in the NBA agrees on, except perhaps that David Kahn was horrible at his job.
His mistakes were many and public. Jonny Flynn -- last seen playing out his prime basketball years in Australia -- ought not to have been a lottery pick. Ditto Wesley Johnson. It's awesome to have a player like Kevin Love and unforgivable to have jerked him around when it was time for a contract. These mistakes and others are all real.
But ask yourself this, or other GMs who love to feed the fires of Kahn mock: If Kahn's such an idiot, how come the Timberwolves roster is in better shape than your team, with affordable young talent, payroll flexibility and real upside?
Nikola Pekovic is among the NBA's most effective centers, and while he was drafted by Kahn's predecessor, Kahn got him to come to the U.S. and play for the bargain price of $4.8 million. Everyone mocked Kahn for committing close to $20 million over two years to Andrei Kirilenko, who had been out of the league, but how many playoff teams would kill for an elite defender and long, efficient offensive player at that price right now? (My guess: All of them.) Dante Cunningham is making $2 million and is no stiff. Ricky Rubio at $3.7 million and Alexey Shved at $2.9 million are problems every owner would like to have.
The Timberwolves have middling salaries now, and among the league's lowest payroll moving forward. They were 12-9 to start this season without the injured Love, and a happy story, before injuries savaged the Twin Cities, claiming Love (again), Brandon Roy and almost every other key player for long stretches.
No, the roster's not dreamy. But with a decently healthy season, they'd be telling a whole 'nother story about this team.
There are far worse-off teams than the Timberwolves, and by extension, far better candidates for "worst GM in the NBA" than Kahn.
So why does he get that rap?
---
We have never been close, nor have we even talked much. But I have known Kahn for a dozen years.
As assistant GM to the Pacers, he was generally glued to the side of his then-boss, Donnie Walsh. I was in Indianapolis covering the 2000 Finals and had lots of questions for the in-demand Walsh; sometimes I settled for Kahn instead. As an ambitious young executive, Kahn was always happy to talk. He also had smart-seeming thoughts and would sound off on just about any topic -- the symbiosis of young front office executive and journalist, one who needs someone to talk and the other who needs someone to listen.
And I already knew his name -- for a short time while I was growing up in Portland, Kahn had been a sports columnist for the Oregonian, which I read every morning. Talking in 2000, we pieced together that we had both left Portland about the same time for NYU -- Kahn for law school, me for undergrad. We had some times and places and interests in common.
Don't come knocking on my door looking for the David Kahn fan club, however.
It goes like this:
Kahn moved around the sports world. He was at the Pacers for nearly a decade, he tried unsuccessfully to bring the Montreal Expos to Portland, he bought some D-League teams, and then in 2009 Glen Taylor gave him the Timberwolves' front office to run.
The affable Walsh always had Kahn's back, but by and large among GMs Kahn was an outsider. And he's a prickly personality prone to odd pronouncements and unconventional convictions. That's a bad combination in the "do it the way it has always been done" NBA. People killed Kahn early and often. And when journalists called hoops contacts to find out about the strange new GM, they found few backers. The NBA's unofficial power brokers club can be fickle, harsh and protective of its own. But for a lifeline to Walsh, Kahn was no insider there.
And there was something else. Things went haywire around Kahn. Here was a man who got under people's skin. His tenure at the Oregonian ended in messy legal fingerpointing. Many around the NBA like to tell the stories of Kahn's infighting while at the Pacers. I've heard praise for his work in the D-League, but that's hardly where NBA executives head when everything is on track.
Strange things came out of his mouth, like when he seemed to casually disrespect Michael Beasley's privacy by going on the radio and saying that Beasley once "smoked too much marijuana" but wouldn't be doing that anymore. If your boss talked like that in public, you'd probably call a lawyer. And Kahn is a lawyer.
After his most famous gaffe -- drafting Jonny Flynn and Ricky Rubio to play the same position -- he spent a summer explaining how well they could play together, only to have the coach he hired, Kurt Rambis, immediately announce it would be "extremely difficult" to play the two together.
Nothing about that stopped Kahn from his bewildering optimism. This is how Kahn was talking in August 2009: "The singular objective, is to be a championship-contending team. I don't want to put a time frame on it, but it seems that three to four years is probably realistic."
View from 2013: Whoops.
In 2010, Kahn said he wanted compensation from the Trail Blazers because they traded him Martell Webster with an improperly disclosed back injury ... well that was a new issue to me as a sportswriter. So I did the homework, calling the Timberwolves and Blazers as well as impartial people who know about such things -- people at the league and at other teams -- to assess Kahn's chances of getting compensation. Those who'd talk to me were unanimous: Kahn had no chance. Only one person would let me quote him, and even then without a name. He pointed out that Webster's injury happened in front of a nation of NBA fans:
"We're all laughing about it. You can't watch the freaking playoffs? That was a pretty obvious incident, right on national TV."
The Timberwolves wouldn't talk about Webster for my story. But in the day that followed the publication of that quote, they called several times. More than once I ended up on the phone with Kahn. The tone was mind-blowingly, ear-bleedingly nasty. Worth mentioning: he was also aggressively misguided. He was livid at a particular something that simply had not happened. I tried to explain, to no avail. Later he called back to apologize for his tone, but that call quickly devolved, too. I assume we're both glad we have never spoken since.
All of which is to say I have glimpsed Kahn's odd, bitter personality. I can guess why his various stops have been short, and why he has been in the business for a long time without developing many allies. I join a big crowd in not crying for Kahn today.
So yup, call him an iconoclastic crank who's short of friends and long on big, pompous mistakes.
But please, don't call him the worst GM in the NBA.
And note this: Sources say Kahn actuall won that Martell Webster dispute, with the Blazers agreeing to pay the Timberwolves $1.5 million.
But for the occasional Sam Presti or R.C. Buford, GMs basically all have Kahn-like collections of mistakes in their records. A third of the league is out of contention every season largely because of self-inflicted wounds; the NBA transaction list is littered with trades that were destined to fail from day one. How much better could the Kings be? What about the Suns, Nets, Wizards, Pistons and Raptors?
Kahn might belong on your poster of front-office incompetence. But surely not alone, and he surely doesn't even get to kneel in front holding the game ball. He's the king when it comes to making a spectacle of poor decision making. But when it comes to actually making the decisions, plenty of others have done worse.