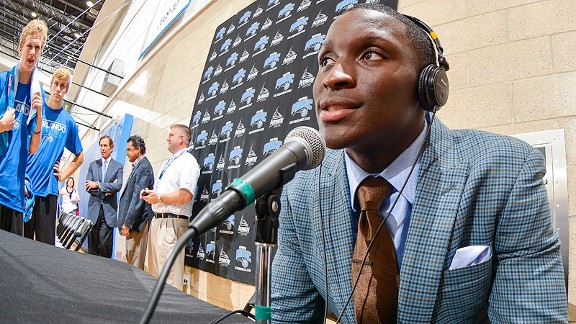 Fernando Medina/NBAE/Getty Images
Why would a smart team ask the best shooting guard in college to play point guard in the NBA?
Victor Oladipo, the point guard.
The Magic have been talking about trying that, starting in summer league.
He was the best shooting guard in college last season. The things he's amazing at are, by and large, shooting guard things. Why would you bring him to the NBA -- only to switch his position? Why mess with success in that way? Isn't that crazy?
Allow me to deepen the mystery even further: The Magic are run by Rob Hennigan, who until a year ago worked for the Thunder, an organization that both wrote the rebuild-through-the-draft playbook, and did this exact thing repeatedly.
Do you remember when no one could figure out why then-Sonics coach P.J. Carlesimo wasted all kinds of time experimenting with 6-9 rookie Kevin Durant -- now the world's finest forward not named LeBron James -- out of position at shooting guard? Durant was never great at it. It was a head-scratcher in real time, and it doesn't make a ton more sense now.
But wait! There's more! Russell Westbrook had never played point guard before the Thunder drafted him. It's the most demanding skill position in the most demanding league in the world, and Westbrook was hardly an instant success. After one summer league game, DraftExpress's Jonathan Givony wrote Westbrook looked "like he was thinking very hard about how to get his team into the offense." He was an instant maestro of the turnover, leading the entire league in two of his first three years. A full 17 games of his rookie year featured five or more turnovers, including one nine-turnover game. Even now, years later, the things Westbrook's best at, it's easy to argue, are mostly shooting guard things -- and he has never finished outside the league's top five in turnovers per season.
So, what's with very strategic teams drafting elite wing players and assigning them, with middling success, to move over one position?
Why do people from the Thunder tree seem to think that's awesome? And is it a trend?
I can see two benefits:
If it works, great. Being big at your position is awesome, if you can keep up with the opposition. You probably don't want a shooting guard like Ray Allen checking point guards, because they will blow by him. Westbrook, Durant and Oladipo on the other hand, all have the physical potential (read: quickness) to potentially hang with smaller guys. And if they can learn the position, it's awesome to be bigger than a lot of opponents. Westbrook is the proof. He's not just insanely fast, but also way too big and strong for most point guards. That edge wouldn't exist to such a degree if he were being guarded by shooting guards. Part of the strategy if that it just might work.

If it doesn't work, it's sneaky tanking. People are quick to praise the Thunder approach, but slow to acknowledge the lynch pin of reaching elite status was not merely getting Durant. It was getting Durant ... and then staying absolutely terrible for two more full seasons while adding Westbrook, James Harden and Serge Ibaka. While Durant was messing around at shooting guard the then-SuperSonics won a cruddy 20 games despite having once-in-a-generation talent on the roster. That was such a bad performance they got an incredibly high draft pick with which they could select Westbrook. Then Westbrook sprayed the ball around the court as if it were buttered, and that's how a roster with two blossoming All-Stars only managed 23 wins, leading to the draft where they added James Harden and Serge Ibaka. Only after that did the team take off, winning 50.
Now that teams have seen how it's done -- don't tank for a star, tank for four -- there's value in getting a great young player and keeping him from being too great right away. Having him play out of position is one of the ways to get that done.
I don't begrudge any team doing what it takes to win in the long-term. This is not a gotcha of the Magic, the Thunder, or anybody else. Instead this is another wake-up call, pointing the league to the absurd things that happen in a league with perverse incentives; where the biggest prizes go to the teams with the most losses.
As a fan, I don't mind watching a player attempt to learn a new position, nor anything about long-term planning. But I'd prefer a league where every season began with every employee of every team doing everything they could to win as much as possible while getting those long-term things done. Instead we start every season with several teams -- especially heading into a great draft like 2014's -- doing far less than they could to win now. Lots of rebuilding teams will keep their cap space unused all year, and in some cases, star rookies who might contribute mightily immediately will be used in position experiments where their bosses are happy to see them succeed, or not.