THE MOST ICONIC jump shot of the year was recorded as an unassisted, 37-foot, 3-point field goal. But the Portland Trail Blazers' Damian Lillard knows his series-ending shot that sent the Oklahoma City Thunder home in the first round of the 2019 NBA playoffs was far from a one-off instance of self-creation.
That cold-blooded stunner was years in the making, helping accelerate one of the biggest trends in the NBA: the rapid rise of the deep 3. Along with Stephen Curry, James Harden, Luka Doncic and Trae Young, Lillard is among a small group of long-range specialists who are quickly changing the way we think about acceptable shots in pro hoops.
"That's not by accident," Lillard told ESPN. "Guys are spending time doing it and getting comfortable and confident with that shot."
The seminal moment in the deep-3 movement happened back in February 2016, when Curry calmly pulled up from a seemingly unreasonable distance and drained this unforgettable bucket in OKC.
Curry's dagger was one of the most influential shots in a decade defined by 3-point shooting. In his back-to-back MVP campaigns, Curry single-handedly changed the perception of appropriate shooting distances. Before Steph's breakout, pulling up a yard beyond the arc would get a player benched and mocked, with a starring role on Shaqtin' A Fool. But just a few years later, these long-rangers are exploding in popularity.
There's no formal definition for deep 3s, but let's label them as non-heave attempts that occur at least 3 feet beyond the 3-point arc. The numbers behind these jumpers from 26.75 feet or farther are startling.
Go to an NBA game in 2019 and you're more than twice as likely to see a 27-foot jumper than a 16-footer. In 2013-14, those numbers were complete opposites: Midrangers were more than twice as popular as deep balls. When Curry hit that shot in OKC back in 2016, NBA shooters averaged 3.2 deep 3s per game, per NBA tracking data. Four seasons later, the tactic has increased by 275% -- all the way up to 8.8 shots per contest league-wide.
Here's how one superstar embraced the movement, and why it's taking over the league.
---
WHEN PAUL GEORGE labeled Lillard's historic pull-up a bad shot, he probably didn't realize just how much Lillard practiced those exact kinds of long-range looks with his trainer, Phil Beckner.
Like a lot of NBA makeovers, Lillard's deep-3 project stemmed from disappointment. Following a nightmarish playoff sweep by the New Orleans Pelicans in 2018, Lillard was motivated to expand his range. The Pelicans stifled Lillard with traps, and he needed new ways to get his own shot against aggressive opponents. If Lillard could shoot from farther out, he wouldn't always have to overcome double-teams and blitzes to get looks from downtown.
"We worked on deep ones in so many different ways," Lillard said.
He spent hours working during the 2018 offseason, putting himself through intense drills that would eventually make game situations feel easier.
"Shooting it off the bounce, shooting them without jumping, shooting them with no momentum, shooting them from a deep squat and raise up and shoot it," he said. "You know, just uncomfortable positions but still trying to shoot an accurate shot."
It started with Beckner taping down a makeshift 4-point line in a Vegas gym, about 4 feet beyond the NBA's actual 3-point stripe. Then the two went to work engineering the NBA's most dangerous long-range system.
As ESPN's Malika Andrews wrote last year, NBA teams are increasingly taping down alternative markings on their practice courts. None of these markings are more popular than the 4-point line, which multiple teams use to encourage spacing habits.
Beckner, who has been training with Lillard since Lillard's days at Weber State, saw an opportunity to use it in a different way. He wanted Lillard to be able to shoot and play from distance with confidence. But he also didn't want Lillard's range to get too wild. Left to his own devices, Lillard would drift farther and farther back during his shooting workouts. With the new line taped on the floor, Beckner could calibrate the exact shot distances Lillard was mastering.
"It was his way of showing, 'Hey, this is what a good deep 3 is to me,'" Lillard said.
To build consistency so far away from the rim, the duo turned to The Celtic 50, a tried and true shooting exercise. Beckner learned it from Kevin Eastman, a longtime NBA assistant who spent much of his career working for Doc Rivers.
Here's how it works: You have to make 10 shots from five different spots around the 3-point arc, keeping track of how many attempts it takes you at each spot. So the best score you can get is a 50, with no misses at all. At a 50% shooting clip with 20 attempts from each spot, you'd score a 100. Like in golf, lower scorers are better.
Generally, the best shooters at any level of basketball can sometimes log a 60. Beckner recalls first getting Lillard doing the drill in college, behind the shorter line. He was stunned watching Lillard drop a 51 -- two different times. Just a single miss on Lillard's entire run. As Lillard racked up consecutive makes, Beckner did his best to act normal and avoid a jinx.
The two extended the challenge to the NBA line when Lillard joined the Blazers, and Lillard stills scores 60 or better 95% of the time, according to Beckner. His record is 52. And Lillard is closing in on that record from the 4-point line.
Standing 28 feet from the basket, Lillard spent the summer of 2018 routinely missing fewer than 10 shots in The Celtic 50. His best score: 54. That's a 93% conversion rate. The dude is a special shooter.
By the end of the 2018 offseason, Beckner realized conventional wisdom about shot distances in the NBA no longer applied to Lillard. The very notion of good shots and bad shots was different for him. As long as Lillard could maintain his shooting form from deep distances, his efficiency would be just fine.
Beckner distilled the idea into a four-word mantra: "Tight body, tight ball."
According to Lillard, the hardest part about preserving good shooting form from deep range isn't about the arms or legs.
"If you keep your core tight and your body strong, then the ball flies out stronger," he said. "If your body is weak, you come up not as strong and the ball will waver when you're that far out."
The deeper the shot, the harder it gets to keep the ball straight.
"The ball can go left or right," Lillard said. "You can air-ball. It's far out, so there's more room for error."
Lillard now routinely sinks 80% or more of his deep 3s in practice. By the time the 2019 playoffs rolled around, those bold attempts were paying huge dividends. And a move like this?
Damian Lillard turns 29 today.

Months ago, he hit one of the wildest playoff buzzer-beaters 🎉 pic.twitter.com/dnGADxANJi

— ESPN (@espn) July 15, 2019
There's a reason Dame made it look so easy.
---
HALFWAY THROUGH a game against the Philadelphia 76ers last month, Lillard casually unleashed his now-routine move.
He dribbled the ball up the court with the Blazers leading by eight. Ben Simmons was waiting for him just outside the 3-point line. But Lillard would never get there. Instead, he rose up for a 33-foot jump shot.
I mean, just look at this: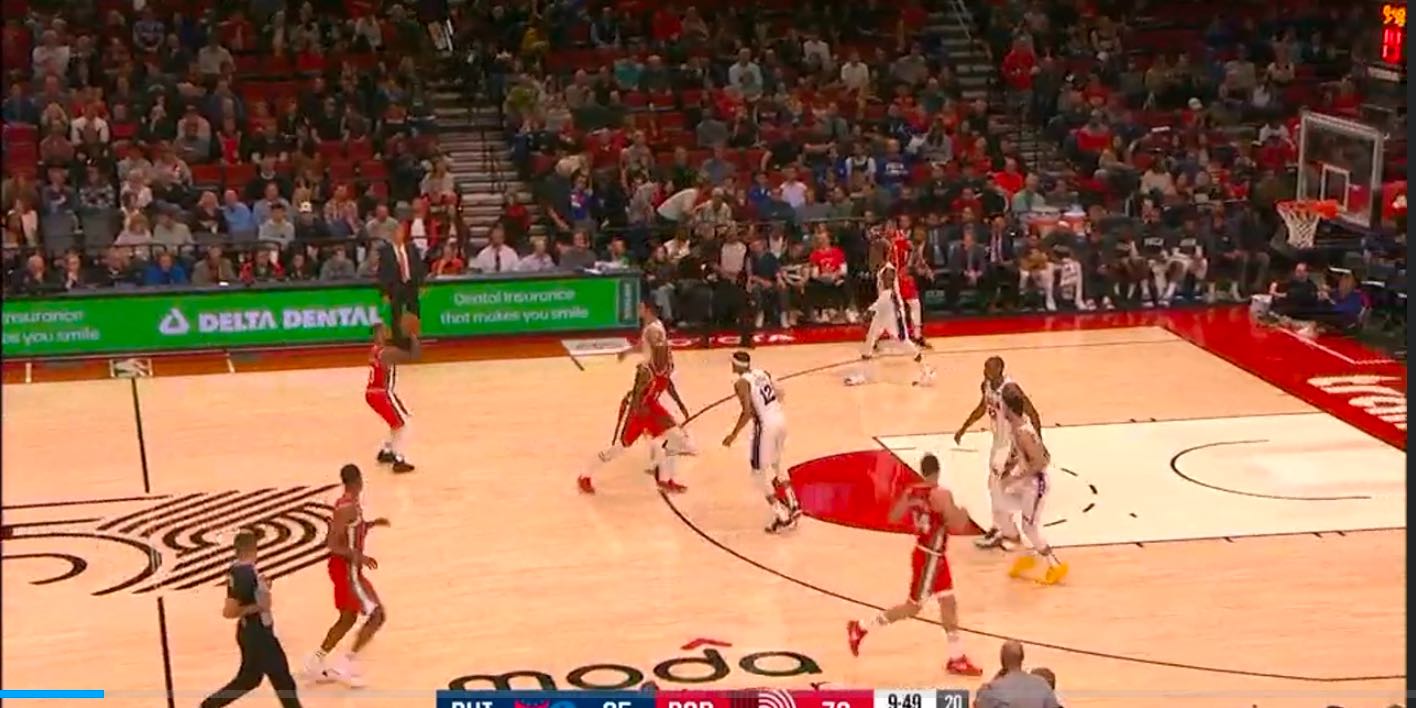 It was a meaningful possession in a meaningful game, and he pulled up from Corvallis with 20 seconds left on the shot clock. Tight body, tight ball. Bucket.
That's the longest non-heave triple of the season so far. It's no surprise that Lillard owns it -- since his workouts in the 2018 offseason, nobody in the NBA has made more deep 3s than he has. But he's not alone in deep space. The league is suddenly full of players who are able to hit jump shots from way downtown, including two of the brightest young stars in the game.
Trae Young and Luka Doncic lead the league in deep-3 activity this season, according to Second Spectrum data. Doncic is 20 years old and launching 6.2 deep 3s per game. Young is 21 and shooting 6.3.
To help put those numbers in context: In 2013-14, Lillard led the league by taking 1.4 per game. These young bucks are launching long triples at rates that are massively dwarfing the pioneers of just a few years ago.
And this phenomenon extends beyond just superstar shooters. More and more players are launching more and more deep 3s. Just six years after only three NBA players averaged at least one long 3 per game, there are now 44 players crossing that threshold.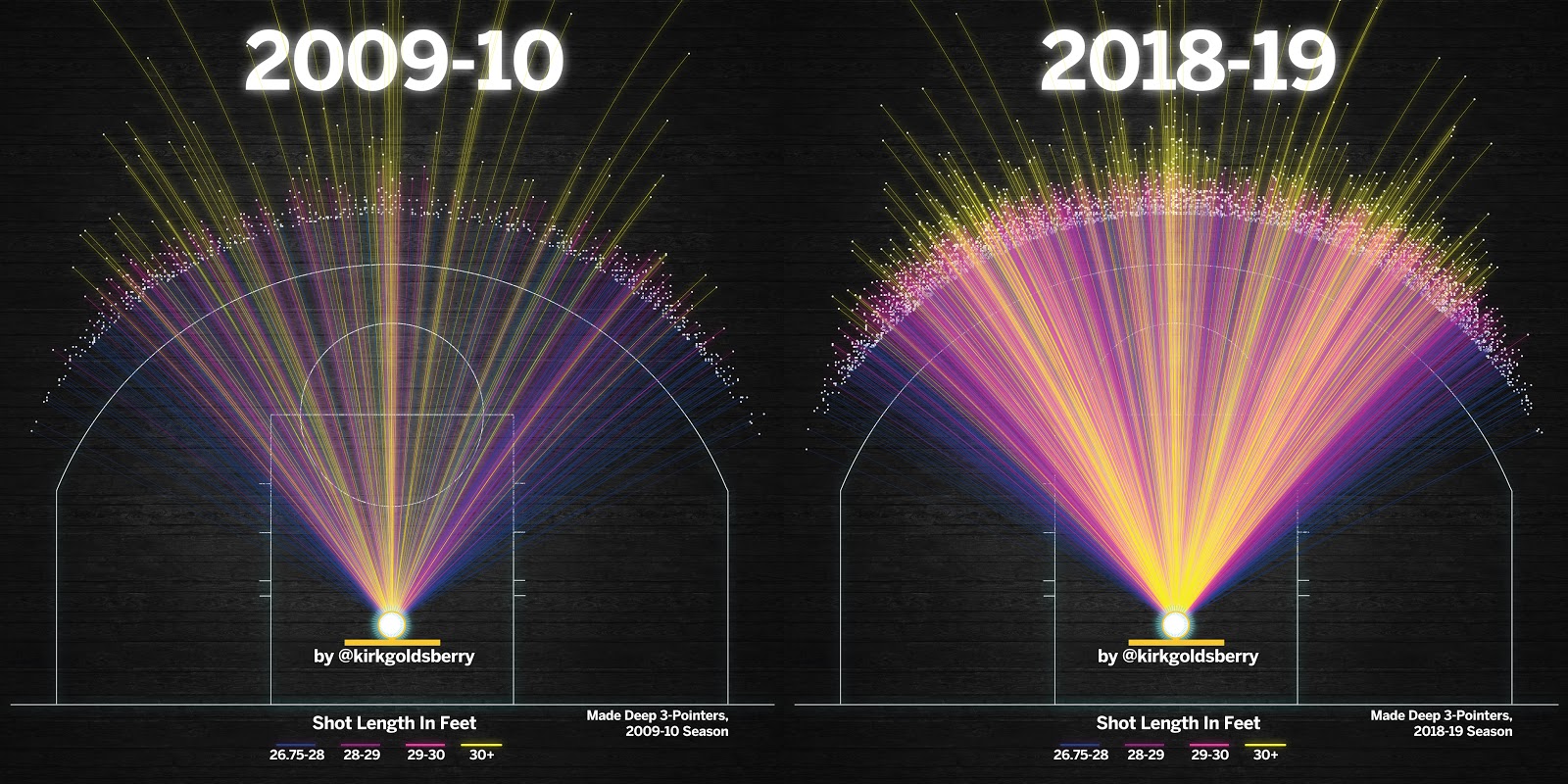 The whole league is getting more comfortable in the deep end, including coaches. Lillard has seen that firsthand with Trail Blazers coach Terry Stotts.
"Earlier in my career, [Stotts] wasn't a big fan of it," Lillard said. "He didn't have the confidence in it that I had."
But over time, that changed.
"He sees how often I work on it, and how detailed it is when I shoot them off the dribble or off the catch -- dipping, holding, no-jump, stuff like that," Lillard said. "And in games, he sees that it's going in at a higher clip year after year. So it's got to the point now where he accepts it."
In Milwaukee, Mike Budenholzer stations his stretch-5, Brook Lopez, 4 to 6 feet beyond the arc. Mike D'Antoni has been positioning his spot-up shooters back there for years in Houston. They've realized the efficiency behind these audacious looks.
This season, an average 27-footer has yielded 1.05 points per shot, while an average 16-footer nets a pathetic 0.80 points per attempt, according to Second Spectrum tracking data. Of the 12 players who have tried at least 50 deep 3s in 2019-20, seven are shooting 36% or better, and four are shooting over 40%. Davis Bertans leads all shooters by making 46% from out there.
Across the board, NBA players have shown serious progress with their long-distance accuracy in a relatively short amount of time:
Just consider this: Over the course of his career, Michael Jordan made 32.7% of his 3s overall. So an average deep 3 this season (at 32.5%) has been nearly as good of a shot as a 3-ball from the GOAT.
And even if these numbers regress a bit in a larger sample, think about everything these triples set up. Defenses have to scramble farther away from the basket. The already-spaced floor gets stretched out even more. On-ball stoppers press up more aggressively, opening up clean driving lanes. The best shot-creators can miss more than half of their 30-footers and still come out on top.
The shooting skills of NBA players have exploded. Sharpshooters such as Curry and Lillard captured the hearts and minds of young players around the globe. Now some of those prospects are becoming lottery picks. LaMelo Ball was 14 when Curry broke Twitter with his launch in OKC. Trae Young was a high school junior 20 miles away in Norman, Oklahoma.
Just as a young Kobe Bryant wanted to be like Mike, the prodigies of today seek to shoot like Curry and Lillard. That means one thing for the future of the NBA: more deep-range splashes.