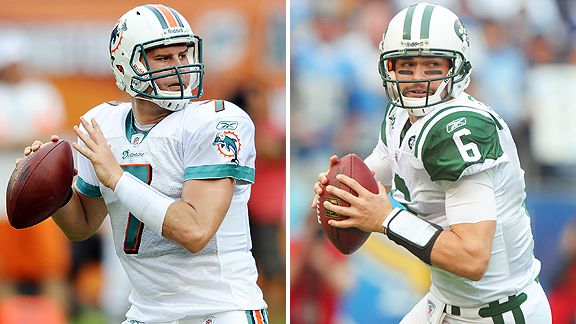 US Presswire
Who is the No. 2 quarterback in the AFC East: Miami's Chad Henne or New York's Mark Sanchez?In honor of Cinco de Mayo, here are five random AFC East thoughts that may interest you:
1. Facebook reader Michael Dell'Aira recently asked how I would rate the AFC East quarterbacks. For obvious reasons, he was particularly interested in how I listed Nos. 2 and 3.
We can go ahead and put Tom Brady first and Trent Edwards fourth. The other two are tougher, but after thinking about Michael's question for a couple days I'm comfortable ranking Mark Sanchez second and Chad Henne third.
The caveat is that's how I see them now. Henne very well could turn out to be far superior.
Had I been asked at the end of the 2009 regular season, I would have put Henne second. But Sanchez's steady, if unprolific, performances in the first two rounds of the playoffs preceded what may be considered a breakout in the AFC Championship game.
Also solidifying my placement of Henne: While Sanchez got better as games became more meaningful down the stretch, Henne struggled. Heading into Week 15, the Dolphins had a wonderful shot at securing a wild-card berth. They finished with three straight losses. Henne threw three touchdowns and five interceptions.
And how can I not give Sanchez the nod on Cinco de Mayo?
2. The Buffalo Bills' draft won't hinge on C.J. Spiller as much as Torell Troup. The Bills' selection of Spiller with the ninth pick caught many by surprise because running back wasn't an area of need at a time they had gaping holes in the roster. But he still looks like a future star. When the Bills get to the point where they're seriously contending for the AFC East title in a couple years, Spiller should be a major weapon. There's less certainty about Troup, the Central Florida nose tackle taken 41st overall. Troup was considered a reach by many draft evaluators and carried a lower grade than many nose tackles selected after him. This is the pick where new general manager Buddy Nix will show how smart he is.
3. The Patriots have taken a peculiar approach to running back, and that could haunt them. Since 2002, the Patriots have drafted more quarterbacks than running backs. In that stretch, they've drafted QBs Rohan Davey, Kliff Kingsbury, Matt Cassel, Kevin O'Connell and Zac Robinson and RBs Antwoine Womack, Cedric Cobbs, Laurence Maroney and Justise Hairston. Not a high batting average there. Veteran backs Kevin Faulk, Fred Taylor and Sammy Morris each will be at least 33 this season. That gives the maddening Maroney another shot to be the featured back.
4. The Jets can survive without Santonio Holmes for four weeks. ESPNNewYork.com's Rich Cimini wrote Tuesday the Jets have remained in communication with Laveranues Coles and could add him to the roster. The logic behind that move would be to help the Jets cope with Holmes' four-game suspension when the season starts. My reaction to that: The Jets won nine games last year without Holmes or Coles. They went 3-1 before they traded for Braylon Edwards.
5. I have a hard time picturing the Dolphins running their Wildcat offense now that Brandon Marshall is on board. Maybe offensive coordinator Dan Henning and quarterbacks coach David Lee (the Wildcat installer) will find a way to make it sensible, but taking Henne off the field and snapping directly to Ronnie Brown or Ricky Williams would seem silly. It essentially would eliminate Marshall as a weapon. Even if it's only for a handful of plays, the defense would be thankful.