1. Scalabrine Gets The Last Laugh
By Chris Sheridan
ESPN.com
EAST RUTHERFORD, N.J. -- Once upon a time, Brian Scalabrine was the goofy guy at the end of the bench waving a towel, the original human victory cigar, the guy everybody loved because he didn't really take it personally when everyone made fun of him.
When Jason Kidd's son, T.J., was 4 years old and had a locker of his own right next to his dad's, he dressed up as Scalabrine for Halloween. True story.
"I still have a picture of that, red wig and everything. Those were good times around here," Scalabrine reminisced Wednesday night before the Celtics -- with that big, goofy redhead starting for Boston at power forward -- laid a 111-87 drubbing on the 3-35 New Jersey Nets.
If this indeed was Scalabrine's last game at the place they call The Swamp, he had the last laugh.
It was Scalabrine who set the tone from the start, assisting on Paul Pierce's game-opening 3-pointer, converting a layup, then assisting on a dunk by Pierce. Scalabrine knocked down his second 3-pointer of the evening with 5:52 left in the opening quarter, putting Boston up by 12, and the lead was all the way up to 21 by the time Shelden Williams subbed in for him with 1:52 left in the first quarter.
Scalabrine ended the first half with a line of 11 points, four assists and three rebounds against a Nets team that we'd describe as merely going through the motions -- except for the fact that somewhere, some purveyor of eurythmy would take offense, especially if that eurythmics enthusiast saw the inbounds play from under the visiting basket with 0.9 seconds left in the first half. Rajon Rondo found a cutting Ray Allen for an uncontested layup, and not a single Net was standing within five feet of him.
That play, coming out of a Boston timeout, actually prompted the Nets' faithful to boo, but this was yet another night at the Meadowlands when fans of the visiting team appeared to outnumber the home team's supporters.
"You know, I went to Southern Cal because we played at the L.A. Sports Arena [widely considered, when the Clippers still played there, the West Coast's dumpy equivalent of the Meadowlands], and then coming to a place like this, it builds character, and I've always had a good relationship with the fans in N.J," Scalabrine said. "As for my best Meadowlands moment, that would have been my second year [2002-03, when the Nets lost in six games to San Antonio in the Finals] -- I thought that was the year we would win it, so I'd remember that team because we were so good."
This night was notable for the 3-35 Nets for only one reason -- it marked the debut of Kris Humphries, whose first sequence as a Net went like this: Received the ball on the left elbow, dribbled once, unleashed a shot that apexed at 9 feet, 9 inches before chipping paint, then went over the back of Glen Davis for a loose-ball foul. Recently acquired Shawne Williams also was in the house but was not in uniform for New Jersey, his 14-month exile from the NBA finally having ended when New Jersey acquired him from Dallas earlier this week in the Eduardo Najera trade.
"We'll take a look at him. There's no reason to do anything other than that," interim coach Kiki Vandeweghe said. "I read that we might cut him. Cut him? Why? I can tell you that he is a young player with talent."
Having severed ties with washout Sean Williams, New Jersey (whose most tenured player is now Josh Boone) is still trying to peddle Keyon Dooling, who sat out with a sore hip, and Trenton Hassell, hoping to bring back a draft pick or two from a playoff team before this summer when the Nets will drop some $22 million to $24 million below the salary cap. (The Nets still own their own first-round pick, but their second-rounder -- likely No. 31 overall -- was traded away to Seattle long ago for Mikki Moore, and Charlotte now holds the rights to that pick.) One team source said New Jersey's other veterans on expiring contracts, Jarvis Hayes and Bobby Simmons, have zero trade value at this point.
Further, the organization will remain in ownership limbo for the foreseeable future, with one source predicting it could be until March or April before the NBA board of governors votes on the proposed sale of controlling interest in the team from Bruce Ratner to Russian oligarch Mikhail Prokhorov. (An unresolved transfer of a parcel of land at the Atlantic Yards site is currently stalling the deal.)
"Right now they might be a little down, but in this league you can turn around fast with an aggressive owner, and cap room, and a high draft pick, and they can turn this place around like nothing," Scalabrine said.
This place, however, might not be the Nets' home next season. A deal to move the team to Newark for the next two seasons while the Nets' new Brooklyn arena is being built was close to being finalized late last year, but the governor's office in New Jersey is on the verge of changing hands, and the outgoing administration of Gov. Jon Corzine will let the new governor decide whether to sign off on the deal (the Nets would have to pay a multimillion-dollar penalty if they left the Meadowlands to move to Newark, but that amount had been substantially reduced in the now-dormant negotiations).
So to sum it up, Wednesday was a night when the Nets looked every bit like the mess they are, while Boston had a virtual night off as Rasheed Wallace (day-to-day with a sore foot) and Kevin Garnett (likely out another week with a hyperextended knee) let Scalabrine and Co. handle the not-so-heavy lifting.
Garnett is handling the downtime much better than he did last season, according to coach Doc Rivers, who recalled how 10 or 11 months ago he and athletic trainer Eddie Lacerte were battling with Garnett on a daily basis over what was the safest way to proceed as Garnett suffered from bone spurs.
"He's been absolutely great, and you can see now that they're allowing him to work out, you're seeing [Garnett's intensity] creep back up a little more, which is good. You want him to want to play," Rivers said. "I don't think he's been more down in his life than he was sitting on the bench during the playoffs last year, and I think he would do anything to not ever be in that position again."
And as for the overall state of his team, which improved to 27-10 -- only two games off the pace they were on at this point a year ago -- this was Rivers' State of the Celtics sermon:
"I love our team. I'd love to see 'em. I don't think we've had our team intact one game yet this year, our main nine, eight guys, so I'm looking forward to actually seeing that group, and I think we will eventually," Rivers said. "I'm hoping after the All-Star break we're whole. I like our team as it is now. Obviously if you can improve it, you will.
"But I like our chemistry, I like our mindset, who we are as a group, and when you get that, you want to hold onto it."
And if there was one person in the building who could relate to the gravity of that statement, it was Scalabrine. He was in this building for the highest of highs, and he played a part in one of the Nets' new lowest lows.
Chris Sheridan covers the NBA for ESPN Insider.
Dimes past: Dec. 23 | 25-26 | 27 | 28 | 29 | 30 | Jan. 1-2 | 3 | 4 | 5 | 6 | 8-9 | 10 | 11 | 12
2. Mavs' Nowitzki Reaches 20,000 Points
By Dave McMenamin
ESPN Los Angeles

Nowitzki
DALLAS -- The shot that got Dirk Nowitzki the loudest ovation of the night -- a 14-foot baseline jumper from the corner over Lamar Odom with 10:57 to go in the fourth quarter that accounted for the 20,000th and 20,001st points of his brilliant 12-year career -- didn't matter nearly as much as the shot hit by Kobe Bryant 10 minutes and 28 seconds later to break a 95-95 tie and silence the arena as the Lakers eked out a 100-95 win.
Anytime an accomplishment like that is reached, you can't help but look back at what got you there. The American Airlines Center video screen showed a clip reel of Nowitzki's first made field goal and his 5,000th, 10,000th and 15,000th points, and while the Mavericks' uniform styles and Dirk's hairdos may have changed, Nowitzki's shot -- the elbow in like an elderly couple after sundown, the legs bending and then exploding back straight like rubber bands, the follow through lofting high enough for him to obscure somebody's view in the mezzanine -- were all the same.
But it came in a loss. Against a guy who has four rings in his career to his zero. Against a team that has the best record in the West and has now defeated the Mavericks, the team with the second-best record in the West, two times in the last 10 days.
And you know why he'll remember the silence more than the cheers.
"He'd rather have the win than 20,000 points," Dallas coach Rick Carlisle said. "That's where the disappointment is. You get a guy who is pure basketball heart. He'd do anything to win any ballgame and he wouldn't care how many points he scored."
He scored 30 points on 11-for-22 shooting on Wednesday, including the game-tying 3-pointer with 42.9 seconds left. Bryant scored just 10 points, but made the jumper to beat Nowitzki.
Nowitzki, who Derek Fisher called one of the 10 best shooters in the history of the game, has had other career-defining moments soiled. The Mavs' 2-0 lead in the 2006 Finals ended in disaster. His MVP and 67-win season ended with a monumental first-round upset to the eighth-seeded Warriors in '07. And now his 20,000th point has been usurped by Kobe.
That jumper of his will get him what he's searching for one of these days.
Dave McMenamin writes about the Lakers for ESPNLosAngeles.com
3. Daily Dime Live Recap
ESPN.com writers and TrueHoop Network bloggers chatted with fans and gave their in-game opinions throughout Wednesday night's slate of games -- all in Daily Dime Live.
By Maurice Brooks
ESPN.com
WEDNESDAY'S BEST

Brooks

Aaron Brooks, Rockets: He put in 59 minutes of work, scoring a career-high 43 points on 14-for-30 shooting, to lead Houston to a 120-114 triple-overtime win against the Wolves. He also had five assists.

WEDNESDAY'S WORST

Phoenix Suns: After racing out to a 24-point advantage, the Suns stopped playing defense, giving up 70 second-half points in a 122-114 loss to the Pacers. It was the second straight game Indiana erased a deficit of at least 20 points on the way to a win.

QUOTE OF THE NIGHT

"Offensively and defensively combined, it might be the best game we've played all year."

-- Nuggets coach George Karl after Denver notched a 115-97 win over the visiting Magic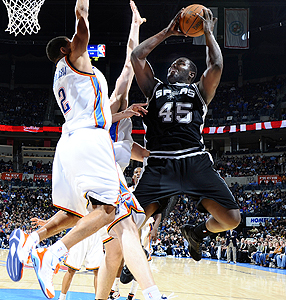 Larry W. Smith /NBAE/Getty
Tim Duncan took the night off, setting the stage for DeJuan Blair to have the best night of his young career. The rookie scored 28 points and grabbed 21 rebounds to power the Spurs to a 109-108 overtime win against the Thunder.
7.

Season Over For Clippers' Griffin
By Kevin Arnovitz
ESPN.com

In recent weeks, the Los Angeles Clippers have been cautiously optimistic about the recovery of rookie forward Blake Griffin from a fractured left patella. Team officials described Griffin's pending return as the equivalent of a major midseason trade acquisition.
Hopes for that de facto blockbuster deal were dashed Wednesday when the Clippers announced that Griffin would undergo season-ending knee surgery. The procedure will keep Griffin out for at least four months.
Griffin told team doctors Tuesday that he was suffering from pain in the knee after jumping into a pool for aqua-therapy. An examination revealed that the injury had not recovered as anticipated.
To read the entire Arnovitz column, click here.
By John Hollinger
ESPN.com

PORTLAND -- Before Milwaukee rookie Brandon Jennings shut down his hyperactive Twitter account, one thing he mentioned was that his 55-point game against Golden State in the first week of the season might have been more a curse than a blessing.
Curse may be strong, but certainly that game is the high-water mark for his rookie campaign. Since then, he's been getting a lot more attention and providing a lot less production -- and the attention isn't just coming from opposing defenses.
One of the biggest obstacles for NBA rookies, especially the good ones, is managing their time while dealing with the daily media blitz and the assorted team community events. This is particularly true for somebody like Jennings, who didn't get a dry run while playing for a high-profile college team. All those obligations don't just cut into social networking time, either -- they can have a real impact on the court, especially when it's new.
"It's hard that first year because you don't know what to expect," said the Blazers' Brandon Roy, who went through a similar experience while winning the Rookie of the Year award in 2006-07. "You get bogged down with a lot of off-court things. I think it's important that he pace himself, be honest. He has to learn to say no. It took me two years to finally learn to say no."
Meanwhile, all the attention he's getting on the court has seemed to have a negative effect, as well. With opponents scouting him heavily, they no longer let him get easy jump shots off the dribble when he comes off the high screen-and-roll.
"We have to crowd him," said Trail Blazers coach Nate McMillan at practice Tuesday, and that formula has worked quite well for Milwaukee's last 25 opponents. After his torrid start, Jennings is shooting a meager 33.4 percent over his past 25 games, including a 4-for-11 performance in Wednesday's 120-108 loss to Portland.
Defensively, teams are scheming how to take advantage of Jennings' size (he's listed at 6-foot-1 and 169 pounds). Jennings got an education on the block from 6-3 Andre Miller in this contest, with Miller recording 19 points and six assists despite frequent double-team help.
"Compete," was Milwaukee coach Scott Skiles' Twitter-friendly answer for how Jennings can cope with such size mismatches, noting his displeasure with how easily Miller could re-post after initial double-teams force the ball out of Miller's hands.
"A lot of it's learning. They'd throw it out and throw it back in, and Brandon was still behind him. He has to compete for that spot. [But] it's 30-something games into his rookie season.That never happened to him at Oak Hill."
And thus, Jennings' education continues. The Golden State game may not have been a curse, per se, but it did provide some false hope about how much of an immediate impact he'd make. Rookie point guards as a group struggle mightily, so it should be no surprise to see Jennings hitting a rough patch, too. How well he gets through it depends on how well he learns the lessons that Roy and Skiles discussed.
9.

Hitting The Glass Hard

Jefferson
• Four players registered 20 or more rebounds on Wednesday night: Philadelphia's Samuel Dalembert (21), the Clippers' Marcus Camby (20), San Antonio's DeJuan Blair (21) and Minnesota's Al Jefferson (26). It is the first time in nearly 29 years that as many as four players each recorded 20 or more rebounds on the same night. The last time that happened was on March 8, 1981, when Kansas City's Reggie King (20), Golden State's Larry Smith (23), Philadelphia's Caldwell Jones (20) and San Diego's Swen Nater (20) all posted 20-plus rebounds.