ESPN Radio's Android App
Updated:
February 18, 2014, 11:51 AM ET
ESPNRadio.com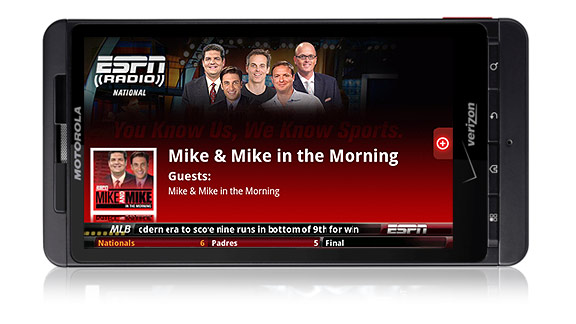 The ESPN Radio app is now available for Android phones! If you've got an Android, like the Droid or Nexus One, you can now download the No. 1 selling sports app! Listen LIVE to ESPN Radio, including 17 stations across the country, nearly 40 podcasts, or On Demand SportsCenters updated every 20 minutes. Visit the Android Marketplace on your Android phone and buy the No. 1 selling ESPN Radio app today!
ESPN Radio App Launches on Android Devices
Over 17 stations and more than 40 podcasts now available
ESPN launches one of its first Android apps with ESPN Radio. Similar to the iPhone app, it gives millions of ESPN Radio listeners access to live, crystal clear audio streams, fan favorite shows, the latest SportsCenter updates every 20 minutes, popular podcasts, play-by-play broadcasts, live scores, newsfeeds and text messaging and call-in capabilities directly to ESPN Radio and ESPN affiliate stations.
The
ESPN Radio
app is currently available and includes:
• Live Radio Station Streams: Over 17 ESPN Radio stations, including affiliate stations just added -- Seattle and Atlantic City -- and ESPN's three owned and operated stations -- ESPN New York 98.7 FM, ESPN 1000 Chicago and ESPN 710 Los Angeles.
• Podcasts & Audio: An audio simulcast of the ESPN2 and ESPN.com Sunday morning show Fantasy Football Now plus over 40 ESPN Radio podcasts available including The B.S. Report with Bill Simmons, Pardon The Interruption, Around The Horn and the award-winning podcast original, Fantasy Focus Football.
• Popular ESPN Radio Shows: Access to live audio from fan favorite shows like Mike & Mike in the Morning, The Herd with Colin Cowherd, The Scott Van Pelt Show, Mason & Ireland and many more.
• Live Play-by-Play Broadcasts: Listen in on ESPN Radio play-by-play for college football games in real-time.
• SportsCenter Updates: The latest news from SportsCenter updated every 20 minutes with additional news from ESPN's local sites -- ESPNChicago.com, ESPNBoston.com, ESPNNewYork.com, ESPNLA.com and ESPNDallas.com.
• Live Scores & Newsfeeds: Access to NFL, MLB, NHL, college and professional sports teams scores and news.
• Text Messaging: User can send a message directly to the studio of an ESPN Radio show.
• Programming Alerts: Listeners will be able to receive alerts for up to the minute breaking news.
The ESPN Radio app on Android devices adds another mobile platform with access to audio from ESPNRadio.com, the world's most listened-to online audience stream of any terrestrial broadcaster in the world. It averages more than 793,000 unique listeners per month, according to Ando Media, which measures nearly 7,000 global streams of audio worldwide.
Additionally, ESPNRadio.com is the largest, most listened to talk format stream, both terrestrially and via Internet-only streaming. It generates 3.9 million total sessions per month and the average session in ESPNRadio.com's audio stream lasts 1.24 hours.
The player hit a global milestone by logging in the largest concurrent audience ever to a single stream according to Ando Media. The player peaked at 180K listeners connected to the 2010 FIFA World Cup U.S. vs. Algeria match, nearly doubling its previous record for the U.S. vs. Slovenia match. The stream boosted ESPNRadio.com for the month of June to its most listened-to month in its ten year history of streaming with nearly 12.2 million total sessions and over 10.7 million total listening hours.