Sunday Countdown: Your weekly NFL guide
Weekly Picks

Ditka
Johnson
Carter
Jackson
New Orleans @ Green Bay
Green Bay
Green Bay
Green Bay
Green Bay
Atlanta @ Chicago
Atlanta
Chicago
Atlanta
Atlanta
Cincinnati @ Cleveland
Cleveland
Cleveland
Cleveland
Cleveland

Buffalo @ Kansas City
Kansas City
Kansas City
Buffalo
Buffalo
Philadelphia @ St. Louis
Philadelphia
Philadelphia
Philadelphia
Philadelphia
Detroit @ Tampa Bay

Detroit
Tampa Bay
Detroit
Detroit
Tennessee @ Jacksonville
Tennessee
Tennessee
Tennessee
Tennessee
Pittsburgh @ Baltimore
Pittsburgh
Pittsburgh
Pittsburgh
Baltimore
Indianapolis @ Houston
Houston
Houston
Houston
Houston
N.Y. Giants @ Washington
N.Y. Giants
N.Y. Giants
N.Y. Giants
N.Y. Giants
Seattle @ San Francisco
San Francisco
San Francisco
San Francisco
San Francisco
Minnesota @ San Diego
San Diego
San Diego
San Diego
San Diego

Carolina @ Arizona
Arizona
Arizona
Arizona
Arizona

Dallas @ N.Y. Jets
N.Y. Jets
N.Y. Jets
N.Y. Jets
Dallas

New England @ Miami
New England
New England
New England
New England

Oakland @ Denver
Denver
Oakland
Oakland
Oakland

Week 1 Record
9-7
10-6
11-5
11-5
Overall Record
9-7
10-6
11-5
11-5

More picks: Experts | SportsNation: Pick Week 1
Countdown Confidential
By Bob Holtzman, Rachel Nichols and Sal Paolantonio
Can Collins find his rhythm? Less than three weeks ago, Kerry Collins was retired in Nashville, dabbling in some country music songwriting. If he can lead the Colts to a win Sunday in Houston, it'd be the kind of long-shot story country hits are made of: gray-bearded veteran (literally) who takes over for a legend and rediscovers his glory days.
[+] Enlarge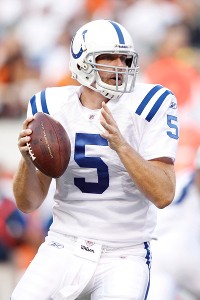 Joe Robbins/Getty ImagesColts QB Kerry Collins has a lot of factors working against him in Week 1.
"In no way do I think that I can replace someone like Peyton, what he means to this franchise and this city," Collins said of Indianapolis icon Peyton Manning, who has started every Colts game for the past 13 years. "But at the same time I've been doing this for a long time, and I guarantee you that I will bust my butt to get ready to play this week."
It won't be easy. Collins told me last week he's never seen anything like the Colts' offense. He said it has a few similarities to the offense he ran in Oakland in 2004 and 2005, but not many.
"I can't imagine trying to learn something as complicated as this as quickly as he has," center Jeff Saturday said.
Learning the offense isn't the only challenge. Collins will work behind a young, inexperienced offensive line that likely will start two rookies and just one player (Saturday) in the same position he played last year.
There's also this: Seven times Collins has faced a defense designed by Houston's new coordinator Wade Phillips. Seven times Collins has lost.
-- Bob Holtzman
---
Flacco in harm's way? Ideally, when Pittsburgh's Pro Bowl pass-rushers are barreling toward you, hoping to plunge your neck in the ground, you want your offensive line to be a crisp, experienced group of players who know each other's every tendency and habit, cohesively moving as one to protect you.
Instead, what Ravens quarterback Joe Flacco will be getting Sunday is an offensive line that has never played a snap together before.
"We're going to make sure it's not a problem. It's our job, all of us, together, to make sure that it's not a problem," coach John Harbaugh said as the Ravens started their practices this week, although he acknowledges that is easier said than done.
The new-look offensive line is the result of several injuries and new acquisitions during the preseason: Bryant McKinnie, newly signed, will be playing left tackle; Michael Oher will move to right tackle, a position he hasn't played since 2009; and center Matt Birk will be playing his first game coming off bursa sac surgery, although even that is not definite as he continues to test his recovery.
The Ravens' coaches plan to streamline some of their usual calls to make up for these players having never been on the field as a unit together before, and for McKinnie still learning the team's terminology. But Flacco says he is not worried, despite having taken some nasty sacks from the Steelers even when he had a more experienced line in front him.
"The thoughts are all good -- I'm not really concerned about it," he said. "I think we have a good group of guys together and that is the most important thing."
-- Rachel Nichols
---
Vick honing mechanics: How dedicated is Michael Vick to getting his first Super Bowl ring? Flash back to Week 4 of the preseason: the Eagles visiting the Jets. Two days before, Vick had just pocketed a $100 million contract, the second of his career. Along with the rest of the starters for both teams, Vick was getting a well-deserved night off.
But, unlike most of the starters for both teams, Vick was not sitting on the sideline or in the locker room, shooting the breeze with his teammates. Instead, he was on the muggy MetLife Stadium field with quarterbacks coach Doug Pederson, going through his passing tree with DeSean Jackson, Jason Avant, Brent Celek and Jeremy Maclin -- for a solid hour.
They got in some very specific work. Vick has a tendency to drop his arm down and deliver the ball from a three-quarter position. As a result, Pederson says, Vick is susceptible to batted balls and a low completion percentage over the middle.
The numbers fill out the story. In 2010, Vick's completion percentage outside the left hashmark was 67.5 percent. Outside the right hashmark: 63.6 percent. But inside in the hashmarks, over the middle, Vick's completion rate had a severe drop-off: just 52.1 percent. And 17 of his 21 touchdown passes were outside the hashes.
With Pederson watching and instructing over and over again, Vick delivers the ball straight overhand -- like the great Cleveland Indians pitcher Sam McDowell from the mound.
"We're trying to keep his arm up, his left hip closed," Pederson said. "Michael is totally determined to attack every phase of his game. He's attacking every detail."
-- Sal Paolantonio
---
MVP Watch
Quarterbacks' recent grip on the NFL's Most Valuable Player Award could be slipping.
Peyton Manning's precarious health situation heading toward the Indianapolis Colts' 2011 opener leaves him ranked only 10th on our initial MVP Watch of the season.
It's nearly unfathomable.
Manning has won four of the past nine MVP awards in Associated Press balloting.
Tom Brady
commanded 99 of 100 votes in winning the 2007 and 2010 awards. He's the favorite this year, but if Manning fails to recapture his usual form after missing the exhibition season, non-quarterbacks can feel better about their chances.
1. Tom Brady, QB, New England Patriots
Brady has won MVP honors twice in the past four seasons. He became the first unanimous choice last season, collecting all 50 votes. Brady also led the NFL in QBR last season, and it wasn't particularly close (76.0 for Brady to 69.5 for Manning). Brady, Drew Brees and Manning are the only players with at least 60 touchdown passes in the past two seasons. The INT totals for the same period are telling: 17 for Brady, 33 apiece for Brees and Manning.
2. Aaron Rodgers, QB, Green Bay Packers
Winning a championship last season enhanced Rodgers' credentials. He's still an ascending player coming off only his third season as an NFL starter. Rodgers cut down his sacks last season after taking a league-high 50 in 2009. MVP balloting had closed by the time Rodgers started playing his best -- in the playoffs. We won't hold that against him here.
Fantasy Corner
Week 1 rankings
Rivers
Philip Rivers: With the numbers that Rivers was able to put up last season without Vincent Jackson and Antonio Gates regularly on the field, now that the whole family is back together again, things could get ugly for a Minnesota defense that has a rookie seventh-round draft pick starting at strong safety.
Matt Schaub: Schaub took a backseat to Arian Foster in these teams' 2010 battles, and for his career, he has six touchdowns compared to eight picks in five career meetings. That said, with Peyton Manning (likely) out for the Colts, Schaub has his chance to steal the show. With Foster not necessarily 100 percent, Schaub might yet step up.
First & 10
By John Clayton
NFL teams will find out in Week 1 if they are ready for some football.
Somehow, coaches managed to survive thrown-together training camps in which players were being signed during and after practices. It was a struggle. Blocking was spotty, but the quality of play was surprisingly good. Despite a turbulent offseason, football was back.
Still, the lockout had its impact. And Peyton Manning won't be ready for the start of the regular season because of neck surgery in May. Offensive lines are very unsettled heading into the first few weeks of the season. Rookies are raw. Coaches are tense.
Here are the 10 best highlights and trends for Week 1:
1. Manning the Colts' offense: It's going to be strange watching Kerry Collins run the Peyton Manning offense when the Indianapolis Colts visit the Houston Texans on Sunday. Manning is the ultimate field general, making adjustments at the line of scrimmage and getting into the heads of defensive coordinators. Collins lacks Manning's accuracy and has a completely different style. Although he's 38, Collins has a great deep arm. But his is more of a play-action game. The Colts have a young offensive line that starts a rookie left tackle (Anthony Castonzo) and two undrafted young players (Joe Reitz and Jeff Linkenbach) and don't figure to run the ball well against the Texans. Manning has dominated this series. On the flip side, Collins is 0-7 against teams with Wade Phillips as defensive coordinator. Collins also has had less than three weeks to learn the Colts' offense. Getting off to a fast start is going to be tough for the Colts.
Watch 'Sunday Countdown'
Sunday, 10 a.m. to 1 p.m. ET, ESPN
• Heroes and heroic moments will be remembered on the 10th anniversary of 9/11 approaches. One story involves Tim Coughlin, the son of Giants coach Tom Coughlin, who was in the south tower of the World Trade Center that day. Tim tells us of the heroics of the FDNY and NYC Port Authority personnel who helped facilitate his evacuation and wound up saving the lives of both himself and many of his office colleagues.
• We dive deep into the most physical rivalry in the NFL, Steelers-Ravens. The hatred brews deep between these two AFC North rivals. Pittsburgh's won six out of the last eight meetings and Baltimore quarterback Joe Flacco hasn't beaten the Steelers Ben Roethlisberger in his career.
• Once the NFL lockout negotiations got to complicated, Kenny Mayne basically checked out. This Mayne Event lockout report takes place not in the trenches of the negotiations but all around the world -- England, Ireland, Brazil and South Africa.
• DJ Steve Porter is back, breaking down the NFL offseason as only he can. Porter gives his unique spin on the lockout, free agency, the Hall of Fame, and all of the sound bites you missed over the summer.
• Follow all the happenings on "Sunday NFL Countdown" on Twitter here.

NFL Countdown On Facebook
NFL Coverage On Twitter

Looking for up-to-the-minute news and insight? Follow our team of writers and analysts on Twitter.