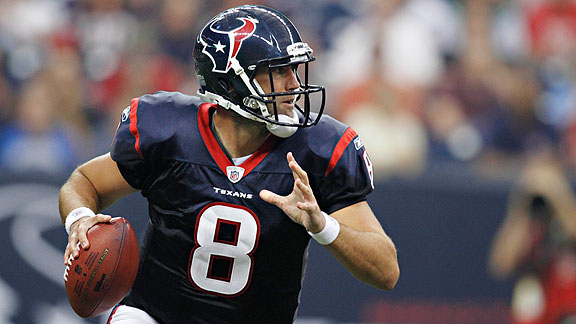 Brett Davis/US Presswire
JOHN CLAYTON QB RANKING (12)
: Matt Schaub has passed for more than 4,000 yards in each of the past two seasons. He boasts an impressive 91.5 career passer rating.
Expert Picks (Consensus: second)
The Texans tied for third in the AFC South last season with a 6-10 record. For more Texans coverage, visit: Paul Kuharsky's AFC South blog … on Twitter | Clubhouse | More predictions
ANALYST
PREDICTION
Paul
Kuharsky
ESPN.com

DIVISION FINISH: 2 The defense doesn't have to be great; it just has to be better. If it is, the Texans can push for a playoff spot if they can show some resolve.
John
Clayton
ESPN.com

DIVISION FINISH: 2 At the very least, the Texans should challenge for a wild card, but Gary Kubiak may need to win the division to keep his job.

Adam
Schefter
ESPN.com

DIVISION FINISH: 1 All the stars are aligning for the Texans to win their division and make a move in the playoffs.
Jeffri
Chadiha
ESPN.com

DIVISION FINISH: 2 This has to be the season when the Texans turn into a postseason team. The key is how fast a lousy defense adjusts to a switch to the 3-4.
Ashley
Fox
ESPN.com

DIVISION FINISH: 1 There is no reason the Texans should not be an elite team. They have the pieces. New defensive coordinator Wade Phillips was the team's biggest offseason acquisition.
Intelligence Report
Five things you need to know about the Texans:
1. Revamped and coordinated: Wade Phillips' restructuring of the Texans into a 3-4 is not as radical as it's been painted to be. Most of the guys up front will have the same responsibilities they've had in the past, and offenses will have a much harder time predicting where the fourth pass-rusher and any extras are coming from. If Mario Williams is more comfortable as an outside linebacker by opening day against the Colts, things will really be on the upswing defensively. DeMeco Ryans and Brian Cushing stand to be tackling machines in the system, and along with Williams, Connor Barwin and rookie Brooks Reed stand to be impact rushers from the outside linebacker slots.
2. Run game sets the tone: The Texans ran all over the Colts in the opener last year and won, then forgot the formula for success in the rematch. Gary Kubiak is a passing-game guru, but fewer throws mean better things for Houston. Arian Foster, despite a nagging hamstring, can be magic behind the Texans' line, and the team will have a deep stable of changeups at running back as well. And the better they run it, the more effective Matt Schaub's play-action and bootleg passing game will be.
3. Secondary should be better: The 2010 Texans were simply overwhelmed in the secondary and gave up yards at an alarming rate. Pass targets simply ran with too much room and too easily gained separation. The plan that had so many kids playing together was a flawed one. Enter free-agent cornerback Johnathan Joseph and free-agent safety Danieal Manning. Each should be a major settling force. They will be resources for Glover Quin, the best corner last year who's shifting to safety and to Kareem Jackson, if the team stubbornly leaves him in the starting lineup rather than going with Jason Allen at the start. The unit has contested far more balls in practice and it should translate. Move from terrible to average and the big picture improves a great deal.
4. Targets are sufficient: Much is made of the steady but unspectacular Kevin Walter and the inconsistent Jacoby Jones as the team's receivers beyond Andre Johnson. But the fact of the matter is that tight end Owen Daniels is the second option in the passing game. The Texans can, and will, sometimes line up with Daniels, Joel Dreessen and tight end-turned-fullback James Casey on the field together with the ability to bunch things up or spread things out depending who's on the field defensively and what matchups are most favorable.
5. Killer instinct: It's a theme the Texans probably get sick of hearing about, but they can easily do away with it by showing a good deal more of it. This was a slow-starting offense a year ago, and in crunch time it was a team that too often failed to throw, or land, the needed knockout punch. Players know people are tired of hearing about Houston as a potential breakout team and a new playoff entry. That doubt can be a driving force. But if this team fails to quiet it, major change awaits.
-- Paul Kuharsky, ESPN.com
Inside The Numbers
The Texans had an adequate pass rush when sending five or more players last season, picking up a sack once every 12.9 opponent dropbacks (league average was 12.7). When using four or fewer rushers, though, the Texans recorded a sack only once every 29.1 opponent dropbacks, the fourth-worst rate in the NFL.
The Texans are hoping their top two draft picks (J.J. Watt and Brooks Reed) -- as well as new defensive coordinator Wade Phillips and his 3-4 scheme -- will help increase pressure and in turn, improve a poor pass defense. Among the 17 teams that used the 4-3 package on at least 50 plays last year, the Texans finished at the bottom of every major passing defense category.
The Texans are also hoping that Mario Williams will be able to make the transition from defensive end to outside linebacker in the 3-4. Williams might not be too happy with the change, as he picked up a league-high 5.5 sacks out of the 4-3 last season.
• The Texans finished last in the NFL with 35 defended passes a year ago and allowed a league-worst 100.5 passer rating. The additions of Johnathan Joseph, Danieal Manning and second-round pick Brandon Harris should help on that front.
-- ESPN Stats & Information
Mel Kiper's Draft Class Watch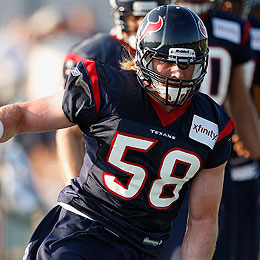 (Photo by Bob Levey/Getty Images)
Brooks Reed: Ideal fit for Texans' D.
The Texans got shredded week in and week out by quarterbacks in 2010, but it wasn't just due to a bad secondary. Only Mario Williams was getting pressure on passers.
Brooks Reed, a pass-rush specialist from Arizona, could start in Wade Phillips' system and pile up sacks. Reed -- who will remind people of Clay Matthews Jr. with his relentless pass-rushing style and flowing blond hair -- seems tailor-made for what Phillips needs from his 3-4 OLBs, and may make a quicker transition to standing up than Williams, who will be doing the same for the first time in his career.
But the other key element to an improved pass rush will be on the inside, where J.J. Watt, the Texans' first-round pick out of Wisconsin, is a going to be a star. At 290 pounds, Watt can take on guards, but has the quickness to split the gaps and get after passers. One thing both of these pass-rushers will have to be cognizant of is opposing rushers, as the Texans could be vulnerable in that department with their current personnel.
-- Mel Kiper, ESPN NFL Draft Insider