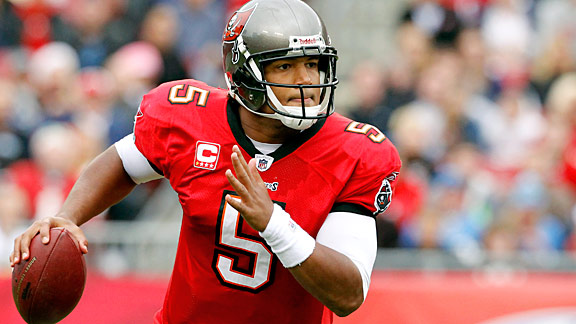 Cliff Welch/Icon SMI
JOHN CLAYTON QB RANKING (13)
: Josh Freeman took a huge step forward in his first full season as starter, with 25 touchdowns and only six interceptions.
Expert Picks (Consensus: third)
The Buccaneers finished third in the NFC South last season with a 10-6 record. For more Buccaneers coverage, visit: Pat Yasinskas' NFC South blog ... on Twitter | Clubhouse | More predictions
ANALYST
PREDICTION
Pat
Yasinskas
ESPN.com

DIVISION FINISH: 3 A lot of people say the Bucs got lucky with an easy schedule last year and the team will take a step back. I'm not one of them. The offense can score enough to stay with Matt Ryan and Drew Brees. I just don't know if the defense can stop guys like that.
John
Clayton
ESPN.com

DIVISION FINISH: 3 Josh Freeman leads an exciting young team that is clearly on the rise. Too bad the Bucs didn't add a few veterans to the defense for what will be a tougher schedule.

Adam
Schefter
ESPN.com

DIVISION FINISH: 3 One of the youngest teams in football looks like it could be hanging around and competing for a long time.
Jeffri
Chadiha
ESPN.com

DIVISION FINISH: 2 Some think that a last-place schedule got this team to 10 wins last season. This year, talent will be the sole explanation for the Bucs' success.
Ashley
Fox
ESPN.com

DIVISION FINISH: 3 The Buccaneers surprised people last season. That won't be the case this year. Josh Freeman is a legitimate starter who needs to continue to grow into the offense against a tough schedule.
Intelligence Report
Five things you need to know about the Buccaneers:
1. This is totally Josh Freeman's team: In his first full season as a starting quarterback, Freeman carried the Bucs to 10 wins. He threw 25 touchdowns with six interceptions and brought up the level of play of everyone around him. More important, Freeman showed he has the intangibles to be an elite quarterback. He took control of the locker room, calling a players-only meeting to order everyone to behave after a series of off-field incidents. His leadership role was only enhanced during the offseason when he first organized workouts for the skill-position players and later put together a minicamp for the full squad.
2. The defense is incredibly young: Just look at the front seven. It's possible the Bucs could be starting two rookies at defensive end, two second-year players at defensive tackle and a rookie at middle linebacker. I understand and like Tampa Bay's philosophy of building through the draft. But I think the Bucs took a risk by letting middle linebacker Barrett Ruud leave and not bringing in someone with experience to help the younger members of the front seven along.
3. Youth is not always a bad thing: Last year, it seemed as though every time the Bucs had an injury, they plugged in a late-round draft pick or someone they claimed off waivers and that guy instantly stepped up. It happened with safety Cody Grimm and guard Ted Larsen. But most of all it happened with receiver Mike Williams, a fourth-round pick, and LeGarrette Blount, an undrafted free agent who signed with the Bucs after being cut by Tennessee. Williams instantly became the team's top wide receiver. Blount took over the feature-back role from Cadillac Williams around midseason and rushed for 1,000 yards. Mike Williams should get more help this year from a young receiving corps that also includes Arrelious Benn, Dezmon Briscoe and Sammie Stroughter. Blount is going to be asked to become more of an every-down back. The Bucs were hesitant to use him as a pass-blocker or receiver out of the backfield last year. They want him to do both those things this year. If Williams and Blount continue to progress, Freeman should have little trouble taking another step forward.
4. The offense is as flexible as any: Offensive coordinator Greg Olson isn't one of those guys who are totally committed to running the ball or throwing it. Instead, Olson takes what the defense gives him. If the defense is loading up on the pass, Olson will run Blount 30 times. If the defense is putting eight men in the box, he won't hesitate to let Freeman throw the ball 40 times. That makes this offense tough to defend.
5. In a division filled with good tight ends, Kellen Winslow might be the best: He put up good numbers last year, even though he often was missing practice during the week to rest a sore knee. Winslow now says the knee feels better than it has in years. He could be in for a huge season.
-- Pat Yasinskas, ESPN.com
Inside The Numbers
The Buccaneers won seven more games last season than in 2009 -- and they can partially thank their youth movement on offense. Josh Freeman finished sixth in passer rating and rookies LeGarrette Blount and Mike Williams cracked the top 20 in rushing and receiving yards, respectively, while outpacing all other first-year players in those categories.
Although the offense gets most of the attention, the Buccaneers have made their largest investments on the defensive line. Defensive tackles Gerald McCoy and Brian Price were the Bucs' top two draft picks in 2010, and defensive ends Adrian Clayborn and Da'Quan Bowers were the top choices in 2011. If healthy, this group figures to be the line of the future for a Tampa Bay team that had trouble stopping the run in all directions last season.
• Clayborn and Bowers cannot do much worse than their predecessors in terms of rushing the passer. Bucs defensive ends in 2010 combined for only 9.5 sacks. Among teams that played primarily a 4-3 defense, that total ranked last in the NFL. For comparison's sake, the New York Giants led the league with 32 sacks by defensive ends, including nine in Weeks 4 and 5 alone. Two teams that play a 3-4 scheme outpaced the Bucs in sacks by defensive ends (Packers and Chiefs).
-- ESPN Stats & Information
Mel Kiper's Draft Class Watch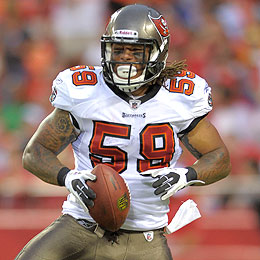 (AP Photo by Reed Hoffmann
Mason Foster: Filling a major void.
Two early picks on pass-rushers highlighted Tampa Bay's draft, but the first rookie to watch may be linebacker Mason Foster, and not merely because he already has had a friendly run-in with Chad Ochocinco. Foster, a third-round pick, could very well end the season as the team's leading tackler after cuts had him stepping into a major void.
But there will be other defensive contributions from the rookie class. Adrian Clayborn was considered a safe 4-3 defensive end pick, having succeeded in the system during his time at Iowa. He should start immediately there for the Bucs, and reminds me of a guy like Alex Brown, who had a number of good years in Chicago. He has great pass-rushing skills, but won't sell out getting up the field and abandon the run.
The risky pick, by many accounts, was second-round choice Da'Quan Bowers. So far, that looks like a good risk, as the concerns about Bowers' knee -- concerns that dropped him from a possible top-15 pick down to the late second round -- haven't been proved right. Bowers, used judiciously, should be an effective pass-rushing specialist early on.
-- Mel Kiper, ESPN NFL Draft Insider