Jim McIsaac/Getty Images
JOHN CLAYTON QB RANKING (13)
: Although he remained productive, Joe Flacco didn't take a step forward statistically in 2011. He set career highs with 12 interceptions and nine fumbles.
Expert Picks (Consensus: second)
The Ravens finished first in the AFC North last season with a 12-4 record. For more coverage, visit: ESPN.com's AFC North blog … on Twitter | Clubhouse | More predictions
ANALYST
PREDICTION
Jamison
Hensley
ESPN.com

DIVISION FINISH: 3 There are major questions, from the loss of Terrell Suggs to an aging offensive line. The lineup of strong quarterbacks on the schedule only compounds the problem. You can't expect John Harbaugh and Joe Flacco to get to the playoffs every year.
John
Clayton
ESPN.com

DIVISION FINISH: 2 Winning the division last year gives the Ravens a slightly tougher schedule. Flacco will have a better season with increased responsibility, but the Ravens have issues along the offensive line and with their pass rush.

Adam
Schefter
ESPN.com

DIVISION FINISH: 2 Losing Suggs indefinitely just might translate into losing the lead in the AFC North.
Jeffri
Chadiha
ESPN.com

DIVISION FINISH: 1 Suggs could be out for the season while Ray Lewis and Ed Reed are aging. The Ravens' usually dominant defense finally might be vulnerable.
Ashley
Fox
ESPN.com

DIVISION FINISH: 1 Flacco wants the Ravens' offense to be more aggressive and not rely so much on the defense. He will have his best season yet.
Intelligence Report
Five things you need to know about the Ravens:
1. Joe Flacco is primed for a career year: He has more confidence than ever after coming within one failed catch of leading Baltimore to the Super Bowl. The Ravens added Jacoby Jones as a third receiver to go with Torrey Smith, giving Flacco his fastest group of targets yet. New quarterbacks coach Jim Caldwell, a stickler for fundamentals and mechanics, was brought in to get more consistency out of Flacco. This is the first year where it feels as if Flacco is in total control of the offense. Going no-huddle in the preseason, Flacco looks like Peyton Manning when he's calling out plays at the line of scrimmage. As far as motivation goes, it doesn't hurt that Flacco is entering the final year of his contract.
2. Bad year to lose Terrell Suggs: There's no timetable on the return of Suggs, the reigning NFL Defensive Player of the Year who is out indefinitely with an Achilles injury. The Ravens need him as soon as possible when it comes to this year's schedule. Baltimore plays 13 games against Pro Bowl quarterbacks, including four Super Bowl-winning ones (Tom Brady, Ben Roethlisberger, Eli Manning and Peyton Manning). Generating a pass rush is going to be a challenge. With Suggs out, the current players on the roster accounted for 25 of the team's 48 sacks last season. If the Ravens give these quarterbacks too much time, they'll get picked apart.
3. The offensive line is ancient by NFL standards: The Ravens could end up starting three linemen who are at least 32 years old. But age is only part of the problem with this group. Left tackle Bryant McKinnie is dealing with a weight issue again. Left guard Bobbie Williams is coming off season-ending ankle surgery. Center Matt Birk missed a large portion of training camp with a back injury. The right side of the line is the team's strength. Marshal Yanda is one of the best right guards in the league, and Michael Oher has made improvements this offseason. This represents the X factor for the Ravens' offense this year.
4. Special teams is a focus: The Ravens were one of four teams to allow three touchdowns on returns last season. That didn't sit particularly well with coach John Harbaugh, who was the longtime special teams coach with the Philadelphia Eagles. Improving this area was a priority for Baltimore, which made Corey Graham, a Pro Bowl special-teams player last season, its first signing in free agency. The Ravens also re-signed Brendon Ayanbadejo, a three-time Pro Bowl special-teams player. It would be a big disappointment if the Ravens gave up the same number of big returns as last season.
5. This could be the Ravens' final season with Ray Lewis and Ed Reed: Lewis refuses to discuss retirement even though he is entering his 17th NFL season. But he once said he can't see himself playing past 37 years old, and he turned 37 in May. Lewis started off strong last season and was among the NFL's top inside linebackers in the first half. Then, after missing four games with a toe injury, he seemed to wear down toward the end of the year. For Reed, it's not a matter of calling it quits. He wants to play another four or five seasons. But he's entering the final year of his contract, and the Ravens' priority is re-signing Flacco. It's hard to imagine the Ravens' defense without these future Hall of Famers.
-- Jamison Hensley, ESPN.com
Inside The Numbers
The Ravens came within a few plays of reaching the Super Bowl last season, and should put a similar team on the field again this year. Ray Rice led the NFL in rushing yards against base defenses (1,384) last season, setting up manageable third-down opportunities. Baltimore averaged 7.1 yards per play on third-and-5 or shorter, tied with the Chargers for second-best in the league.
The defense's success, however, may depend largely on if and when Terrell Suggs can return from an Achilles tendon injury. Suggs helped his team sweep the AFC North by recording five sacks, three pass disruptions (interceptions and passes defensed) and three tackles for loss against division opponents. Only the Steelers' James Harrison recorded more sacks (6) within the division, and no player in the AFC North posted the 5-3-3 stat line that Suggs did. The Ravens allowed 3.4 yards per rush with Suggs on the field and 5.9 yards per rush with Suggs off of it.
• Joe Flacco threw 12 of his 13 interceptions last season against pass rushes of four or fewer defenders. Flacco also regressed on deep passes, as he posted a completion percentage of 33.9 on throws of at least 15 air yards, his first season at less than 40 percent.
• Torrey Smith averaged 16.7 yards per touch last season, fourth-best in the league among players with at least 50 touches. Smith did most of his damage in multiback formations, catching five of his seven touchdowns with at least two skill players in the backfield, despite only 51.6 percent of his targets coming in such formations.
-- ESPN Stats & Information
ESPN The Mag: Insider's View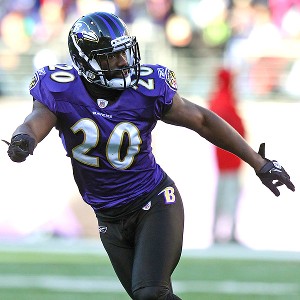 (Photo by Mitch Stringer/US Presswire )
Ed Reed: Knack for big plays.
Best Unit: Defensive backs
Ed Reed has led this unit with instincts and playmaking skills for a decade. Even though he's slower, the eight-time Pro Bowler still gets to a lot of balls, and SS Bernard Pollard is the perfect complement in run support. CBs Lardarius Webb, Jimmy Smith and Cary Williams can play man press schemes, and the group is good in turn-and-run situations (NFL-high 112 deflections).
Worst Unit: Offensive line
RG Marshal Yanda and RT Michael Oher are sound, which is good because RB Ray Rice loves to run right. But the left side is another story: C Matt Birk is smart, but he's 36. There is a big hole at guard, and LT Bryant McKinnie continues to be out of shape. The group is better at run blocking than pass protection, which may force Oher to the opposite side.
-- Gary Horton
• AccuScore projects every team, every game