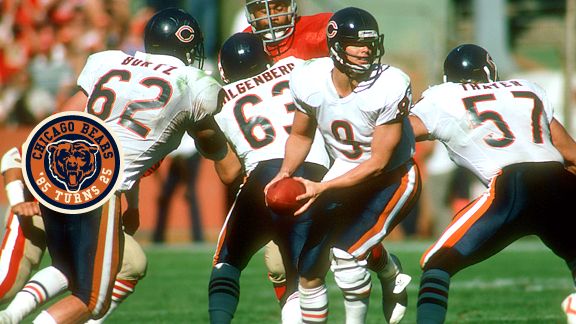 Arthur Anderson/Getty Images
Greatest offensive line ever?
Everyone knew the '85 Bears were going to run, but nobody could stop them '85 Turns 25
VIDEO PLAYLIST
CHICAGO -- Dan Hampton likened it to "those National Geographic films where you see the rams lock horns and start fighting."
Only in this case, the rams were Hampton and Mark Bortz; Hampton and Keith Van Horne; Steve McMichael and Jim Covert; Covert and Richard Dent; McMichael and Tom Thayer. Pick a day. Pick a pair of linemen.
It began in the Bears' Platteville, Wis., training camp and continued during game-week practice sessions at the old Halas Hall, where first-team All-Pros locked horns and battled it out, often as though their '85 title would depend on it.
"The mood was always on edge; you never walked out to practice relaxed, never," Thayer recalled. "You didn't have ups and downs. Every day you went out with an edge because of the tempo we established. Tempers flared all the time, it was an everyday occurrence."
"

I think we were the greatest offensive line of all time. ... Just look at what we did rushing the ball, and everyone knew we were going to run the ball.

" -- '85 Bears center Jay Hilgenberg
It was a rivalry that, despite the graciousness that has settled in during the past quarter century, could have threatened team unity -- and at times did.
"It was just the way [defensive coordinator] Buddy [Ryan] wanted it -- us against them," said Bears tight end Emery Moorehead. "Whether it was offensive versus defense, the Giants' offense against the Bears' defense; it was always Buddy's team against our team. But it was a good team, a good test."
And both the offensive and defensive lines say they benefited from the intensity of the competition.
"The best compliment we could ever get," said Hampton, "was after we'd play someone like the Detroit Lions and their 'Silver Rush,' a great defense with Doug English, and you'd ask our guys how they were and [center Jay] Hilgenberg's head would wobble and he'd say, 'They weren't [anything] compared to you guys in practice.'"
And the Bears' O-line? Perpetually the most overlooked unit on a football team, Hilgenberg's group was underrated as well. Of the best-regarded offensive lines in modern football history, the Pittsburgh Steelers of the late '70s, the Washington Redskins "Hogs" in the mid- to late-'80s and the Nate Newton Cowboys of the '90s are all on top-10 lists that omit the group of Hilgenberg, Covert, Bortz, Thayer and Van Horne.
The Bears' starting unit stayed intact for six seasons and led the NFL in rushing four years in a row [from '83 to '86, making them one of only two teams in history to do that; the Bears from '39 to '42 the other]. During that period, Walter Payton averaged 1,497 yards per season and 4.5 yards per carry.
In '85, the Bears also led the league in touchdowns and ranked second in points per game (28.5). But in '85, Covert was the only Bears lineman named first-team All-Pro (also in '86), and none of his linemates went to the Pro Bowl, although in ensuing years, Hilgenberg was a two-time All-Pro selection and went to the next seven Pro Bowls. Covert and Bortz were named to two Pro Bowl teams after '85.
"I think we were the greatest offensive line of all time," Hilgenberg said. "It's amazing we weren't even mentioned at all. I think I have a bigger chip on my shoulder now about that than when I played. Just look at what we did rushing the ball, and everyone knew we were going to run the ball."
The Bears consistently dominated their opponents in time of possession.
"The defense played like 20 minutes a game," Van Horne said. "Obviously they were creating turnovers to give us the ball, but once we got it, we'd hold on to it. In addition to them also forcing three-and-outs most of the time, they were pretty fresh. It worked well.
"Part of [the lack of recognition] was that we had Walter, so a lot of people assumed he could run behind anyone. But our offense wasn't anything special in terms of trying to out-maneuver people. It was, 'Here's what we're going to do,' they'd put eight men in the box and we'd still run the ball successfully. That's a sign of a good line."
And it all began, they say, with offensive line coach Dick Stanfel, a five-time All-Pro and Pro Bowler himself as a guard for the Detroit Lions and Washington Redskins, and a member of the NFL's All-Decade team of the 1950s.
"Dick Stanfel was in a stance every day," Thayer said. "Every year it took him a little longer to get out of it, but he was there ... so that we could understand down and distance, proper balance, the movement of the position. Dick knew football, and he knew it in a way he could teach it to everybody."
Stanfel, 83, still living in the Chicago area, remembers his players as receptive and diligent.
"I'd try to show them the way to do it by doing it," he said. "They were very attentive. They wanted to learn, No. 1, and were tough enough to play the game, and you have to be both if you want to succeed. They worked hard at it. No question, they were a great group and they loved the game."
[+] Enlarge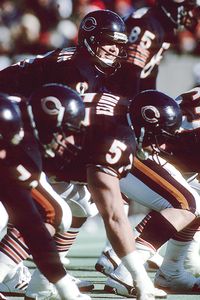 Al Messerschmidt/Getty ImagesEveryone knew the Bears were going to run, but they still couldn't stop a ground game powered by a great offensive line.
Thayer, who throughout the years has developed a reputation as the best Stanfel impersonator on the team, assumes his old coach's voice, gravelly from once getting grabbed by the throat by a defensive opponent.
"He would say, 'Look, you can [B.S.] anybody else, but you can't [B.S.] me. I've been there,'" Thayer said of Stanfel.
Hilgenberg also remembers Stanfel's words of wisdom. "He'd say, 'Just remember, after the game, you want to make sure the guy you played against realizes you're one tough SOB.'"
The '85 Bears offensive linemen, despite their gentlemanly exteriors, were tough SOBs.
"On the really good teams, [the offensive line] is known as real badasses just from their sheer physicality," Hampton said. "The scariest guys on those '90s Dallas teams were [right tackle] Erik Williams and [left guard] Nate Newton.
"I remember one time when Covert and McMichael got into a fight and Covert body-slammed Ming, and Ming is tough as tough gets. That was a statement, 'Don't tread on us.' If we got rag-dolled by anybody, they were good, and our offensive line was good."
They were also sharp.
"There were no Forrest Gumps on that line," McMichael said. "They all knew what was going on, exactly where they were supposed to be. But then they had to be up on everything; when every play called in, they had a quarterback [in Jim McMahon] who was going to audible."
How smart were they?
"The offensive line was so smart that their first sub, Stefan Humphries, is a doctor now," then-placekicker Kevin Butler said.
Head coach Mike Ditka and Stanfel were sticklers for avoiding mental errors, something Thayer remembers well.
"The first game I started for the Bears was against the Washington Redskins," Thayer said of the Bears' 45-10 victory over the defending NFC East champs on Sept. 29, 1985, a game in which Thayer replaced the injured Kurt Becker.
"I was playing against Dave Butz, and we were winning by 30 or 40 points in the fourth quarter, and I got a holding call and Ditka pulled me. You just couldn't do it."
Each Bears O-lineman brought his own skill set, which even their fellow defensive linemen, maybe especially the defense, had to acknowledge.
"Van Horne doesn't get enough credit for what he did at right tackle," McMichael said. "He was like me on the defensive line. When we played the Philadelphia Eagles, Reggie White didn't make any plays over there on Horne.
"Van Horne was a mauler," Hampton said. "He was big and strong and had the uncanny ability in his drive-block to fire out with just his torso, and then he'd roll his hips and the rest of him would come around, and man, was he strong."
Hilgenberg came to the Bears undrafted in 1981 from Iowa and was the starting center two years later.
"There was never a better deep-snapper born than Hilgy," McMichael said. "He was the punt and field goal snapper, and you never saw a bad snap. He was like [current Bears long-snapper] Patrick Mannelly, except Hilgy was getting it done while playing starting center, too."
McMichael and Hampton endorse Hilgenberg and Covert as deserving of the Hall of Fame.
"Jimbo had the best drive-block of anybody I have ever known," McMichael said. "He fired out with his hands first and put them in your chest and would drive his head and shoulder into you, and that concussion of him hitting you, you'd try to stand up and he'd bench-press you."
"As good as Covert was in all phases," Hampton said, "he was as good a pass [protection] guy as any in the game. Whenever Lawrence Taylor came to town, Covert kicked his ass every time. That's how you know your offensive line is terrific."
McMichael said it was he and Hampton who instigated Bortz's move from defensive tackle to offensive guard shortly after his arrival as an eighth-round draft pick in '83.
"We were going through drills before practice with defensive linemen blocking [in '83], and Mark Bortz was better than the offensive linemen we were going to go against," McMichael said. "Mark had such strong arms, when he reached and grabbed you, you couldn't club down on his arms. We told Ditka and Bortz ended up making All-Pro."
Hilgenberg, a college teammate of Bortz's at Iowa, remembered the day Bortz was moved to offense.
"Like yesterday, I remember him walking through the parking lot across from Halas Hall with a different-color jersey, and I could tell he was embarrassed because he was kind of shaking his head," Hilgenberg said.
"He was the most green player. He had no understanding of offense. It was an unbelievable transformation that Dick Stanfel made with Mark to take his heart and desire, teach him great fundamentals and make him a great player." McMichael paid the Bears' offensive line his highest compliment when he said it had "that defensive lineman mentality. They were pretty salty."
But Moorehead paid McMichael one back when he said the spirited defensive left tackle was the one who made the offense-defense rivalry what it was. "McMichael got in trouble in New England because he wanted to go out and kill John Hannah in practice every day," Moorehead said with a laugh. "They were like, 'Uh no, you can't do that.' But when Ditka came to Chicago in Steve's second year here, he told Steve, 'Go get 'em.'
"McMichael didn't care if it was the first-, second- or third-string, he was coming and that made [the defense] a great line, too."
Said Thayer: "The scariest game I ever had to play was our intrasquad game because I had to go against Ming."
In training camp, the prevailing thought was that if not orchestrated by Ditka and his staff, then surely the competition between the offensive and defensive lines was allowed to flourish and, yes, fester.
"I think it was a little of both," Stanfel said. "We wanted it to happen, and we let it happen. We wanted them to be tough on the field, so we had to be the same way in practice."
"We'd let them go after it for a while," recalled defensive line coach Dale Haupt.
"We'd let 'em fight a little bit," Stanfel said, "then stop it. Hell, they could take care of themselves."
Hampton's theory is that the offense developed a sense of "self-preservation" that came from its initial inability to compete with the defense.
"So they'd chop-block us, and that would piss us off," Hampton said. "We'd say, 'Hey, don't be chopping us or we'll tackle your backs, and that means Walter, too.' Buddy would do nothing to stop it, Ditka would do nothing to defuse it and [the offensive line] had to get more badass in them just for self-preservation.
"Those types of conditions in training camp forged not only a better and tougher offensive line, but they also had this all-for-one thing going that Dick Stanfel fostered, and they knew they had to hang together for survival."
The offensive line occupied a small corner of the Bears' marketing machine with their popular "Black-and-Blues Brothers" poster (modeled after John Belushi's and Dan Akroyd's Blues Brothers). It seems very small in retrospect, but no less determined.
"Dick Stanfel instilled an old-school toughness in us, a 'Don't-take-any-[stuff]-from-anybody,' as did Ditka," Van Horne said. "And honestly, playing against our defense made us even tougher. Those guys didn't throw out too many compliments to us."
Melissa Isaacson is a columnist for ESPNChicago.com.