ESPN's NBA Awards Watch

Maurice Brooks has been covering the NBA full-time for the past eight years. He joined ESPN.com in April 2008 as an NBA editor. Follow his thoughts on Twitter.
Rookie Of The Year Watch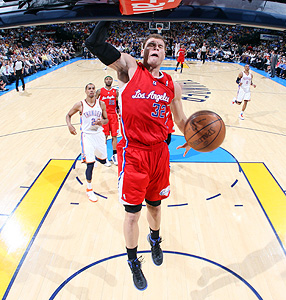 NBAE/Getty Images
1. Blake Griffin, Clippers: The dunks, the scoring, the rebounding, the athleticism -- this has to be one of the most anticlimatic Rookie of the Year races ever. Just like at the dunk contest, he closed the show in style, notching a triple-double in his season finale.
2. John Wall, Wizards: He became the first Wizards rookie to record 1,000 points, 500 assists and 100 steals in a season.
3. DeMarcus Cousins, Kings: He had a very good rookie campaign but once again proved that the scouting report on him -- talented but immature -- was correct. He erupted for a career-high 30 points (he also had nine rebounds) in a loss to the Thunder on Monday night. Then, on Wednesday, he received two technical fouls and was ejected against the Lakers.
4. Greg Monroe, Pistons: If there was an award for the most improved rookie, Monroe would win the honor easily.
(tie) 5. Landry Fields, Knicks and Jordan Crawford, Wizards: Fields was considered the steal of the draft because of his outstanding rebounding and overall play before the Carmelo Anthony trade.
I guess the Hawks must have the deepest team in the league if they couldn't find a way to get some playing time for Crawford, who notched a triple-double (21 points, 10 rebounds and 11 assists) on April 1 against the Cavs.
Coach Of The Year Watch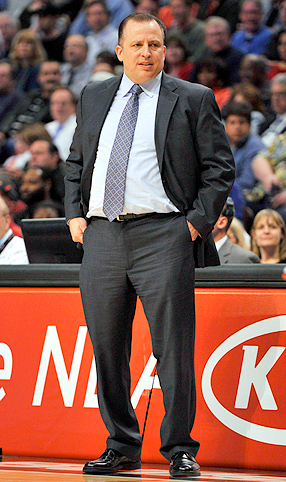 NBAE/Getty Images
1. Tom Thibodeau, Bulls: It didn't take long for him to get Chicago to buy into his defensive-minded approach. We all thought the Bulls would be better, but nobody outside of Thibodeau's immediate family figured they'd be this good.
2. George Karl, Nuggets: The cancer survivor gets props for having the Nuggets block out the Carmelo Anthony distraction during the first half of the season and getting Denver to play much better than expected after the All-Star break.
3. Doug Collins, Sixers: He got the 76ers to overcome a horrendous 3-13 start and has the star-less squad in the postseason.
4. Gregg Popovich, Spurs: He probably sounded a little crazy when he said he was going to win by relying less on his Hall of Fame power forward and speeding things up.
5. Portland's Nate McMillan: I feel like I write the same thing about McMillan every year. He led an injury-ridden team into the postseason.
NBA Statistical Leaders

Durant