AFC dominance starting to level off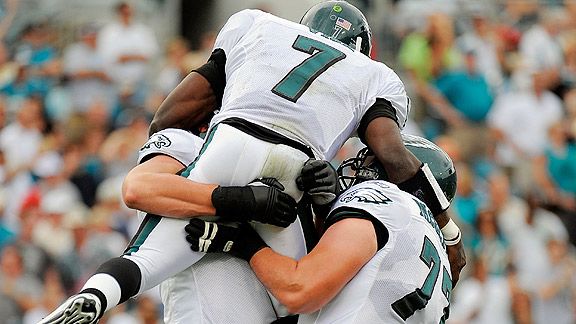 Doug Benc/Getty ImagesLooks like Michael Vick is the right quarterback for the Eagles after all. Vick accounted for four touchdowns as Philadelphia cruised to a 28-3 victory over the Jaguars.
Week 3 leaders
Thanks to the NFC West, there is hope for the NFC in 2010.
Late Sunday afternoon victories by the Seattle Seahawks (27-20 over the San Diego Chargers) and Arizona Cardinals (24-23 over the Oakland Raiders) enabled the NFC to salvage a 4-4 record in games against the AFC. After 5-3 marks posted by the AFC in the first two weeks, the split decision Sunday by the NFC offers hopes that the AFC won't dominate the interconference matchups.
That is an important consideration in figuring out where the season is heading. Back in 2004 and 2006, when the AFC won 40 or more of the 64 annual interconference games, the conference races were dramatically different. Those additional wins over NFC teams took the requirements to make the playoffs in the AFC to 10 or more games, while leaving the NFC scrambling to find nine-win teams.
It has to be concerning to the NFC to see teams such as the San Francisco 49ers, New York Giants, Washington Redskins and Carolina Panthers playing poorly. The AFC has to feel good about the Kansas City Chiefs' 3-0 start, the Tennessee Titans' blowout of the Giants and the Pittsburgh Steelers' dominant start.
Here are five things I learned from Week 3:
1. Vick flying high: Michael Vick is on a roll. He won his first game as a full-time starter, shredding the Jacksonville Jaguars 28-3, and rewarded coach Andy Reid for having the confidence to name Vick the full-time starter last Tuesday.
Like Donovan McNabb a year ago, Vick seems to be doing his best work with the Eagles' young receivers -- DeSean Jackson and Jeremy Maclin. He targeted them 15 times, connecting on nine passes for 236 yards and three touchdowns. Overall, he completed 17 of 31 passes for 291 yards and three touchdowns. It's the fourth-best passing total of Vick's career.
But can it last? In Week 2, Vick was hit on 24 of his 44 pass plays. On Sunday against an inferior Jaguars team, he was sacked three times, tackled on four running plays and had 10 additional hits by the Jaguars' defense. He's getting around 20 hits a game, and he's not as big as a power running back. Vick is getting hit more than running back LeSean McCoy, who had 11 carries and two catches. What will be interesting next week is to watch how Vick does when McNabb comes back to town.
[+] Enlarge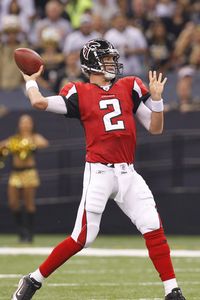 AP Photo/Gerald HerbertMatt Ryan's success on third down was a key factor in Atlanta's win over the Saints.
2. Falcons' aggression pays off: Saints coach Sean Payton isn't the only NFL coach with the killer instinct when it comes to play calling. Falcons coach Mike Smith went for three fourth downs, including two that prolonged a 19-play touchdown drive that ate up 10 minutes and 37 seconds of the second quarter in Atlanta's statement 27-24 overtime victory over the Saints. It sure helps when your quarterback is Matt Ryan, whose nickname is Matty Ice. Ryan converted nine of 18 third downs, including numerous third-and-longs. Over the past two weeks, Ryan has completed 18 of 22 passes and thrown for four touchdowns on third down.
By controlling the tempo, the Falcons had the ball for 45:50 to the Saints' 27:15. When Saints kicker Garrett Hartley missed a 29-yard field goal with 8:57 remaining in overtime, Ryan drove the Falcons 52 yards in 12 plays to set up Matt Bryant's 46-yard game winner. As for Hartley, who also missed two field goals against the Vikings in the season opener, the future is shaky.
"That wouldn't be for you guys," Payton answered when asked what he said to Hartley after the overtime miss.
3. Dallas D finally delivers: By creating turnovers, the Dallas Cowboys' defense prevented owner Jerry Jones from making changes to the coaching staff during the bye week. The Cowboys had no takeaways and only two sacks in their first two losses. They intercepted Houston Texans quarterback Matt Schaub twice and forced a fumble in Sunday's 27-13 victory.
"Now you see what we can do when we get the ball in our hands," Cowboys cornerback Mike Jenkins said.
"Any time the defense can get turnovers,'' linebacker DeMarcus Ware added, "those are the key plays that let the offense get the ball and go down the field and score some points.''
In the first two weeks, the Cowboys didn't appear to have energy. They lacked a finishing touch on drives on offense and the defense didn't create plays. Schaub started Sunday's game with three completions, but then Ware got his first of three sacks, re-energizing the Cowboys. The defense had four sacks of Schaub and at least five hits, and that was enough to kick-start the offense. Tony Romo completed 23 of 30 passes for 284 yards and two touchdowns, and offensive coordinator Jason Garrett even called some running plays, the Cowboys gaining 101 yards on 27 carries.
The Cowboys enter the bye week not having to say "bye bye" to employees.
4. 49ers sinking fast: The San Francisco 49ers have replaced the Cowboys and the Minnesota Vikings as the league's most disappointing team. Picked as the favorite to win the NFC West, the 49ers lost to the Chiefs 31-10, and as bad as they are playing on the road, you'd have to think they could be 0-4 after next Sunday's game in Atlanta.
The 49ers' defense, which was supposed to be the team's strength under Mike Singletary, allowed 207 yards rushing and 250 yards passing to Kansas City. 49ers quarterback Alex Smith was once again average, completing only 23-of-42 for 232 yards. Clearly, defenses can play to force Smith to go to the checkdown receivers and not downfield. Consequently, running back Frank Gore caught nine passes for 102 yards, while wide receivers Michael Crabtree and Josh Morgan, and tight end Vernon Davis combined for only seven catches for 71 yards.
"I would not say outcoached," Singletary said in his postgame news conference when asked if he was outcoached by the Chiefs' Todd Haley. "I think that is something that you could always say, but I think in a loss like this, a lot of things look wrong."
That's an understatement.
5. NFC East no beast: The NFC East is looking like the NFC Least. Sure, it was a good Sunday for the Eagles and Cowboys, but it was embarrassing for the Giants and the Redskins.
Losing 30-16 to the St. Louis Rams was embarrassing for Washington. Rookie Sam Bradford slightly outdueled Donovan McNabb, but Rams coach Steve Spagnuolo got the best of Redskins coach Mike Shanahan. At 1-2, the Redskins have to be labeled a disappointment.
And what can be said about the Giants, who were blown out at home by the Titans 29-10? The Giants are 1-2. Special-teams mistakes are killing this team. So is the run defense. Though it wasn't surprising Chris Johnson rushed for 125 yards on 32 carries, the Giants couldn't stop the Indianapolis Colts on the ground (Week 2), and the Colts usually can't run on anyone.
Short Takes
The Cincinnati Bengals surprised everyone by deactivating 2009 first-round choice Andre Smith. He had averaged about a dozen snaps a game the first two weeks -- mostly on running downs. To deactivate a former No. 6 overall pick only 19 games into his career shows just how disappointed the Bengals are with Smith's play. … Vikings safety Tyrell Johnson continues to watch his stock drop. Not only has he lost his starting job, but he was inactive though healthy for Sunday. … Once again, Peyton Manning showed he can overcome a lot of adversity. He didn't have wide receivers Pierre Garcon and Anthony Gonzalez because of injuries, leaving him only two experienced receivers. His left tackle, Charlie Johnson, was inactive because of a foot injury. Nevertheless, Manning completed 27-of-43 for 325 yards and three touchdowns in a 27-13 victory over the Broncos. With the Broncos sliding their coverage to Reggie Wayne and Dallas Clark, Manning hit Austin Collie on 12 of 16 attempts for 171 yards and two touchdowns. The Colts had four starters and Gonzalez inactive because of injuries. … Referee John Parry told reporters after the New England-Buffalo game there shouldn't have been a foul called at the end of the first half when the Bills called back-to-back timeouts. In the pool report, officials said there was no penalty because the second timeout was not allowed and play was resumed. Patriots coach Bill Belichick was furious because he thought there should have been a penalty against the Bills. … Rookie C.J. Spiller became the first Bills player since 1965 to score a receiving touchdown and return a kickoff for a score in the same game. He had a 95-yard kickoff return for a touchdown in the Patriots' 38-30 victory. … The Broncos had Tim Tebow as their third quarterback, using Brady Quinn as the backup. So much for Tebow as a Wildcat threat against the Colts. … Even though the Bengals had an easy 20-7 victory over the Panthers, Carson Palmer had a bad day. He completed 19 of 37 passes for 195 yards and had a quarterback rating of 53.3. … The Panthers clearly protected rookie quarterback Jimmy Clausen by not forcing him to make many plays. He had only one completion in the first half on five attempts. Because the Panthers were behind, he ended up throwing 33 times. … With Jerome Harrison scratched, the Browns found a tough inside runner in Peyton Hillis, who had 22 carries for 144 yards and seven catches for 36. In fact, he was the Browns' offense. … It was amazing the Browns could give the Ravens any kind of game without Shaun Rogers, D'Qwell Jackson, Jake Delhomme, Harrison and others.
John Clayton's game balls

• Offense: Lance Moore edged out Ravens wide receiver Anquan Boldin, who had three touchdown receptions, because he had a big day receiving and a 72-yard punt return. Moore, who is going to fill some of the receiving void created by the leg injury to Reggie Bush, was almost perfect as a receiver. Drew Brees targeted Moore seven times and hit him for six completions for 149 yards and two touchdowns. A blown coverage by the Falcons, who won 27-24 in overtime, gave Moore an easy 80-yard touchdown in the first quarter. He also had a 16-yard touchdown at the end of the third quarter. His 72-yard punt return was well-coached by the Saints. "Coach Sean Payton wanted it set up for the left half and we called a left return," Moore said. "That's something we prepared for this week in practice. I actually made the wrong cut in practice and the right cut today."

• Defense: DeMarcus Ware entered Week 3 with only one sack. In a 27-13 victory over the Houston Texans, Ware was unblockable. It probably didn't help that starting left tackle Duane Brown was serving the first of a four-game suspension. Rashad Butler replaced Brown and had some tight end blocking help. But nothing slowed down Ware. He had three sacks for 16 yards, five tackles for losses and three additional hits on quarterback Matt Schaub.

• Special teams: Leon Washington probably had the special-teams day of the year, returning kickoffs 99 and 101 yards for touchdowns in Seattle's 27-20 victory over the Chargers. "Leon was just magic today," Seahawks coach Pete Carroll said. Washington had four returns for 253 yards; his 99-yarder with 6:24 remaining in the fourth quarter was the game winner.
Week 3 rundown
• Kansas City 31, San Francisco 10
Short week. Hostile environment. Not a good recipe for the 49ers, who fell to 0-3 and are quickly becoming one of the league's biggest disappointments.
• Minnesota 24, Detroit 10
Lean on me. With the Vikings' passing game still rounding into form, a vintage game from Adrian Peterson (160 rushing yards, 2 TDs) carried Minnesota to its first victory.
• New England 38, Buffalo 30
Ryan Fitzpatrick (247 yards, 2 TDs) sparked Buffalo's offense, but he couldn't match Tom Brady score for score. No surprise there.
• Atlanta 27, New Orleans 24 (OT)
Is the Saints' magic disappearing? It's too early to draw conclusions, but place-kicker Garrett Hartley's early-season accuracy issues don't bode well for the defending champs.
• Tennessee 29, N.Y. Giants 10
Maybe the Titans should petition the league about changing conferences. Tennessee has now won 10 straight against NFC opponents.
• Pittsburgh 38, Tampa Bay 13
A wake-up call of sorts for the previously unbeaten Bucs, who couldn't muster much of anything against the Steelers' D. Can anyone?
• Cincinnati 20, Carolina 7
In his starting debut, Jimmy Clausen was far from spectacular. The same can be said for the Bengals, who overcame sloppy play to improve to 2-1.
• Baltimore 24, Cleveland 17
AFC North pushovers? Not on Sunday. The Browns hung tough but couldn't pull off the win. That's been the story of their young season.
• Dallas 27, Houston 13
The most relieved man in Texas? Wade Phillips for sure. With the vultures already circling, the Cowboys got their first victory in convincing fashion.
• St. Louis 30, Washington 16
After two close losses, the Rams finally managed to close the deal. And they did it with their best player, Steven Jackson, watching from the sideline.
• Philadelphia 28, Jacksonville 3
Big plays continue to be DeSean Jackson's specialty. Jackson averaged a whopping 30.6 yards per catch (five receptions for 153 yards) as the Eagles won their second straight.
• Arizona 24, Oakland 23
Sure, Raiders fans can blame the loss on Sebastian Janikowski. But there's a reason he had to attempt six field goals: Oakland's offense isn't getting it done.
• Seattle 27, San Diego 20
The Seahawks made plenty of mistakes. Good thing Leon Washington (two second-half kickoff returns for TDs) was able to bail them out.
• Indianapolis 27, Denver 13
Things unraveled quickly for the Broncos after a key fourth-down decision by Josh McDaniels backfired. Was it a case of ego getting in the way of common sense?
• N.Y. Jets 31, Miami 23
The Jets' opening loss to Baltimore seems like a distant memory. A healthy mix of big plays in all three phases fueled New York's victory on Sunday night.
-- ESPN.com
MONDAY NIGHT FOOTBALL
•
Green Bay at Chicago (ESPN, 8:30 ET)
Looking ahead
An early look at next weekend's biggest games:
• Baltimore (2-1) at Pittsburgh (3-0): The Steelers' last go-around without Big Ben won't be easy.
• Washington (1-2) at Philadelphia (2-1): Will it be a happy homecoming for Donovan McNabb?
• New England (2-1) at Miami (2-1): Another week, another tough divisional matchup for the Dolphins.