New Beginnings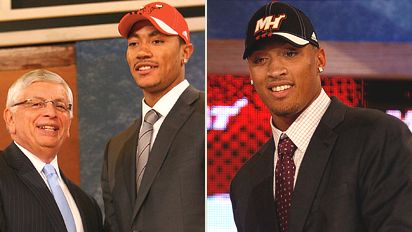 Jesse D. Garrabrant/Nick Laham/Getty Images
Rose and Beasley were two of the record seven freshmen lottery picks.
The Bulls chose Derrick Rose No. 1. The Heat grabbed Michael Beasley and the Wolves selected and traded O.J. Mayo as freshmen flew off the board at a record pace at the draft. Chad Ford:
Analysis | Grades
Must Read

Fantasy hoops: Derrick Rose went No. 1, but Michael Beasley is the man you want to own next season. Draft Analysis
• Trade analysis: O'Neal, Ford, Jefferson
• Top 75: LeBron still the king | More
More on ESPN.com
Williams: How the frosh fit with new teams
With an unprecedented 11 freshmen picked in the 2008 NBA Draft, Antonio Williams breaks down how these talented players will impact their new NBA teams.
Katz: Bayless, Gordon survived turmoil
Eric Gordon and Jerryd Bayless endured drama swirling around their programs for most of last season. But both played well enough to warrant top-10 billing in the NBA draft, writes Andy Katz.
Page 2: Worst lottery picks in NBA draft history
As you study all the NBA mock drafts, remember this: There will be some flameouts.
Katz: Rose has that winning touch
Derrick Rose cares so much about winning that he'll tear up after a loss, even those ridiculous AAU summer games. It's that competitiveness that will make him a special player in the NBA, John Calipari says.
Ford: Ranking draft prospects by tiers

Chad Ford takes a look at the process many teams use to classify draft prospects -- the tier system.
Ford: Who's in, who's out of the 2008 NBA draft?
Here's the official list of the early-entry candidates who are in and out of the 2008 NBA draft.
Draft Watch: Combine results for top prospects

How athletic are the top prospects in the draft? Chad Ford has their test results.
NBA Draft - Vital Information
| | |
| --- | --- |
| What: | 2008 NBA Draft |
| When: | June 26, 2008, ESPN, 7 p.m.-12 a.m. ET |
| Where: | Madison Square Garden, N.Y. |
| Rounds: | Two rounds |
2008 Draft Order - 1st Round