It remains unclear how Gilbert Arenas will eventually extricate himself from the Wizards, since the exit route that plugged-in sources have said for days is the most likely scenario -- Arenas and the Wizards reaching some sort of buyout agreement -- will obviously be more complicated than most buyouts because of the huge dollar amount involved.
NBA players and teams don't typically enter into divorce proceedings when the player has four years and $80.2 million left on his contract.
This situation, though, is anything but typical. And if you subscribe to the widely circulating notion that the Wizards will not have the sufficient grounds to successfully void Arenas' contract, hammering out a buyout would appear to be the only way both sides will be able to move on with their lives at season's end, given that Washington had no success when it shopped Arenas before the gun incident and can't dispute that he's as close to untradeable now as it gets when you add up his legal situation, damaged reputation, contract and injury history.
We've already fast-forwarded once past all of the above complexities to examine where Arenas will be able to turn if he does become an unexpected big-name addition to the Summer of 2010 free-agent class.
And Orlando continues to be mentioned more prominently than any other potential destination, thanks largely to Arenas' close relationship with Magic general manager Otis Smith. I was assured earlier this month that the Magic will give the matter legit consideration this summer, even if Arenas figures to be the party pushing hardest for it.
My colleague Chris Sheridan has also explored the possibility of the Knicks giving Arenas his comeback platform (as they did with Latrell Sprewell), but another potential landing spot was introduced this week amid the rising assumption that Arenas will never play another game for the Wizards.
One source close to the situation told ESPN.com that Arenas ultimately landing in Cleveland with the team that has regularly tortured the Wizards in recent seasons -- as a sidekick whose arrival would theoretically help the Cavs ensure the re-signing of LeBron James -- is a legit possibility to file away.
You can likewise count on more teams popping up as potential destinations if Arenas can reach buyout terms with the Wiz to become a free agent. For all the supposed drawbacks, Arenas averaged 22.6 points and 7.2 assists in 32 games this season and will be only 28 when next season starts. Too many teams will have money to spend this summer -- with only a handful of difference-makers expected to be on the market -- to prevent Arenas from attracting interest.
---
Some numbers of note in the East this week:
3: LeBron James has recorded a double-digit assist total in three of Cleveland's past five games.
4: With 23 points in Wednesday night's win over Minnesota, J.J. Hickson became just the fourth Cav not named LeBron to lead Cleveland in scoring. Mo Williams has been Cleveland's leading scorer five times (three outright), and Zydrunas Ilgauskas and Delonte West have done it once each.
27: Toronto's Andrea Bargnani became the first starting center to score at least 25 points in a game against Miami this season with 27 points Wednesday night.
3: Brandon Jennings became just the third rookie this season to record a game-winning bucket in the final 30 seconds of regulation or overtime with his driving floater Wednesday night with 22 seconds to play in Milwaukee's 91-88 triumph over Philadelphia. The others are Sacramento's Tyreke Evans, who made a game-winning layup against the Bucks on Dec. 19, and Utah's Sundiata Gaines, who drained a memorable 3-pointer at the buzzer to beat Cleveland on Jan. 14 just days after being called up by the Jazz out of the D-League.
8: The Pistons have had a losing record in eight straight calendar months, which is the league's longest such streak. The franchise record is 20 consecutive "basketball months" with a sub-.500 record, from April 1977 through March 1980.
---
Bobcats center
Tyson Chandler
has filed a formal appeal of his $7,500 fine in late November for posting a message via Twitter during a game.
According to the protest, Chandler insists that the tweet was actually an automated tweet generated three hours before gametime Nov. 25 in a 116-81 rout of Toronto. But a technical issue prevented the message from posting to Chandler's Twitter feed until the game was already underway; Chandler says the automated feed has since been disabled.
A decision on the matter is not expected until the end of the regular season, when most fine appeals are heard.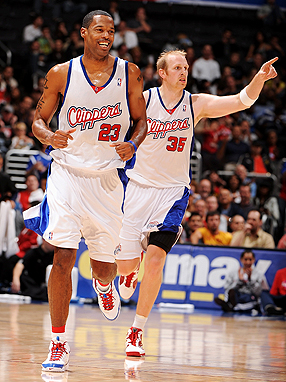 (Andrew D. Bernstein/NBAE via Getty)
Marcus Camby and Chris Kaman of the Los Angeles Clippers both have had notable performances lately. (See Box 2.)
7.

One On One ... To Five

Wallace
Five questions with Pistons center Ben Wallace, who is four swats away from becoming the shortest player in league history at 6-9 to block 2,000 shots:
Q: You've won a championship and done a lot of things in your career, but where will it rank when you get to 2,000 blocks?
A: Oh, man. It'd be amongst the top for me because that's been a huge part of my game. I always had a knack for the ball and that goes both ways with rebounds and shot-blocking. But I never really thought when I came into the NBA that I'd have the opportunity to have 2,000 blocks.
Q: What's harder? Being a good rebounder or a good shot-blocker?
A: Shot-blocking for sure. You can rebound both ends of the floor. You might only get one, two, three opportunities a game to block a shot. Blocking shots is definitely harder.
Q: I think you've surprised a lot of people with your rebounding numbers at 35. How did you get back to double-digit territory?
A: Coming into the season, that wasn't my intention at all as far as proving people wrong. I just think over the last couple years I was hurt. I was injured. Some games I had no business being out there the way my body was feeling. ... Probably haven't been this healthy for three years.
[Last season] I could get to the spot, but I just couldn't get to the ball. I knew where the ball was going, but I just couldn't elevate the way I wanted. I couldn't move the way I wanted.
Q: With Rip [Hamilton] and Tay [Tayshaun Prince] in so many trade rumors these days, do you guys ever talk amongst yourselves about who might be the last man standing from the great teams you guys had?
A: I already left and now I'm back, so it's different for me. But that's not something we sit around and talk about. We're just trying to find a way to win games right now.
I always tell people: I've been in a couple different spots since I left here and there's a lot of bad things worse than getting traded. The worst thing that can happen to you in this league is when they can't trade you because nobody wants you.
Q: How hard is it to be in rebuilding situation in Detroit after all that success and do you have it your head how much longer you want to keep playing?
A: It's tough, man. It's tough. When you're used to being at the top for so long and now having to go out there and try to climb back up, it's a tough feeling. It's more mental than anything. It beats you up mentally.
But I really don't have a number on it. I take it one year at a time at this point. As long as I can stay healthy, that'll be something for me and my family to talk about in the offseason.

Howard
The Mavericks continue to evaluate their options in advance of the Feb. 18 trade deadline and continue to be regarded as one of the few "buyers" out there.
Which is another way of saying that Dallas is seen by other teams around the league as one of the few potential trade partners willing to take on some significant salary before the buzzer sounds.
Said one source with knowledge of the Mavs' thinking: "They are looking hard."
But they are also still strongly weighing whether it's smarter to keep Josh Howard past the trading deadline. That would preserve the option to package Howard (who becomes an $11.8 million expiring contract for 2010-11 once his team option is picked up) with Erick Dampier (whose $13.1 million salary next season is fully unguaranteed) as a combo-pack of assets for an offseason trade splash.
The comments from Mavs owner Mark Cuban last weekend in New York seemed to indicate that hanging onto Howard -- even if it's just for the long-shot possibility that Dallas could emerge as a sign-and-trade destination for one of this summer's marquee free agents -- holds great appeal.
"You know, every team wants to get better," Cuban told reporters Sunday. "And you look at the best guys in the league and you say, 'What gives me an opportunity to add them to my team?' Some people want cap room, some people think sign-and-trade. So it just depends. We'll see. You just never know. You never know."
I took that as not-so-veiled backing of what we wrote back in November, when the Mavs were listed as No. 5 on a list of five teams most capable of landing LeBron for next season. Even if the odds of a sign-and-trade for someone from the LeBron/Chris Bosh stratosphere in July are small, Dallas will be undeniably tempted to preserve every possibility for a miracle, especially when you can legitimately question whether anyone it can acquire during the next three weeks can really close the gap between the Mavs and the mighty Lakers.
Dallas' interest in Sacramento's Kevin Martin was last week's big trade topic, but the Kings keep saying that Martin is not available. And while Washington's Caron Butler and Philadelphia's Andre Iguodala are most certainly available, one plugged-in source insisted this week that the Mavs have real reservations about trading Howard for Butler and are hesitant regarding Iguodala as well largely because of the four years and $56 million left on the Philly swingman's contract after this season.
The Mavs, remember, were reluctant back in November to take on the contract of Stephen Jackson, who wanted so badly to come to Dallas before Golden State traded him to Charlotte ... and who would have been half as expensive as Iguodala.
The impact Jackson has had with the Bobcats actually leads you to wonder how much the Mavs now regret their refusal to gamble on Jackson, but recalling the reasons behind that reluctance helps explain why I've been advised more than once this week that Iguodala -- as it stands with three weeks to go before the deadline -- appears unlikely to be Dallas-bound.
To read the complete ESPNDallas post, click here.
10.

Alternative Listening

Arenas
Marc Stein joins Frank Dale and Joe Mead on the NBA Today podcast to talk about the Gilbert Arenas saga, what's happening in Texas with the Mavs and Spurs, and 2010 free agency.
To hear the interview, click here.