Andrew D. Bernstein/NBAE via Getty Images
Suns Upbeat ... But Looking Up At Lakers

PHOENIX -- The one thing we know for certain after Shaquille O'Neal's first game with the Suns is ... the Lakers are looking great.
Shaq and the Suns? To Be Determined. Sure they can get better once they work out the kinks. But it's hard to imagine O'Neal making vastly greater contributions than the 15 points and nine rebounds he put in Wednesday night. The scariest notion is that even though the Suns can get better, so can the Lakers once they get Andrew Bynum back. And the Spurs got a little Shaq insurance themselves by trading for Kurt Thomas on Wednesday.
Then there are the practical matters posed by the Lakers' 130-124 victory over the Suns: the two teams are tied atop the Pacific Division with 37-17 records, and the Lakers have won the season series, 3-1.
The Suns had an upbeat attitude afterward. O'Neal was more positive than I've ever seen him after a loss. Instead of reverting back to monosyllabic answers, he was as glib and colorful at the news conference announcing his arrival. He stayed 10 minutes and practically had to be pulled away from the microphone.
"I haven't been this happy in a long time," he said.
He was in such a good mood he even fell on the sword for his new teammates.
"I will take the blame for this loss because I wasn't in tune with the guys," O'Neal said. "But give me four or five days to really get in tune and I'll get it."
Yep, plenty of Suns-shine, coming there way. Zippity doo-dah.
"I think we've got a lot to be encouraged by," Steve Nash said.
"I just think we'll get it all back and work on it piece by piece," said Phoenix coach Mike D'Antoni.
But it could be that by the time the Suns get it all figured out it will be too late to win the division and too little to beat the Lakers or the Spurs in the playoffs.
O'Neal was doing his best to fit in with the Suns offense. However, the first time he caught the ball he was on the move, coming across the free-throw line, a place he rarely occupies in the half-court set. He looked out of place. A couple of times he even beat Nash (whom he called "a hip-hop version of Scott Skiles" and the "Canadian Eminem") down the floor on the break, although he didn't get the ball.
Shaq didn't bring the Suns to a standstill; they scored 20 fast break points, two more than their average. But he wasn't a great catalyst either. Two of his outlet passes were intercepted.
He and Nash connected on just one alley-oop, despite Nash's talents in that department. And in one case the lack of familiarity had disastrous results when O'Neal knocked Raja Bell to the deck and out of the game with an elbow as O'Neal tried to block a Kobe Bryant shot.
As the Suns discovered later on, it's not a bad option to go to O'Neal in the low post and let him do his thing -- the way he used to do with what he called his "other team." But the days of counting it as an automatic two points are over. He made only one of his first three shots -- his first field goal was a dunk over DJ Mbenga on an inbounds pass.
O'Neal's greatest contribution could be providing a boost to a teammate, like Kurt Busch drafting behind Ryan Newman to push him to victory in the final lap of the Daytona 500. (Might as well make a NASCAR reference, since twice as many people watched Daytona as the All-Star Game.)
Amare Stoudemire moved back to the power forward position and flourished, scoring 37 points to go with 15 rebounds and three blocked shots.
"Playing power forward allows me to roam a little bit more on the wing," Stoudemire said. "As far as crashing the boards offensively, as far as being out there on the perimeter a little more. I think that's what you guys are noticing.
"It always helps when you've got another big guy in there with you, someone they have to pay attention to as far as rebounding goes."
If Shaq can't single-handedly alter the balance of power from conference to conference -- as he did when he came West in 1996 -- but he still can make events seem more important by his mere presence.
US Airways Center was packed in anticipation, the fans eager to cheer and snap pictures the moment O'Neal took the court.
A fan sitting behind me turned to his friend and said, "When was the last time you saw this place this full, this early?"
It felt like a continuation of the past two playoffs, which have pitted these teams against each other the first round.
"It was a familiar energy in the building," said Bryant, sounding like a Jedi knight.
Sixteen photographers and cameramen trained their lenses on Shaq as he stood for the national anthem.
The crowd wanted to salute him for everything he did, giving him standing ovations for his first dunk -- an aggressive one-handed rebound as he fended off Bryant and Lamar Odom -- and a dive across the baseline after a loose ball (he bowled over official David Guthrie and a couple photographers in the process).
He's engaged, he's looking to fit in. Best of all for the Suns, he said his hip and knees felt fine. He got stronger as the game went on, scoring nine points and grabbing three rebounds in the fourth quarter.
"I'm in better shape than I thought I was," O'Neal said.
D'Antoni had said before the game that he planned to limit Shaq to 20 minutes, but O'Neal wound up playing almost 29.
The Suns' medical staff wanted to keep him out longer, but D'Antoni told them, "You talk to Shaq. He's staring me down."
Too bad for the Suns that O'Neal didn't intimidate the Lakers as much. They scored 56 points in the paint, with Pau Gasol going for 29 and Odom scoring 22. The Lakers continued to get production from the bench, which scored 13 points in a noteworthy second quarter. And Bryant was unstoppable, torching Bell and then Grant Hill for 41 points on 16-of-25 shooting. It felt like one of those Jordan vs. Starks games, when Jordan was going to get his points no matter how good the defense played.
It sure didn't take the Lakers long to adjust to Gasol. They won his first game in a Laker uniform and are 7-1 with him. They're surging with confidence
"Know you can do it, don't think you can," Bryant told his teammates before the game. "We're a good team. We deserve to come in here and win."
And that's the difference. The Lakers know right now. The Suns think they can, hoping Shaq is The Big Diesel That Could.
Dimes Past: Feb. 1 | 2-3 | 4 | 5 | 6 | 7 | 8 | 9-10 | 11 | 12 | 13 | 14 | 15 | 20
Tim Legler breaks down Jason Kidd's debut with the Mavs:

He wasn't playing his normal game tonight. He was trying to get guys involved, like any player would, especially a point guard coming to a new team. You want to come in and make sure guys love playing with you.
You could tell tonight, he didn't have an eye on the rim when he penetrated. He was just looking for guys; that's not the way you play effectively as a point guard.
But his vision and his ability to find people is what separates Kidd from Devin Harris. He's going to facilitate the offense for Josh Howard and Dirk Nowitzki, and make things easier. And this guy can trigger the break, with his defense and deflections and his ability to defensive rebound and lead the break.
Ultimately, the Mavs' bigger issue could be that they've gotten smaller, and they are so thin on the front line. It puts a lot of pressure on Nowitzki to play against bigger players down on the block, and he doesn't want to do that.
The latest trade talk from around the league:

Sources told ESPN.com that the Hornets and Houston Rockets were in serious discussions Wednesday night on a multiplayer deal that would send Mike James and Bonzi Wells to New Orleans for Bobby Jackson and one or two other players.
Different variations of the deal were still being worked on as of early Wednesday evening, but the deal appeared to have a better than 50-50 chance of going through, according to two sources with knowledge of the talks.
• Chris Sheridan | Full story
---

All signs in the early hours of Thursday morning pointed to Denver not making the much-discussed move for Ron Artest.
It sounds like the Kings would indeed rather move Artest than keep him at this point, given that they're unlikely to re-sign him in the summer and could use the final 29 games to get an even better feel for what John Salmons and their three point guards (Beno Udrih, Anthony Johnson and Tyronn Lue) can do. But Denver is still showing reluctance.
One factor, naturally, is Sacramento's insistence that it gets Nuggets forward Linas Kleiza in the exchange along with Eduardo Najera's expiring contract. Kleiza is not only one of the league's best bargains at the paltry salary of $1 million but also a big favorite of Nuggets owner Stan Kroenke after playing college ball with Kroenke's son at Missouri.
• Marc Stein | Stein's trade talk column
---
The dark horse in the Artest discussions may be the Suns. According to two league sources, the Suns have some interest in Artest. The team feels like it needs to replace Shawn Marion's perimeter defense, and Artest would fit the bill. His ability to guard four positions makes him coveted, despite the concerns about his personality.
• Chad Ford | Ford's latest on the trade deadline

WEDNESDAY'S BEST

Chris Paul, Hornets guard:
CP3 had 31 points, 11 dimes and a whopping nine steals against the Mavs -- the most in the league this season and two off the all-time NBA record. Paul also helped force Jason Kidd into six turnovers.
HONORABLE MENTION

Chris Bosh, Raptors forward:
Just could not miss. Forty points in 39 minutes on 14-of-16 from the field and 11-of-11 from the line. Bosh "destroyed" dunk champ Dwight Howard (who went for 37 points himself), said Magic coach Stan Van Gundy.
---

WEDNESDAY'S WORST

Raja Bell, Suns guard:
Not only was Raja outscored 41-0 by Kobe, but he got just one rebound in 36 minutes. And to top it off, Shaq knocked him into next week with a vicious though accidental elbow to the back of the head.
---
QUOTE OF THE NIGHT

"LeBron -- what can I say? He's the MVP. He's the MVP this year. I don't care how many games are left or what not. This guy is terrific. He just does everything out on the floor."
-- Cavaliers coach Mike Brown,
after LeBron James' second straight triple-double.
• See Wednesday's leaders
-- Chris Ramsay
Chris Paul spoiled Jason Kidd's return with 31 points, 11 assists and nine steals for the Hornets.
Since the NBA began keeping track of steals (in 1973-74), the only other NBA player to reach Paul's level in each of those categories in one game was the Nets' Micheal Ray Richardson, and he needed triple-overtime to do it (39 points, 11 assists and nine steals vs. Indiana, Oct. 30, 1985).
Only three other players have had at least 30 points, double-digit assists and nine or more steals in the same game: Rick Barry (Warriors, Oct. 29, 1974), Larry Bird (Celtics, Feb. 8, 1984) and Scottie Pippen (Bulls, March 8, 1994).
• Elias Sports Bureau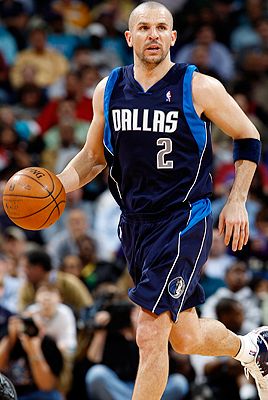 Chris Graythen/Getty Images
Jason Kidd looked good back in a Mavs uni, but the results weren't vintage J-Kidd: 8 points, 5 assists, 6 turnovers, and a deflating 104-93 loss to Chris Paul and the Hornets.
Excerpts from Chad Ford's Wednesday chat:

Pete (Philly): Are the Sixers going to trade Andre Miller? On the one hand, his value will never be higher. On the other, he really makes players on our team better.
Chad Ford: It's a tough call.
Short term, the Sixers are better off keeping him. The best way to develop young players is to have them in a competitive environment. Andre Miller has helped Philly stay in the playoff hunt and in the process, guys like Andre Iguodala, Samuel Dalembert, Thaddeus Young and Louis Williams get valuable experience.
However, long term, if they don't move him, they probably won't have enough cap room to make a run at a top-tier free agent like Elton Brand or Gilbert Arenas.
To me ... I trade him, get back an expiring contract, a good draft pick or two and then make a run at Brand or Arenas. Either of those guys would have the Sixers rolling again as soon as next season.
---

Laird (NYC): How good can Kyle Lowry be on a new team?
Chad Ford: He seems to be the most popular name in the chat today -- a 6-foot point guard from Villanova averaging 8.5 ppg and 3.6 apg and shooting 39 percent from the field and 25 percent on 3s.
I love Lowry because of his energy and toughness, but don't you think this is a little ridiculous? If Chris Wallace doesn't trade this guy now -- when his trade value is 10 times higher than his actual production -- he's nuts.
• Trade chat: Chad Ford, Thurs., 1 ET