AP Photo/Mark Duncan
Cleveland Newcomers Get Their Feet Planted

CLEVELAND -- As he stripped off his ice bags and got ready to head for the showers, Wally Szczerbiak stuck his head in Kaniel Dickens' locker and asked him where the dirty socks go. Dickens, a D-League call-up in his third day as a Cavalier, informed him of the protocol.
Such is life around the remade Cavs these days; everything seems new. Which made Sunday seem like a giant first date at Quicken Loans Arena, where the crowd and the players themselves were eager to see just how the four imports from the club's deadline-day blockbuster would fit.
The short-term answer was positive as the Cavs smashed the Grizzlies 109-89. But it was hardly a fair litmus test against such a downtrodden opponent.
Nonetheless, there were some hints of how the rebuilt Cavs may look when all the dust settles from the trade that replaced half their active roster.
In the evening's spotlight stood Ben Wallace, the centerpiece of the trade as far as the Cavs are concerned. He started at power forward, the beginning of the Cavs' experiment to play him in what they hope will be a super-charged frontcourt between LeBron James and Zydrunas Ilgauskas.
The results on the first night were mixed. There was no questioning Wallace's energy; on the Cavs' first defensive possession he made a steal that kick-started a fast break. Later he swatted away a Memphis pass that led to an alley-oop from the Cavs' new starting point guard, Delonte West, to James.
In the fourth quarter Wallace got a standing ovation when he forced a rare five-second call after a basket when he denied the inbounds pass with the Cavs up by 17 points. He also had five dunks and tied his season high with 12 points; he found space when James and Ilgauskas were being double-teamed.
Again, that is part of the Cavs' grand plan to integrate him and make him more productive than he was with the Bulls. The idea goes that if opponents leave James (25 points, 11 assists vs. Memphis) or Ilgauskas (22 points, 13 rebounds) in one-on-one situations, then the Cavs will burn the defense. But if Wallace's man leaves him to double-team, Big Ben just might turn into a high-percentage shooting weapon.
"The crowd was great, we didn't get booed tonight, so that was a good feeling for me," Wallace said, making a reference to some unhappy days in Chicago when the fans targeted him with their frustration over a disappointing season.
This after he said earlier about his stay in Chicago: "If someone wants to throw me under the bus, that's fine. I've been there before, I know what it smells like."
"He's rejuvenated," James said after the game, though such a statement is still wildly premature.
There also were signs of the possibly tough adjustment Wallace is going to be asked to make. Spending time guarding Hakim Warrick on the perimeter instead of Kwame Brown or Darko Milicic inside, Wallace often was pulled far from the hoop. It caused him to be out of position when it came to defending the basket on help defense at times. Though he got 10 rebounds, he missed some that came his way, too, due to getting late position.
But that is nitpicking to some degree. Wallace's effort helped the Cavs dominate as that aforementioned frontline combined for 59 points and 30 rebounds.
And that doesn't count Joe Smith (14 points, six rebounds), who came off the bench and kept getting open shots off feeds from James.
Meanwhile, Anderson Varejao, sidelined a month with a sprained ankle, is due back this week to give the Cavs' frontline even more depth.
"Our interior is stronger than ever right now," James said. "Rebounding has always been our strength, but now it is even better."
Szczerbiak hit a pair of 3-pointers on his way to 10 points. West had the roughest start of the newbies, making just 2-of-12 shots, but he had six assists and three steals. Those six assists represented previous point guard Larry Hughes' season high; West showed signs he may be a better fit at point than Hughes playing out of position.
So much more data is needed, though, to determine whether this midstream makeover will indeed work for the Cavs. Yet the first night was quite a success and had many already feeling some excitement.
"That might have been the first time in a long time I got chills when I took the court," Smith said. "That's a good feeling."
Brian Windhorst covers the Cavs and the NBA for the Akron Beacon Journal
Dimes Past: Feb. 9-10 | 11 | 12 | 13 | 14 | 15 | 20 | 21 | 22 | 23-24

Bobby Jackson made a splash with his new team. The former Hornet scored 11 of his 14 points in the second half and helped Houston to its 12th straight win, a 110-97 victory over the Chicago Bulls on Sunday night.
Jackson was among several players who made debuts with new teams on Sunday. Here's a thumbnail look at how they fared:
How Newcomers Fared Sunday

Player
Old Team
New Team
What He Did
Ben Wallace
Bulls
Cavs
31 minutes, 12 points (5-of-6 FG), 10 rebounds
Wally Szczerbiak
Sonics
Cavs
32 minutes off bench, 10 points, 2-of-4 3s
Joe Smith
Bulls
Cavs
25 minutes, 14 points, 6 rebounds
Delonte West
Sonics
Cavs
Starting PG makes 2-of-12 FGs, 6 assists, 3 steals
Gerald Green
Wolves
Rockets
Inactive for game with Bulls
Bobby Jackson
Hornets
Rockets
Jackson's action: Goes for 14 points in 19 minutes
Adrian Griffin
Bulls
Sonics
Three minutes of action, one steal, no points
Larry Hughes
Cavs
Bulls
Scored 13 points (6-of-11 FG) in 22 minutes off bench
Drew Gooden
Cavs
Bulls
In 22 minutes off bench, 12 points, 8 rebounds
Cedric Simmons
Cavs
Bulls
Plays two minutes, makes only shot
Shannon Brown
Cavs
Bulls
Inactive for game with Rockets
Ira Newble
Cavs
Sonics
Coming off bench, nets 2 points in 11 minutes
Donyell Marshall
Cavs
Sonics
DNP, ill
Kirk Snyder
Rockets
Wolves
Active, but draws DNP
The Successful Manu Script

By Elias Sports Bureau
Heading into Monday's game with Atlanta, San Antonio guard Manu Ginobili has been on a tear. Ginobili, over his last five games, has now scored 172 points, while making 55 of 86 field-goal attempts (64 percent). Only one NBA player since the year 2000 has scored as many points with as high a shooting percentage over any five-game span -- Shaquille O'Neal. With the Lakers in March 2002, O'Neal had a five-game stretch in which he scored 177 points while shooting 69.5 percent from the floor. That's it.
By the way, prior to Shaq, you have to go back to 1996 to find the last such instance of a player scoring and shooting as well as Ginobili over a period of five games. (Hakeem Olajuwon had 172 points and a 65 percent shooting stretch over a five-game span late in the 1995-96 season.)

SUNDAY'S BEST
Paul Pierce, Celtics forward:
After building a masonic temple against the Suns, Pierce bounces back with near-perfection, tossing aside his trowel to make 12-of-14 shots, good for 30 points in the 112-102 win over Portland.
---

SUNDAY'S WORST

Grant Hill, Suns forward:
Forget pinning all the blame on Shaq's lumbering ways. The ex-Piston missed all six shots in 22 minutes, not helping the cause in the 116-86 trouncing by Detroit.
---
QUOTE OF THE NIGHT

"Nothing, I wanted to fight him like I did in Orlando."
-- Rockets guard Tracy McGrady,
joking about what Houston newcomer Bobby Jackson brought to the team. The two got into a memorable fight nearly seven years ago.
• See Sunday's daily leaders
-- Andrew Ayres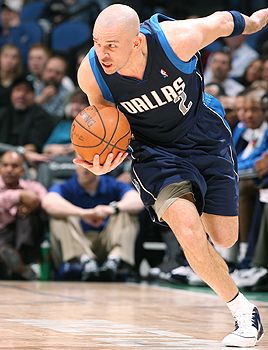 David Sherman/NBAE via Getty Images
Jason Kidd, who had 17 assists in the Mavs' win over the Timberwolves, makes his return to Dallas for Monday's game against Chicago.

By Chris Broussard
ESPN The Magazine
Larry Hughes may be better in Chicago than he was in Cleveland if the Bulls can consistently play up-tempo, but if they can't, they'll regret bringing him in. If he couldn't knock down the open looks LeBron got him, I don't expect him to turn into an All-Star playing off Kirk Hinrich.
Word is the Bulls players are upset about losing Big Ben. While he wasn't the force he had been in Detroit, he was the club's enforcer and a well-liked guy in the locker room.
This shakeup will give Tyrus Thomas and Joakim Noah more minutes, but overall, the Bulls seem to be running in place.

Since the Suns made the trade for Shaq, they've gone 4-4.
The team has been losing in overall scoring by an average of 109.8-107.9 (or 110-108).
While it's true Phoenix has been playing a tough schedule, seven of those eight games were at home. Since Shaq joined the team, Phoenix has gone 1-2, with its defense fairly porous in the two losses.
As for Shaq, he had seven points and 11 rebounds in the 30-point loss to Detroit, missing seven of eight free throws.
The short-term good news for Phoenix is a game Tuesday with Memphis, which should help things.