Tim Heitman/NBAE via Getty Images
This Kidd Is A Hit In Dallas Return

DALLAS -- The first assist on a nostalgic Monday night at American Airlines Center was actually recorded Sunday night on a Dallas-bound plane from Minneapolis.
It was on that team flight home that Dirk Nowitzki huddled with coach Avery Johnson to make sure that Jason Kidd would be introduced last among Mavericks starters for Kidd's first game as a Mav in more than 11 years.
Kidd then followed up his grand re-entrance with just enough fancy passing of his own in a never-in-doubt 102-94 victory over Chicago to make it pretty clear why Nowitzki was so gracious.
Actually …
Giddy is a far better description for Nowitzki these days. Kidd was sufficiently moved by the warm reception to his Mavs rebirth to announce afterward: "I'm happy to be home." But it's really Nowitzki who hasn't stopped smiling since he got hooked back up with an elite point guard after three-plus years without one, struggling to restrain himself when someone asked the gleeful German to summarize his first week alongside Kidd.
Said Nowitzki: "I love it, bro. It's going to be great. He makes work fun."
The implication, of course, is that much of the fun had dribbled out of the Mavs' world after they followed up an NBA Finals collapse against Miami with a first-round loss to Golden State, whether or not they were ever going to admit it publicly.
Now?
Just seeing what the drawn-out trade to get Kidd has already done for Nowitzki's demeanor and workload would seem to justify the cost on its own.
Nowitzki is averaging 29 points in four games with Kidd, shooting 60.9 percent from the floor and is back to playing with a noticeable sneer and swagger again. Best of all for him, Nowitzki is no longer expected to be the Mavs' best scorer and passer. "I get paid," Nowitzki happily reminds, "to put the ball in the basket."
Yet he's hardly the sole beneficiary from Kidd's arrival.
You can't make too much out of a win over the discombobulated, sloppy Bulls … or Kidd's near triple-double of 11 points, eight assists and nine rebounds against those vulnera-Bulls … or the 32 assists Kidd racked up in victories over the doormats from Memphis and Minnesota in the two previous games. You can be sure, furthermore, that San Antonio will put a lot more pressure on Kidd on Thursday night when he injects his own history with the Spurs -- playing against them in the 2003 NBA Finals and then nearly signing with them that summer -- into a rivalry that was plenty spicy without him.
But you can also see traces of a significant Kidd Effect with the Mavs, even this early in the process.
• Kidd's passing touch puts the ball in places where even Erick Dampier and his suspect hands can catch it easy, which has awakened Dallas' long-dormant center. Knowing he's going to get steady minutes now that DeSagana Diop is in Jersey and likewise knowing that Kidd is going to keep him involved, Dampier hit the Bulls with six points, 16 rebounds and seven blocks before fouling out, matching his season-high rebound total of 11 by halftime.
• Kidd's arrival brings some long-awaited positional order to coach Avery Johnson's rotation. Jason Terry is now strictly a shooting guard for the first time in his Mavs career and is suddenly getting into the open floor and running more than ever before as a Mav, prompting Johnson to unexpectedly announce before Monday's opening tip that Terry will almost certainly start for the rest of the season. Jerry Stackhouse, meanwhile, is no longer a co-sixth man with Terry and apparently welcomes that clarity, judging by Stackhouse's 23 points in 23 minutes against Chicago.
• The Mavs wound up getting too pass-happy after zooming to a 17-point lead over the Bulls with their crisp ball-sharing, eventually racking up 21 turnovers to blow most of that lead before pulling away at the end. The same offense that had grown slow and stale, however, is now regularly generating layups and assorted other easy baskets thanks to Kidd's long outlets, underhand pitches and natural instinct to run the ball whenever possible.
"We're still in the lab with this team." Johnson said. "We weren't a very good passing team before and now we're trying to become a better passing team. And because of that, you're going to have some mistakes. But the way we're trying to move the ball, I like it."
As for Kidd's biggest fan …
Nowitzki was quietly hoping for this trade to happen once word reached him early in the season that Dallas was Kidd's preferred destination if the 34-year-old could find an escape route from New Jersey. Kidd quickly endeared himself further by telling Nowitzki that he wants to "go to the gym whenever you go," referring to Nowitzki's habit of getting in extra shooting sessions at night after practices at home and on the road between games.
Kidd and Nowitzki had their first round of extra shooting in Minneapolis early Saturday evening before Sunday's win over the Wolves, reminiscent of the schedule Nowitzki and Steve Nash used to keep.
Which prompted one local reporter to ask Mr. Mav if he's worried that Nash might get jealous of Nowitzki's new favorite point guard.
"I don't care," Nowitzki said with a laugh.
Marc Stein is the senior NBA writer for ESPN.com. To e-mail him, click here.
Dimes Past: Feb. 9-10 | 11 | 12 | 13 | 14 | 15 | 20 | 21 | 22 | 23-24 | 24 | 25
The Rockets' Win Streak In Second Stage

By Andrew Ayres
|
ESPN.com
The Houston Rockets have vaulted into the thick of the West playoff hunt with their 12-game win streak. Looks like it could keep going. They have a favorable schedule over the next week ... then comes a Texas-sized showdown in Dallas next Thursday.
Predicting Rockets Trajectory

Foe
Date
Prediction
Wizards
Tuesday
Win: Wiz come down from buzz of New Orleans win
Grizzlies
Friday
Win: Grizz might not top last Vancouver team's W total (23) in 2001.
Nuggets
Sunday
Win: Denver sitting outside playoffs while Sixers qualify. Yeesh.
Pacers
Feb. 5
Win: Streak hits 16! Beware the Texas return of Marquis Daniels
@ Mavs
Feb. 6
Loss: Second day of back-to-back; Dallas has two-day rest

By Elias Sports Bureau
Pau Gasol maintained his 22-PPG scoring average in the Lakers' 111-91 win at Seattle on Sunday, his 10th game with the Lakers. Only five other players averaged at least 22.0 points over their first 10 games with the Lakers: Elgin Baylor (24.1) and four legendary centers: George Mikan (29.0), Kareem Abdul-Jabbar (28.8), Shaquille O'Neal (24.8), and Wilt Chamberlain (24.5).

MONDAY'S BEST
DeShawn Stevenson, Wizards guard:
His first game-winning shot in his six-year NBA career, a fadeaway 3-pointer at the buzzer, lifted the Wiz to a 95-92 over the Hornets. Stevenson finished with a career-high 33 points.
---

MONDAY'S WORST

Mike Bibby, Hawks guard:
So much for the edge a working knowledge of the Spurs could give. The deposed King shoots 1-for-11 from the field as Atlanta falls 89-74.
---
QUOTE OF THE NIGHT

"I was happy to be back home. This is where it all started for me. I didn't get [a title-contending] opportunity with that franchise. This [franchise] is a little different."
-- Dallas guard Jason Kidd,
comparing the current Mark Cuban regime to the Ross Perot Jr.-led group that traded Kidd to Phoenix less than three years into his NBA career. In his first home game as a Mav after an absence of more than 11 years, Kidd just missed his 100th career triple-double (with 11 points, eight assists and nine rebounds) in a 102-94 victory over Chicago.
• See Monday's daily leaders
-- Andrew Ayres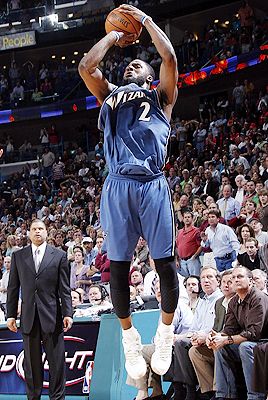 Layne Murdoch/NBAE via Getty Images
Wizards guard DeShawn Stevenson prepares to launch the 3-pointer that beat the Hornets at the buzzer 95-92.

The San Antonio Spurs scored just five points in the first quarter.
And still won. The start set franchise lows in field goals made (1-of-17) and field goal percentage (6 percent) in a quarter. Helps having Tony Parker back. In his third game, he had 15 points and 9 assists in the 88-74 win over the Hawks. Parker had been out since Jan. 30 with an ankle injury. The team went 7-2 in his absence.

Associated Press
Bulls guard Kirk Hinrich was ejected after getting two technical fouls in a matter of seconds late in the first half. He argued with official Monty McCutchen after a loose ball went out of bounds. Jason Kidd and Hinrich were going for the ball.
• Bulls F Luol Deng returned to starting lineup after missing the previous two games with left Achilles' tendinitis. He missed the end of the third quarter because of a cut over his right eye, but returned for the start of the fourth quarter with four stitches covered by a bandage.