Bill Baptist/NBAE via Getty Images
Playoffs? Tough Road Ahead For Yao-less Houston

With the loss of Yao Ming for the season with a stress fracture in his left foot, it likely means another kind of setback ahead as the Houston Rockets strive for a playoff berth in the ultracompetitive Western Conference.
I don't think they're going to make the playoffs.
That's because of the strength of the rest of the field -- this is shaping up to be a nine-team race for the eight spots. Houston (39-20, seventh place in West) now has a 2½-game lead over Golden State and a 3½-game edge over Denver. I think Golden State ends up in the seventh spot, and No. 8 comes down to Denver and Houston. It's a lot easier to fall out of that top eight than it is to get back in it.
The loss of Yao is a horrible break for a team that has now won 13 games in a row, including Tuesday's 94-69 win over the Wizards with Yao in a suit on the sidelines. In this win, we saw what normally happens when a team plays its first game after losing a great player -- a great team performance.
Now it's a question of sustaining it.
The man in the middle now for Houston is the remarkable Dikembe Mutombo, the veteran big man who turns 42 in June. Mutombo had played a grand total of 19 minutes since the new year dawned. Against the Wizards, he played 23, setting the tone with his four blocks and six rebounds, getting putbacks and throwing outlet passes.
But it's going to be hard to ask Mutombo to do this much the rest of the way. The same goes for the Rockets as a whole.
The team has been getting strong efforts from rookies Luis Scola and Carl Landry at the 4. With no other true center after Mutombo, one of them is going to need to fill in at the 5. It's going to be a different dynamic out there. I'm not sure there's a whole lot the Rockets can add up front now that the trade deadline has passed.
Houston wants to sign my brother Brent Barry, recently cut loose from Seattle. Where will he end up? I talk to him every day, and he's more confused now than he was two days ago. One day it's Boston, another it's Phoenix, another it's back to San Antonio. We'll see.
Landry, a 6-foot-9 rookie from Purdue, has been a godsend, and showed it again Tuesday with 12 points and eight rebounds in 21 minutes. He played only briefly in two games before Jan. 11. Rockets coach Rick Adelman told me that during that time, Landry did something good in practice every day. Then he gave the rookie a look because Landry earned it. He's a lot like Chuck Hayes, with a better offensive game.
And of course, the spotlight will be even stronger now on Tracy McGrady. Like the quarterback on a football team, if things go bad, it's his fault, fair or not. His scoring numbers are not as good as they've been in the past (21.5 ppg, his lowest average since his last season in Toronto, 1999-2000) but his overall effectiveness is at an all-time high. He's a willing passer (5.7 apg, a full assist higher than his career average) who plays unselfishly.
If Houston does manage to get in the playoffs, it would likely be as a No. 7 or 8 seed. Playing a No. 1 or 2 seed, it looks like it would be very tough for McGrady to avoid sending his mark to 0-for-7 all time in playoff series.
He's done a good job of running a simplified version of Adelman's offense, which hasn't been fully implemented by the coach yet. Getting Bobby Jackson, who played for Adelman in Sacramento, is going to help.
Losing Yao doesn't. He is one of five guys in the NBA who average over 20 points, 10 rebounds per game. Things were coming together for this team, its defense was better than many realize (ranking third in field goal defense, fourth in points surrendered).
Keeping up the defense is one important way to stay in the hunt. It's going to be tough out there without Yao.
ESPN analyst Jon Barry finished his NBA career with the Rockets in 2006.
Dimes Past: Feb. 9-10 | 11 | 12 | 13 | 14 | 15 | 20 | 21 | 22 | 23-24 | 24 | 25 | 26

Milo (Rochester): Is it fair to say that Yao Ming is now an extremely injury-prone player? He's played 57, 48, and 55 games the last three years. Is he the next Marcus Camby?
John Hollinger: At this point, I think it's fair to just pencil him for 55-60 games. I wrote this a few years ago but it's fair to mention again -- for players taller than 7-0, the biggest obstacle to career length is not a decline in skills but an inability to stay healthy.
Sachin (Chicago): John, wouldn't have it been better for the Spurs to get Ben Wallace rather than Kurt Thomas? Thomas is a minute eater, but Wallace is the more promising KEY player they needed in the West. Agree?
John Hollinger: First of all, from a cap perspective getting Wallace would have been completely unrealistic. Second, Thomas is a better fit for how they play -- if Ben Wallace is out there with Duncan, his man will just go double Tim every time. Thomas can hit the J from the top of the key and burn that double-team.
Cesar (Tempe): So you really thought the Suns had a legitimate chance to win the title with Shawn Marion and Marcus Banks on the team? Not even Suns fans truly believed that.
John Hollinger: Really? Because I could have sworn I was deluged by Suns fans claiming that the NBA screwed them out of a title they had rightfully earned because of the suspensions last year. But maybe I just dreamed that.
Josh (Las Cruces): Manu Ginobili has been on a tear of late do you think he is a top 5 player in the nba?
John Hollinger: Manu is currently fourth in the NBA in PER. People try to diminish this by saying he gets his numbers against backups, but actually if you look at his splits he's played far better as a starter (as do most players). I've been trying to convince people for two years that he's a superstar, but nobody believes me because they see a per-game scoring average in the teens. Maybe now that he's climbed over 20 they'll listen.
By the way, can we all agree that putting Brandon Roy on the All-Star team ahead of Manu was an example of folks getting a little too giddy about the Blazers' turnaround? I don't mean this as a knock on Roy, but for Ginobili not to be there was absurd.
Shades Of Cornbread Maxwell

By Elias Sports Bureau
When the Celtics beat the Clippers 104-76 on Monday night, it marked Boston's 13th win this season by at least 20 points, the most in the NBA. The last time the Celtics won 13 or more games by at least 20 points in one season was 1981-82 (13).

TUESDAY'S BEST
Mo Williams, Bucks guard:
While facing LeBron's team, puts up a Bron-like 37 points, 7 rebounds and 6 assists in Milwaukee's 105-102 win clinched by Michael Redd's huge 3.
---

TUESDAY'S WORST

DeShawn Stevenson, Wizards guard:
Shoots 2-for-12 in a rout by the Rockets, good for five points. Must be a different DeShawn than the guy who had 33 on Monday.
---
QUOTE OF THE NIGHT

"I believe I set the tempo early and everybody just followed."
-- Rockets center Dikembe Mutombo,
after stepping in for Yao Ming in Houston's 13th straight win.
• See Tuesday's daily leaders
-- Andrew Ayres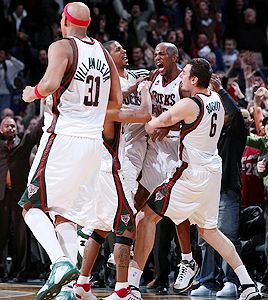 Gary Dineen/NBAE via Getty Images
Charlie Villanueva, Charlie Bell, Michael Redd and Andrew Bogut celebrate following Redd's game-winning 3-point shot at the buzzer against Cleveland.

Chad Ford and David Thorpe talk about the next event that can dramatically change an NBA team. The guys say freshmen will dominate on draft day.
Deal Dish

By Chris Ramsay
ESPN.com
Here's a look at how Lakers guard Sasha Vujacic's 3-point shooting has consistently improved this season. He sank 4 of 8 in the Lakers' 96-83 win over the Blazers on Tuesday.
Sasha For Three

Month
3FG-3FGA
Pct.
November
8-25
32%
December
11-27
40%
January
14-32
43%
February
30-59
50%