AP Photo/Eric Gay
Avery Johnson's Decision To Shelve Kidd Puzzling

Five games.
Or make that four games and one TNT Thursday showdown in San Antonio that had an undeniable playoffs-in-February kind of feel.
Either way . . .
It didn't even take two weeks for Mavericks coach Avery Johnson to make us question why he pushed for the Jason Kidd trade.
Not even two weeks to register fresh doubts that Johnson's ego can prevent him from overthinking or overtaking the game or that he's really ready to relinquish control of his offense to a veteran point guard who doesn't need to be micromanaged.
In just the fifth game of Kidd's Dallas rebirth, Johnson stunningly and inexplicably benched Kidd for the Mavs' final two possessions in crunch time against their biggest rival. Two possessions, spanning nearly 35 seconds.
That's the same Kidd who Dallas worked so hard to bring back because, in Johnson's words, this team needed someone after those playoff collapses against Miami and Golden State who "knows how to finish games."
On this night, though, it looked as if Dallas' own Lil' General had already forgotten the new game plan. With the Mavs down two points in the final minute of a certifiable thriller that they wound up losing 97-94, Johnson came out of two straight timeouts with a play call that -- unfathomable as it sounds -- he thought would work better without Kidd's involvement.
Both calls were from the Mavs' catalog of trusted isolation plays, designed to get Dirk Nowitzki to attack the Spurs' defense from the middle of the floor. Johnson explained afterward that he wanted to make sure Nowitzki was surrounded by shooters after catching the ball to discourage San Antonio from double-teaming, leading him to hold Kidd out because he feared Spurs coach Gregg Popovich would have ordered Kidd's defender to immediately double Nowitzki.
Yet there are at least three major flaws in that thinking.
1. Kidd has never been a shooter. You can't trade for Jason Kidd to be your ace closer, then worry about his shooting. Kidd actually said earlier this week that Dirk has been "helping me with my shot," but it's not going to improve fast enough to prevent this from being an issue in every playoff game Dallas plays. The solution? You trust Kidd's résumé as a closer, put him in pick-and-roll situations with Nowitzki at game's end and thus give your trade maximum opportunity for success as it was conceived.
2. Johnson himself has likened the Mavs' final 20-odd games to a learn-on-the-fly training camp. So why would you delete Kidd from the exact situation that you, as head coach, described as his specialty just days earlier?
3. When the Mavs came up with offensive rebounds after two Nowitzki misses in that final half-minute, they ended up with a busted play to decide things. But instead of a Kidd/Nowitzki pick-and-roll for the Mavs to force overtime or win it, their combo was Jason Terry and Nowitzki. You saw the result.
Nowitzki did get open briefly on the screen/roll, but Terry couldn't get the ball to him. Nor could Terry avoid getting his shot blocked in the lane, sealing Dallas' defeat.
Meanwhile . . .
The veteran who has the ability to make something out of nothing -- Kidd -- was rooted to the bench for that sequence as opposed to having the ball in his hands to try to slip it to Nowitzki or find a shooter in the corner like Jerry Stackhouse (or, say, Terry) for a clean look. Worse yet: Dallas' first play for Nowitzki didn't work and Johnson declined again after a second timeout to send Kidd in. In today's NBA you always want a Kidd or Manu Ginobili making that decisive play and it doesn't matter if they've been with the team long enough to know all the plays -- because so many last-second situations turn into busted plays because of sophisticated defenses.
No one's suggesting Johnson was the Mavs' lone culprit Thursday night. Nowitzki couldn't convert his final jumper or a lefty drive after sinking a strongly contested J with 1:38 to play to make it 94-94. Terry missed a big free throw and a wide-open jumper of his own in crunch time and -- regardless of possible provocation from the Spurs' Bruce Bowen -- he earned a costly technical foul that triggered Dallas' loss of composure in the third quarter after the visitors had seized a 10-point lead.
It wasn't Kidd's best night, either, even before he wound up as a spectator. He was actually better defensively on Ginobili than he was at his preferred end, credibly pestering one of the league's hottest players but totaling just seven points on 3-for-8 shooting, four rebounds and 10 assists. He also struggled somewhat to impose himself in the half court when the pace slowed in the fourth quarter.
Yet none of that can make sense of Johnson's reasoning in this one. Kidd was a diplomat in his postgame address -- telling reporters in San Antonio that "I understand and support my coach's decision" essentially since he's a newcomer -- but pulling him would have been just as mind-boggling had the Mavs pulled out a victory.
As discussed in this cyberspace on multiple occasions already my only skepticism regarding the wisdom of parting with five players, two first-round picks and $3 million to reacquire Kidd -- as well as the extra $11 million it'll cost Mavs owner Mark Cuban this season after his first trade with New Jersey collapsed -- was Avery-related. As in: Will Avery ever really be able to restrain his controlling instincts and relinquish lead decision-maker status offensively?
Now that's only one of the questions confronting Johnson entering Game 6 of the new Kidd era at home Friday against Sacramento. You inevitably wonder what sort of messages the coach transmitted to Kidd, when they're just building a relationship, by holding him out of a such a high-profile finish on national TV.
If you're an optimist, by contrast, perhaps you're wondering whether Dallas can come out of all this unexpectedly fortunate, based on the idea that such an ill-conceived coaching decision happening so soon after the trade will generate such an outcry in Big D that Johnson winds up backing off faster than expected.
In the interim?
This might be remembered as the first Thursday on record that the studio assessment of TNT's Charles Barkley was met with near-unanimous approval:
"There's no sense in making the Jason Kidd trade," Barkley said, "if they're not going to play him in crunch time."
Marc Stein is the senior NBA writer for ESPN.com. To e-mail him, click here.
Dimes Past: Feb. 9-10 | 11 | 12 | 13 | 14 | 15 | 20 | 21 | 22 | 23-24 | 24 | 25 | 26 | 27 | 28
No Kidd? "An Experiment Gone Bad"

By Jalen Rose | ESPN.com
I really respect Mavericks coach Avery Johnson. One thing I like about him is he's going to do what it takes to win any game.
But ultimately Jason Kidd is the guy you made blockbuster trade for. So it's surprising that he wasn't out there in the final 30 seconds that decided Thursday's Spurs-Mavs game.
For future reference, Kidd will be on the floor in that situation. That was an experiment gone bad.
Jerry Stackhouse went in for Kidd because he is a better shooter, but you also have Kidd in there for all the things he can do in that situation, creating opportunities for teammates. Then Jason Terry couldn't get his shot past the tough defense of Bruce Bowen.
I like Dallas' move to get Kidd. Generally speaking, I like the moves we've seen in recent weeks that up the ante. To come out of the West you have to have a point guard on the level of Baron Davis, Steve Nash, Chris Paul, Deron Williams or Tony Parker.
The world champs aren't standing pat either. Kurt Thomas and Damon Stoudamire have been added, and it looks like they'll re-sign Brent Barry. Manu Ginobili has been unbelievable and Parker will find his stride coming back from injury.
The championship still goes through San Antonio.
ESPN analyst Jalen Rose is a regular contributor to the Daily Dime. For more about Jalen, visit his Web site: JalenRose.com.

By Peter D. Newmann
ESPN Research
Feb. 29 is a date that only occurs approximately once every four years. Only in a leap year. Although the modern calendar counts a year as 365 days, a complete revolution around the sun takes approximately 365 days and 6 hours. By adding a leap year approximately every fourth year, the difference between the calendar and the seasons can be reduced significantly, and the calendar will align with the seasons much more accurately.
Born on Feb. 29: Chucky Brown (1968), John Chaney (1920) Vonteego Cummings (1976 ).
On Friday, Feb. 29, 2008, 12 NBA games will be played, including two on ESPN. We will air Jazz at Hornets at 8 ET and Clippers at Nuggets at 10:30 ET.
Maybe Allen Iverson joins the list of Feb. 29 greats (see below).
Individual Scoring Bests on Feb. 29

Year
Player
Points
1964
Oscar Robertson, CIN
43 at PHI
1996
Hakeem Olajuwon, HOU
42 vs. PHI
1988
Karl Malone, UTAH
41 at SAC
1952
Paul Arizin, PHI
40 vs. BAL
1980
Mike Newlin, NJ
40 at DET

THURSDAY'S BEST
Devin Harris, Nets guard:
In his Nets debut, the former Mav revived the Meadowlands with 21 points in 20 minutes, sinking his first six shots in a 120-106 win over the Bucks.
---

THURSDAY'S WORST

That final play
-- In a world where different deals had been made, think LeBron or Kobe would have wanted Jason Kidd out there for the final play? And it's not like Dirk was totally blanketed on that play. That's why the Kidd from Alameda needs to be in there.
---
QUOTE OF THE NIGHT

"We're still a work in progress."
-- Mavs guard Jason Terry
.
• See Thursday's daily leaders
-- Andrew Ayres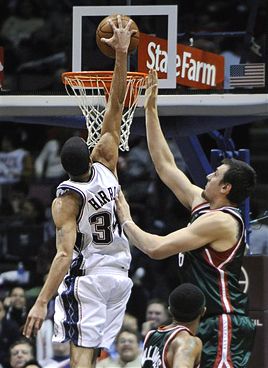 AP Photo/Bill Kostroun
The new Net Devin Harris goes up for a dunk as he gets by the Bucks' Andrew Bogut. Harris led the Nets with 21 points as they beat the Bucks 120-106.

Chad Ford and Chris Sheridan discuss some of the NBA's biggest questions. Who should be the GM of the Knicks?
Deal Dish

By Chris Sheridan
ESPN.com
EAST RUTHERFORD, N.J. -- Perhaps 3,000 fans were still hanging around with two minutes left when the chant began.
"De-vin Har-ris. De-vin Harris," it went, sung to the same sing-songy cadence they use across the Hudson River when they're calling for the firing of Isiah Thomas.
"Took me back to college. Haven't heard that since I left Wisconsin," Harris said after making an outstanding debut for the New Jersey Nets, hitting his first six shots and scoring 16 of his team-high 21 points in less than nine minutes of first-half playing time.
Harris entered with the game tied 22-22, and by the time he left the Nets were ahead 50-35 and well on their way to a 120-106 victory over the Milwaukee Bucks. The 120 points represented a season-high for the Nets, and their 25 fast-break points tied a season high.
"When you have a 'push' point guard, it inspired everyone else to push," Nets coach Lawrence Frank said. "Devin was obviously a game-changer."
The game had the feel of a new beginning for the Nets, who had been waiting for Harris' ankle to heal and had not yet used him since acquiring him in the Jason Kidd trade over the All-Star break.
Harris had a three-point play and buried a long 3-pointer shortly after checking into the game for the first time. His second 3, just over three minutes into the second quarter, capped a 20-5 run that brought a feel-good vibe to the building and put the Nets in control for good.
"The Devin made me do it!" over-the-top public address announcer Garry Sussman screamed into the microphone (Sussman also called DeSagana Diop "The Big Dioper" at one point) after Harris dunked 10 seconds into the fourth quarter. By the end of the quarter the same fans who started the Devin Harris chant were holding up their ThunderStix to spell out the new point guard's first name.
"It's kind of a new start here, and I'm kind of letting it all out of the bag," Harris said. "I couldn't have scripted it any better."
Harris seemed genuinely surprised and delighted by the chant, saying the last time he had heard such a thing he was playing at home for Wisconsin against Minnesota, trying to eclipse Michael Finley's single-game school scoring record of 40.
"I missed it, just like I missed my last shot tonight," Harris said, frowning.
That, however, was the only frown to cross Harris' face on a night when his debut for his new team couldn't have gone much better.