Photo by Juan Ocampo/NBAE/Getty Images
Who Is Running the Point For Boston In Game 4?

LOS ANGELES -- Sometimes coaches make decisions, and sometimes decisions are thrust upon them.
The latter is the situation Celtics coach Doc Rivers may face Thursday, as point guard Rajon Rondo's availability for Game 4 is in question. He sprained his left ankle early in the third quarter of Game 3 and did only light work in practice Wednesday.
Rondo vowed he'd play, but that raises a second question. Even if he takes the court, there's no guarantee he can perform effectively. Rondo is 6-foot-1 and a poor shooter; nearly all his value lies in his quickness. If that's compromised by a bad ankle, there isn't much point in playing him even if he's technically cleared to play by the Celtics' doctors -- a concern enumerated by Rivers in Wednesday's press conference.
If so, one expects much bigger roles for Eddie House and Sam Cassell, who have alternated as the backup point guard throughout the playoffs.
And it means a much different game plan for both sides. House and Cassell are fairly similar to each other -- both are slow-footed, shoot-first types who are suspect defenders -- but they're polar opposites of the lightning-quick Rondo.
Rivers said the biggest problem caused by Rondo's absence is the loss of his speed. He's the only Celtic who can push the ball up court and create transition opportunities, and his ability to run down loose balls and sneak in for rebounds also will be missed.
Another issue is that both Cassell and House are vulnerable to ball pressure, particularly House -- something the Pistons made painfully obvious in the Eastern Conference finals when they used Lindsey Hunter to terrorize both.
The Lakers might use a similar tactic with Jordan Farmar, who's better at pressure than starter Derek Fisher. If so, the Celtics may lose valuable shot-clock seconds just bringing the ball across half court.
"When Farmar came in [during Game 3], he pressured the ball, and we struggled getting the ball into our sets with Rajon off the floor," Rivers said. "We have to solve that."
However, Cassell and House bring a major positive with their ability to space the floor, particularly House with his 3-point shooting. Los Angeles double-teamed Kevin Garnett and Paul Pierce nearly every time they caught the ball in the post, but couldn't double them in the third quarter of Game 3 with House on the floor. Boston scored 25 points in the stanza, its best single-quarter output of the evening, and if the Celtics can handle the ball pressure, they can do it again.
"You can't really leave those guys," Farmar said. "They make you pay for it. So it's a little different. [But] you still want to be scrappy and active and make everybody work for anything they get."
Additionally, it could remove L.A. coach Phil Jackson's top tactic from Game 3 -- putting Kobe Bryant on Rondo and then letting Kobe wander. The wandering ploy won't work nearly as well against shooters like House or Cassell.
Of course, this assumes Doc goes the conventional route and alternates House and Cassell.
Not so fast.
Celtic point guard comparison
Player
Pts/40
Ast/40
TO Rate
3-Pt%
PER
Rajon Rondo
14.1
6.8
11.1
26.3
15.63
Sam Cassell
19.3
6.7
9.1
30.3
15.47
Eddie House
15.8
4.1
9.8
39.3
13.02
Tony Allen
14.3
3.3
15.8
31.6
10.70
Rivers raised eyebrows at Wednesday's press conference when he threw in a mention of the possibility of starting little-used Tony Allen at the point.
And he made a point of reminding everyone that when Rondo missed the Celtics' game in L.A. earlier this year, it was Allen who started and played 42 minutes in a Boston win. Allen guarded Bryant for much of that game and helped hound him into 6-for-25 shooting.
Allen is even more vulnerable to pressure than the other two -- in fact, he's a poor dribbler even for a shooting guard. Although he'd theoretically be starting at the point, the idea would be to use him off the ball and let Ray Allen or Pierce bring the ball up.
For Boston, the advantage of playing Tony Allen would come with size and defense. He's 6-foot-4 and a good athlete, and if the Celtics are going to be playing a half-court game anyway, it probably doesn't hurt to trot out a bigger lineup -- they won't be getting transition points anyway.
Allen provides two other advantages. The first is transition switches. The Lakers "cross-matched" by having Bryant guarding Rondo for much of Game 3 so that when the Celtics missed shots and the Lakers pushed it up quickly, Boston wouldn't have time to switch Ray Allen back on to Bryant.
Thus, Rondo would end up in a mismatch against the much bigger Bryant, which is how Bryant earned several of his free throws. That strategy doesn't work with the all-Allen backcourt because Boston is comfortable with either defending Bryant.
The second advantage is that it lets Ray Allen off the hook as far as guarding Kobe, since Tony is better-suited for the job anyway. He's athletic, has decent size and fared very well against Bryant (and several other elite scorers) in the regular season. As good as Boston was on defense this year, they were 3.0 points per 48 minutes better when Tony Allen was on the floor.
This gambit would give Boston its best defensive lineup, but its worst offensive unit. Allen had several disastrous moments at that end this year, especially in the half court. He's a poor shooter, and although he's a good athlete who can finish with fury, he tends to make horrible decisions on the drive. Needless to say, the Lakers almost certainly would gamble off him to double-team Pierce or Garnett.
OK, wise guy -- so given the three choices, what would I do? House seems the best choice to start, because he can punish the double-teams and has shown better shot selection than Cassell in the playoffs. But Cassell may need to play when Farmar is in, because House struggles so much against ball pressure. As for Tony Allen, he's the wild card. I'd expect to see him only if the other two struggle, but he could shake things up for Boston and free his namesake up to focus on offense.
Of course, the best alternative is none of the above -- Rivers hopes Rondo shows up healthy and plays 40 minutes, because at full strength he's clearly the best of Boston's four options at the point. It's only the possibility of his absence that's forcing Doc to weigh the other alternatives.
John Hollinger writes for ESPN Insider. To e-mail him, click here.
Video Breakdown of the Celtics
Video coach Bob Salmi takes a look at the different ways Boston's Ray Allen was able to get open en route to a stellar shooting performance in Game 3.
Video Breakdown of the Lakers
Video coach Bob Salmi says that the Celtics played good defense on Kobe Bryant in Game 3, but the league MVP was just a little bit better offensively.
The Finals: Wednesday's Notes and Quotes
By Chris Broussard | ESPN The Magazine
LOS ANGELES -- Moments after the Lakers' Game 3 victory, Phil Jackson said "putting Kobe [Bryant] on [Paul] Pierce was the difference in tonight's game.''
Pierce, who scored just six points after averaging 25 in the first two games, had a different take.
"He guarded me pretty much in the fourth quarter when I went off for five points," Pierce said with a laugh. "It was my best quarter out of the last three, so I don't know. Definitely, you've got to respect Kobe and what he's done defensively -- he's All-Defensive team. But I don't think it changes anything that I try to do out there."
Jackson mixed things up a lot on the defensive end. Not only did he put Bryant on Pierce in the fourth quarter, but he used Bryant on Celtics point guard Rajon Rondo earlier in the game.
As for Pierce, he admitted that playing in front of his hometown crowd may have worked against him. The Inglewood native has been a Lakers-killer throughout his career, but on Tuesday night, he was pressing.
"I was a little anxious," he said. "Probably a little more anxious than normal, being that I'm at home in front of more family and more friends. But I've got to block that out and go out there and leave it on the court. I've done it in the past. I've been out here and played and played well despite having family and friends, and it's time for me to do it again."
Whether it was anxiety or the long flight and quick turnaround between Games 2 and 3, Pierce was more fatigued than usual Tuesday. In the fourth quarter, he signaled for a timeout just to get a breather. And he wasn't the only Celtic sucking wind.
"This is the first game that I had four or five different players during the game signal to pull them out," Doc Rivers said. "I thought [Pierce] was injured because he just said, 'I need a timeout.' And I called a timeout. He just wanted a blow. We needed that darned timeout when I think about it, and I told our guys that as well. I said, 'We can't use timeouts for rest.'"
That's why after the game Rivers emphasized the importance of getting rest, of not exploring L.A.'s robust nightlife.
"It wasn't L.A.," Rivers said to laughter. "It was rest. Atlanta's worse."
In a shocker, Rivers said he will consider starting Tony Allen if Rondo can't play in Game 4 because of his sprained ankle. Allen, who has played in only 12 of Boston's 23 playoff games, averaging a mere four minutes per, was as stunned as anyone.
"I hear it, I hear it, I hear it a lot," Allen said, wearing a fairly disgusted smirk. "I'll have to see it to believe it. I ain't played the whole playoffs so I'll have to see."
Allen, who hasn't played since straining his Achilles during a practice pickup game before Game 5 of the Eastern Conference finals against Detroit, said he'll be ready if called upon. His Achilles is fine, and he's looking forward to seeing some action.
"It's an opportunity that I can take advantage of and hopefully help my team get back to the mode we were in in Boston," Allen said. "I've been working out and doing a lot of shooting with the coaches. Not playing and not having a feel for the atmosphere will probably be challenging, but I'm looking forward to taking that challenge."
Allen is not a point guard. He's a 6-foot-4 two-guard with great athleticism, and it's that athleticism that has Rivers thinking of starting him. In December, when Rondo missed a game against the Lakers because of a tight hamstring, Allen started and recorded 16 points and four assists.
"Tony is a competitor," Kevin Garnett said. "So if he plays, I don't see us missing a beat. He's one of the guys on our team, along with Pose [James Posey] and some other guys, that play defense, that is competitive, and you can put him on Kobe. You can switch on certain situations and stuff, so it wouldn't be a bad thing."
QUOTE OF THE DAY
"Go Yankees."
-- Kobe Bryant when asked for his reaction to Curt Schilling's blog in which the Red Sox pitcher gave an unflattering portrayal of Bryant's interactions with his teammates
Rondo Is Boston's Real MVP?

By Jemele Hill
ESPN The Magazine
LOS ANGELES --The health of Rajon Rondo is of foremost concern to Boston's Kendrick Perkins, who believes Rondo is the most valuable player on the Celtics.
Really? On a team with Paul Pierce, Kevin Garnett and Ray Allen? Rondo?
"When he's out of the game," Perkins said, "we don't have no kind of rhythm. We're so off-key. When he puts pressure on the ball up the court, that makes everybody want to play D. And the shots we get are just so much easier."
The Celtics' offense struggled all of Game 3, but Boston was particularly ineffective without Rondo, who suffered an ankle injury early in the third quarter, but returned to play in the fourth.
Even though Rondo isn't a serious shooting threat, he does a solid job of getting the Celtics into their offense. Without Rondo, who played just 21 minutes, Boston labored on offense, shooting 34.9 percent.
The Lakers and Celtics traded places on Tuesday night. The Lakers were much more aggressive going to the basket than they had been in the two previous games, and the Celtics played passive, settling for jump shots instead of challenging L.A.'s suspect interior.
"The Lakers don't have a Marcus Camby in the middle," Perkins said, "so I think we need to attack the basket."
Jemele Hill can be reached at jemeleespn@gmail.com.
Kobe, Lakers, Attacked the Rim

By Dr. Jack Ramsay
ESPN Radio
LOS ANGELES -- After playing mostly on the perimeter in Games 1 and 2 of this series, the Lakers became the aggressors in Game 3, pushing the ball up court and taking it to the basket with regularity. And though the game was classified as "ugly" by both sides, I thought the Lakers attack-mode offense turned it in their favor.
Tex Winter, the long-time Lakers assistant told me the key factor was the Lakers getting the ball up court quickly and attacking before the Celtics defense had a chance to set up. Kobe Bryant used dribble penetration to get to the hoop and create jump shot opportunities for himself and his teammates. Bryant's drives also allowed him to get to the line 18 times in Game 3.
In the Celtics' defensive scheme, a second defender (usually one of the bigs) comes across the lane to serve as a secondary defensive presence. In the first two games of the series, Bryant was settling for the challenged jump shot or picking up his dribble past the first defender. To beat this, Bryant has to keep his dribble into the gap, past the big-man helper, get into the teeth of the defense to finish at the rim or to find open teammates on the kick out. He did it well in Game 3. It's up to the Celtics to have an answer for that in Game 4.
Legendary coach and Hall of Famer Dr. Jack Ramsay serves as lead game analyst for the NBA on ESPN Radio.

By J.A. Adande
ESPN.com
LOS ANGELES -- Helloooo, L.O.? Lamar Odom, can you hear me? It's the NBA Finals here. Just wondering if you'd like to meet me for a little best-of-seven series that will decide the champion of the league. Feel free to join in at any time.
You really shouldn't need a reminder of what's at stake. That giant Larry O'Brien Trophy decal on the court ought to drill it in your head.
So, you know, now might be a good time to put the ball through the basket with a little more regularity. You've only managed to do it 13 times in 31 attempts in the three games so far.
You say, "I know I can play better."
I say, no kidding. You averaged a solid double-double (18.2 points and 11.7 rebounds) in the conference semis against Utah. Back then you were going to the basket much more aggressively.
Now it's almost like you've developed an allergic reaction to the basket. A fallaway jumper is one. When done right (see, MJ or Kobe) it's a thing of beauty. But a fallaway hook shot? Can't have that. Only four points in Game 3? Can't have that, either.
"The most important thing is that we won," you say. "The way Lamar Odom looks at it is, 'Wow, we won the game and I only had four points.'"
The thing is, Paul Pierce only had six points for the Celtics and they almost won. It isn't likely that Pierce will score in single digits next time out. You? Don't know what to expect.
One of your coaches, Jim Cleamons, says, "He has to understand that what we're asking him to do hasn't changed, but the fact is, how Boston plays and how they rotate, there is a difference to it."
Yep, it's the Finals. You're up against the team that had the best record in the league. You said the first game showed you just how tough this series was going to be. Well, it's up to you to adjust to that level.
Maybe you just need to figure out the right word. You said that everyone complained the Lakers weren't physical enough in Game 1, then in Game 2 the Lakers must have been too physical, because the Celtics shot 38 free throws. You tried to get tough in Game 3 and were called for two fouls in the first three minutes. You're averaging more fouls than field goals per game in this series. As Cleamons says, "Can't find any rhythm sitting over there on that bench."
Phil Jackson called you "confused." after Game 2. That can't be what you want.
"I didn't take it personal," you say. "Phil says and does different things to challenge us. You never know what word he's going to use to get you to focus."
Could be worse. He could have called you a "rock head", the way he did Sasha Vujacic.
So maybe you need to find your own, more suitable word. Smarter? More opportunistic?
"I have to stay aggressive offensively," you say, "but I guess offensively, play with a high IQ."
Kobe Bryant is the only Laker who's acting like he's been here before. Even Derek Fisher, who has visited me as many times as Kobe, is looking like a stranger. Been really, really quiet.
Kobe has a look on his face that says: I brought you guys to the Finals, now where'd you all go? You don't want to have his next outburst come at your expense, do you?
I'll give you this: you've held it together. It used to be when things didn't go your way you would get technical fouls, getting yourself ejected from the game. Or just mentally checking out yourself. That was more when you played for the Clippers. Hey, that franchise can do that to a guy. Not so much of an issue anymore.
"Anyone else would be in a strait jacket," Cleamons says. "Some people get frustrated and they lose it. But he'll be okay." Game 4 is 6 o'clock Pacific time, Thursday night, Lamar. Feel free to join us.
J.A. Adande is an ESPN.com senior writer and the author of "The Best Los Angeles Sports Arguments." Click here to e-mail J.A.
Giving Back To the Community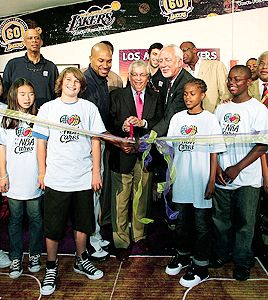 Nathaniel S. Butler/NBAE/Getty Images
Lakers legend Kareem Abdul-Jabbar, current Lakers guard Derek Fisher and commissioner David Stern were on hand as the NBA and Toyota unveiled a Reading and Learning Center at the Boys and Girls Club of Santa Monica.
Remember the Player-Coach?

By Henry Abbott
ESPN.com
LOS ANGELES -- Wouldn't it be fun if a current NBA team had what the Boston Celtics had for a while when they were winning championships?
A player/coach.
It's one of those things basketball coaches like to fantasize about. Kind of the ultimate hombre job.
"Head coach?" asks Celtics' reserve Brian Scalabrine. "You're talking about a player also being a head coach? No way."
Well, why not? It used to happen. Bill Russell did it.
Scalabrine talks about how many more media outlets there are now. He talks about scouting databases, and all the many time-consuming things that eat up a coach's day.
He's convincing. No way you could be in charge of all that, and have time to be an elite athlete.
Reporters think for a second about that explanation. The players don't have time to coach. The coaches don't have time to play.
We look at Brian Scalabrine, dressed to practice for a series in which he is inactive. It is literally against NBA rules for him to do any work as a player. (Another question he was asked in this same interview session: "Is carrying players off the court something you're good at?" Scalabrine's response: "On a scale of one to ten, how serious is that question?")
Scal will be in street clothes the next time an NBA game clock is ticking.
The natural question becomes: Well, Brian, how about you? A guy like you might have some time to coach.
"Oh," he says, without the slightest hesitation. "I could do it."
And then he adds the line that proves it will be a long time before there's another player/coach: "And I'd play myself all the time."
Click here to read the TrueHoop blog