Photo by Noah Grahamn/NBAE/Getty Images
The Finals Can't Shake Donaghy Mess

LOS ANGELES -- Hopped in the car after witnessing the greatest comeback on record in the NBA Finals, turned on the radio to find the sports talk host talking about what? Tim Donaghy.
So far, the most-discussed game to come out of these 2008 Finals is Game 6 of the 2002 Western Conference finals. That's why the Celtics need to go on and finish this series Sunday, to get the NBA off the stage and away from the big tomatoes thrown by Donaghy. They need to get people thinking about baseball or tennis or golf, to get David Stern out of harm's way.
It's impossible for this series to shake the shadow of Donaghy and his damning allegations that officials tried to alter the outcome of a playoff game in order to add an extra game to boost the league's bankroll. If the Lakers do force a Game 6 with a victory on Sunday -- aided by a few favorable calls -- the conspiracy speculation will just increase.
Stern didn't help matters when he delivered a bare minimum of news during a pregame news conference on Thursday. It was a very telling display. It showed that Stern had nothing. Nada. No way to reassure the league's fans that nothing fishy went on in that Game 6 or elsewhere, other than to take his word for it.
When the NBA announced Stern would be speaking before Game 4, I expected him to come out firing, that he'd have some more dirt on Donaghy or he would deliver a strong statement to change people's minds.
That didn't happen. Stern's one noteworthy declaration was that the league would reinterview its officials. All that did was make you wonder what questions went unasked in the initial Pedowitz report -- the NBA's internal investigation into the Donaghy scandal, commissioned during the summer of 2007 -- especially since the league said it has known for some time about all of the Donaghy allegations that were made public in a court filings this week.
Stern's problem is it's next to impossible to definitively prove that no fix took place. Of course, Donaghy has yet to provide any proof himself in the way of correspondence or taped conversations that show a determined effort was made to deliver a Lakers victory over the Kings in 2002.
This is strictly he said, he said.
But what does it say about the league's credibility if the public seems to value a convicted felon's word over Stern's?
It doesn't help Stern's attempt to occupy the moral high ground that he has yet to acknowledge the damning effect of those e-mails among the Seattle SuperSonics' owners that seem to indicate the group intended to move the team to Oklahoma City all along. He told us that there was nothing to see here, to just move along. (Don't know whether it was strategic or fortuitous, but a fan wearing an old Shawn Kemp Sonics jersey sat in a prominent spot by the scorer's table, directly across the court from Stern on Thursday night.)
So far, Stern has been unable to come up with the right words to reassure the fans that no games were fixed. Believe it or not, one of the best antifixing arguments I've heard so far came from Scot Pollard, one of the Sacramento Kings who was victimized by the bad calls (criminal or not) in that Game 6 in 2002. If there was a widespread conspiracy, Pollard wondered, wouldn't there be at least one other disgruntled former official who could step forward and corroborate Donaghy's accounts? They couldn't all have left on good terms.
But Mike Mathis and Hue Hollins, two former referees who were blasted by Stern after they spoke out in 2007, have yet to back up Donaghy. Neither has any other former official.
One other thought: How could sending Shaquille O'Neal to the free-throw line help the Lakers win? Isn't that a strategy opponents use to make his team lose?
But there has been too much smoke swirling around this league for too long for the fans to dismiss these claims so easily. That's why it would be best for the Finals flame to be extinguished for now.
J.A. Adande is an ESPN.com senior writer and the author of "The Best Los Angeles Sports Arguments." Click here to e-mail J.A.
NBA Finals Dimes Past: June 2 | 5 | 6 | 7 | 8 | 9 | 10 | 11 | 12 | 13
Is It Time For Lakers' Concession Speech?
By Scoop Jackson | ESPN.com
The scene is Los Angeles' City Hall Plaza, where a large group of Lakers fans congregate for what was supposed to be a parade celebrating the 2008 NBA championship. What they got instead was a powerful concession speech and a message of hope … well, sort of.
Thank all of you. Thank you so much. Well, this isn't exactly the speech we planned on giving, but we sure enjoyed the ride.
(Cheers)
This was a long road, you all stuck with us the whole way. You never left us and we love you for that. We have so many people to thank. To the basketball experts, analysts and columnists who stood by us, who said we were a team of destiny and that we would win it in five. To all of the fans around these United States who remained loyal and committed when it was easy to hate us for our newfound success. To those who invested so much of their time in arguments trying to explain to people how we were a TEAM now and no longer a one-man show. To those who have the purple and gold in their hearts and encouraged us to fight even when we seemed to be overmatched against teams we were not supposed to beat until next year.
Well, next year came one year too early, don't you think?
To read the entire column, click here.
Father's Day Has Special Meaning For Rivers

By Marc Stein | ESPN.com
LOS ANGELES -- With one more win on Fathers' Day, Doc Rivers can join Lakers counterpart Phil Jackson, San Antonio's Gregg Popovich and Charlotte-bound Larry Brown as the only active coaches in the game with an NBA championship on his résumé.
You got a sense of what that would mean to Rivers on Friday, when he was asked about his late father Grady on the morning after Boston's historic comeback from 24 points down in Game 4.
It was the first question of the series that Rivers couldn't answer. After a lengthy pause, Rivers asked his audience if it could skip to the next topic. "That's just a tough one for me to talk about," he said.
That's undoubtedly because Grady Rivers died of cancer in November, just a few days into the regular season, giving Doc almost no time to grieve.
Yet Rivers did eventually insist on answering the question after gathering himself, saying: "To go back to my dad, he's just very important in my life. It's still very difficult for me to talk about because I haven't had a lot of time, really, to reflect on it. You know, it happened during the season unexpectedly. It's very, very difficult. But I do think about it. I think about it a lot."
Rivers likewise deflected questions about the growing perception that he's outcoaching the nine-ringed Jackson, saying: "I don't think it's true. I mean, Phil to me is the best coach, at least of my generation. … Him and Pat Riley and Gregg Popovich are the three best. I'm not in that class, and don't deserve to be in that class."
But there's no denying that Rivers' story has emerged as one of the biggest in these Finals.
Especially since the Lakers were such heavy favorites going into the series, with Jackson coaching in the Finals against the Celtics for the first time and with Jackson just one championship away from breaking his nine-ring tie with the legendary Red Auerbach.
---
Kobe Bryant
's five Lakers teams to reach the NBA Finals have a 14-10 record on the big stage.
But Bryant, remember, actually missed one of those 24 games. He was in uniform, but did not play Game 3 at Indianapolis in his first Finals, electing to stay in the locker room after testing his sprained left ankle in warm-ups and deciding he couldn't go.
The Lakers were 12-3 in the Finals in their three-peat run from 1999-2000 through 2001-02. Thursday's fall-from-ahead defeat to the Celtics, prompting Jackson to cancel Friday's practice, dropped L.A. into a 2-7 Finals funk, including the five-game humbling by Detroit in the 2004 Finals.
"We need rest and recuperation in this situation," Jackson said in the wake of Thursday's historic collapse, "probably more psychologically than we do physically."
Boston's previous biggest playoff comeback, before overcoming a 24-point deficit in Game 4 on Thursday at the Staples Center, was rallying from 21 points down in the fourth quarter in Game 3 of the 2002 Eastern Conference finals to New Jersey.
The Lakers can only hope that there's an omen in here somewhere, because those Celtics didn't win another game in that series against the Nets.
---
Quote corner:
"We're up 3-1 and we know that we have a lot of basketball to play because Kobe is on that team. He's the scariest player in the NBA in a lot of ways, so you're fearful of him all the time."
Celtics coach Doc Rivers, on Kobe Bryant.
"This should be a good test for us if we are ready to win the championship."
Lakers guard Sasha Vujacic, on L.A.'s 3-1 deficit.
"It's a dream if I can come out here and win on Sunday. I don't even know what to think about."
Celtics forward Paul Pierce, on Game 5.
Breaking Down Del Negro's Contract

By Marc Stein | ESPN.com
LOS ANGELES -- In news away from the Finals, NBA coaching sources said on Friday that new Chicago Bulls coach Vinny Del Negro received a guaranteed three-year contract worth in excess of $6 million, contrary to earlier reports from ESPN.com and other media outlets suggesting Del Negro's deal was a two-year pact with a team option for a third.
One source close to the process said that Del Negro's contract "is pretty much in line with what Terry Porter got in Phoenix and Michael Curry got in Detroit."
Del Negro, formerly the Suns' assistant general manager, also interviewed for the vacancy that went to Porter. Suns president Steve Kerr told The Chicago Tribune this week that Del Negro wasn't a finalist in Phoenix only because Kerr felt coaching experience "was important for a veteran team."
Sources said Del Negro convinced the Bulls to make what front-office chief John Paxson describes as an "out of the box" hire in virtually one sitting with team chairman Jerry Reinsdorf.
"Vinny just came off as knowing what he's about," Paxson said at a news conference earlier this week, "[and] having an understanding of today's player."
Only The Strong Will Survive
By Maurice Brooks
ESPN.com
LOS ANGELES -- After the Celtics gave out their congratulatory hugs, fist pounds and chest bumps in the locker room after their "start planning the parade" victory over the Lakers on Thursday, one thing became abundantly clear: The only obstacle in the way of Boston capturing its first NBA title since 1986, and record 17th overall, is its health.
Injuries have been more effective in slowing down the Celtics than anything Phil Jackson and company have thrown their way.
And to think, after finding themselves on the wrong end of the biggest comeback in Finals history, you probably thought all of the players writhing in pain were wearing purple and gold.
With 60 percent of its starting lineup -- point guard Rajon Rondo, forward Paul Pierce and center Kendrick Perkins -- banged up, it would be beneficial for the Celtics to apply the finishing touches to the series on Sunday. One of Boston's strengths is its bench, but that could change if L.A. wins Game 5 to extend the Finals.
"Well, we're not in great physical shape, there's no doubt about that," Celtics coach Doc Rivers said. "You know, but that's what it is, and there's nothing you can do about that. I think our guys are mostly gamers."
Rondo bruised his left ankle in Game 3, but was able to start Game 4 and contributed 17 minutes of court time before sitting out the last 19 minutes.
"The fact that Rajon tried to go [Thursday] again, was phenomenal," said Rivers about his floor leader, who finished with five points and two assists.
Pierce -- who played a starring role in the signature moment of the series when he sprained his right knee in Game 1 -- rolled his ankle in Game 4.
"Paul tweaked his ankle and his knee again, so it's amazing going through this," Rivers said. "That's part of it. It's a lot of physical and mental things that you have to go through, and we're going through it."
While Rondo and Pierce are both expected to play in Game 5, the same can't be said just yet for Perkins, who did not return after he strained his left shoulder in the third quarter.
"Perk, obviously the injury he had could be significant, and we don't know the results yet. But that's certainly not looking great right now," Rivers said.
Thanks to James Posey's 18 points and Eddie House's 11, Boston enjoyed a 35-15 advantage in points off the bench in Game 4.
The duo might get extended playing time again on Sunday, and House said if his number is called, he'll be ready.
"I just prepare myself like I am going to play every game regardless," House said. "When my number gets called, I just try to be ready and stay ready so you don't have to get ready. That's been my mentality and I just came out and played."
Not Down For The Count Yet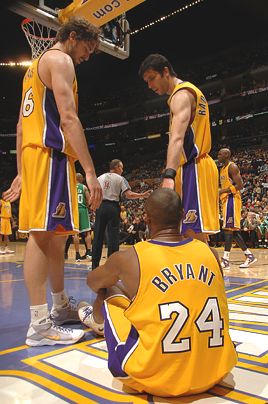 Noah Graham/NBAE/Getty Images
Kobe Bryant and the rest of the Lakers will try to get off the floor and get back in the series when the Finals resume with Game 5 on Sunday.
John (Brooklyn):
From a neutral observer: The lack of accountability on the part of all the Lakers, especially Kobe, is striking. Their whining is incredible; rather than focus on the game and take responsibility for missed calls and defensive lapses, they expend SO much energy whining and complaining. Especially in the fourth quarter, when they needed to step up, they seemed to whine after every missed shot instead of hustling back on defense. The constant griping also seemed to bring a lot of negativity, infecting them with a downcast and pessimistic energy. It seemed like a fairly officiated game to me (if anything, the Lakers seemed to have a slight edge). Where does this team-wide problem come from? Does it reflect poorly on Kobe's abilities as a team leader. Is it a product of the "European" sensibilities of Gasol, Vujacic, et. al?
J.A. Adande: I will say Phil gave more credit to the opponent than he usually does after Game 4. But clearly the story of this series is the Lakers' inability to play to this moment from so many players. I wouldn't say this is strictly a Euro thing. Remember, last year's Finals MVP was Tony Parker. But that was also his third Finals. The Lakers, besides Kobe, look like a bunch of guys playing in June for the first time. Which they are.
To read the full chat, click here.
Finding the Hidden Message

By Chris Ramsay
ESPN.com
LOS ANGELES -- Perhaps he was being guided by the Zen proverb, "Those who know don't tell. Those who tell don't know."
But the Zen master Phil Jackson wasn't telling on Friday afternoon.
He would not say what would be motivating Kobe Bryant when his Lakers play the Celtics in an NBA Finals elimination game at the Staples Center on Sunday.
Jackson simply said, "Read the transcripts."
Hidden somewhere in the written text of the Celtics interviews after Game 4 are the magic words that will supposedly inspire Bryant, the NBA's Most Valuable Player.
It's "what Garnett said." It will "weigh strongly with Kobe," Jackson said.
A search of the Kevin Garnett interview transcripts did not provide any obvious answers.
Maybe Kobe will be motivated by Garnett saying, "He can taste it" … as in an NBA championship. Or maybe it is Garnett saying, "The [next] two days are preparation up to closing it out Sunday." Or perhaps it was something complimentary, like when Garnett said, "A player like Kobe, you're not going to stop him. He has too much stuff in his arsenal."
We can't know what it was for sure. We can't know what will make Kobe play better on Sunday.
And maybe he won't play better.
Either way, with Jackson "telling" or "not telling" we had our first real Zen moment of the NBA Finals on Friday afternoon.
It's a good thing too, because the Finals might be over in two days when the team facing a 3-1 deficit in the NBA Finals might be thinking of another proverb.
"Life is like stepping onto a boat that is about to sail out to sea and sink."