Mark Duncan/AP Photo
ANALYST
PREDICTION
J.A. Adande
ESPN.com

SOUTHEAST: 4 | EAST: 11 Finally a good June night for the Hawks, landing two collegiate winners in Al Horford and Acie Law in the draft. Give them time to figure out how to win in the NBA, and we can talk playoffs next season.
Greg Anthony
ESPN.com
SOUTHEAST: 5 | EAST: 15 Last, again. Al Horford's a player, but the organization has too many guys at similar positions. And I don't see enough of a winning mind-set here to get to the next level.
Jon
Barry
ESPN.com

SOUTHEAST: 5 | EAST: 14 The Hawks want to run and run, and be the Suns of the East. Hard to do without Steve Nash, but they've got plenty of points to run the show. Good draft with Al Horford and Acie Law IV.
Chris
Broussard
ESPN Mag

SOUTHEAST: 4 | EAST: 11 If Acie Law proves to be nice, the Hawks could take a step forward because they've got great young talent at Positions 2 through 5, with rookie stud Al Horford able to play the 5 if necessary. But until the Hawks actually have success, it's hard to predict anything but underachievement.
Ric
Bucher
ESPN Mag

SOUTHEAST: 4 | EAST: 12 Eventually, all the talent they've amassed has to have some impact. Right? As nice a get as Acie Law was, though, the linchpin is still Speedy Claxton staying healthy. Which makes for a straw linchpin.
Chad
Ford
ESPN.com

SOUTHEAST: 2 | EAST: 9 With this much talent, they have to start winning, right? They still have issues at the point (I don't see Acie Law as the answer) but Joe Johnson is an All-Star and Josh Smith, Marvin Williams and Al Horford have that potential. A 38-win season and the playoffs are possibilities.
Jemele
Hill
ESPN.com

SOUTHEAST: 4 | EAST: 11 A good dark horse to make a surprise playoff run. Al Horford and Acie Law are great additions and let's hope this is the year Marvin Williams shows why he was the No. 2 pick in 2005.
John
Hollinger
ESPN.com

SOUTHEAST: 3 | EAST: 7 With last season's injury-ravaged bunch healthy, a rapidly improving young nucleus, and a draft that helped patch their two most important weaknesses, Atlanta looks like this season's playoffs sleeper.
Chris
Sheridan
ESPN.com

SOUTHEAST: 5 | EAST: 15 Wondering what they put in Hollinger's water down at the PER cult in Guyana. He has them making the playoffs, while I have them at 30 wins tops, with 24 wins a more realistic prediction. And here's one more: Mike Woodson is the first coach fired.
Marc
Stein ESPN.com

SOUTHEAST: 5 | EAST: 13 Horford is impressing people already, but the Hawks need more than yet another young talent -- even if this one gives Kevin Durant a nice run for the ROY trophy -- to halt what now ranks as the league's longest playoff drought.


TOTAL SOUTHEAST: 4.1 | Standings EAST: 11.8 | Standings
Team Strength: Forwards
This became kind of a running joke after Knight selected another long, athletic forward in Marvin Williams rather than Chris Paul, but the Hawks really do have one of the best forward rotations in basketball. Josh Smith has become a killer with his ability to start transition opportunities, attack off the dribble and finish on the break, while Williams finally appears ready to start delivering on his potential after he followed Smith's lead and began attacking the basket more in the second half of last season. Al Horford is a major part of the picture too, though it's not yet clear if he'll start at power forward or center. He can play either spot and excel, though, giving Atlanta even more options. And coming off the bench is Josh Childress, who quietly has become one of the league's most effective reserves and is a great complementary player because he doesn't need the ball to score. Another Williams, Shelden, rounds out the group. Though he struggled at times as a rookie, he had a strong April and played well in summer league, and at worst makes for an effective reserve. •
John Hollinger's complete Hawks forecast


STARTERS
ANALYSIS
Speedy Claxton
Point Guard
5-11 | 170
Great nickname. Guess Overpaid Backup was taken.
Joe Johnson
Shooting Guard
6-7 | 235
Do-everything wing won't have to if Acie Law develops at PG.
Marvin Williams
Small Forward
6-9 | 230
Unless he finds an offensive move, his next one will be to the bench.
Josh Smith
Power Forward
6-9 | 235
Matrix-type defender will demand bank-busting extension.
Zaza Pachulia
Center
6-11 | 280
He's tall, so he's got that going for him.
ESPN The Magazine's NBA Preview hits newsstands October 24.
Marvin Williams
Player efficiency rating
projection: 14.63
vs. NBA avg.:

-0.37


Hawks profiles

Scouting report: Williams is a solid midrange jump shooter and should only get better with age, as the 21-year-old has a smooth stroke that he can comfortably convert from 20 feet. His pro success will depend largely on two things -- whether he can start making that shot from beyond the 3-point line, and whether he can complement his stroke with an off-the-dribble game.
Williams clearly has the form to hit the longer shot -- he often shoots from just a foot inside the line -- but has rarely attempted it as a pro and is at only 24.5 percent for his career.
Meanwhile, he started to develop his off-the-dribble game toward the end of last season and could use it to attack bigger players when Atlanta goes small. He's also a good finisher in transition. But he has no post game and with his thin build isn't likely to develop one.
Williams is stronger at the defensive end, where he is quick enough to switch out against guards and has the size to bother opposing shooters. He does a solid job against most small forwards and can even play bigger shooting guards; the Hawks sometimes used him as a defensive stopper against A-list scorers, but this usually didn't work out well. It might turn out better in another year or two when he has more experience checking smaller players.
2007-08 outlook: Williams might see a reduction in playing time this year, as the addition of Al Horford will take minutes from somebody in the Hawks' forward rotation and Williams is the most likely candidate. There's a good chance he'll move to a bench role, and even if he starts it's highly unlikely that he'll play 34 minutes a game again.
The hope is that he can use his improved second half of last year as a stepping stone toward becoming a quality rotation player. He's shown some of the tools, but so far the whole has been less than the sum of those parts. The projections indicate that might begin to change in 2007-08, and if the 3-point shot finally comes around the difference could be dramatic.
If you got some quality time with your team's GM (like those lucky dudes from 3 Shades of Blue), what would you ask?
Lang Whitaker, slamonline.com:
Questions I would ask Billy Knight: Can a team become a running team without changing any coaches or players? Did you really turn down a deal for Amare Stoudemire? Do you have any inside information about the NBA becoming an all-swingman league anytime soon? Did you draft Shelden Williams knowing Atlanta would be adding a WNBA team and they might get his girlfriend, Candace Parker? Can she play for us? Can our starting center, Zaza Pachulia, dunk a basketball? Any thoughts of signing Mike Vick?
• TrueHoop, ESPN's NBA blog
Chad Ford's NBA Dish: '07-08 Preview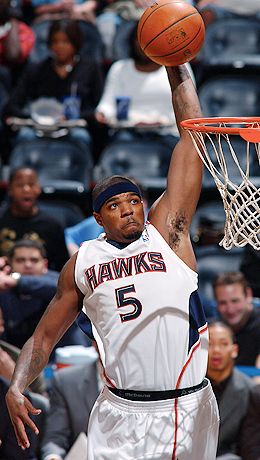 Scott Cunningham/NBAE via Getty Images
Josh Smith scores plenty of style points and has added substance to his game. Now Hawks fans hope he'll take the leap into stardom.

Mike Woodson
Experience: 3 years
Record: 69-177
Playoffs: 0-0
NBA titles: 0
Coach's profile
The Hawks finished 29th in offensive efficiency last season and played at a relatively slow pace. Considering the team's athleticism, Mike Woodson needs a better offensive system to help the Hawks contend for a playoff berth. With only two new players, Woodson should have a strong comfort level with his team, so building a system around their talents is a reasonable expectation.
• David Thorpe, Scouts Inc.
Sleeper:
Al Horford
Pick one -- I decided on Horford. He could end up qualifying at center and is more NBA-ready than a couple of veterans on Atlanta's roster.
Bust:
Marvin Williams
Historically, this should be the year (his third) in which Marvin Williams becomes a solid starter. But if he should falter, Horford will scarf up his minutes, leaving the scraps to both Wiliiamses (Shelden and Marvin).
• Southeast Preview | Fantasy Hoops