AP Photo/Nam Y. Huh
ANALYST
PREDICTION
J.A. Adande
ESPN.com

CENTRAL: 2 | EAST: 3 It happened in steps for MJ's crew, and this group is still learning its lessons as well. If Luol Deng stays, he'd better show why he's worth keeping when Kobe's out there for the taking.
Greg Anthony
ESPN.com
CENTRAL: 1 | EAST: 1 The best perimeter defensive team will see its frontline improve as Tyrus Thomas takes the next step. Joakim Noah and Aaron Gray have chance to make an immediate impact -- if the frontline's consistent, the team to beat in the East.
Jon
Barry
ESPN.com

CENTRAL: 1 | EAST: 1 An excellent team, but again, no post presence. You must have that to win, particularly in the playoffs. Joakim Noah is a significant addition, and Luol Deng's becoming a superstar.
Chris
Broussard
ESPN Mag

CENTRAL: 2 | EAST: 3 Same old story: great young perimeter talent, downright suffocating defense, but no post scoring to speak of. Will run old and slow clubs out the gym, but when the jumpers fail against other hard-nosed defensive clubs, so will the Bulls.
Ric
Bucher
ESPN Mag

CENTRAL: 2 | EAST: 2 Still a collection of good-but-not-great players who will produce good-but-not-great seasons. You want a title shot? Get Kobe. You want to be a plucky second-round-and-out squad from here to eternity? You're covered.
Chad
Ford
ESPN.com

CENTRAL: 2 | EAST: 3 If the Bulls acquire Kobe or a decent low-post scorer without gutting the roster, they move to the top of the list. But without easy buckets in the paint, doubts rise about how deep this team can go in the playoffs.
Jemele
Hill
ESPN.com

CENTRAL: 2 | EAST: 2 Good enough to win the East and a serious threat to topple Detroit's supremacy in the Central. They have nearly every component and adding Joe Smith should help them shore up their inside scoring.
John
Hollinger
ESPN.com

CENTRAL: 1 | EAST: 1 Though lacking a superstar, Chicago bursts with talent all over and addressed the power-forward problem by adding Joe Smith and Joakim Noah, making the Bulls my pick to come out of the East this year.
Chris
Sheridan
ESPN.com

CENTRAL: 2 | EAST: 4 A trade for Kobe Bryant would change everything, but for now we expect them to be exactly the same as they were a year ago -- one key injury (last May it was Andres Nocioni) away from flaming out in the playoffs, unless they somehow develop a nasty streak.
Marc
Stein ESPN.com

CENTRAL: 2 | EAST: 3 They'll have a shot at winning the East as presently constituted. A good shot, even. But I can't stop imagining how much better they'd look if they use half of that deep roster to go get Kobe already.


TOTAL CENTRAL: 1.7 | Standings EAST: 2.3 | Standings
Team Strength: Defense
Chicago was a fantastic defensive team a year ago; the Bulls may be even better in this go-round. Although the loss of a wily vet like P.J. Brown will hurt at the defensive end, the added quickness, shot-blocking and general activity of Tyrus Thomas and Joakim Noah may more than make up for it. Additionally, Joe Smith can replace much of Brown's veteran savvy, especially with his proclivity for taking charges. On the perimeter, Thabo Sefolosha showed with his work against Dwyane Wade in the playoffs that he has the potential to be a stopper on the wings, which is the one area in which the Bulls have struggled. This is a particularly vexing weakness because it crops up anytime they play Detroit, one of their main rivals for Eastern supremacy. The Pistons carved up Chicago's normally airtight D by attacking whomever Ben Gordon guarded; Sefolosha could provide an antidote if his offense gets up to snuff. Gordon's spot is about the only weakness. Luol Deng and Kirk Hinrich both are very good defenders, especially when Hinrich isn't forced to cover somebody three inches taller. Chris Duhon and Adrian Griffin also play quality defense, and although Andres Nocioni is a bit of a tweener on D, he makes up for it with toughness. •
John Hollinger's complete Bulls forecast


STARTERS
ANALYSIS
Kirk Hinrich
Point Guard
6-3 | 190
Two-way point may be NBA's most underrated.
Ben Gordon
Shooting Guard
6-3 | 200
Scoring and FG% keep climbing -- and there's still a ways to the summit.
Luol Deng
Small Forward
6-9 | 220
Emerging scorer, but with those arms, why isn't he better on D?
Joe Smith
Power Forward
6-10 | 225
Keeping place in line until Tyrus Thomas' production matches potential.
Ben Wallace
Center
6-9 | 240
The Bulls are searching for inside offense. Man, are they cold.
ESPN The Magazine's NBA Preview hits newsstands October 24.
Tyrus Thomas
Player efficiency rating
projection: 15.57
vs. NBA avg.:

+0.57


Bulls profiles

Scouting report: A freak of an athlete, Thomas is a great finisher around the rim but needs to learn to rein in his desire to take opponents off the dribble, a facet of his game on which his skills are decidedly unrefined. Thomas had the third-worst turnover ratio among power forwards last season, something that shouldn't happen for a player whose game is large based on the catch-and-dunk.
He also needs to get way better at the free-throw line, where his 60.6-percent mark all but negated one of the league's highest rates of free-throw attempts per field-goal attempt (fourth among power forwards). Down the road, he's going to need to add strength to his 215-pound frame so he can add a post game to his repertoire.
But in the short-term, adding strength will be more of an asset on defense, as his thin frame means he can be pushed around under the basket. More muscle would also help on the glass -- Thomas had the 17th-best rebound rate at his position, but with added strength he'll crack the top 10 easily.
2007-08 outlook: Thomas is a prodigious talent and in a couple years he could be unbelievable. The dilemma for Chicago is that the Bulls don't have the luxury of letting him play through his mistakes. The organization is in win-now mode, and Thomas' youthful indiscretions at the offensive end can make it tough to leave him on the court at times.
On the other hand, athletes like this don't grow on trees. If Thomas blows up this season and takes over the starting power forward spot, it could be the catalyst Chicago needs to get over the hump in the East. He'll battle Joakim Noah, Joe Smith and Andres Nocioni for minutes at the power forward spot, but on talent the position is his to lose.
If you got some quality time with your team's GM (like those lucky dudes from 3 Shades of Blue), what would you ask?
Matt, BlogaBull.com:
I'd want to first say thanks to John Paxson for bailing out Horace Grant in 1993. It's hard to be critical of Paxson's tenure, but I'll nitpick and ask how much he and coach Skiles believe the rhetoric regarding hustle, energy, etc. that they've used to explain multi-year contracts to Nocioni, Duhon, and Griffin. It worries me as overpaying for intangibles and indicating it's as important as talent. And then about that talent: How high does he see Deng, Gordon, Hinrich, Thomas, and Noah raising their games as they hit their collective prime? Is this core an eventual champion? Or assets for a trade?
• TrueHoop, ESPN's NBA blog
---
Chad Ford's NBA Dish: '07-08 Preview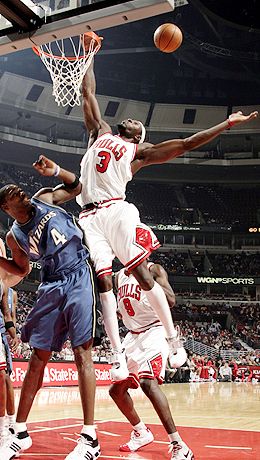 Ron Hoskins/NBAE via Getty Images
Big Ben gets to wear his headband this year, and the Bulls hope his prowess returns with it.

Scott Skiles
Experience: 7 years
Record: 272-237
Playoffs: 15-20
NBA titles: 0
Coach's profile
One of the benefits of coaching the best defensive team in the league is that it allows Scott Skiles to focus on improving Chicago's offense this year without too much worry about suddenly giving up too many points. Not adding a true low-post scorer means that Skiles will experiment with different guys and patterns to create paint buckets. Coaching a favorite, as opposed to an upstart, has its own challenges as well.
• David Thorpe, Scouts Inc.
Sleeper:
Andres Nocioni
Nocioni could slip in most drafts, but his per-game numbers put him in the top 100 fantasy players. He is an accurate shooter (47 percent from the field, 85 percent from the line, and 38 percent from beyond the arc) and a high-energy guy who is always in the middle of the action.
Bust: Ben Wallace
Wallace is a great defender, a tireless worker, a veteran leader on a young Bulls team ... and a fantasy liability. His contributions in three categories (10.7 rebounds, 2.0 blocks, 1.4 steals) are no longer enough to compensate for his meager 6.4 points and atrocious shooting (41 percent on free throws and 45 percent on field goals).
• Central Preview | Fantasy Hoops