Noah Graham/NBAE via Getty Images
ANALYST
PREDICTION
J.A. Adande
ESPN.com

PACIFIC: 2 | WEST: 7 Now that the yellow T-shirts are fading, you might realize this team didn't qualify for the playoffs until the last game of the season and then played one great series. Can they play good ball for a full season, and do it without Jason Richardson?
Greg Anthony
ESPN.com
PACIFIC: 2 | WEST: 7 Leadership is a question here. Losing Jason Richardson is big, as will be the Baron Davis health watch. Troy Hudson could have a huge impact playing for Nellie.
Jon
Barry
ESPN.com

PACIFIC: 2 | WEST: 7 Still a team no one wants to face in the playoffs. Champion level? No. Dangerous? Yes. (Ask the Mavs.) Although they played great against Dallas, when the Warriors went up against a bruising team like Utah, the need for a big man showed.
Chris
Broussard
ESPN Mag

PACIFIC: 2 | WEST: 8 This is not a great team. It's a good, incredibly exciting team that caught a great matchup against Dallas last postseason. If Baron is healthy, in shape and committed, the Warriors will be arguably the most entertaining show in the league. If he isn't, the lottery could beckon.
Ric
Bucher
ESPN Mag

PACIFIC: 2 | WEST: 6 Austin Croshere, Marco Belinelli and Troy Hudson just give Don Nelson more ways to find mismatches. If Baron Davis stays healthy -- always a big if -- they're a cinch for 50 wins. Maybe 55.
Chad
Ford
ESPN.com

PACIFIC: 3 | WEST: 10 The loss of Jason Richardson combined with no significant additions probably mean that they fall short of the playoffs. The team's at a crossroads. Their veterans and their coach want to win now, but at the expense of developing young players?
Jemele
Hill
ESPN.com

PACIFIC: 3 | WEST: 9 The Warriors don't strike me as the type of team that can handle expectations. I'm also not sure I'd bank on a team that named Stephen Jackson a captain.
John
Hollinger
ESPN.com

PACIFIC: 3 | WEST: 9 The Warriors run to end the season was amazing, but it's tough to catch lightning in a bottle twice. Richardson's departure leaves a hole on the wing, and Baron Davis' health is always a question.
Chris
Sheridan
ESPN.com

PACIFIC: 2 | WEST: 7 I think we can all agree on one thing: The playoffs weren't as exciting last season after they went out. I'm expecting big things from Italian draft pick Marco Belinelli, especially if he beats out Monta Ellis for the starting 2-guard spot.
Marc
Stein ESPN.com

PACIFIC: 2 | WEST: 7 Except for a couple of seasons in the early 1990s, Golden State hasn't been able to call itself California's best team since the championship glory days of 1975. Until now. They really are Cali's finest.


TOTAL PACIFIC: 2.3 | Standings WEST: 7.7 | Standings
Team Strength: Speed
Even without Jason Richardson, the Warriors are blazingly fast and again figure to play the league's fastest pace. Don Nelson loves to play small wherever possible and space the floor with shooters, and has the resources to do it again. Obviously it all starts with Baron Davis, a huge talent whose injury proneness and poor shot selection have provided the lone barriers to superstardom. He appeared to start conquering those demons last season, and if so he'll be an All-NBA player. His ability to push the pace and finish sets up everything else, while his ball pressure on defense forces opponents to play faster than they'd wish. But there's plenty more. Monta Ellis may be even faster in transition than Davis and should continue progressing in this third season. Matt Barnes, Kelenna Azubuike and Mickael Pietrus (if he stays) are jackrabbits too, while Stephen Jackson and Al Harrington are good shooters for their size who can fill lanes on the wing. Additionally, even the big guys can move a little. Andris Biedrins is a good finisher, while newcomer Brandon Wright adds another dimension with his ability to flush in transition. •
John Hollinger's complete Warriors forecast


STARTERS
ANALYSIS
Baron Davis
Point Guard
6-3 | 215
MVP candidate if he picks up where he left off in playoffs.
Monta Ellis
Shooting Guard
6-3 | 177
Get this: He's starting because he missed too much time to learn the point.
Stephen Jackson
Small Forward
6-8 | 218
Vows this will be the season he's notorious for basketball only.
Al Harrington
Power Forward
6-9 | 245
Worst playoff performer was best in training camp. Little late, no?
Andris Biedrins
Center
6-11 | 245
Go-to threat for Latvia in EuroBasket -- and now back to reality.
ESPN The Magazine's NBA Preview hits newsstands October 24.
Baron Davis
Player efficiency rating
projection: 19.43
vs. NBA avg.:

+4.43


Warriors profiles

Scouting report: Davis is one of the most athletic guards in the game and an absolute terror in transition because of his ability to pass or finish. At 6-3, 215 pounds, he can destroy smaller guards on the post-ups in the half court -- something he happily did to Dallas in the first round of the playoffs from his preferred perch on the left block.
Davis has a bad habit of getting 3-point happy and forcing long shots off the dribble, but he isn't a good shooter unless his feet are set and he's just catching and shooting.
His size and athleticism are huge weapons at the defensive end, too; Davis deserved far more All-Defense attention than he received. Davis ranked second among point guards in blocks per minute and third in steals per minute; he also was outstanding at pressuring the ball upcourt and his size allowed him to defend shooting guards in the half court.
Although his effort wasn't consistent every night, at his best there was nobody better, and he was at his best for all of the final two months of the season.
Injuries are an annual concern with Davis, who tends to pull hammys and groins quite a bit. He hasn't played more than 67 games in any of the past five seasons.
2007-08 outlook: Davis is entering a free-agent year (if he opts out of his contract), so if he can stay healthy for 70 games and control the urge to take horrible shots, he's going to make himself a very wealthy man. The Warriors are understandably reluctant to offer him a rich extension just yet; whether Davis can actually pull this off is in some doubt.
His talent, however, is not. Davis might play only 60 games, and he might force a ton of bad shots when he plays, but few guards possess this kind of talent. Look for three-quarters of an All-Star season from him again.
If you got some quality time with your team's GM (like those lucky dudes from 3 Shades of Blue), what would you ask?
Fantasy Junkie, Golden State of Mind:
To Chris Mullin: In the past year, you've shed the contracts of Troy Murphy, Mike Dunleavy Jr., Jason Richardson and Adonal Foyle. These deals were all handed out early in your tenure with the Warriors. But things changed this offseason as you seem to be more frugal with contracts, playing hardball with some of the players and Don Nelson. Can you talk about what you've learned in the past few years in making decisions on personnel, where you're looking to improve and what the fans have to look forward to for the rest of your tenure? •
TrueHoop, ESPN's NBA blog
---
Chad Ford's NBA Dish: '07-08 Preview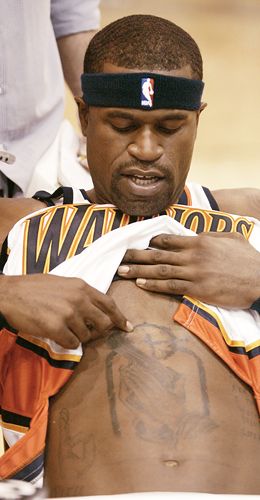 AP Photo/Ben Margot
The man in the mirror reminds Stephen Jackson that he prays never to need a gun again.

Don Nelson
Experience: 28 years
Record: 1.232-920
Playoffs: 75-91
NBA titles: 0
Coach's profile
Even if Don Nelson could recreate the magic the Warriors used to pull the huge upset over the Mavs, that would still not guarantee a return to the playoffs. Nellie's roster enhances his unconventional approach to lineups and rotations, which is even more important with the sizeable void left by Jason Richardson's departure.
• David Thorpe, Scouts Inc.
Sleeper: Mickael Pietrus
Pietrus is known as a defensive whiz, but the 25-year-old Pietrus finally blossomed offensively last season, shooting 48.8 percent from the field, including 38.8 percent from beyond the arc. Pietrus still isn't great offensively and may never be, but improvement is nice to see, and his real value comes in his steal and block potential.
Bust: Al Harrington
Harrington has always found himself in foul trouble when forced to bang with bigger men, and that also cuts down on his potential. Essentially you have a player who is good but not great in points and 3s and treads water or worse in every other category.
• Pacific Preview | Fantasy Hoops