AP Photo/Bill Haber
ANALYST
PREDICTION
J.A. Adande
ESPN.com

CENTRAL: 5 | EAST: 13 A team heading in the wrong direction, as indicated by their record after acquiring Ike Diogu, Troy Murphy and Mike Dunleavy: 15-19. Might as well move Jermaine O'Neal.
Greg Anthony
ESPN.com
CENTRAL: 5 | EAST: 12 On paper, a team with a lot of talent. On paper, a team with a lot of injuries. Seems like a roster destined not to have a player go 75 games. I like Jim O'Brien as a coach, and he will benefit Jermaine O'Neal.
Jon
Barry
ESPN.com

CENTRAL: 5 | EAST: 12 Don't know what to expect here. It's a team that has really underachieved the last few years. Biggest question is if Jermaine O'Neal trade talk finally results in a deal.
Chris
Broussard
ESPN Mag

CENTRAL: 5 | EAST: 14 Dismissing Rick Carlisle won't remove the "Curse of Ron-Ron.'' The slide into the abyss will continue, and Jermaine O'Neal will probably be packing his bags before the trade deadline in February.
Ric
Bucher
ESPN Mag

CENTRAL: 4 | EAST: 13 I know a high-ranking NBA official who sees them in the playoffs, based on the addition of coach Jim O'Brien. Does the league drug-test its front offices? Because what the Pacers don't have are enough Jim O'Brien-type players. Move Jermaine O'Neal already and get on with the rebuilding.
Chad
Ford
ESPN.com

CENTRAL: 5 | EAST: 13 On paper, they look bad, but they could be a surprise "chemistry" team if Jermaine O'Neal stays healthy, Jamaal Tinsley shows up every night and Danny Granger improves. If they made the playoffs, I wouldn't be shocked. If they were worst in the East, that wouldn't shock me either.
Jemele
Hill
ESPN.com

CENTRAL: 5 | EAST: 14 They'll be jockeying with Philly for worst team in the East. Inside, the Pacers are OK. But on the perimeter, they are scary. As in, bad scary.
John
Hollinger
ESPN.com

CENTRAL: 5 | EAST: 14 Not sure what the plan is here, but busting out the dynamite is one they ought to consider. These former contenders have shriveled to also-rans with an aging, injury-prone, unathletic roster.
Chris
Sheridan
ESPN.com

CENTRAL: 5 | EAST: 13 Expect Jermaine O'Neal's unhappiness alarm to ring by mid-December, and don't be surprised if he's the biggest star to move by the trading deadline (our current rankings, though, list Kobe 1st and JO 2nd).
Marc
Stein ESPN.com

CENTRAL: 5 | EAST: 14 I'm a Jim O'Brien fan, but it's clear that the Pacers need to start all the way over to repair this mismatched roster and that can only mean the trading of Jermaine O'Neal between now and February.


TOTAL CENTRAL: 4.9 | Standings EAST: 13.2 | Standings
Team Strength: Frontcourt Depth
The one thing Indy has going for it is that it still has a ton of bodies in the frontcourt, and these aren't just empty suits either. Jermaine O'Neal and Jeff Foster have had health issues but they're both top-notch defensive bigs, while Troy Murphy really can stroke it and Ike Diogu is a low-post beast waiting to be unleashed. Behind them, David Harrison is a foul waiting to happen but has more skill than your typical No. 5 big man, and Danny Granger has the size to move up to power forward and run bigger players ragged. This advantage becomes more apparent a couple months into the season, when injuries really start taking their toll, because the Pacers are far better able to withstand the aches and pains than most of their competitors. Unfortunately, they also need the depth because of how often their key players are on the shelf. O'Neal, Foster and Harrison all have had repeated medical issues over the past couple seasons. •
John Hollinger's complete Pacers forecast


STARTERS
ANALYSIS
Jamaal Tinsley
Point Guard
6-3 | 185
Breathing easier with Rick Carlisle gone. Doesn't mean he'll play better.
Mike Dunleavy
Shooting Guard
6-9 | 230
Their supposed top three-point threat hit 31.3%.
Danny Granger
Small Forward
6-9 | 228
The future in Indy may be present if JO's days are really numbered.
Jermaine O'Neal
Power Forward
6-11 | 260
Injuries and itch to get out of Dodge have cratered trade value.
Troy Murphy
Center
6-11 | 245
Averaged a double-double in three of first five seasons. What happened?
ESPN The Magazine's NBA Preview hits newsstands October 24.
Danny Granger
Player efficiency rating
projection: 14.63
vs. NBA avg.:

-0.37


Pacers profiles

Scouting report: Granger is a good athlete who is emerging as a defensive stopper against bigger wing players. At 6-9 he can't stay with the smaller, quicker guards, but against the McGradys and Anthonys of the league, few are better.
Offensively, he's a good finisher who shot 63 percent in the immediate basket area, and his driving ability helped him get to the line so much. He's also become a reliable outside shooter, but one would like to see him get more aggressive.
This is particularly true when he goes against a smaller opponent -- he seems reluctant to back the guy down and shoot over him. Overall, Granger's usage rate of 16.7 is glaringly low when one considers he was a good offensive player on a bad offensive team; he was standing by while lesser players fired away.
2007-08 outlook: Granger should be the starting small forward and is likely to be the primary defensive stopper as well. His offensive game should continue to develop, and his 3-point shot is likely to be more of a weapon in Jim O'Brien's long ball-heavy attack. The key will be how willing he is to fire away. The Pacers' offense might not be much better than it was a season ago; if so Granger is too talented to be an innocent bystander.
If you got some quality time with your team's GM (like those lucky dudes from 3 Shades of Blue), what would you ask?
Tom Lewis, Indy Cornrows:
Questions I would ask Larry Brid: Assuming Larry Joe GM was dosed properly with sodium pentothal to reveal the unvarnished truth, I'd ask him first about his playing career, coaching the Pacers to the Finals, strip-club shootouts and bar fights. And then I'd ask about point guards. During every postseason analysis, LJGM yearns to improve the point guard position. Yet, Jamaal Tinsley is beginning his seventh year as the starter. Has Tinsley earned his trust? Do Travis Diener and Andre Owens stabilize the position?
• TrueHoop, ESPN's NBA blog
---
Chad Ford's NBA Dish: '07-08 Preview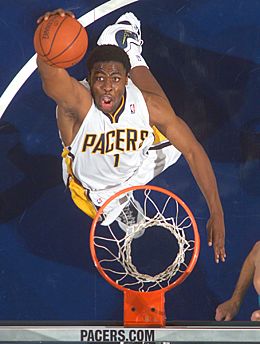 Ron Hoskins/NBAE via Getty Images
It might be up to low-post threat Ike Diogu to redeem last season's big trade, already deemed a disaster by many observers.

Jim O'Brien
Experience: 5 years
Record: 182-158
Playoffs: 13-13
NBA titles: 0
Coach's profile
With an average-looking roster (at best), expectations should be low in Indy. If that's the case, it's a good situation for O'Brien, because he can focus on building something for the future. In particular, he should evaluate the young talent and establish the identity he wants going forward. Getting his players to win the fans back, with hustle and humility and good off-court behavior, is important, too.
• David Thorpe, Scouts Inc.
Sleeper: Mike Dunleavy
Dunleavy is the Rodney Dangerfield of fantasy hoops: He just can't get any respect. But in 43 games with the Pacers, Dunleavy shot 51 percent from 2-point range and averaged 14.0 points, 5.7 rebounds and 2.6 assists. You should be able to steal him in the later rounds.
Bust: Troy Murphy
Murphy averaged 14 points and 10 boards in 2005-06, but dropped off to 10 points, 6 rebounds and only 0.6 blocks in 2006-07. Murphy faces competition from O'Neal, Foster and Diogu, who averaged 14 points and eight rebounds in the nine games in which he played at least 20 minutes in '06-07.
• Central Preview | Fantasy Hoops